"This post is sponsored by FAGE; however, all thoughts and opinions are my own."
Raising five active kids while running multiple businesses means my life is always super busy. I feel like I am constantly moving from one place to the next which can make it difficult to stay on top of my healthy eating habits. That is where my FAGE Total Split Cups come in handy. These perfect on-the-go snacks are packed with protein, low in sugar, all-natural, and absolutely DELICIOUS!!
The Perfect High Protein Snack for Busy Moms
I first became a fan of FAGE after my nutritionist suggested I try it as a way of adding alternate sources of protein to my diet and I was instantly hooked. When I am not pressed for time I still enjoy creating my own yogurt parfait using FAGE Total Plain yogurt and fresh fruit. But, on busy weekdays I keep FAGE Total Split Cups stocked in my fridge because they are so easy to just grab & go! They make the perfect protein-rich breakfast, satisfying afternoon snack, or indulgent dessert!
FAGE Total Split Cups come in a variety of flavors and you can choose from 0% non-fat, 2% low fat and 5% milkfat. I actually buy flavors in all three milkfat varieties, that way depending on my macros each day I can choose the Split Cup that works best for me.
Food for thought, the higher the milkfat the more satiating they are.
FAGE Total Split Cups are Perfect for Sugar-Conscious Eaters.
I am very careful to monitor my sugar intake and so I was stoked to learn that FAGE decreased the sugar in their Split Cups by 30%. Giving me even more reasons to love them!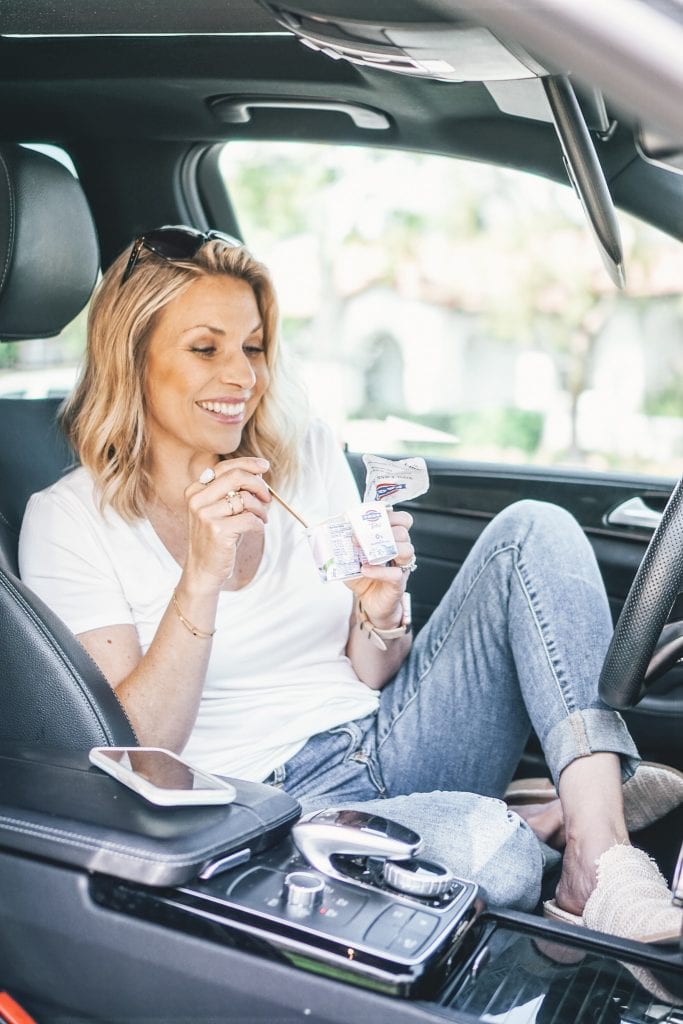 Plus, FAGE Total Split Cups have no artificial sweeteners and no zero-calorie sweeteners. Meaning that they don't stuff them with junk to get the numbers down. So, you can enjoy your rich & creamy FAGE Total Greek yogurt with delicious fruit toppings guilt-free!
They are Non-GMO Too!
As if you needed another reason to love FAGE Total Split Cups but it's true! They are also Non-GMO Project Verified, made with milk from non-GMO fed cows too!
It's no wonder I can't get enough of their creamy goodness. It's delicious & nutritious for my body too. Now that is the best way to Treat Yo'Self!!
To Dip or Pour- that is the question?
Speaking of treating yourself I am going to give you the inside scoop on the two best ways to enjoy your FAGE Total Split Cups. You see there is the pour-in method or the dip.
Personally, I prefer the dip bc it allows me to reserve a more concentrated berry taste by ensuring there is enough berry per bite.
However, my husband prefers to pour the topping straight into the FAGE Total Yogurt and blend.
The good news is there is no wrong way to eat it. Just personal preference.
You can find FAGE Total Split Cups by checking their store locator here. My recommendation is to make sure you stock up because it won't take long before your husband and kids start sneaking them. They're just too good not to share!
Have you tried FAGE Total Split Cup Yogurt? If so tell me your favorite flavor in the comments below.
You may also like these great posts-