My boys are big meat eaters and there is nothing they love more than a delicious steak. I have found a delicious and budget-friendly way to cook their favorite steak and BONUS it's a super easy and quick recipe too.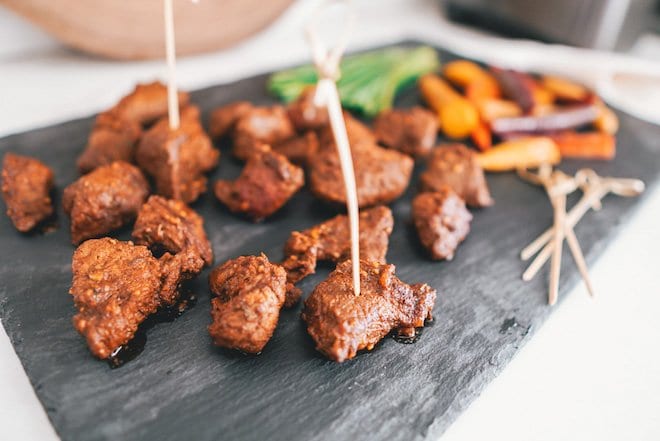 Save Money and Eat Good Steak
Maybe that should be a new mantra- ha! It's no secret we are HUGE fans of Omaha Steaks, in fact, I have been an ambassador for the brand for the past two years and my family has been eating their steaks since I was a child. So, it should come to no surprise that I am going to tell you that if you want to eat a good steak you need to order some from Omaha Steaks.
What you may not know is all of the cost-saving tips I have when it comes to ordering high-quality proteins online. First off you want to always check Omaha Steaks' "Sale" page on their website. They run daily and monthly specials along with a host of other deals. I do this before planning our meals and it really helps me to maximize the savings.
We also up our veggie and grains intake so that most of our plate is plant-based and our portions of meat are smaller. Not only is this nice on the wallet but it is also nice on the waistline as well.
Lastly, I buy steak tips! Steak tips are basically leftover pieces that didn't make the strict cut off to be an Omaha Steaks steak. So, you get a great deal on these smaller pieces of delicious and high-quality steaks. We love the grass-fed steak tips and the filet mignon tips best.
Cajun Butter Steak Bites
You can prepare steak tips in all sorts of fun ways- you can slice them and make steak tacos, pop them into a delicious stew, or make steak bites (our personal fav). You may recall my popular Bacon-Wrapped Steak Bites recipe that I shared a while back while these are delicious we typically serve them at parties and I wanted to make a new steak recipe that we could incorporate into a quick weeknight dinner and I am happy to say I succeeded.
These cajun butter steak bites were a total hit with the whole family. They have a little kick to them that the boys loved but you could always turn it down based on preference.
Ingredients:
For the steaks:
1 lb. Omaha Steaks Grass-Fed Steak Bites
1 tbsp Extra Virgin Olive Oil
4 tbsp grass-fed butter
2 tsp minced garlic
For the seasoning:
1 tbsp paprika
1 1/2 tsp sea salt
1 tsp garlic powder
1 tsp onion powder
1 tsp chili powder
1 tbsp freshly chopped thyme
1/2 tsp dried oregano
1/2 tbsp brown sugar
1/2 tsp cayenne (or less based on taste)
1/2 tsp black pepper
*NOTE- you can also buy prepared cajun spice too. This one is my fav and its less than $4 on amazon prime.
Directions:
Combine all of the seasonings into a medium-sized bowl. Once seasonings are combined add steak bites and toss to coat.
Heat a large skillet over medium-high heat. Once the pan is hot add the olive oil.
Next, carefully add the seasoned steak bites trying to avoid splattering. Turn down your heat if needed.
Sear the steaks for a few (2-3) minutes on each side or until the edges are crispy and brown. You may need to work in batches. Once the steak is seared set-aside.
Reduce heat to medium and add the butter to the skillet. Once the butter is melted add the minced garlic and sauté until fragrant (about 30 seconds).
Remove the pan from the heat and toss in the seared steak bites and coat with freshly melted garlic butter and serve.
Not only are these a delicious meal when paired with Omaha Steaks' Tri-Colored Carrots, but they are also perfect on their own and make great game-day snacks and party apps too.
Latest posts by Mama Munchkin
(see all)