Traveling as a busy working mom can often feel overwhelming, with a never-ending to-do list and limited time to prepare. For me, as a Mom of 6, I really have some experience in getting ready for vacation, which means throughout the years I have come up with some genius packing hacks for travel.
Whether you are traveling to Maui, Disneyland or the Maldives, these travel packing hacks will help you!
That said, fear not, fellow parents! With some clever packing hacks and a dash of personalization, you can transform your travel experience from chaos to bliss.
---
Our list of the Best Packing Hacks for Travel
Are you ready? I am sharing my tried-and-true packing hacks for travel that have made my family's adventures smoother, more organized, and enjoyable. So grab a cup of coffee and get ready to embark on stress-free travels!
---
Plan Ahead and Create a Checklist
As a busy working mom, planning is key. Start by creating a packing checklist well in advance of your trip. Include essential items like clothes, toiletries, medications, and travel documents. Having a visual checklist not only ensures you don't forget anything but also helps you stay organized throughout the process.
I actually have created MANY packing travel lists for you to choose from and have listed them all below.
My Packing Lists
THE ULTIMATE PACKING LIST FOR SUMMER FOR FAMILIES + 5 PACKING TIPS
PACKING LIST FOR EUROPE – [10 AMAZING OUTFITS] IN JUST ONE CARRY ON!
ULTIMATE DISNEY WORLD PACKING LIST [+ 12 UNIQUE ITEMS YOU MUST PACK]
SUMMERTIME LAKE OR BEACH VACATION PACKING LIST + FREE PRINTABLE
THE BEST TROPICAL VACATION PACKING LIST + WHAT TO LEAVE BEHIND!
THE ULTIMATE DISNEYLAND PACKING LIST! + [FREE PRINTABLE]
---
Choose Versatile Clothing
Opt for versatile clothing items that can be mixed and matched effortlessly. The more you can mix and match with your clothes, the less you have to pack!
Pack neutral-colored basics that can be dressed up or down and are suitable for various occasions. This will help you save space in your suitcase and reduce the number of outfits you need to bring.
---
Roll, Don't Fold
One of my favorite packing hacks is rolling clothes instead of folding them. Not only does it save space, but it also minimizes wrinkles.
Roll each garment tightly, and then stack them in your suitcase. This method also allows you to easily see and access each item without disturbing the rest of your clothes.
---
Invest in packing cubes, and your packing routine will never be the same again. These handy organizers are a game-changer, especially for families. Pack different items into separate cubes, such as clothes, underwear, and accessories.
This way, you can easily find what you need without rummaging through your entire suitcase. Check out my personal favorite packing cubes here.
---
As a mom, you know accidents happen. Prepare for the unexpected by packing a small first-aid kit with essentials like band-aids, antiseptic wipes, pain relievers, and any necessary medications.
It's always better to be safe than sorry, especially when traveling with little ones.
---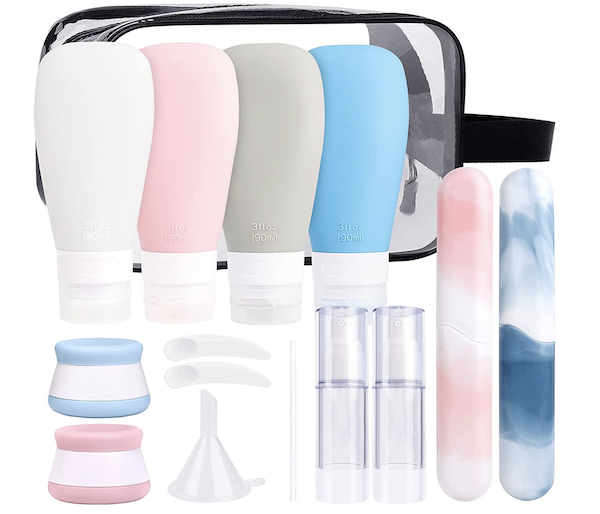 To save space and avoid spills, invest in travel-sized toiletries or transfer your favorite products into small, reusable containers.
Remember to check the airline regulations for liquids before packing them in your carry-on bag. Additionally, consider packing a few extra plastic bags to separate any leak-prone items.
---
Embrace Technology
Maximize the use of technology to lighten your load. If you have a BIG reader in your family, like we do with Ella, instead of carrying heavy books, download e-books or audiobooks to your smartphone or tablet.
Use digital copies of travel guides and maps to save space in your bag. Don't forget to pack your essential charging cables and adapters to keep all your devices powered up.
Shop Travel Tech

---
Pack Snacks and Entertainment
Traveling with kids can be challenging, so be prepared with snacks and entertainment options. Pack a variety of non-perishable snacks, such as granola bars, trail mix, and fruit pouches.
Additionally, bring small toys, coloring books, or electronic devices to keep little ones entertained during the journey.
---
Don't Forget Your Personal Essentials
As a busy mom, it's easy to overlook your personal needs while focusing on your family's travel essentials.
Remember to pack items like your skincare routine, favorite pajamas, and a comfortable pair of shoes for yourself. Taking care of your well-being will ensure you have the energy and enthusiasm to enjoy the trip fully.
Shop Personal Essentials

---
Carry a Lightweight Suitcase, Tote Bag or Backpack
In addition to your main suitcase, pack a lightweight tote bag or backpack as your day bag during sightseeing or outings.
Opt for one that can be folded or rolled up when not in use, taking up minimal space in your suitcase. This bag will come in handy for carrying snacks, water bottles, and any items you may purchase along the way.
Shop Our Luggage and Bags

---
Delegate Packing Responsibilities
As a busy working mom, it's okay to ask for help. Delegate packing responsibilities to your family members, especially older children.
Provide them with their own packing checklist and let them take charge of packing their own clothes and personal items. This not only lightens your load but also teaches your children responsibility and organization skills.
---
Packing Hacks for Travel: The Overall
Traveling as a busy working mom doesn't have to be stressful. By implementing these packing hacks for travel, you can streamline your preparations and make your adventures more enjoyable for the whole family.
From creating a checklist and utilizing packing cubes to embracing technology and packing a positive attitude, these personal and practical tips will help you navigate the world of travel with ease.
So go ahead, embrace the wanderlust, and create lasting memories with your loved ones, one stress-free trip at a time!
---
Frequently Asked Questions about Packing Hacks for Travel
How do I pack for vacation without overpacking?
To pack for vacation without overpacking, start by planning your outfits in advance and choosing versatile pieces that can be mixed and matched. Stick to the essentials and avoid packing items "just in case."
Lastly, employ space-saving techniques like rolling clothes and using travel-sized toiletries to maximize space in your suitcase.
How many pairs of clothes should I pack for a trip?
The number of clothes you should pack for a trip depends on the duration of your trip and the activities you'll be engaging in.
As a general guideline, aim for around 3-4 bottoms (pants, skirts, shorts) and 5-7 tops (shirts, blouses) that can be mixed and matched.
Consider packing extra underwear and socks, and adjust the quantities based on the availability of laundry facilities at your destination.
---
If you enjoyed reading about packing hacks for travel, you might also enjoy:
OUR 5 FAVORITE CREDIT CARDS FOR FAMILIES WHO LOVE TO TRAVEL
28 MUST-HAVE BABY TRAVEL ESSENTIALS
HOW TO BECOME A DISNEY TRAVEL AGENT – EASY STARTUP IN JUST 1 DAY!
---
Are you traveling with a baby? Check out Rookie Moms and learn about the best gear to travel with!
---
Pin-it for later: 10 Useful & Genius Packing Hacks for Travel
,