In the last 3 years, I am pretty sure our household has tried out every meal delivery service. With a 9-month kitchen remodel and then a fun 2 year pandemic, we pretty much tried everything from Factor 75, to Thistle, to green chef, to Hello Fresh and beyond.
I can 100% say without a doubt that the Clean Simple Eats Kitchen or CSE Kitchen is the best meal plan on the market today. I am going to be straight forward, I love this service so much, I am trying to tamper down my excitement.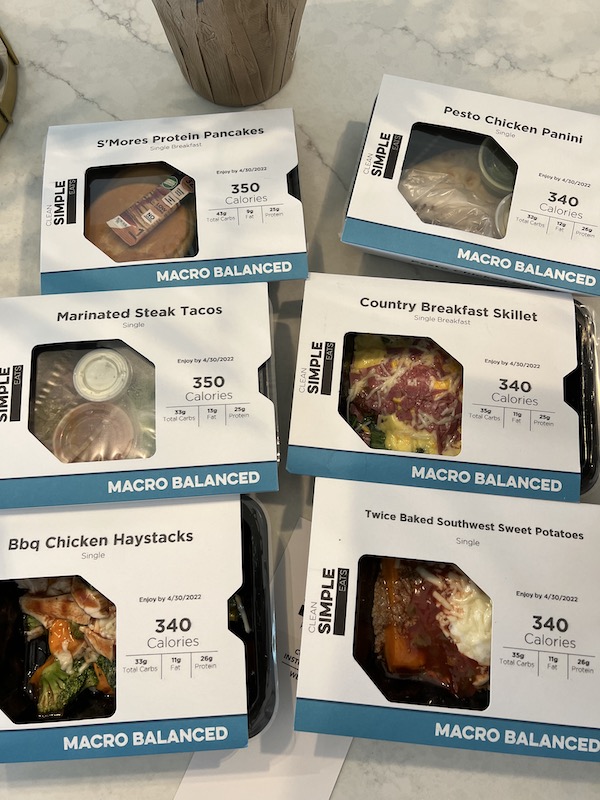 Convenience
Most of the at home meal delivery services are pretty convenient, however some are not. Home Chef and Hello Fresh still involves quite a bit of cooking. Thistle is great in that it is a couple minutes on a pan and you are all set. However, Clean Simple Eats Kitchen is by far the best. The meals come packaged in single serve sizes and you have three options when cooking up your meals. Microwave, pan fry, or my personal favorite air fry!
Simply pop your meals into the air fryer at 400 degrees for 4 minutes and you got a perfect meal. I do uses these handy dandy paper linings inside my air fryer to prevent any mess as well.
You Can Save 10% OFF CSE Kitchen with promo code: Amber10
Taste
If you have followed our family on Instagram you know that for the last few years we pretty much use a recipe from clean simple eats recipe books at least once a week and usually 3-4 times a week. They are ridiculous. So, to be perfectly honest I wasn't 100% confident in how the CSE kitchen meals were going to turn out.
I honestly was blown away by the results
I literally tried several meals side by side that I made from home, (the CSE Kitchen Meals are based off the recipe books), and often times the CSE kitchen was better than what I just made at home. The exact same dish. In fact, most of the time it was better, like 80%.
The food is simple incredible and comes fresh which I think makes all the difference. The chicken haystacks are amazing, the steak tacos are so tasty and fresh. You can tell all the meat is quality meat (and now that I just glanced at the CSE website I found out that all their ingredients are USDA certified). Te only dish I did not love so far…. and I've tried a lot, was the aloha chicken. It just lacked flavor and was kind of mushy.
Plus, their breakfast items are so good. I honestly didn't think I was going to get breakfast but when you see S'mores pancakes, banana macadamia nut pancakes, and the country skillet is just sooooo good.
Variety
This is probably my favorite part of Clean Simple Eats Kitchen. There is a crazy wide variety of dishes to choose from. Look, I loved a few of the other meal services for a few weeks, even a month, but after a while it is the same exact dish over and over.
You will find yourself choosing from some incredible dishes, and if you were a clean simple eats fan before they came out with CSE kitchen, you are going to be really excited about the menu options.
Every week, you will see 16 completely new entrees to choose from. I have been using the service three weeks now and have not seen the same entree once. So, you will never get bored of the choices. The only downside is if you are a creature of habit and want to eat the same thing everyday, this is not the service for you.
Nutrition/Macros
Every time I get to a new section in writing this post, I think this is the best part of the service, but honestly the taste, the convenience, the variety are also great, so I'm not sure which part is the best.
If you are like our family, we try to be pretty health conscience and the one thing we learned over the years is tracking your macros is by far the best way to lead a healthy lifestyle without ever feeling like you are being deprived. In fact, we actually eat more food now and are healthier with macros (but that's a whole different post, you can read about it here)
Anyways, one thing that is amazing about Clean Simple Eats and Clean Simple eats kitchen is that all of their dishes pretty much have the same macros 45% calories are from carbs, 40% from protein and 15% from fat. And all their dishes are about 350 calories. All vary a little but it is pretty much the same.
**** New Addition*** They just added double the portion sizes for only $2 meal. This is a great for people who need more calories or if you are likely to split meals.
So, when you are ordering your food, you don't even need to look at the macros to decide between dishes because they are all pretty much the same macros, of course all the macros are listed right at the front, so it is easy to look at.
Overall Review of Clean Simple Eats Kitchen
This is by far the best meal delivery service out there. The food quality is great, the nutrition is great, the variety is great and it's super easy to make. You will absolutely fall in love with it.
You Can Save 10% OFF CSE Kitchen with promo code: Amber10
If you enjoyed this article about Clean Simple Eats Kitchen, you might also like: