I think one of the hardest things about being a parent is coming up with delicious healthy meal options that your kids will actually eat. You have so many after school activities from homework to practices that it is hard to find time to even make it to the grocery store (which is probably why I use Instacart quite a lot) let alone cook a healthy and delicious meal.
Then after all that work hoping the kids enjoy and actually eat the meal is a whole different ball game. I have teenage boys who wanted to get healthy, but they truly did not enjoy healthy food. So when I first saw Clean Simple Eats Meal Plan, I was a little skeptical, but I decided to give a few of their free recipes a try.
Clean Simple Eats Free Trial Week
So, when I went on the Clean Simple Eats website, you can simply grab one of their trial weeks to sample recipes and also see how their meal planning works. Here is everything that came with the FREE week
Calorie tracker​
1 full week of menu planning for Week 1
1 full week of groceries for Week 1
Suggestions for bulk prepping
4 snack recipes
1 protein bite recipes
2 breakfast recipes
8 entree recipes
1 HIIT workout routine
I wasn't fully sold the CSE concept would work for our family (I'll go over it shortly) so I decided to just try out a few dinner recipes and not do the whole meal planning.
Incredibly Delicious Clean Simple Eats Recipes the Kids Loved
Looking for an outstanding Clean Simple Eats review to convince you? Here you have it! Since my kids rarely eat fish, I figured let's go big or go home and try out their Parmesan Salmon recipe. While the kids looked disappointed when I told them we were having salmon for dinner, I was in shock with how much they loved the meal. And I truly mean it, they absolutely loved it.
This continued for every single recipe (I kid you not), my husband loved them, the kids loved them, really the only person who wasn't a big fan was my 5-year-old, but she barely eats anything.
How the Clean Simple Eats Meal Plan works:
After the kids raved about the meals, I decided to purchase the full meal plan. There is a new meal plan for each season and it typically runs $55 (Save $15 when you use this link) You can get a digital version or hardcover) and includes the following:
90+ simple, delicious, family-friendly, macro-friendly recipes (each season has 100% different recipes, get the Clean Simple Eats Spring Meal Plan pdf here

!)



Dining out Guide to tell you what to eat when dining out at popular restaurants and fast-food chains.

7 weeks of grocery shopping lists & 7 weekly menu planners

Nutrition information (macros and calories) for each recipe

Food prep guide

A full week of beginner workouts & Full week of advanced workouts

Information about macros if you're brand new to macro counting!
How Clean Simple Eats Makes it Simple for you to get Healthy:
I looked at the above list and thought, well the recipes are delicious but I am not sure if we can all do this macro counting and it might be too complicated. Let me tell you now, IT IS SO EASY!. It might be the easiest way I have ever found to get healthy.
Here is how it works:
Download the Clean Simple Eats App
Enter in your information (Weight, Age, Height, How Often You Exercise Per Week)
CSE asks what % of calorie reduction or increase you prefer (10 -30%)
Voila – Clean Simple Eats tells you how many calories you should eat in a day and your macro breakdown. Now you are thinking, yeah every other diet or nutritional plan does that.
Here is where it is different?
Once you have your calorie intake, it is soooooo easy! There is a handy dandy chart that explains exactly how many meals and snacks you should eat.
Since all the Clean Simple Eats Meals are very similar in Calories and Macros all you need to worry about is how many meals, snacks and power bites to eat.
For Example:
My husband and teenage boys, were all at 2,000 calories, so they could have either 3 meals, 3 snacks and two power bites a day or 4 meals 2 snacks and 1 power bite.
Myself: I was in the 1500 calorie range, so I could have 3 meals and 2 snacks per day
****Pro Tip**** – Weigh your food, this will help make sure you have the right serving amounts because a double serving of a meal counts as two meals, not one.
Meal Prepping
Meal Prepping is probably the best but hardest thing for me to get used to. The meals are pretty easy to make, but meal prepping does make it 1,000 times easier. It was really hard for me to commit to meal prepping but once I got the family involved, we would knock out the whole week of meal prepping in one Sunday Morning watching football, (ok I barely watched football)
Clean Simple Eats breaks down exactly what you need to do for meal prep. They recommend doing meal prep twice a week, on Sunday and Thursday, but for our family once a week worked better.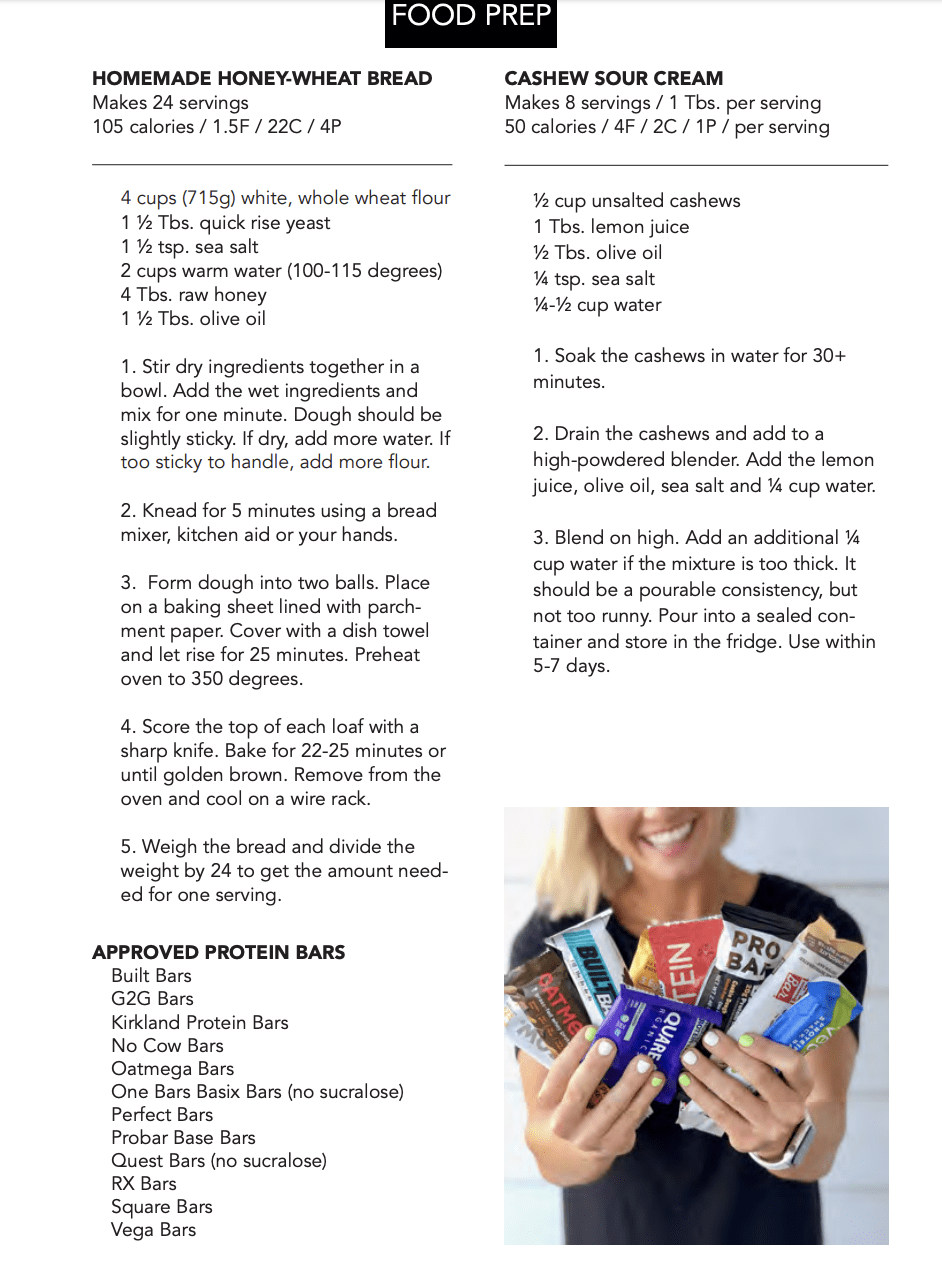 The One Add-On I Highly Recommend – Clean Simple Eats Protein Powder
The thing I love about CSE is that you don't have to buy a bunch of their food to follow along with their program, it mainly is delicious recipes that you can find in your local grocery store. However, my one recommendation is getting the Clean Simple Eats Protein Powders, they make it so much easier to have delicious snacks and are perfect for when you are on the road. Below you will find our Clean Simple Eats Protein Powder review!
Our Favorite Powders:
Clean Simple Eats has a pretty good variety of Protein Powders, that are unbelievable. Our personal favorites are Caramel Toffee where you can make their PEANUT BUTTER CARAMEL MILKSHAKE and Brownie Batter, perfect for their Hot Cocoa Drink. I think my husband's favorite part of the program is the shakes. We also love the kids chocolate shakes (even mom and dad).
The one other addition I recommend is if you love making desserts, check out their Clean Simple Treats Book, it is AMAZING!
The Workouts:
The workouts from Clean Simple Eats are perfect for me when I travel. They are a mixture of HIIT exercises and cardio which is a perfect mix into my regular routine. I think they would be great for everyday use, I am just addicted to my own workout program when I am at home.
The Results After 3 Months
After 3 months of chowing down on Clean Simple Eats recipes, the results were pretty amazing. They probably could have been even better if we didn't travel so much. My 17-year-old had the best results as he lost 15 lbs and now is blessed with a 6 pack. In fact, most of his classmates now ask him for fitness advice and he is about to begin training them. Dad lost 12 lbs and I lost 5 which is incredible for me since it takes months to normally lose 1 or two pounds. As for the other kids, we don't want them to track their weight. We rather the kids simply focus on health. However, when I took them to the Dr. for a recent physical the Dr. was so impressed that all my children were in amazing physical shape and I was quite the proud mama.
Clean Simple Eats Discount Code 2021
Save 10% OFF ALL Clean Simple Eats Products!
If you follow my Instagram you know I talk a lot about the amazing Clean Simple Eats recipes, so they reached out to me to offer anyone who follows me a Clean Simple Eats Discount Code! You can get 10% OFF All their products: use promo code: AMBERMAMIAN.
You guys this is such an amazing deal, these are literally used in my house daily and I own so many of their protein powders, but butters and all their recipe guides.! Trust me it's worth a try to feel satisfied, lose weight, and be filling your body with more nutritious foods. You owe it to yourself!
If you have any questions about Clean Simple Eats Meal Plans, feel free to leave a comment below or message me on Instagram
You Might Also Enjoy:
Meal Planning for Busy Families- Delicious & Easy!
Easy Summer Grilling With Omaha Steaks
Pin for Later – How Clean Simple Eats Meal Plan Transformed our Families Health
How much is the clean simple eats app?
The Clean Simple Eats App is $14.99 per month and includes all the clean simple eats recipes and meal plans.
Is clean simple eats protein good?
It is honestly our favorite protein powder. They use high quality whey and the flavors are by far the best tasting protein powders on the market