AirBNBing a Daytona Beach property is often the way to go. With beautiful locations and affordable prices it often beats out most hotels. Let's check out the best airbnbs in Daytona Beach.
In Daytona Beach, a majority of places listed on AirBNB are actually condos. Most of them are located right on the beach, which gives you a great view of the sunset and sunrise! However, I also threw in a couple of places that are located right on the outskirts of Daytona Beach, just to add variety.
One of the best bang for the buck Airbnbs in Daytona beach is an apartment located right in Daytona Beach Shores, FL. As you can see, you have a wonderful view of the beach from a private balcony! It can hold up to four people comfortably and there is one bedroom with two beds in it. One of them being queen-sized and the other being a full sized sofa bed. Before taxes, the place costs roughly $78 a night.
The entire kitchen has been improved with new appliances such as a new microwave, refrigerator, toaster, coffee maker, and all utensils and dishes! The place also comes equipped with Wi-fi and a TV that offers over 140 channels. But who needs the TV when you can look at the beach and enjoy that ocean breeze when the best part is that you are provided with your own beach chairs, beach towels and even an umbrella? Also, the host of this place, Monica, is ranked as an experienced host with over 3000 reviews!
This studio airbnb in Daytona Beach is a bit on the smaller side, so it is best for two people. There is one bedroom with one bed in it, and there is also one bathroom available. This AirBNB is located in Daytona Beach over by the Main Street Pier, which means there is always something going on, which is perfect if you want to constantly be on the go! This is available for approximately $77 a night as of right now while writing this article. This place is perfect to bring your significant other to, if you want to celebrate a birthday or an anniversary!
The host, Geetanjali has posted on the listing that if you want to, you can add on to help celebrate whatever occasion you are celebrating! You just have to let them know two days in advance if that is something you want to do and they will make sure the studio has candles, wine, and anything else you may want! There are other great amenities too available for use at the actual condo itself, such as, two pools, a grill, and an exercise room.
Paula is the host of this next AirBNB and all I can say is: WOW! The way the place is set up: she lives in the main part of the house, and the guests stay in a one bedroom apartment that is separate from where she lives, with one king sized bed and a couch bed. There is a refrigerator that is constantly stocked with plenty of food for her guests.
She even says she will watch your pets for you if you happen to bring them (she rescues dogs herself so she has a soft spot for animals!) Her place is a block down from the beach, so it is within walking distance. In the area are also a ton of different restaurants to try out! To stay here, it costs roughly $99 a night, but you are definitely being treated like royalty here! Did I mention she bought three different types of pillows just so people can take their pick?
This host is relatively newer (as in just joined this past June!) and this location is in Daytona Beach Shores, Florida. You can look directly out at the water from your window! There is one bedroom with one king sized bed in it, so this is most comfortable with two people. Before taxes and all of that good stuff, the cost is approximately $84 a night, at least, at the time of writing this article.
There is Wi-Fi available, which is perfect for browsing or if you plan on getting some work done while enjoying the view of the pool and the ocean beyond that! There is also a fridge provided, TV with standard cable. And the host made sure to note that there is a supply of hot water for those showers at the end of a long day at the beach. There is also a hairdryer provided if that is something you accidentally forget back home!
This next one is located in Daytona Beach, in a hotel. That exact address is provided once you finish booking the reservation, and it is important to note it is non-refundable. The host of this AirBNB named Mendy is rated as an experienced host, with over 100 reviews for other places. Now, this particular AirBNB has one bedroom with a king sized bed in it and one bathroom, which means it is probably best for up to two guests.
Before taxes and everything is included in the price, it states that it is $59 a night. There is Wi-Fi and TV provided for entertainment, but also it is a hotel, so there is no kitchen. They do provide free parking on the premises which is always a nice plus! This AirBNB is self check-in and that takes place between 4 and 10 PM. Time for check-out is 11 AM, like a normal hotel room would operate.
#6 on our list is also located in Daytona Beach, Florida! This one is a studio with two beds that can fit up to four people comfortably. There is a strict no-smoking policy in the space, and if you are caught smoking, there is a $250 fine. While on the subject of payment, the AirBNB costs about $129 every night, not including tax and other fees.
The window faces the city, but you know the beach is there as you will still hear the crashing of the waves and the room is also stocked up with toys for the beach! Guests have access to amenities such as the saunas, the pools, and there is even a tiki bar and restaurant. The host of this resort is Nick, who is listed as a SuperHost. This means he is a highly reviewed host and is committed to creating great memories for his guests!
This one is located in a slightly different place. Ormond Beach is about six miles away from Daytona Beach. This AirBNB is listed in the heart of Ormond Beach, which means it is in the middle of everything that Ormond Beach has to offer. This place has one bedroom with one king sized bed in it and one bathroom, so it is best for two guests.
It is also interesting that it is noted on the website as a great place for remote work, as the Wi-Fi is really fast. Before taxes and everything else, the cost is approximately $59 a night. You have full access to your bedroom, bathroom, and the front porch, but the kitchen is a shared space, so it is important to the host that there is advanced notice of the use of that. The hosts own a cat, and even though they have her shaved, it is best that people with cat allergies stay away.
This next AirBNB is a bit different compared to the other ones listed. Instead of having a beach view, this location has a riverside view. It is still located in Daytona Beach, Florida. The guests have access to the full house, except for the backyard jungle gym and the area beyond the garage. Those areas are still under construction.
This house can hold up to six people comfortably, with two bedrooms and two beds. There are three beds in the whole house. There are front steps where you can watch the osprey dive and catch fish! For the whole place on the river, it costs approximately $89 a night and has a rating of 4.84 stars, which makes this host a Super Host! Between exploring the house and exploring the great outdoors surrounding the area, this will be a great time for anyone!
This next AirBNB is located in Daytona Beach, Florida and is a condo, and is located in the middle of quite everything! The pier is right next to it and so is the Hard Rock Hotel, which is perfect for those who are always wanting stuff to do! It has access to the beach as well as a pool!
This is a one bedroom with four beds; each bed being a different size. They have a queen, a double, one single bed and one sofa bed. There is also one bathroom that has been completely modernized. This condo costs approximately $99 a night. The host is always available if any needs should arise!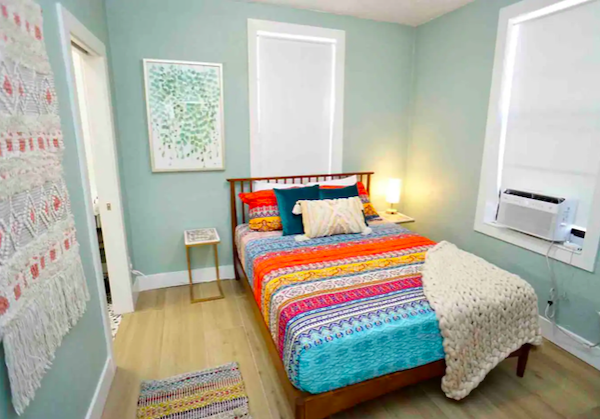 The last AirBNB we are going to be talking about today is a unique choice. It is a Bungalow located right next to the Ocean Center of Daytona Beach, FL. The Ocean Center is a convention center where something is almost always going on. At one point they had an immersive dinosaur exhibit for kids that looked really cool. This bungalow is also right across the street from the beach!
The Super Host Chris has listed that pets are okay to be here, which is always a plus for those who want to bring their animals on their trips! There is a $15 flat fee for up to two pets. It is a one bedroom with two beds and a bathroom. It is also noted that this place is a great place for remote work, as the Wi-Fi is really fast! It costs $98 a night when this article is written.
If you enjoyed our list of the 10 best Airbnbs in Daytona Beach, you might also like:
10 AMAZING AIRBNBS IN CHATTANOOGA, TN
10 UNIQUE AIRBNBS IN TEXAS FOR THE ENTIRE FAMILY
10 AMAZING LAKE ARROWHEAD AIRBNBS THAT ARE PERFECT FOR YOUR NEXT VACAY!
AIRBNB COSTA RICA – [22 INCREDIBLE HOMES] THAT ARE SURPRISINGLY AFFORDABLE
10 AMAZING AIRBNB SCOTTSDALE, AZ RETREATS YOU'LL LOVE!
Pin for later: Your Home Away From Home: 10 of the Best AirBNBs in Daytona Beach