Right outside of San Diego, you will find one of the busiest and most visited cities in Southern California. Oceanside is a rather larger city that boasts pristine oceans you'll want to drive right into, plenty of nightlife for the college kids, and lots of shopping and other adventures that you don't want to miss out. Our family heads down at least once a year to enjoy a beautiful beach day in Oceanside, comparable to the great San Diego Beaches. Recently we spent a weekend and discovered some of the Best Things to Do in Oceanside California + some are FREE!
Oceanside Pier (Free!)
The highlight of Oceanside, California is the Oceanside Pier. This hotspot is regularly visited by locals and tourists alike. With a convenient store halfway down the lengthy wooden pier, you can buy everything you need to enjoy an outing by the ocean. Fishing poles, bait, snacks, and drinks are all readily available at this handy shack, so you can snack on the benches or try your luck at catching some bait.
Feeling hungry and want to enjoy the view? Head down to the end of the pier and you'll catch up on Ruby's diner. This delectable 50s style diner has plenty of delicious foods like burgers and shakes, with a theme that will bring you right back to 1951. Located right on the ocean, you will have distinct and beautiful views of the ocean while you dine. Perfection!
Kayaking & Paddleboarding in Oceanside Harbor
One of the things we have never tried in Oceanside was kayaking and paddleboarding in the harbor. So we stopped by Boat Rentals of America and rented a few boards and kayaks for an hour. It turned out this was one of our favorite places to rent kayaks. Kayaking and Paddleboarding is fun on their own, but in Oceanside, you have the chance to see all sorts of marine life, from seals to sea birds to sea lions. It was pretty amazing!
Oceanside Sunset Market (Free!)
Good food, good tunes, and good people? That's all you will find at the Oceanside Sunset Market.
If you're craving something unique to Oceanside, California that will bring you the amazing taste of homemade Mexican, Thai, and other foreign foods combined with music that touches the heart and brings out your inner artist, then you want to check out this market.
We found some amazing Hawaiian Malasadas that were some of the best dessert we head during our Southern California road trip.
You're bound to find something you will enjoy, so make sure you're there every Thursday from 5pm to 9pm.
---
California Surf Museum
While looking for things to do in Oceanside we found the California Surf Museum. The California Surf Museum was one of those museums you have to take the kids to. My kids are not the museum-loving kids I wish they would be, but this museum absolutely grabbed their attention. There are so many amazing exhibits from the story of Bethany Hamilton to the timeline of surfboards. Everybody absolutely loved this stop. It is a must-see in our book!
Rent a Surrey Bike
After breakfast one morning in Oceanside, we decided we needed to work off the enormous breakfast we had at Beachbreak Cafe. So we hit up some surrey bikes. I don't know what it is about a surrey bike, but the kids and I always love to do it.
There is just something about a bunch of people piling onto a bike that makes everyone laugh and have a good time. We grabbed ours from Wheel Fun rentals which have surrey bikes all along the coast of Southern California from Coronado to Oxnard.
We really enjoyed the surrey bikes here because you could simply ride along the beach the entire time. After, surrey bikes we took some time to enjoy the beach. My oldest brought along his surfboard to enjoy some surfing and the rest of us just enjoyed playing in the sand and water.
---
Check out the Oceanside Murals
Oceanside has a fun artsy side as well. As you drive along the main streets you will find murals throughout the city.
---
Visit the Top Gun House
One of the more unique things to do in Oceanside is the Top Gun House. If you are a fan of the classic 1980's movie Top Gun, then you will love visiting this iconic house. Now located right near the pier in front of the new Hyatt hotel, is the original Top Gun House.
---
Shopping at some Vintage Stores
As we were checking out all the murals the previous day, Ella noticed numerous shops she wanted to check out. So, after we checked out of the hotel we did a little shopping spree at some adorable shops. Her favorites were Reap & Sow – (Which I loved too because it had Clean beauty products), Rising Co which has such cute items that were exactly her style, and the SeaHive which is a cute vintage marketplace. Ella loved these stores so much, that she has planned her birthday around heading back and visiting these stores again next month.
---
Mission San Luis Rey
If your trip to Oceanside is in need of a little historical refinement, you will want to take a look at the 'Mission San Luis Rey'. This historic hotspot was founded all the way back in 1798 and still stands strong in Oceanside, being named the 'King of the Missions'. The historical landmark is the largest of all 21 California mission, loaded start to finish with Franciscan Friars and plenty of hospitality.
This historic church and museum is available to the public daily. They also offer overnight programs for those who are in seek of a renewal in their faith.
Beach House Winery
Sophistication is the name of the game when it comes to the Beach House Winery. This tourist hotspot is noted for their astounding views of San Diego County and the beloved ocean, while offering wines that hit the spot every time.
Their wide selection of fine wines will bring any wine lover to all new heights of taste and experience. Known as the first 'Vineyard at the Sea', it would be a crime for any wine lover NOT to visit this legendary area.
Black Plague Brewery
Beer lovers everywhere have touted this as the 'best brewery in Southern California'. Not only is the decor awesome and not for the faint of heart, but the overall theme and presence of this brewery makes it a local hotspot that has tourists and locals enthralled every time they come for a visit.
When you come to the Black Plague Brewery you can expect three things: a theme that's a dark and suspicious, but totally cool and inviting, a good time with friends as you enjoy live events, and craft beers that is truly brewed for perfection.
Some of the varieties of beer you will find at the Black Plague Brewery include: 'End of Thyme', which is a Saison beer, 'The Offering' which is a Hazy IPA, and 'Black Light' which is a Pilsner. With names as intense as these, you can expect a flavor that is just as exciting.
Legacy Brewing Company
Looking for a bit more of a laid back and relaxing atmosphere while you sip on some brews? Then Legacy Brewing Company is your answer.
This amazing location provides their drinkers with some craft brews that are undoubtedly tasty. From subtle pumpkin brews to more extravagant guava flavors, you can expect to see a humungous variety of flavors that will appease any taste buds.
Aside from their assortment of delicious brews, you can expect the atmosphere to be calm and welcoming. You are able to feel the ocean breeze as you sit back and relax in the facility, ordering up a taste testing platter that has a lovely assortment of beer flavors to test drive.
Oceanside Indoor Skydiving Experience
Thrill seekers are going to love this next hotspot!
The Oceanside Indoor Skydiving Experience is the one and only spot to hit if you want to enjoy the thrills of falling from the sky- without the plane, that is. The iFly wind tunnel found in this establishment gives you the ability to jump without having to be connected to an instructor, which is something most other skydiving places will require you to do.
At this facility you can engage in an authentic experience as if you really were falling from the sky. The winds can reach anywhere from 130 miles per hour to a whopping 175 miles per hour, which is truly outstanding.
But you don't have to be a thrill seeker to enjoy this experience. It's also a family-friend facility that will allow children as young as three years old to take their shot at skydiving. Of course it's toned down for tiny jumpers, and sure to be a fun family experience! Check out iFly Indoor Skydiving Here!
The Oceanside Coaster Train Ride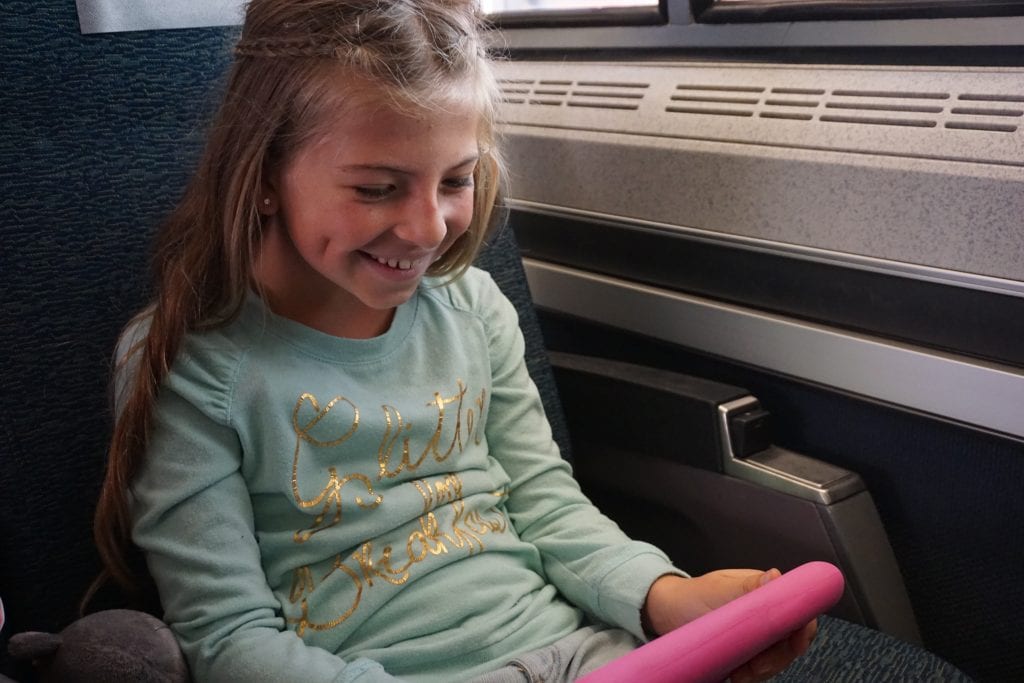 When it comes to traveling through Oceanside, you don't want to use your car; not when there is the Oceanside Coaster right there!
The Oceanside Coaster is a unique train that can help you travel through not only Oceanside, but other parts of San Diego as well. People choose the Oceanside Coaster for its breathtaking views of the cities and ocean, and its overall convenience from going location to location. We often take the coaster from Oceanside right into Downtown San Diego for a baseball game. It is super fun with the kids
Harbor Beach (Free!)
The most sought after beach in Oceanside is undoubtedly Harbor Beach. Here you have the ability to walk under a bride right up to the ocean, where you can lay back, relax, and get a generous tan, or take a long walk along the oceans shore.
The appearance of this ocean is truly astounding. Crystal clear with beautiful waves splashing in every couple of minutes, perfect for surfers to enjoy. It is also in close proximity to Harbor Village Shops, which means when you're ready for a break from the surf, sun, and sand, you can find some amazing finds in one of the unique shops downtown.
LEGOLAND
Next door in Carlsbad is Legoland. Kids and adults alike will love this whimsical place that's decorated beginning to end with life-size Lego statues and decorations that you have to see to believe. Aside from the amazing scenery (it's a great park to just walk around), Legoland has tons of rides from Splash Battle that leaves you giggling and wet to the exciting Dragon roller coaster that's perfect for the young thrill-seekers.
In addition to Legoland, their is a water park inside the theme park that is open during the summer. It is super fun, has a bunch of waterslides. The thing I love most about the water park is it is spotless and there are a ton of lifeguards on duty. Check out How to Purchase Legoland Discount Tickets [11 Ways to Save]
---
Where to Stay in Oceanside
We stayed at The Seabird Resort, and absolutely loved it. I loved it so much I immediately placed it on our top resorts to stay in Southern California list. From the moment you walk in you know, this is going to be an incredible stay. The decor is casual but classy and the little touches (like gold plated sea bird footprints) are absolutely adorable.
I absolutely loved the rooms and you can't beat the view! Our room looked over the pool and then directly out to the ocean, it doesn't get much better than that. Inside the rooms are little touches that make your stay so much more welcoming, like the cozy robe and slippers and the high-end Illy coffee maker.
Inside the hotel is also a spa and a library. Miss Ella's first stop was hitting up the library. Like I said above, the pool is so nice, and the spa looks out directly over the ocean. We stopped by early in the morning on our check-out day to enjoy it one last time.
Overall
There's a reason Oceanside, California is a top place for tourists. There's an exciting selection of nightlife. Fun activities and tasty craft breweries, plus and ocean that is highly intriguing to the eye. Overall its an enjoyable experience for anyone who crosses its path. Relax on the beach or try a hand at fishing. Or go crazy at the Skydiving Experience to satisfy your craving for thrills. There's so much to do, you're bound to have an enchanting time in Oceanside.
Map of Things to do in Oceanside
Frequently Asked Questions about Oceanside
What is there to do in Oceanside for free?
Oceanside Pier 
Mission San Luis Rey
Oceanside Sunset Market
Harbor Beach
Oceanside Strand
Oceanside Harbor Village
Oceanside Farmer's Market
California Welcome Center
What is there to do in Oceanside with kids?
There are beaches, the skate park, walk the pier, surfing, fishing, museums, swimming, boat rides, whale watching (during the season), the mural walk and so much more!
What other beaches are near Oceanside?
South Carlsbad State Beach
Tamarack State Beach 
Buccaneer Beach
Frazee Beach 
Oceanside Harbor
Cassidy Beach
Grandview Beach
You Might Also Enjoy:
Sea World Discount Tickets – 5 Easy Ways to Save Money!
25 Incredible Things to do in Coronado California [An Ultimate Guide]
8 Super Amazing things to do in L.A. with Kids that won't break the bank!
Latest posts by Mama Munchkin
(see all)