One thing I love about Apple AirPods (a great gift for teens) is that you can give them a customized feel and right now our favorite style is the Starbucks Airpod Cases. We've previously written about some of our favorite Disney and Louis Vuitton cases, and now we are bringing you the best Starbucks Airpod case!
We have a couple of Starbucks Airpod cases due to my daughter's insane love for this coffee giant. When we are not at Starbucks she is making up Starbucks concoctions at home like the Strawberry Acai and Passionfruit Guava Drink. So, if you love your AirPods and you are a Starbucks fanatic then these Starbucks Airpod cases are for you!
This case is the definition of cute. It is a silicone AirPod case that looks like a Starbucks Mocha and Java Chip Frappuccino. This case keeps your AirPods safe while looking unique and stylish. In my opinion, the detailing of this case makes it so worth the buy.
Get your Frappuccino Case here!
---
This Starbucks AirPod case looks just like the classic cup you hot coffee from Starbucks comes in. It is made with impact-resistant silicone to keep your AirPods protected.
---
This AirPod case looks like a Starbucks to-go bag, it even has a cute little handle. I absolutely love how the case looks just like the actual Starbucks bag. The only difference is it's for your AirPods! Another thing to love about this case is how it is so unique and detailed.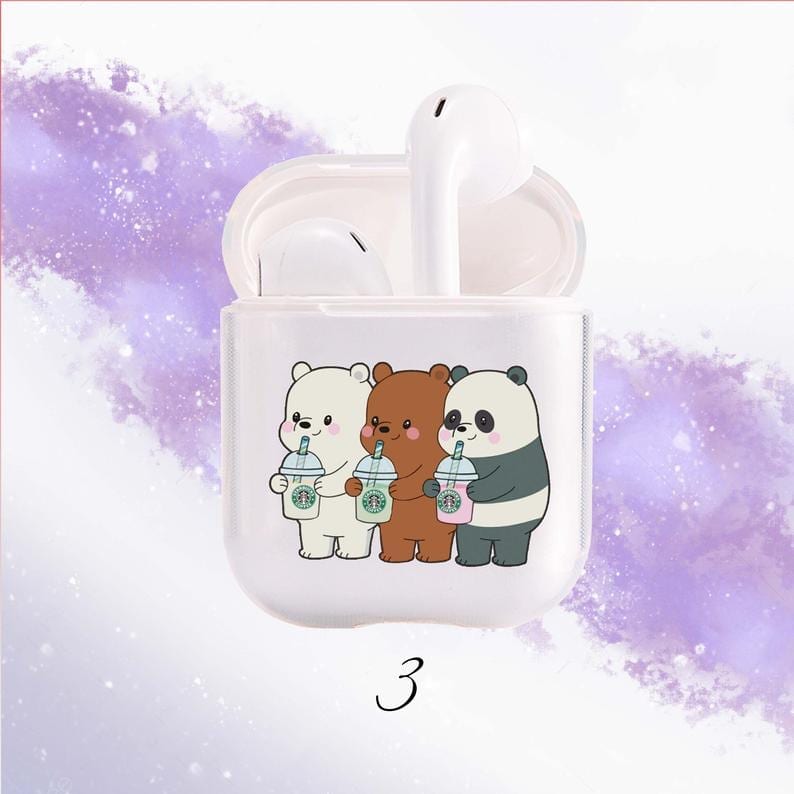 This Starbucks case is so cute and funny, it shows three bears each holding their Starbucks frappuccinos. This case will brighten your day every time you look at it because it's just adorable!
This case is simply the famed coffee spot's logo, so if your a Starbucks lover like me you'll be a fan of this one. It has a cute circle shape. It is another great option for protecting your AirPods while showing your love of Starbucks.
---
This might be my favorite Starbucks case. It has a fun clear design with the Starbucks logo and a gold keychain. The best part of this case is the frappuccino pendant attached to the keychain.
See how cute this case is here!
---
If your usual order is a matcha frappuccino, you'll love this case for sure. It is an adorable green tea frappuccino case, with a keychain so you can attach it to your keys or backpack. It is made with silicone, so it will keep your AirPods safe.
If this is the one for you, get your matcha case here!
This is probably hands down the cutest Starbucks AirPod case ever. It is a bear holding his Starbucks latte. This case makes me smile every time I look at it.
Check out my favorite case here!
This pink Starbucks Frappuccino case is just too cute and actually I just ordered it for my daughter.
I hope this list helped you find the perfect AirPod case to show off your love of the best coffee ever. You can say goodbye to the days of accidentally picking up someone else's AirPods once you have one of these unique cases!
10. Airpods Pro Starbucks Case
There aren't many Starbucks Airpod pro cases out there. This one is similar to #1 on our list.
Know of any other great Starbucks Airpod cases, let us know in the comments.
Pin for Later – 10 Best [Cute & Protective] Starbucks AirPod Cases