Having 5 kids, 4 of which have AirPods, we are in desperate need to find some AirPod cases to help differentiate the different sets of AirPods. Luckily there are a plethora of options. I have three boys who are obsessed with the brand Supreme and Bathing Ape. In fact, they drug me all over Tokyo to find the Bathing Ape store. So we had to go on a search for the best Supreme Airpod cases and Bape Airpod cases on the market.
We researched to make sure that we are only promoting cases from legitimate sites where you will receive your case in 1-2 weeks at the most. Here are our teens' favorite options. 
Supreme Airpod Cases
Supreme is a pretty high-end brand, their simple style is much different than brands like Louis Vuitton, but their prices are in about the same region.
Perfect Airpods case for the traveler!
This one is great for members of our family as we are always traveling. It was pretty durable, fit perfect and available on Amazon Prime. Check it out here!
Best Supreme Case for a Gamer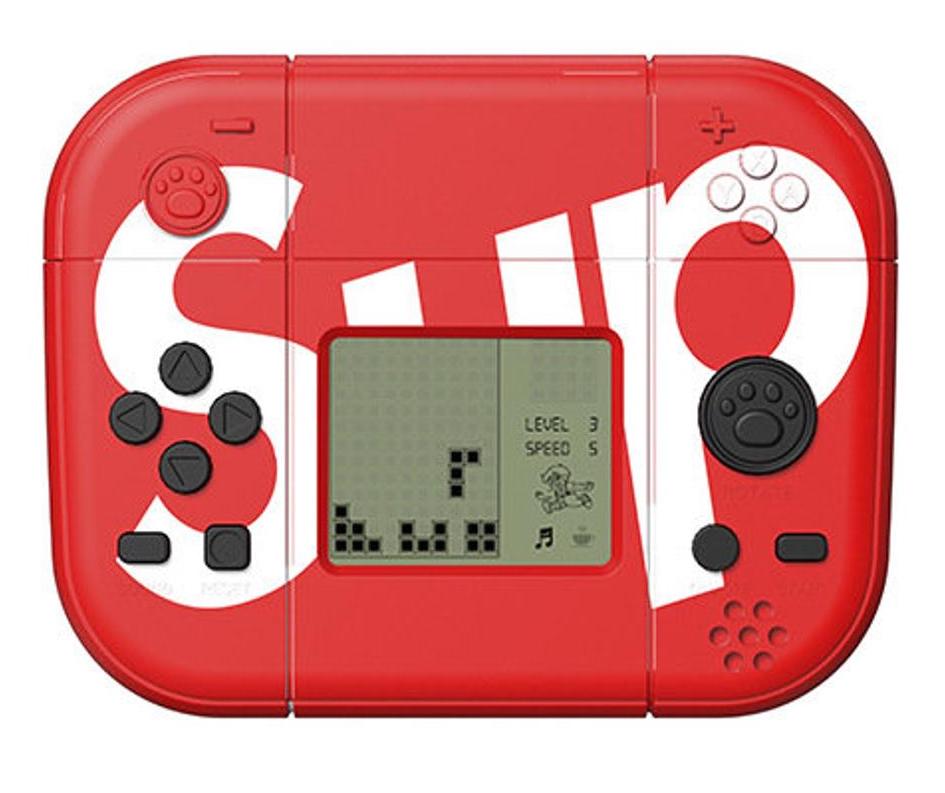 If you have someone in your family who loves Supreme and also gaming this is the perfect airpod case for them. A compination of a gaming console playing Tetris with the classic Supreme logo.
---
Supreme Luxury Case Designer Leather Skin – Red Flower Logo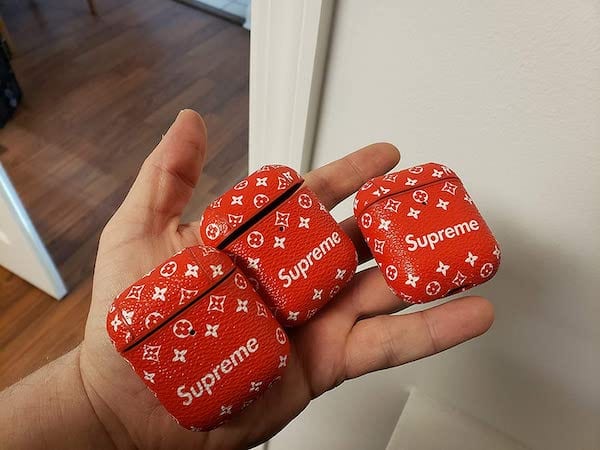 These are some nice looking Airpod cases that help protect your airpods from scratches, drops and dents. Plus, more important, as my son would say, they have some serious swag. Check current price here!
Supreme Airpod Pro Cases!
Of course, recently two of my boys got the Airpod pros, so we needed to look for new Supreme Airpod cases for the pro version. These ones caught our kid's eye as they are nice and clean and come in the classic supreme colors. You can grab them here!
Clear Supreme AirPods Pro Case 2019 Upgraded Protective Cover for AirPod Pro Case Clear
The thing I really like about this case is the giant clip that comes with it. I usually buy those separately as they are great to hook onto backpacks so that your case does not get lost. Available on Amazon
Bape Airpod Cases
Soft Silicone Bathing Ape Case
This was my son's favorite, in fact, he has a giant Bathing Ape decal on his wall just like this case. This silicone case is available on Amazon and with prime shipping. Check it out here!
Bape Shark Camo Case
This Bape Airpod case is definitely a best seller. The shark camo is one of their top selling designs for apparel. This case works for the classic airpod. Check it out here!
Bape Airpod Pro Cases
Made of high-quality impact-resistant silicone rubber and compatible with Apple AirPods pro & AirPods 3 Charging Case. Shock absorbing design-superior shock absorbing design engineered to absorb, evenly distribute and circulate the impacts into the case. There is also a charging hole design at the bottom which makes it easier to securely carry around Airpods pro. Check Current Prices Here!
3D Bape AirPod Pro Case,
One final Bape Airpod pro case is this one available on Amazon. This case just came out in late 2020 and already has 5 star reviews.
If you know of any other Amazing Supeme Airpod Cases or Bathing Ape Cases Let us know in the comments and we will check it out.
You Might Also Enjoy:
The Best Starbucks Airpod Cases
15 of the Best Vacations for Teens + Tips & Tricks
7 Must Have Gym Bag Essentials Every Teen Boy Needs
Pin for Later: The Best Supreme Airpod Cases & Bape Airpod Cases