Airpod cases have become the new way to express yourself, and more importantly, they help you tell which ones belong to you! This is super important when you have a big family like us (and even more so when your teens are constantly losing things). We've talked about our boys' favorite Airpod cases like Supreme and our favorite Disney cases, but this time we're taking things up another level of luxury. Here are our favorite Louis Vuitton Airpod cases.
Our [5 Favorite] Louis Vuitton Airpod Cases
This case has the Monogram Louis Vuitton print and is made of shockproof leather. The material feels super luxurious and fits snug around your case. It also comes with a keychain attachment, so you can hook it to your jeans or purse. Bonus; it comes with two cases so you will get another chic design along with your LV case.
This trunk case is sleek and will keep your Airpods secure and safe inside. It comes in a couple of different color combinations, as well. Keep in mind, this case is a little bulkier than most of the other options. This means if you're tossing it in a purse, it's perfect but if you want to slip it in your pocket it's not the best.
Here is another great option that comes in a 2-pack. The Louis Vuitton Airpod case in this pack comes in a little bit different of a shape with a more flat bottom, which I enjoy the look of. It also has a hook so you don't lose your case on the go and you can leave the case on while charging.
If you love the black Louis Vuitton print, this is the case for you! It doesn't have the exact print, which makes it come off more subtle but very chic. It's probably my favorite on this list. Best of all, you can get this case for Airpods 1 & 2 and there's also an option for the Airpod Pro.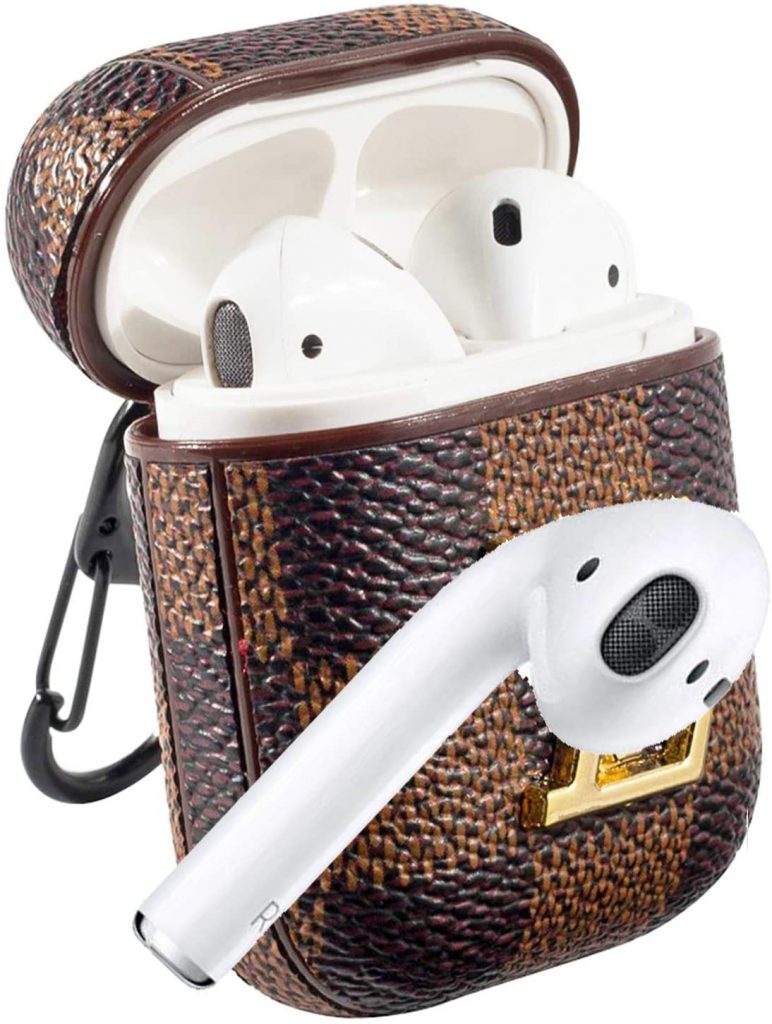 This case has the classic logo print and is made with premium leather. It also has a durable clip, making it easy to take on the go. One of the things I really love about this case is that it has an opening on the bottom so you can leave it on when charging.
LV doesn't always come in muted colors. Here is a buying option that offers the print in green, pink, or grey. This shop also sells some really cute charms to add a little something extra to your Airpods.
I love having a fun little to distinguish my Airpod case from the others around the house. It makes them so much easier to keep track of, and of course, these cases being so cute doesn't hurt either!
Do you have an Airpod case you absolutely love? Let us know in the comments!
You May Also Like:
The Best Family-Friendly Jackson Hole Luxury Rentals
Travel Experts Reveal The BEST Luxury Resorts For Families!
75 Family Vacation Quotes That are Funny, Heartwarming and Too Honest