This Summer Starbucks has brought back the Starbucks Summer Game in 2021 with a way to win 30,000 Bonus Stars. In addition, they are giving away hundreds of thousands FREE Starbucks drinks, food items, bakery items, and Uber Eats gift cards.   The total value of the prizes is worth over 1 Million dollars.
But, if you are like me, you aren't hitting up Starbucks every day, so winning is not likely. (Although that new Starbucks Summer Guava Passion Fruit Drink makes me want to visit every day). Well, have no fear we have some super-secret ways to win the Starbucks Summer Game!
Starbucks Summer Game 2021 is Here! Super Secret Ways to Win!

What Can You Win this Starbucks Summer?
Grand Prize – 30,000 Bonus Stars! (Over $1,100 Value)
This year Starbucks Summer game is all about the Stars. The more people play, the higher amount of stars you can win with a chance to win up to 30,000 stars…… that's a lot of Strawberry Acai drinks.
The grand prize continues to increase in size by the total number of entries around the world and since Starbucks is the most popular brand out there, I don't think they will have trouble reaching the top prize.
In addition, there will be other grand prizes and, yup, you guessed it, it's stars!
20,000 Bonus Stars
10,00 Bonus Stars
5,000 Bonus Stars
1,000 Bonus Stars
500 Bonus Stars
How Many Winners Will There Be?
Starbucks will be giving away prizes throughout the time of the Starbucks summer hame from July 21, 2020 – August 23, 2020. During that time there will be over 2 Million random times that prizes will be given away (2,135,000 to be precise). Basically, you have 2 million chances to win. That is almost 1 winner every second!
1) How to Play
The Starbucks Summer game for 2021 is a lot more simplified than it's boardwalk version from 2019. In this one, a little bit of old school arcade gameplay is involved as you aim your game ball to win an instant prize.
You have to be a Starbucks rewards member
Sign up by going to starbuckssummergame.com or via the Starbucks App
The game will go from
You earn one game play just by signing up for the game. (Easy enough!)
You earn additional game plays every time you make a qualifying purchase with the card that is registered to your starbucks rewards. (It's easiest if you use the app)
You can earn up to two game plays a day (basically by drinking Starbucks twice a day)
2) Earn Bonus Plays
Once you play the game 13 times you earn one bonus play
You can earn one more bonus when you play the game 18 times
Not a Starbucks Rewards Member: 
Hey, it's free to join so you might as well, but if you don't want to you can still Play their mini-game and try to Earn Free Starbucks for a Month.
3) Super Secret Way to Increase your Chances of winning!
Hey, I love Starbucks, but I usually only go once or twice a week unless I am traveling. So, the odds of someone like me winning is slim to none. However, there is a Super Secret way you can still earn 3 entries every single day without spending a dime There is no need to break from your normal routine to get gameplays. Here is how to do it.
Login to your Starbucks Rewards or hop on the app
Click on Play the Game!
At the bottom you will see no purchase necessary and then click here to enter.
Fill out your name and address
Choose the Purchase you want an Entry
In a minute you will receive an email saying activate your entry and play
You can do this twice every day
Thus, you earn the max 2 entries every day and can earn  66 entries if you repeat this strategy every day.
You Can also earn your Bonus plays this way!
Simply, visit the Promotion Site and follow the links and instructions to select the bonus play option and complete and submit the form. All in all, you can earn 68 total entries.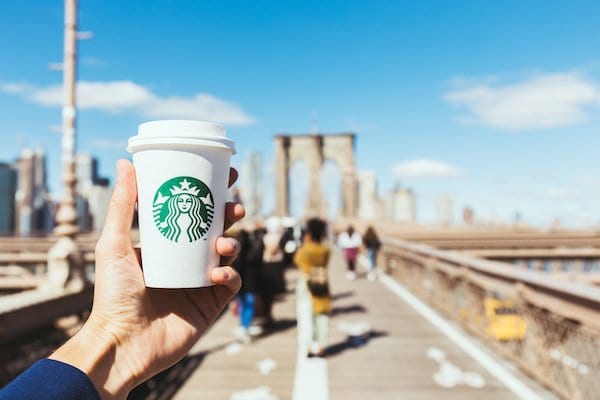 Now, while I have not won any of the big prizes….yet. I have won several free drinks and 200 bonus stars and hopefully, you will win one of the big Starbucks summer game prizes. Good Luck!
Are you a Starbucks Addict? Our friends at Boarding Area have some news on a NEW STARBUCKS CREDIT CARD!
What is your Favorite Starbucks Summer Beverage?
You Might Also Enjoy:
Starbucks for Life is Back! Super Secret Ways to Win!
10 Delicious Low Carb Starbucks Drinks to make at home!
The One App EVERY Parent Needs to Download This Summer
Pin for Later –