Aulani, a Disney Resort & Spa is one of the best Disney Vacations in my opinion. In fact, we love it so much we have been there 8 times since the resort opened in Oahu. Aulani is the only Disney resort that is in Hawaii, and it simply is a magical place. From the incredible views to the super fun waterslides to their amazing Luau, there is simply so much to do for families at Aulani. One of our favorite things to do with our kids at Aulani is the Aulani Character Breakfast. This past January we hit up the Aulani Character Breakfast to see what was new and of course for the incredible amount of fun.
4 Reasons Your Family Will Love an Aulani Character Breakfast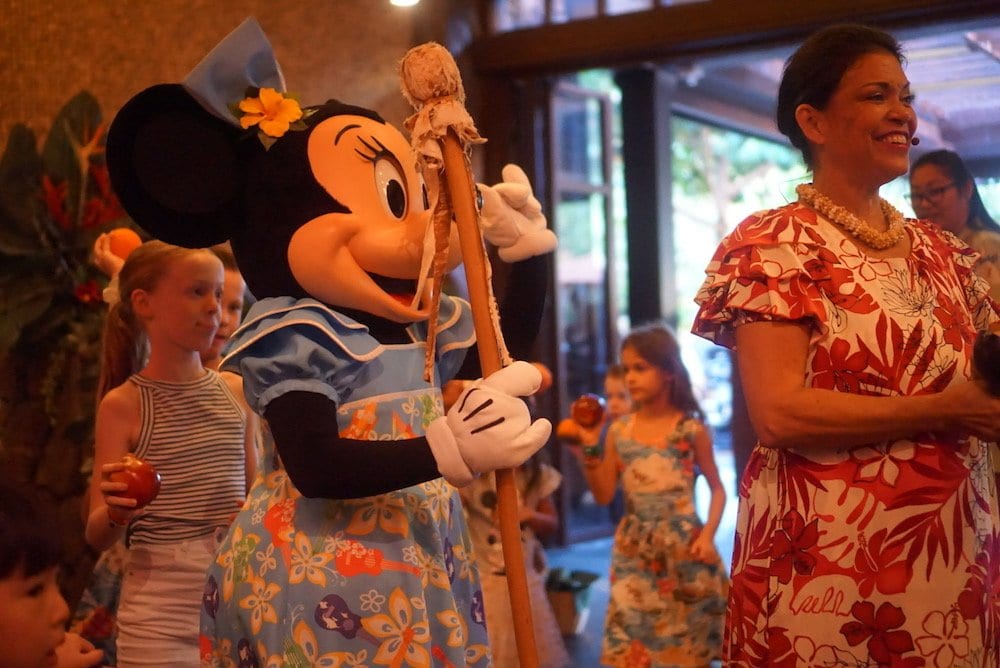 About the Aulani Character Breakfast Buffet:
This casual buffet-style breakfast is family-friendly and open to the general public. Whether you stay at the resort or not you can dine at the character breakfast. It is located on the first floor of the resort at the Makahiki Restaurant overlooking the Waikolohe Valley which is the centerpiece of this beautiful resort. Prices are $39 for adults and $20 for kids. The character breakfast usually runs from 7:00 am – 11:00 am, but it is always good to double-check the restaurant hours to make sure they are open when you plan.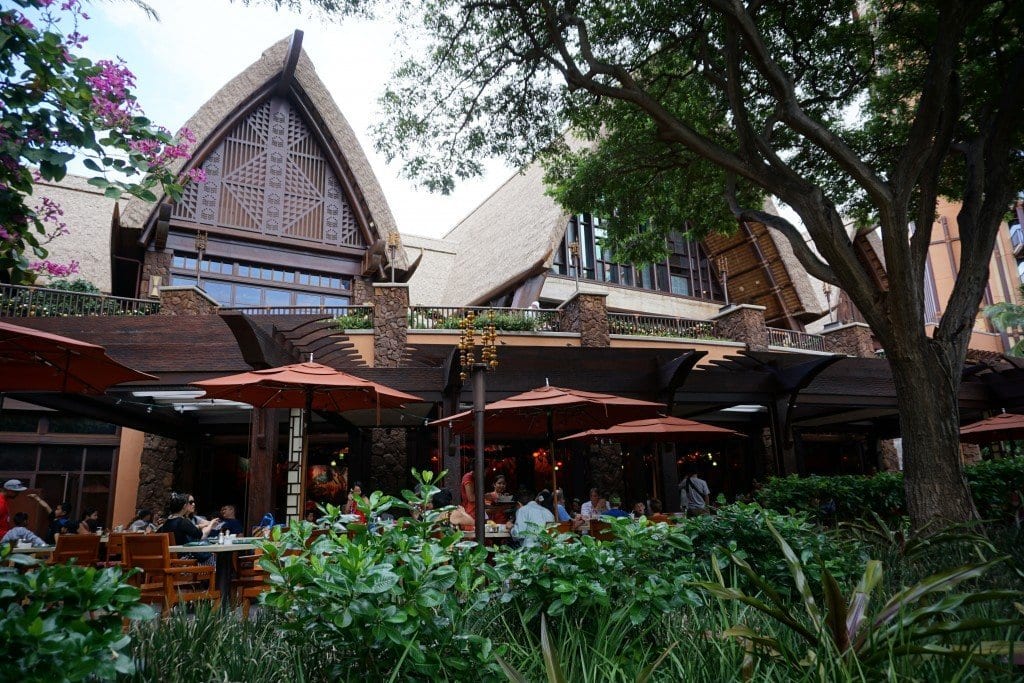 Reason #1 – Characters, Characters, Characters
When you arrive at the Aulani Character Breakfast you'll be greeted by one of their friendly hosts. The first stop on your journey is a photo area where you'll be able to meet and take plenty of adorable pictures with Mickey. After you finish up with your pictures with Mickey you'll be taken into the restaurant and seated to enjoy a delicious buffet-style breakfast.
Then throughout your meal, you will be visited by Minnie, Pluto and sometimes Goofy. All the characters are decked out into their best Hawaiian attire which makes the pictures even more fun. The small setting is nice as the characters take their time at each table to interact with the kids.
Reason # 2 – An incredible breakfast
Usually, when we do character breakfasts at Disney World, we definitely go for the kids. The breakfast is decent, but with the exception of a few of the character breakfasts, most are just mediocre. Let me just say this, the Aulani Character Breakfast is no ordinary breakfast.
They had just about everything breakfast food imaginable, eggs, biscuits and gravy, grits, fresh fruit, muffins, and so much more! The things I loved were some of the Hawaiian dishes they have in the buffet including Macadamia Nut Pancakes, malasadas, egg fried rice and they also have a create your own omelette bar.
New Version of Mickey Waffles!
And of course, the Aulani Character Breakfast has Disney's signature Mickey waffles, but at Aulani you will also find Red Velvet Mickey Waffles – yum!! Plus, you have some delicious coconut syrup to top it with. They have so much food you won't even know what to do with yourself, and might even be full until dinnertime! (well, maybe you'll have room for a shaved ice later)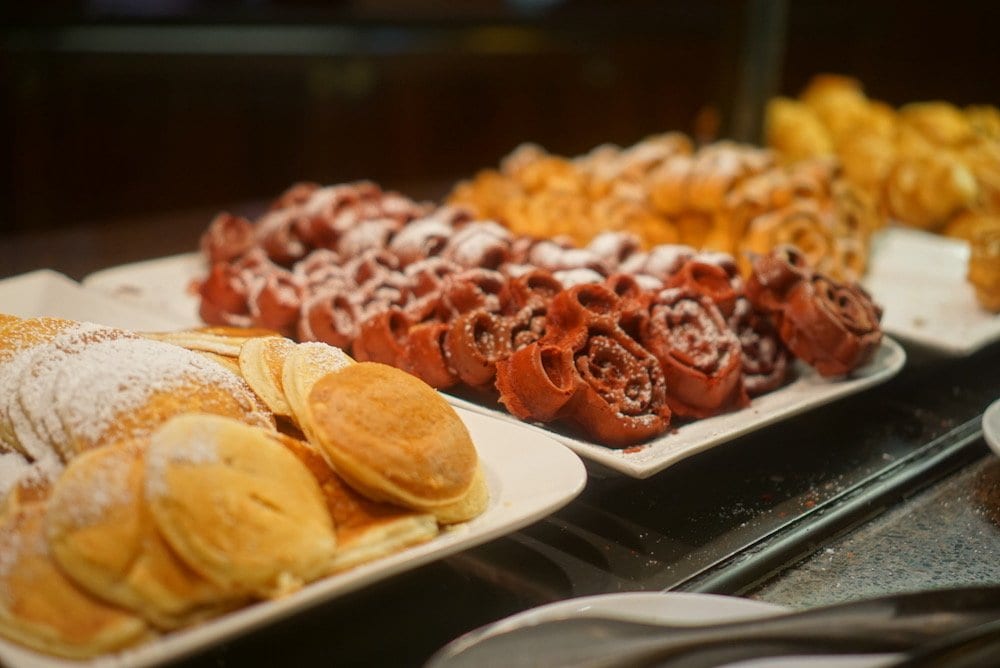 Reason #3 – The Service (including Dietary needs)
Ok, this sounds a bit cliche, the food the service, but I truly loved the staff at the Aulani Character Breakfast. Every waiter/waitress is always so happy and it feels like you've known them. To give you a little example of how fun the staff is at the restaurant, one Thanksgiving we had breakfast at the character breakfast with about 21 of us. My husband being the ridiculous man he is was making our entire family do turkey calls and asked our waitress to judge who was the best. Our waitress did one better and brought out several kitchen staff and chefs to judge our ridiculous "turkey call" competition. Some of the staff even joined in, it was hilarious.
Another part of their service is their attention to dietary and allergy needs. My nephew has a severe nut allergy and the chef came out and took my nephew around to all the dishes he could eat and then offered to make special pancakes just for him. That kind of service you can't beat.
Reason #4 – The Entertainment
The entertainment at Aulani is super fun especially for the kids. Your kids will have a blast joining the parade during Aunty's Breakfast Celebration, or singing along to the music they have playing through the restaurant.
My kids loved joining the shake a shaka parade where Aunty plays some Hawaiian songs and the kids dance around with maracas and puppets as they head around the restaurant. In addition, they have two other parades, one where kids can be fishies and the other the kids can play some music with coconuts and bamboo. The characters join in for the fun and it is a nice touch to the great breakfast.
Throughout the entire breakfast "Aunty" keeps everyone entained while we chow down on some pretty delicious food.
Bonus Fun: Make a Mickey Creation out of your Breakfast
This year my son came up with a competition that we probably use everytime we do a character breakfast. we each create a mickey shaped design out of our breakfast creation. Then, asked our followers on Instagram (you can also just ask a cast member) which creation was the best. The winner got a snow cone later in the day
Here are some of our creations.
All in all, the Aulani Character Breakfast is really great for kids of all ages. My teenagers love the never-ending buffet, the kids love the characters and Mickey waffles, and I enjoy the delicious food, my morning coffee, the incredible view and seeing all my kiddos have a great time. To book your reservation: click here
You Might Also Enjoy:
The ULTIMATE Guide to Disney's Aulani- Aulani Review [Top 10 Tips – Photo Tour]
5 Reasons We LOVED KA WA'A- luau at Disney's Aulani Resort
17 Awesome Disney Family Shirts for your Vacation [+3 Weird ones]
The Best Things To Do In Oahu with kids [25 amazing activities]
Latest posts by Mama Munchkin
(see all)