Packing for Europe can be quite the process. Last year I hopped on a jet plane headed to Prague to visit my baby sister. I was flying alone and on one of the economy airlines, which charges an arm and a leg for luggage. Thus, I had to trim down my packing list to one single carry on. The goal for our Packing List for Europe…20 outfits in just a single carry on.
Packing List for Europe – [20 Amazing Outfits] in Just One Carry On!
Packing for 10 days in Europe in only a small carry on. Can you do it? I did and here is how…
First I went pin crazy. I am terrible at putting together capsule wardrobes so I go straight to the experts and copy them. You will see my favorite inspiration in the three capsule packing lists below!
Choosing Your Capsule Packing List
10 Perfectly Edgy Outfits for the Trendsetter:
I love the way she paired casual and trendy by swapping in accessories. You can make great use of the same items by creating capsules. Like the one you see below!
You will need a couple of pairs of jeans, a few different tops, and some accessories. You'll definitely need this cute fedora, these black vans, this cute black Panama hat, and these rockin' boots in order to make these outfits work.
**BONUS** All the ones I linked are super cute and I found pieces with the BEST prices too!!!

Shop These Looks (Similar + Cheaper!)-

10 Comfortable & Cute Outfits:
While I do love the edgy outfits above, the capsule below best represents what I packed for Europe. The only difference is that I leave my wedges at home. I have found the cobblestone is not very forgiving to a woman in heels. You can find most of these items below. But a few of my MUST HAVES include this cute black Maxi, these comfy faux leather pants, these super cute gladiator sandals, and these fun flats.
Shop These Looks (Similar + Cheaper!)-

Capsule Style Packing List for Europe in the Summer:
We were only in Rome for a short jaunt, but this list gave me some great inspiration for warm weather clothing. When we were in Rome the weather was pretty hot, just like it was for our Mediterranean Cruise. These outfits were ideal. These boyfriend jeans are my FAV (and they're on SALE). This dress I own in multiple colors and just throw in my purse when using it as a bathing suit cover, and you definitely should own a pair of these sandals (I have had mine for 4 years and they are still like new).
Shop These Looks (Similar + Cheaper!)-

What To Do Once You've Decided on Your Capsule Looks
Pretty awesome right. Like they say, "why re-invent the wheel." Go a little pin crazy. After you have found your inspiration follow these easy steps:
Scour your closet- you will be shocked by how much is in there I promise.
Purchase needed items- head to Nordstrom's Rack, H&M or Target to pick up any items you still need while on a budget.
Have a Fashion Show- try on everything. Find as many combinations you can make out of the least amount of pieces.
Lay everything out- then 24 hours later go through and take out anything you feel you don't REALLY need. Be really strict with yourself here, less IS more!!!
Then pack.
Don't Forget THIS Must-Have Item- a Portable Charger
Not just any portable charger but specifically this one- the MyCharge Portable Charger Power Bank. I have tested tons of portable chargers throughout my travels and this one is by far my favorite. Not only does it charge incredibly fast (up to 75% faster to be exact), but it also has two charging cables attached so you don't need to attach any additional cords. And, the MyCharge charges directly in the wall making it so much more effective than any other portable charger I have used. Grab one on Amazon (it's prime) here.
5 Things Not to Forget!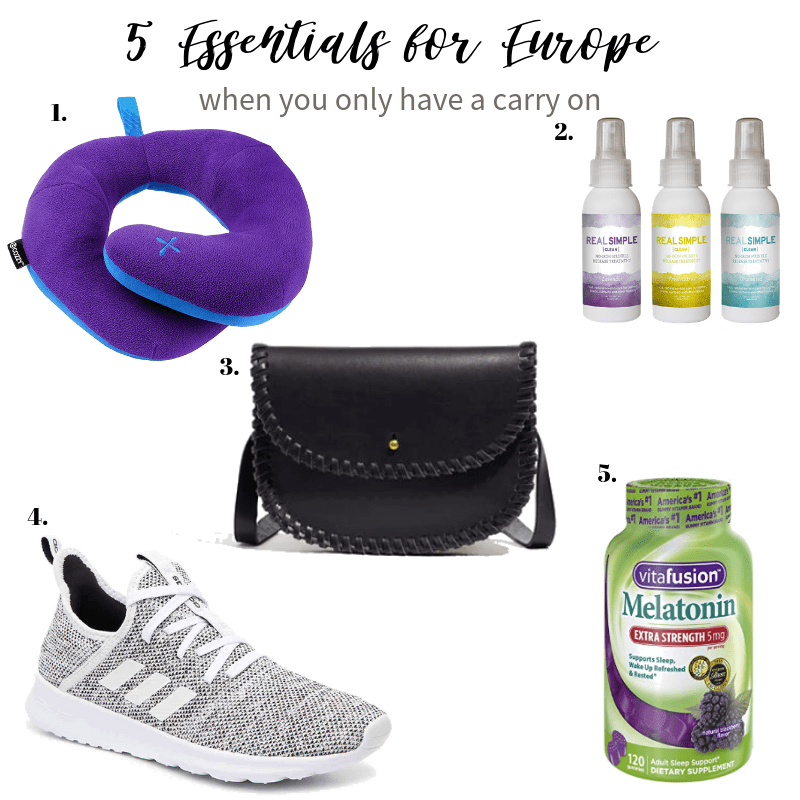 Pillow // Wrinkle Release // Fanny Pack // Shoes // Melatonin
1. Travel Pillow – It's a long flight from the States, you want to get some sleep on the plane. Pack a nice travel pillow. Some attach to the outside of your bag like the one I use here.
2. Wrinkle Release Spray – In Europe, you are often on the go which means irons are not always handy. Grab a little wrinkle release spray to spritz on your clothes and you will be traveling through Europe wrinkle free.
3. Fanny Pack – Not the ones your mom used to wear; the cute trendy ones. This will be a nice safe spot to hold your cash and passport.
4. Comfortable shoes – Europe is about walking….a lot of walking. Without comfortable shoes, say goodbye to a good time
5. Melatonin – Melatonin is a must in my international packing. Getting used to a time change is so much easier when you have a little sleep aid. Melatonin is all natural, so you shouldn't have any lingering sleep issues after taking it. We love this brand here.
Here is a quick video that talks about my Favorite Packing Hacks:
Using the above methods I successfully packed my entire wardrobe in my carry on suitcase.
I filled my backpack with my laptop, camera, chargers, universal adapter, passport, copies of all my travel reservations and my cross body travel purse. And, now I am good to go!!
Looking for more Europe tips? You might be interested in the following posts:
Pin for Later: