You may be wondering what exactly you need to pack for your upcoming Hawaii vacation. Honestly, when it comes to packing, Hawaii is one of the easiest destinations for me. The chill laid back vibe of Hawaii  + the year round weather forecast of sunny skies really only calls for a few key necessities. Even still if you are Type A like me you still need a checklist for what to pack for Hawaii.
Well, look no further, here is the Ultimate Packing list for Hawaii plus I included a free printable so that you can print and simply start checking off. With kids and a husband around to distract you, sometimes you just need physical proof that you've got it all done!
Ultimate Packing List for the Hawaiian Islands + [ Free Printable List ]
While you will probably find that most things on this Hawaii packing list are obvious. Even I still double check with a list before heading out the door because these items are absolutely necessary.
Carry On Luggage
My goal is to eventually only pack carry-ons for Hawaii trips, but we aren't there just yet! In a year or so the big kids will be old enough for the responsibility of their own carry on luggage and Jack will be out of the baby stage.
This coollife luggage is an exceptional brand and has luggage at an affordable price. But, until then we pack both a carry-on and checked luggage. The rest of this list is showcasing that.
*Tip: Save some room and weight in your checked baggage by packing heavier things like jeans, sneakers, and snacks in your carry on if possible.
What to Bring for the Plane Ride to Hawaii
The goal here is to be comfortable, so a great neck pillow, comfy socks, and a scarf or lightweight sweater usually do the trick. I like to pack an eye mask and sunglasses too (I've had someone keep their window open in the row in front of me and the sun was glaring straight in my eyes the whole flight). Lastly, I always bring chapstick and lotion to help my lips and skin stay hydrated up in the sky. I love that this lotion is so small and can even be thrown in my clutch, plus its gentle peony scent is perfect for on the go. I always want to arrive in Hawaii as my best self so I can feel that aloha spirit!


What to Pack for the Plane Trip to Hawaii
Plane food is not what it used to be and we've been on flights where they have completely run out of food or ran out of what we wanted to purchase. So, come prepared with snacks. Below are some of my favorites. 1. Trail mix, 2. celery & nut butter, 3. citrus tastes so good on a plane always, 4. candied ginger, 5. Ready Snax packs with veggies or fruit, 6. chocolate covered pretzels are my go-to plane treat and lastly 7. a cup of oatmeal is always great because the flight attendants can easily get you some hot water.
*Tip- Purchase water once you get through security and I usually grab a sandwich at Starbucks or an entree at the airport food court too.
Keeping yourself entertained on the Flight
You will also definitely want something to keep you occupied! Reading material and electronics usually, do the trick. Make sure to pack a nice set of headphones too. The cheapest & best pair we have found are these ones (read our full review of them here).
I learned to pack chargers with multiple outlets so the whole family can charge their electronics at the same time. It also helps when there are no outlets available or they are all taken. Strangers will welcome the multiple outlets and share the juice, too! Here is my favorite portable charger. It charges fast, even with multiple devices connected.
*Tip- Clorox wipes might sound odd- but a quick wipe down of the seats and trays always makes me feel a little better about the germ situation. We don't need anyone getting sick on our big trip- right?
Toiletries
This part of the list will probably be a little different for every family. Whatever your routine is for bathing and getting ready in the morning, you will want to include on the packing list for your Hawaii trip. I recommend keeping all toiletries separated in gallon sized Ziploc bags.
This helps avoid the "Oh my god, where did I put that thing I really need?" moment from happening. I usually divide them by shower, sink, and makeup. It makes it super easy when you unpack and settle into your room.
To ensure the bottles don't spill: take off the tops, place a small square of plastic wrap over the bottle opening and then screw the tops back on.
For the mamas, I keep my makeup pretty light in Hawaii with just enough to give me a sunkissed glow! Some of my favorites are this Bronzer Palette from Elf (super affordable) and a moisturizing BareMineral Lip Balm. Whatever you decide to bring along, this little pouch is adorable and perfect for makeup!
*Tip: Most accommodations including Hotels, VRBO & Airbnb in my experience are equipped with hair dryers. So, check with them before you pack.
Clothes to put on your Packing List for Hawaii
This is where what to pack for Hawaii is easy peasy. Pair your swimsuit with a tank, shorts, and flip-flops and you are pretty much dressed appropriately for 90% of places you'll go on the islands. Sure, you'll want to pack at least one nice outfit (more if you're sans kids) for when you go out to a nice dinner. But, keeping things simple = a more relaxing vacation and isn't that the goal when you are going to Hawaii?
A few things that are important to bring if you plan on being more active are:
exercise clothes
athletic shoes
pair of jeans
Closed toed shoes
Old Pair of athletic shoes for Hiking (the Hawaiian mud will destroy your shoes so bring ones you don't care about)
Zip-lining and horseback riding both require pants and close-toed shoes. And, hiking in Hawaii is usually pretty wet and slippery so sneakers are what you will want to be wearing. Yes, there are a bunch of people hiking in flip flops but if you want to get to the peak and see some of the most spectacular views in the world then listen to me and wear your sneakers.
*Tip: To save space always roll your clothing vs folding.
You can shop these looks here!
Preparing for the Hawaiian Sun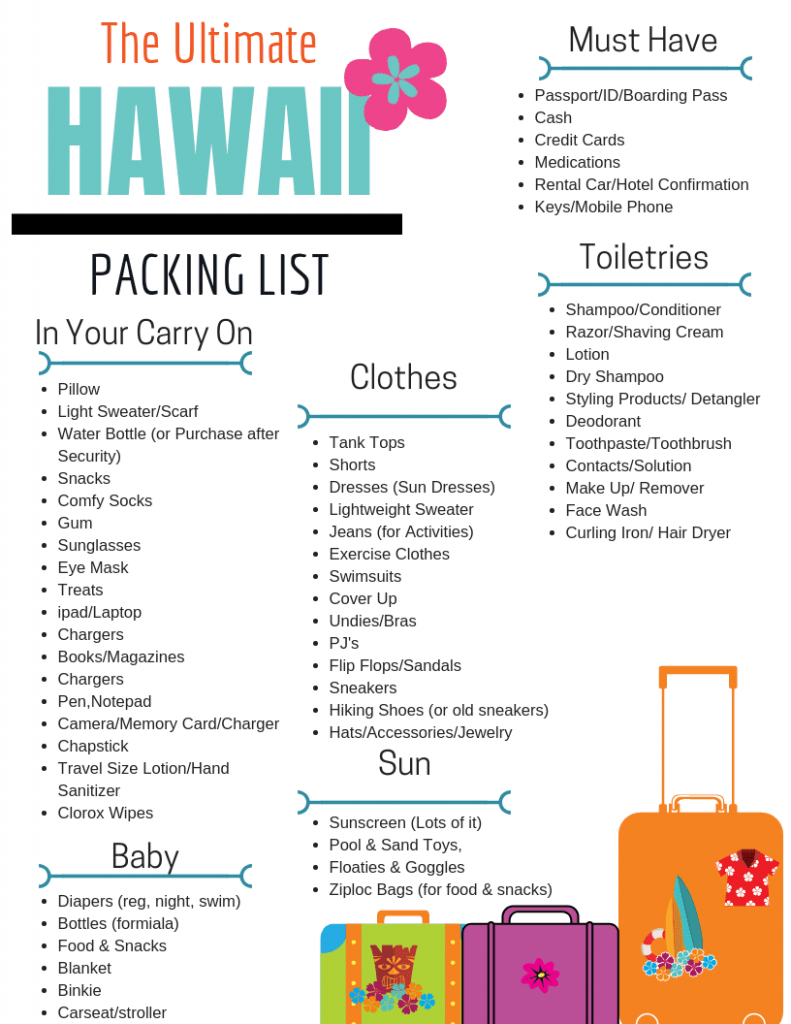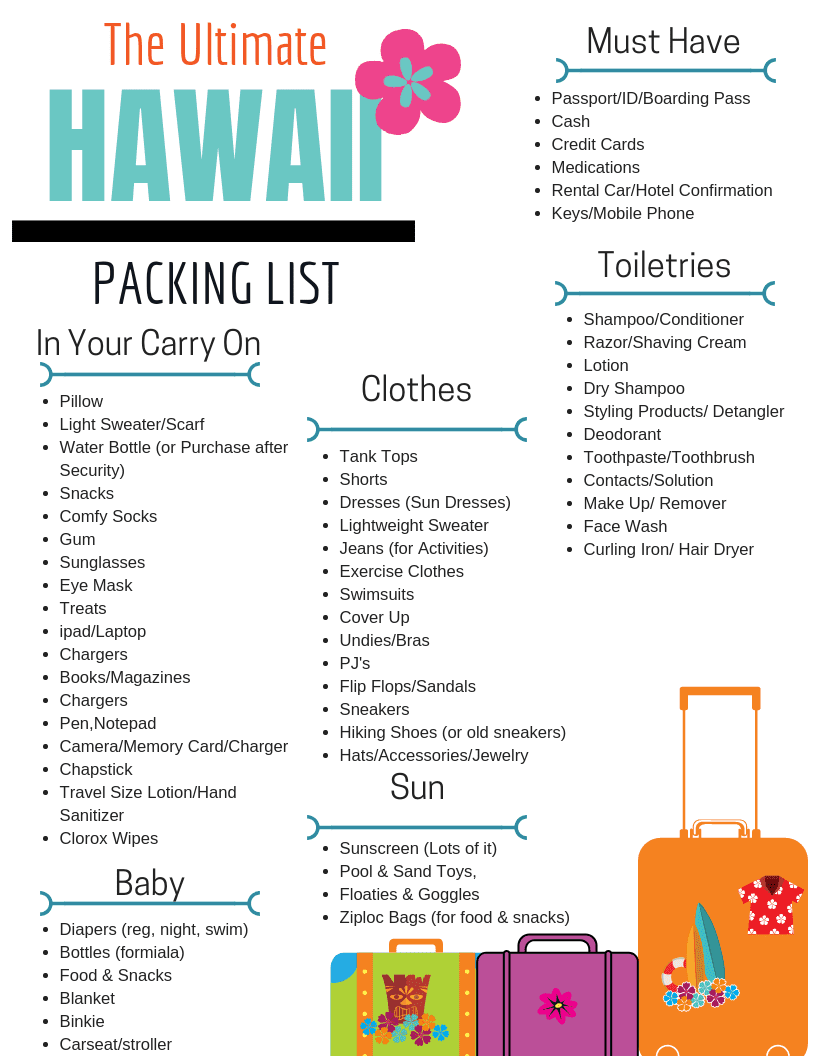 First off, Hawaii can get hot and you want to make sure everyone in the family is staying hydrated during those long beach days. The quality of water is great, so be nice to the environment and invest in one of these collapsible water bottles! You can fill it up in your room and throughout the day at water fountains.
As for the sun, no one wants to be a lobster or be at risk for skin cancer so please bring plenty of sunscreens and re-apply often. How often? Check this article out.
My favorite sunscreen is Alba Botanical Sunscreen – It's All Natural and worked incredibly well for our family. Check Prices Here. A lot of resorts are now encouraging guests to be more eco-friendly and are banning some sunscreens that are harmful to the environment, this one passes the test.
How much sunscreen should you bring?
We go through a lot of sunscreens when we are in Hawaii because you are in the sun practically all day long. Things are a lot pricier in Hawaii since everything has to be imported so I try to bring enough sunscreen to last the whole trip. Although, Oahu and Maui both have Costco's now so you could grab some there too for a decent price.
*Tip- Set an alarm on your phone so you know when you need to re-apply sunscreen next. Chances are you are going to be having fun and its way too easy to forget without a reminder.
Snorkeling? You NEED These Shark Repellant Bands!!
My kids are fish in the water and they love snorkeling, but I am always super nervous about shark attacks so I found a product that helps put my mind at ease its called Sharkbanz. Sharkbanz is the world's first active shark deterrent band. They use a patented magnetic technology developed by marine biologists to deter predatory shark species.
The technology is based on proven science, published research and testing. And, they're super simple to use you just attach it your wrist like you would a watch (can also be worn on the ankle). No batteries and no charging is needed making them perfect for travel. And, they are safe for ages 5+.
Whether you like to dive, swim, or surf you can do so with less stress with one of these Sharkbanz. Find them here on Amazon (available on prime).
Sand & Pool Toys for the Kiddos
Toys keep kids occupied so you don't want to skimp out and save room for packing. You will be kicking yourself if you do because you will find yourself in a tourist trap buying an insanely overpriced bucket & shovel. I like to pack these collapsible pails, a few shovels, goggles, some water Barbie's and a water football. Of course, if your child wears a flotation device pack (our favorite is this one) that too.


*Tip: Some resorts can supply you with a life vest so call and check before you pack.
Lastly, these beach blankets are incredibly light and easy to pack making them perfect for a Hawaii trip. They are a lifesaver when you want to keep the baby off the sand, dirt or grass.
Need to keep your phone handy but don't want it to get all sandy? *Tip- Seal your phone in a Ziploc bag. We also snag a few snacks from our buffet breakfast and store them in Ziploc bags for later when the kids are getting hangry 😉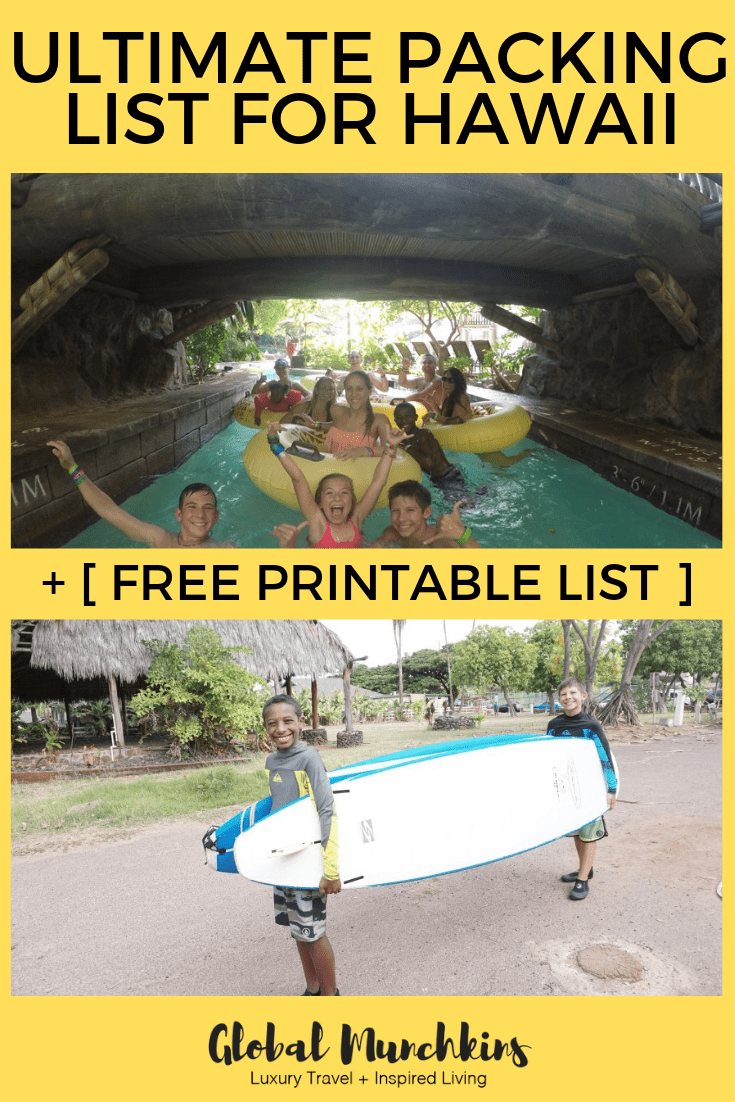 Hopefully, this makes packing for your dream vacation a breeze! You will be there in no time!
You may also enjoy these hand-picked related posts-
You Might Also Enjoy:
3 Reasons Koloa Zipline is the Best Kauai Zipline Experience
The Best Things To Do In Oahu with kids [25 amazing activities]
Thrilling North Shore, Oahu: Best Fun, Affordable Things To Do from 2 Travel Dads
Pin for Later – Ultimate Hawaii Packing List – Everything you Need + [ Free Printable List ]
*This site does contain affiliate links. This means I might make a very small percentage if you choose to click through and purchase. You pay the same price either way. All products I listed are products we truly love and would recommend to friends and family.