If you love to explore the world like our family, you might just have a few extra requirements for your car seat on top of the million other things. While you might want one car seat for when you're home, you will probably want to look into another to go on travels with you.
Obviously, safety is still the priority, but you will also want to look into car seats that are lightweight and easily clip into any car you might end up in. Finding the best travel car seat for 2022 is no easy feat, but we hope this article will make it a little easier for you!
The Best Travel Car Seat for 2022 [Top 7 Choices]
If you have slightly older kids and are more in the booster seat phase, this is my absolute favorite car seat. If you're at this point but you'd still like your kiddo to be on a booster, the Mifold is an awesome option because you can easily fold it up and stick it in your purse or backpack. Check out the video on Amazon to see how this bad boy really works! I think you will be a fan. Despite its small size, it passes all safety standards and it can easily fit in your backpack or beach bag. Perfect for Summer
---
You know we love Chicco car seats, and this one is one of the best options for the Best Travel Car Seat for 2018. It only weighs 17 lbs, which is pretty incredible for a backward facing seat with a base. Even though it's this light, it doesn't make a compromise on safety and meets all the standards. Your baby can sit in this seat all the way up to 30 lbs, so if you're a frequent traveler you will definitely get some good use out of it.
---
Choosing a convertible car seat for travel is probably a wise idea. Since you won't be using it all the time, it's nice for the seat to last your baby through some growth milestones. The Scenera NEXT will start your baby facing backward, and you can switch it to a forward facing seat when they reach 22 lbs.
They can continue to ride in this awesome travel car seat until they weigh 40 lbs. Did I mention this seat only weighs 11 lbs? Yeah, you will surely be grateful for that while you are lugging it around an airport. Also, it is pretty affordable which is sort of rare in the car seat world.
---
This makes for one of the best travel car seats both backward and forward facing. It will also last you all the way from 5-65 lbs. With plenty of padding that can be added and removed based on your baby's size, you'll know they'll fit comfortably. It has a wonderful headrest that your child will be able to use no matter how big they get because it's adjustable. It only weighs 14 lbs, making it easy to carry.
---
Although this Travel Car Seat is a little heavier than some of the others on this list at 15.5 lbs, it makes up for this fact in useful features. It's incredibly easy to install and adjust. Your child can sit in this car seat from 5-65 lbs, and has 8 adjustable head positions. The cup holder is nicely placed and doesn't add inconvenient width. Plus, it's well padded keeping your baby happy even on long trips!
---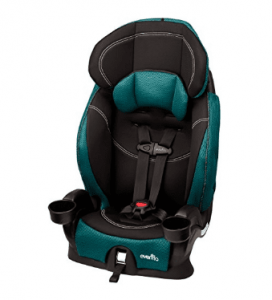 Your little one will always be your baby, and your main priority is keeping them safe and happy. When they outgrow their infant and even toddler seats, you still need to find a good forward facing seat for their first years of childhood. The Evenflo Chase is a wonderful option for this in general, but it is especially great as a travel car seat as well.
Like the Cosco Scenera, this is one of Best Travel Car Seat for 2018 as it only weighs 11 lbs! Your kiddo can sit in this seat with the harness until they are 40 lbs, but then transforms into a booster for up to 110 lbs. Your child will appreciate the drink and snack cup holders, and you will love how easy it is to adjust the harness. Best of both worlds.
---
Looking to keep things super simple for travel? This harness might be a good option for ya! It's made specifically for air travel and allows you to buckle your child in with a five-point harness while sitting right in the normal plane seat.
Not only is it safer, but it'll help your toddler to understand they have to stay seated most of the flight. It's pretty simple to install. You simply slide it over the back of the seat and put the normal seat belt through the loops on the bottom. Like the Mifold booster, this can be stored in your purse or backpack no problem. It works for a child weighing between 22-44 lbs.
You might also enjoy:
The Best Travel Highchair – Portable Highchairs for when you're on the go!
Best Packing Cubes & Why You NEED Them in Your Life
The Best Daypack for Travel! [A look at the 10 Best Choices]
The Best Lightweight Underwear + Other Travel Gear You Didn't Know You Needed!
The Best Travel Pants for Women – [18 of the Best Pairs]
Latest posts by Mama Munchkin
(see all)