As a family, we've journeyed through every stage of travel. From our very first trip with our newborn snug in a Baby Bjorn, to the unforgettable memories made at Disney World with four little ones, and onto thrilling adventures in new countries with our teenagers. And, yes, we have set sail on cruises with our toddlers many times over the years!
While the idea of cruising with toddlers might sound daunting to some, it shouldn't deter you from experiencing an unforgettable vacation on the high seas. Cruising can be an exceptionally enjoyable vacation option for families with little ones. They are often brimming with kid-friendly entertainment and even offer built-in daycare services.
The beauty of cruise ships is that they pack a myriad of conveniences, ensuring your family vacation is seamless and enjoyable. They come equipped with onboard activities, excursions, shops, restaurants, and a plethora of entertainment options. This means you're almost certain to have a fantastic time, even if you do minimal planning in advance.
However, it's undeniable that traveling with toddlers comes with its unique challenges. To help navigate these, I've compiled a list of top tips for cruising with toddlers. With these in mind, you will be set for a great time!
Tips for Cruising with Toddlers
1. Choose the Right Cruise
You'll have an easier time once you set sail if you do a little research before booking. That's because some cruise lines are more catered to small children than others.
For example, while a Royal Caribbean cruise should offer some family-friendly amenities and activities, including a wide selection of pools, splash pads, play areas, and kids clubs… they still do not have the same selection that, say, a Disney cruise line might offer.
The types of activities offered may differ as well. For example, Royal Caribbean will predominantly offer adult-oriented shows and entertainment, like Cirque du Soleil which, while visually appealing, may lose younger viewers with the surrealism and abstraction. Disney cruises will mostly be geared towards toddlers and children.
You can probably guess my recommendation here. If you can, I would recommend taking a Disney Cruise when you have toddlers. While we have been on other cruise lines with little ones and had a great time, the overall experience does not compare.
Imagine the delight on your little ones' faces when they board the boat to see Captain Mickey Mouse sporting a welcoming smile. All their favorites will be there ready to take them for a fun-filled adventure on the high seas! You just can't get that from other cruise lines. We recently took our 2-year-old on the Disney Wish and he had an absolute blast!
---
2. Pack All the Essentials
It's already an ordeal packing for yourself when going on vacation, but traveling with a toddler adds a whole new must-have to the checklist. They'll still need all the essentials you do, like sunblock, swimwear, and travel documents, but you'll be in for some turbulence if you dare forget their favorite toys.

Here's a handy checklist that's sure to help make packing up a bit easier:
Clothes for every vacation day
Extra clothes for inevitable accidents
Bathing suits and swimwear
Sandals, sneakers, and water shoes
Regular diapers, sleep diapers, and swim diapers
At least one pack of baby wipes
Jammies and extra jammies for diaper blowouts
A jacket or sweatshirt, just in case
A hat and/or sunglasses, if they'll let you put them on them
Comfort blanket or stuffed animal
Sound machine and/or night light
Stroller and/or baby carrier
Car seat or travel car seat
Bibs
Bottles and/or sippy cups
Formula, if applicable
Breast pump, if applicable
A few emergency snacks, just in case
Beach bag
Floaties
Sunblock
Medicine and/or first aid
Lotion
Sand toys
Books
Tablet and charger
You might be thinking… "Wait a minute. I don't see a Pack 'n Play on the checklist. Where's my tot supposed to sleep?"
You could try carting a Pack 'n Play aboard, but most cruises will provide one if you call and request one in advance of your trip. Disney does this and it is a godsend! Of course, they're subject to availability, so calling as early as possible is the pro move for this one.
*Another quick pro tip: you might find the electricity for your room a tad lacking once you try plugging in the sound machine, night lights, and other things your toddler refuses to sleep without. Pack a surge protector or power strip to give yourself a few extra outlets.
---
3. Onboard Safety
Obviously, we want our children to have a blast (and we'd love to have some fun too!), but safety is always the top priority. The cruise ship poses dangers that don't exist anywhere else, so it's prudent to discuss those dangers and try to reach the maximum level of comprehension they're capable of achieving.
Make your child aware that, even though it's a big boat, they're still on a boat on the water, so it could rock back and forth a little sometimes. There's nothing to be scared of when that happens and it's normal, but it also means that they'll have to be brave.
Childproofing the cabin is important as well, as you would do with any hotel room. The rooms pose the same types of dangers; electric outlets, sharp corners of furniture, cords they can grab, and other things that need to be put out of reach.
If you're staying in a balcony room, consider setting something up that will ensure they cannot get outside unless you're supervising them closely. Every balcony room I have stayed in has a latch on the top of the door out of reach from little ones, so you will want to keep that locked at all times.
Of course, the best way to keep them out of harm's way is by closely supervising them, especially babies and toddlers.
---
4. A Kid-Friendly Itinerary
Once you're aboard, the ship is your oyster. Cruises catered to children, such as the Disney Cruise Line, will offer a plethora of activities specially designed to keep them smiling, laughing, and entertained.
Disney tends to kick things off with the Mickey's Sail-A-Wave Party, a blast in which you bid bon voyage to the port and celebrate with music, dancing, and your favorite friends, including Mickey, Minnie, Goofy, Pluto, Donald, and more!
Some Disney cruise lines also offer the Marvel Day at Sea, which calls your favorite superheroes into action. Guests are treated to appearances by Spider-Man, Black Panther, Iron Man, Captain Marvel, Groot, Captain America, Black Widow, Loki, Ms. Marvel, and more, as well as a show in which evil-doers threaten everyone's good time, that is unless the superheroes stop them from succeeding in their dastardly deeds!
Beyond the entertainment and events, there are plenty of things that toddlers are bound to enjoy, including pools, splash pads, play areas, playgrounds, and even inflatable action centers like the Hero Zone aboard the Disney Wish.
So long as you did your research before booking and picked a great cruise for toddlers and children, you'll have a wealth of options and attractions they're bound to love.
---
5. Dinnertime!
Depending on how well-traveled you've been during your toddler's relatively short life so far, they may understand dining room etiquette or they may not. Even if you've taken them to some local spots, the stimuli of being in a new place, a new magical place if it happens to be Disney, is going to require a little adjustment and probably a few words to prep them.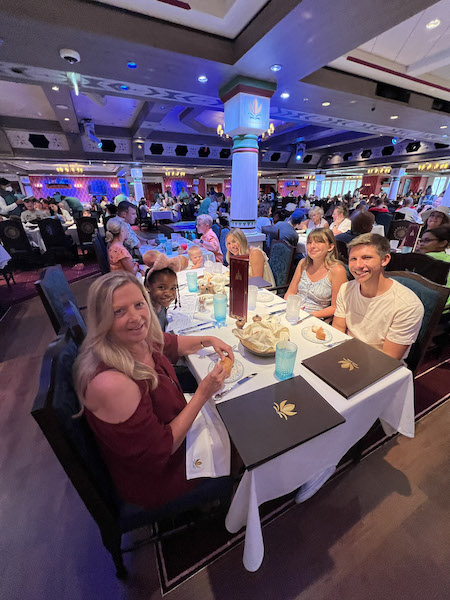 Luckily, cruises that are catered to children mean that you'll be in good company, and everyone else will also have a toddler that they'd prefer to sit still and just eat their dang dinner but, instead, they'll be up, trying to take in all the cool stuff and check out the restaurant decor.
I mean, can you blame them? How are they supposed to eat their dinner when the Frozen world of Arandelle is represented in every aspect of Disney Wish's crown jewel of Arendelle: A Frozen Dining Adventure?
Many cruises also offer items for babies and toddlers that aren't on the menu. For example, Disney is happy to prepare pureed fruits and vegetables upon request, so there's no need to lug jars of Gerber or a NutriBullet to give your baby their favorites.
---
6. Helping Them "Get Their Sealegs"
Cruise ships are seemingly less affected by the motion of the ocean than, say, a small fishing vessel or ferry that you may take for a local tour. Nonetheless, children who are susceptible to motion sickness may have trouble enjoying themselves without tossing their cookies overboard.
Nausea and motion sickness will put a serious damper on the fun, but vomiting over and over also puts your child at risk. If your child is susceptible to motion sickness, consult your pediatrician before embarking and see if they can recommend or prescribe seasickness remedies that will keep them on their feet and smiling the whole time.
If you're looking to minimize the motion, choose a midship cabin also. These tend to be less tumultuous during choppy waters.
---
There are plenty of things to keep in mind when traveling or going on a cruise, but the game totally changes the second you bring a baby, toddler, or small child into the mix. You'll have a whole new realm of responsibilities and things to keep in mind, keep track of, and make sure of, or you'll be in for rough waters and we're not talking about the actual ocean here.
Keep our top tips for cruising with toddlers in mind and you're bound to have a family cruise that everyone will remember fondly for ages!
Need some help booking the perfect family-friendly cruise? We've got your back!
---
Frequently Asked Questions about Cruising with Toddlers
What are the best cruise lines for children?
Are all cruises all-inclusive?
Many cruises boast all-inclusive amenities, including food, drinks, and activities, but many roll in extras that you'll have to pay for in advance or prior to enjoying.
Before booking, check to see which shows, restaurants, and excursions are complementary and which cost an additional fee, especially if it's one of the main factors that weighs into your ultimate decision.
What types of excursions are available?
From private islands to quaint Caribbean towns, there are often several stops you'll make along your journey, offering even more sights and attractions for you and your family to enjoy.
Make sure you review the destinations of your cruise line before booking so you can decide whether or not you plan to disembark or plan an excursion for the stop. Some toddlers and children will be happy to have another quick change of scenery before heading back to the boat, while others may not be amenable to abiding by an itinerary and will prefer to stay on the boat.
If you enjoyed our list of tips for cruising with toddlers, you might also like:
THE ABSOLUTE BEST DISNEY CRUISE TIPS TO SAVE YOU MONEY & TIME!
HOW MUCH DOES A DISNEY CRUISE COST? + MONEY SAVING TIPS
ROYAL CARIBBEAN VS NORWEGIAN CRUISE LINE [ULTIMATE FACE OFF & THE BEST REVIEW!]
Pin for Later – My Top 6 Best Tips for Cruising with Toddlers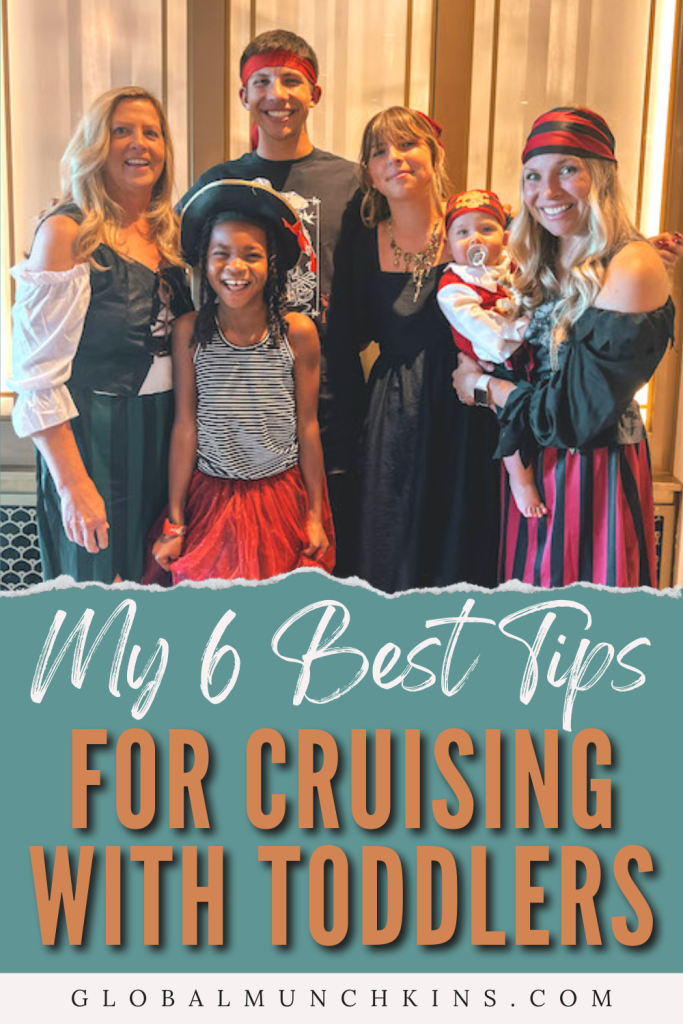 Latest posts by Emily Myers
(see all)