This Labor day weekend (September 2nd, 2022) we are going to be sailing on the Disney Wish and we would love for you to join us. On this post, we are going to go through all the details of the sailing and everything you should know. We will also be updating it with new details as they become available.
Let's get to the deets and get this party started.
Sailing Dates
Ports of Call
The Ship takes off from Port Canaveral (45 Minutes from Orlando Airport (MCO))
Nassau, Bahamas
Disney's Private Island, Castaway Cay
You can read more about everything you can do at Castaway Cay Here!
About the Disney Wish!
The Disney Wish is simply incredible, and too be honest, I can't do it justice in describing everything you can see or do, this would be a very long post if that were the case.
You can check out everything about the Disney Wish Here
What's Included in the Cruise Fare?
Your cruise price includes almost every part of your onboard experience, such as:
Your stateroom along with all applicable taxes and port fees
Breakfast, lunch and dinner at Disney's amazing restaurants including the Marvel at Sea and Arandelle, a Frozen Theatrical Experience!
Soft drinks served at meals and at each ship's beverage station
Snacks and ice cream throughout the ship
Entertainment including Nightly live Broadway-style productions at the Walt Disney Theatre as well as Disney movie classics and current first-run films at the Buena Vista Theatre
Family activities including trivia games, live musicians and other entertainers, animation workshops, and more
Deck parties and fireworks at sea
Special events during holiday or themed cruises
The Most Incredible Kids Club with 3 different clubs for kids ages 3 to 17
Access to pool areas, water slides, including Aqua Mouse the First Disney Attraction at Sea, and splash areas
Access to the fitness room (ages 18 and up)
Food & Soda on Disney's Private Island!
Why do the Sail With Us Cruise?
We are going to be having tons of fun activities onboard, Mike's got a few games for everyone who wants to join up his sleeve. We also are working on a couple exclusive private events that we will hopefully have update on soon.
Costs of the Sailing
This is a little bit tricky because it depends on the type of room you would like to have, the number of people in the cabin (3rd and 4th passengers in a cabin are discounted) & ages of children (there are discounted prices for children under 3)
So, we will give you some prices of some common options. The Disney Wish Staterooms as with all Disney Cruise staterooms are some of the nicest staterooms of any ship at sea.
Family of 4 in One Stateroom
For a Family of 4 in one stateroom prices start at $4,377 for an inside stateroom and go up to $4,917 for a verandah room. Check your price here!
Family of 3 in One Stateroom
For a family of 3 in one stateroom prices ranges from $3,506 for an inside stateroom to $4,043 in a Verandah stateroom. Check your price here!
Family of 2 in One Stateroom
For a Family of 2, the prices are $2,702 for an inside Stateroom up to $3,236 for a Verandah Room. Check your price here!
What if you have families larger than 4 people?
If you have more than 4 people in your family, like ours does, you can book adjoining staterooms. So, if you have 6 people in your fam, simply add the cost of 4 people in a room with 2 people in a room.
What are Additional Costs onboard a Disney Cruise?
While a Disney Cruise includes the most of any cruise line out there. There are additional costs that you should be aware to calculate into your cruise budget.
Air & Ground Transfers to Port Canaveral if needed
Gratuities
Alcoholic beverages, smoothies, non-alcoholic specialty drinks, specialty coffees, and all bottled water.
Adult Exclusive Restaurants (Palo & Enchante)
Bippidi Boppity Hair Boutique
Spa Services
Shore Excursions
Wifi
It's a Small World Nursery (under 3 years old)
How to Book & Receive Bonus Onboard Stateroom Credit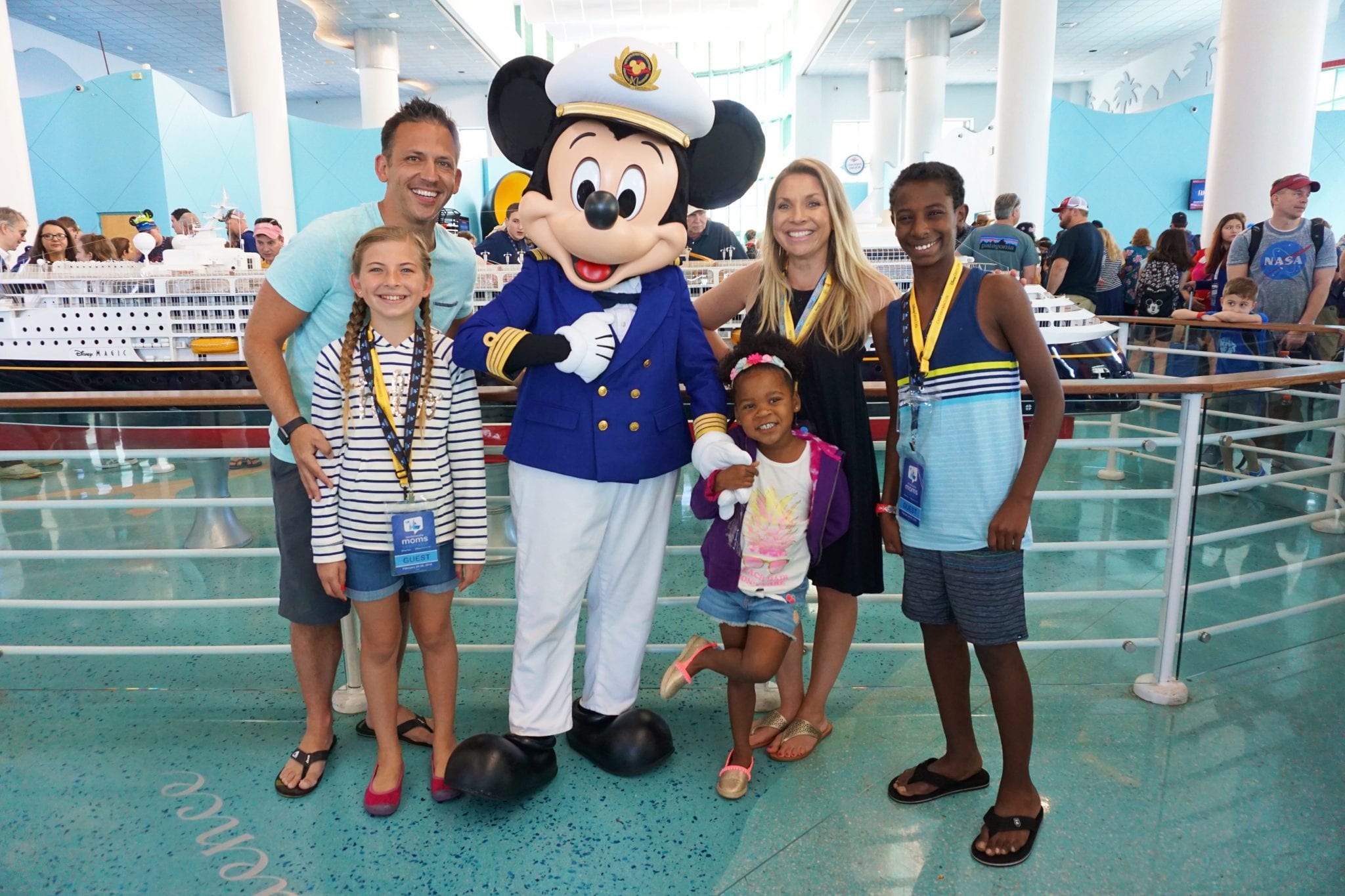 To Book Your Sailing contact at friends over at Tink's Magical Vacations! They are offering their largest onboard credit for this sailing which you can use for the fun extras you can enjoy onboard. You can email them at info@tinksmagicalvacations.com or give them a call at: 1-833-88TINKS (84657) mention Global Munchkins Sail with us Cruise
We will be updating this Page with more info including What to do once booked shortly, but we wanted to get our some basic information as quick as possible
Do you need to be Fully Vaccinated
All passengers age 5+ need to be fully vaccinated. We will update if this policy has changed.
Are there Limited Spots or the More the More the Merrier
We are limiting the number of families to make sure it's a fun and relaxed setting for everyone.