MSC Cruise lines have been a prominently known and highly awarded and well-regarded ship in Europe for decades. Well, now it will be a lot easier for people like me, who are from North America to experience an MSC Cruise. That is because MSC has launched a new cruise ship that is exclusive to the Caribbean, the MSC Seaside. The MSC Seaside is a state of the art ship with incredible luxury, technology and perfect for large families. Basically, the designed a cruise ship for my exact taste, thank you very much. Here are the 9 amazing features that I am most excited about.
9 Amazing Features onboard the New MSC Seaside Cruise Ship
1) Glass Skywalk
When you first approach the new MSC Seaside you will notice the luxurious Miami style balconies on the backside of the ship. On top of those luxurious balcony cabins is a giant glass skywalk that gives you a jaw-dropping view of the sea from above. You can see the view at 47-second mark of the clip. In addition are three glass catwalks along the side of the ship where you are stepping directly above the ocean.
2) Forest Aquaventure and Adventure Park
MSC Seaside has a multi-story aqua park, There are five different water slides, including two high-speed racing slides with clear loops extending over the side of the ship. Seaside also boasts an AquaPlay™ area for tots and an adventure trail, the aqua park truly has something for everyone. Other water park offerings include an AquaPlay and AquaSpray park for young cruisers. Nearby, passengers tempting fate to stay dry can climb the Adventure Trail, a ropes course that will include spray cannons which I am sure my boys will use to spray mom.
3) Interactive Water Slide + Longest Zipline at Sea
On top of the amazing aquapark is a first of its kinds waterslide. MSC has been a little bit tight-lipped about the details but here is what we know so far…. The waterslide will be 367 feet long and have an interactive Slideboarding technology, which combines video games, lights, and music. I can't wait to try this one out. Plus, for those of you who think the glass bridge is a little on the boring side, no worries because this ship features the longest zipline at Sea. The best part of the zipline (well in my husbands opinion) it is FREE!
4) Mini & Junior Clubs featuring Lego & Lego Experience + Teen Clubs
Kids from 3 to 11 years of age can participate in a whole host of fun activities thanks to MSC's partnership with LEGO®. This amenity is included in your cruise fare. The best part is every cruise includes a special event, the LEGO® Experience On Board: an entire day dedicated to fun LEGO® activities for the whole family to enjoy.
Of course, MSC does not forget about the older kids. MSC Seaside offers two teenagers' clubs, one for 12-14-year-olds and another for 15-17-year-olds. In addition, MSC has a teens-only area which serves as a gaming room, cinema, and disco, depending on the time of day.
5) Award Winning Food + Kids Only Restaurant
The MSC Cruise line has been Awarded 'Best Pizza at Sea' & 'Best Gelato at Sea'
The Seaside will have 9 restaurants including 5 themed restaurants: steakhouse, seafood restaurant, sushi bar, Pan-Asian restaurant, and teppanyaki fusion!
Plus, the MSC will be the first to introduce a kid only restaurant, so while mom and dad sit back and relax with some delicious fine dining, the kiddos can have their own fun at cruise's first kids only restaurant.
6) Staterooms for Large Families
The new MSC seaside has connecting rooms that can fit up to 10 people, that is right 10 people. In addition, they have some luxurious options for families including staterooms where you can relax with your family in your very own private whirlpool on the balcony. Oooh, la la.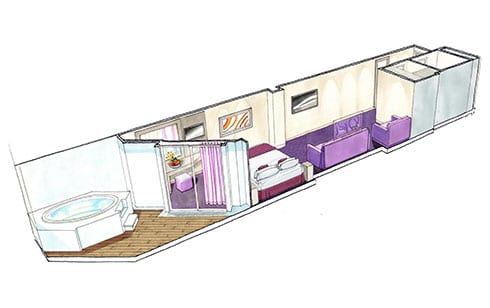 7) Ocean Cay MSC Private Island
This is the one I might be the most excited about. Beginning October 2018, MSC Seaside will be stopping at their all New Private Island, Ocean Cay MSC Marine Reserve. You will see over ten splendid beaches, a vast, calm lagoon, the harmonious lines of the typical houses of a Bahamian village and much more. The crown jewel of Ocean Cay are the aquatic sport activities, suitable for adults and children.
Part of the island is dedicated to families. Located a short distance from where the ships are docked, the area is fully equipped for those with kiddos along for the vacation. The more romantic cruise-goers, on the other hand, will be able to relax on the northern beach or simply take a stroll at sunset.
MSC Cruises also will have excursions including an underwater exploration of the MSC Marine Reserve with its astounding tropical underwater life. During your Caribbean cruise, you will also be able to independently snorkel and swim in the waters of Ocean Cay.
In addition, there is supposed to be an incredible zipline going across the island, but I do not believe it is confirmed. Fingers crossed for that one.
8) Kids & Teens are either FREE or dramatically cheaper
As with all cruises, the 3rd and 4th guest in a stateroom are usually much cheaper usually 30-50% of the price. On MSC cruises, children (3-11) are often times free with two paid adults, you just pay the taxes or significantly cheaper. For Instance, I checked out a few different cruise options on the MSC Seaside
In June (Balcony cabin is $1,029 for the 1st two adults) Here is the pricing if you added

a child (ages 3-11) is only $159 plus taxes and port charges
a teen (ages 12-17) is $259 plus taxes and port charges
a 3rd or 4th guest that is an adult was $659 plus taxes and port charges

In May (Balcony cabin is $969 for the 1st two adults) Here is the pricing if you added

a child (ages 3-11) is FREE plus taxes and port charges
a teen (ages 12-17) is $268 plus taxes and port charges
a 3rd or 4th guest that is an adult was $559 plus taxes and port charges
9)MSC for ME – MSC Seaside App
MSC Seaside is the 2nd ship for MSC to offer the MSC for Me app. This is the most incredible app I have ever seen for a cruise line (I could write a whole post alone about it) The MSC app gives you the ability to enjoy your cruise so much more.
Here are my favorite features of the app
Kids Locator – This is by far my most favorite part. The kids' locator has a wristband around your kids that is connected to your app so you know at all times where your kids are onboard the ship
Navigation – The seaside app lets you know everything that is going on, onboard the ship and how far it is to get to each location
Organiser – Book Spa Experiences, seats for shows, choose your best dinner table and more. Even before you step on board this app will help you get the most out of your cruise
Concierge – Online booking services for restaurants, excursions and more.
Capture – Virtual/Augmented reality to allow you to preview excursions like never before.
Chat – You can easily chat with all your family and friends via the app. This makes life so much easier, especially aboard a cruise ship where you have no cell service.
Have you ever been on an MSC Cruise before?
Pin this for Later –