We're big believers in taking some time off from your everyday routine to relax and experience something new. If you are looking for a way to spend a little time in nature, soaking in all of the beauty that the world has to offer then you cannot go wrong with a visit to Alaska. And the best way of all to see this gorgeous state; a Norwegian Cruise! Norwegian Cruise Lines offers trips that will take you for a breath-taking adventure to our nation's last frontier. Stunning mountain vistas, jaw-dropping ocean views, and unforgettable experiences await onboard the Norwegian Joy or Norwegian Bliss. Either ship is a wonderful way to experience your Norwegian Cruise to Alaska!
With Norwegian Cruise Lines, your Alaskan getaway will be just as much fun on board as in dock! The Norwegian Joy and Norwegian Bliss both feature entertainment, dining, and relaxation options for all ages.
Why You Should Go on a Norwegian Cruise to Alaska
2 Incredible Ships – The Norwegian Joy and The Norwegian Bliss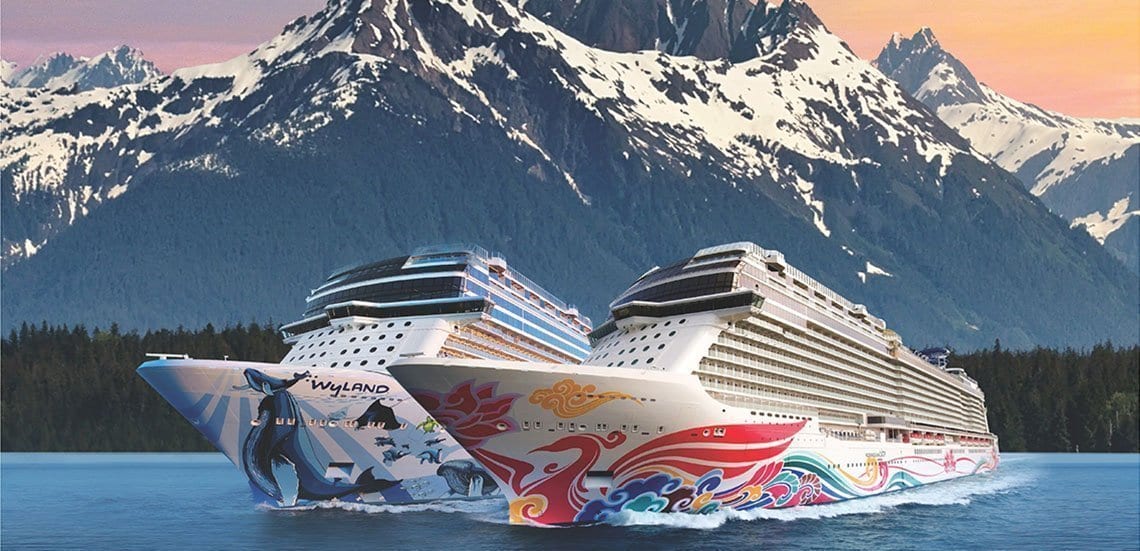 When cruising to Alaska, you will have the choice of two of Norwegian's finest ships. We've cruised on them both and do not really think you can wrong with either. They are both newer ships that offer all the amenities you could want on a cruise. And, they are perfectly built to make you feel as close to nature as possible.
View the Beauty of Alaska from their amazing Observation Lounge!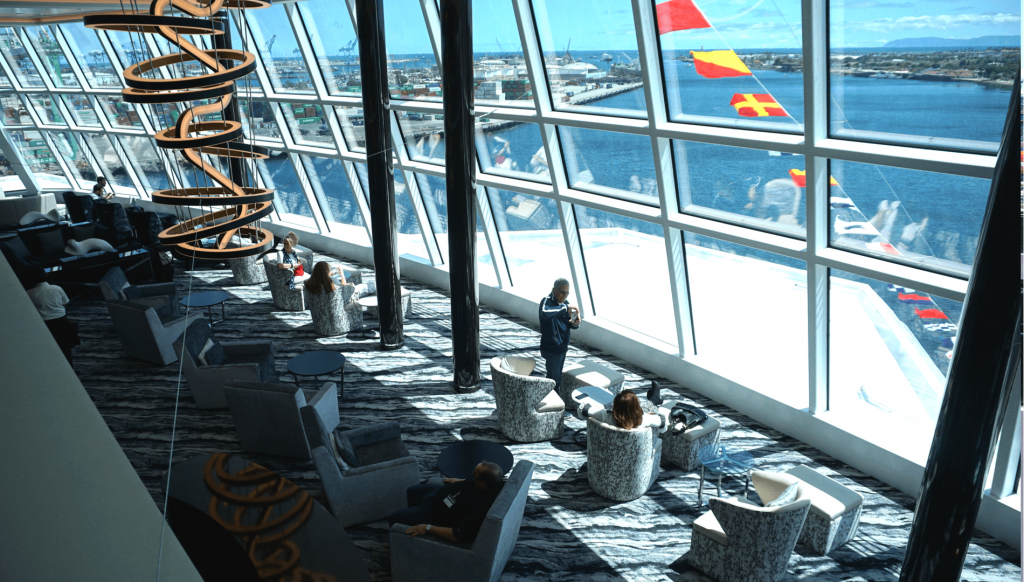 Deck 15 on the Bliss and Joy is an inside observation lounge with an incredible view of the front of the ship. Inside the observation lounge, there are light snacks and a bar to grab some cocktails while sailing through the glaciers (and on the Joy, there is a Starbucks at the lounge) This area used to have staterooms on some of the other Breakway ships but now is just another great place onboard to enjoy the beauty of Alaska. You can learn more about these ships and get to booking here!
Amazing On Board Activities
Interested in cruising down the water slides and hanging out by the pool? Bring your family along for some fun bonding time at the aqua park, and maybe make some new friends too! While you're at it, try the open-air go-kart track: race through two levels of the track while you are afloat in the middle of the ocean!
There are so many unique things to experience on the Norwegian Bliss, like checking out their onboard chocolate shop with a $1,000,000 chocolate machine. While you are there, don't miss out on their incredible (and Instagram worthy!) chocolate shake. You're on vacation, after all, so you should indulge!
Spending some time aboard the Norwegian Joy? You have to try the new Virtual Reality Area- The Galaxy Pavilion features a 3D interactive screen and the Dark Ride 7D simulator racetrack! You've never experienced anything like this!
Broadway Entertainment
Broadway shows more your style? No need to pay ridiculous box office prices on your Norwegian Cruise to Alaska- these shows are complimentary! Check out the Jersey Boys show aboard the Norwegian Bliss, or enjoy Footloose if you are aboard the Norwegian Joy!
Don't miss ELEMENTS, a musical and acrobatic show involving the four natural elements: air, water, earth, and fire. Another complimentary show aboard the Norwegian Joy.
When the kids are all tucked in bed, it's time for the adults to have some fun! Enjoy stand-up comedy, drinks, and dancing at the Social Comedy and Night Club. Whether you are a whiskey lover, beer lover, or even a mojito lover like myself, there is a bar for you. Each with a unique and really fun atmosphere.
Splendid Dining
Both the Norwegian Joy and the Norwegian Bliss feature incredible restaurants that cater to everyone, from the pickiest of eaters to the most enthusiastic foodies. Whether you are looking for savory steakhouse favorites or exotic foreign cuisine, you will certainly be satisfied! If there is one important thing to know about Norwegian cruises, it is that they believe in Freestyle Cruising.
Guests may eat whenever they please, though some restaurants are open only during certain hours of the day, there is always a place to enjoy a good meal. There are dining experiences to choose from offered as complimentary with your cruise ticket and upgrades you can make for specialty restaurants. The freedom is one of the things we like most about Norwegian and you'll surely enjoy it with your busy Alaska cruise itinerary. Read on for a brief description of each ship's restaurants.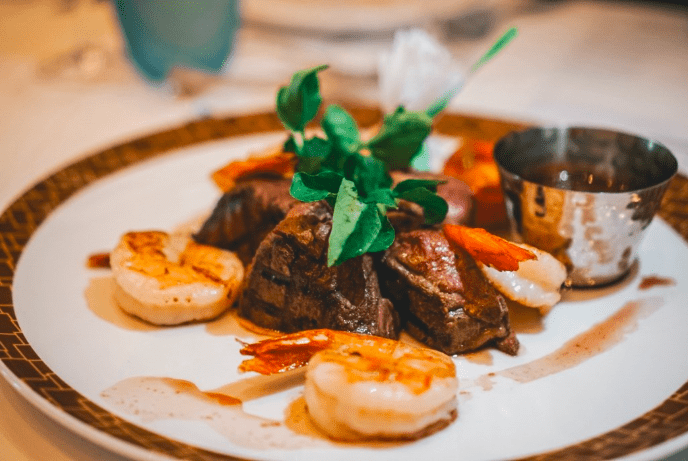 Norwegian Joy
We had a wonderful experience dining on the Norwegian Joy! Check out our full review about the restaurants here.
Ocean Blue Fresh seafood with a waterfront view.
Cagney's Steakhouse Premium steak and savory sides, along with irresistible seafood options.
Teppanyaki Japanese restaurant where the chef prepares your food before your eyes on a Hibachi grill.
American Diner American classics like burgers and fries in a 50's style diner.
Food Republic International a la carte offerings, from South America to Asia to Europe.
La Cucina Fresh Italian favorites a la carte.
Le Bistro French fare in an elegant, refined setting.
Q Texas-Style Barbeque in a casual atmosphere with dancing and bar.
Norwegian Bliss
The Bliss has all the same restaurants above except the American Diner is Jimmy Buffet's Margaritaville.
In addition, The Norwegian Bliss has some seriously good treats. Check out our favorites here! You can enjoy some ridiculously good treats from a 1 million dollar chocolate machine that makes all the chocolate onboard.
Unwinding in an Incredible Spa on Your Alaska Cruise
It's time to take some you time. During your Alaskan cruise on the Norwegian Bliss, book a massage, mani-pedi, or other luxurious treatment in the onboard spa! This spa features two unique rooms: the Salt room and the Snow room.
In the Salt room, enjoy a European-inspired wellness treatment known as halotherapy. In the Snow room, experience an arctic environment that brings multiple benefits. And when we say an arctic environment, we literally mean snow! Of course, the heated loungers and incredible ocean views don't hurt either. Don't miss the other amazing spa perks, such as a heated waterfall, dry sauna, and heated lounge chairs.
Fun for the Whole Family
For kids, there are so many things to do on board a Norwegian cruise. Take your kids to Splash Academy! They will be able to play games, participate in activities and parties, and even make new friends! Need to take a night off for the two of you? Your kids can participate in Group Sitting with some amazing youth staff members! There is also a Kid's Aqua Park where little ones can enjoy pools, water slides, and tipping buckets!
Teens can have their fun too at the Entourage Teen Club. They can enjoy movies, video games, art, and other outlets while spending time with other teens- most importantly, away from their parents! Teens need a vacation too! They will love the activities made just for them like laser tag, the movie theatre, and the Aqua Park.
Amazing Itineraries
When you sail to Alaska one of my biggest tips is to book a cruise that has the inside passage to Alaska. This will get you the best view of glaciers. It is an awe-inspiring experience as you get to see up close the massive glaciers.There are many different itineraries to choose from when it comes to your Alaska vacation. These itineraries feature multiple different ports of call and lengths of stay.
A popular itinerary you will find on Norwegian Cruise is the following: Seattle (Washington); Juneau (Alaska); Skagway (Alaska); Ketchikan (Alaska); Victoria (British Columbia)
They also have other itineraries from Vancouver and more, check them out here!
Incredible Excursions
As for excursions, you may find yourself being pulled across the wilderness by a sled dog or ziplining through the treetops. For the nature lovers, there is plenty of space on board for viewing and you may see anything from a humpback whale to a bald eagle. Of course, there are plenty of excursions to check out bears enjoying some salmon.
New in 2020 for Norwegian Cruises to Alaska: The Pier at Icy Points Strait
Norwegian Cruise Line has always provided amazing excursions for guests. However, the Pier at Icy Points Strait brings a whole new meaning to the term "excursion". Icy Points Strait will be home to the ZipRider Zip Line. It will provide fantastic views of the Alaskan rainforest, the beautiful shoreline, dramatic mountains, and even brown bears, seals, and whales!
Icy Points Strait will also provide a number of cultural and wildlife excursions, such as whale watching tours, local cultural dances, and helicopter tours. From ropes courses to hiking, jeep tours to flightseeing and ocean raft adventures, there is something for everyone at the Pier.
Live the Life in The Haven
Want to swim while it is cold outside (enjoy a haven room with a private pool exclusive for haven guests that has a retractable roof)
If luxury is what you are looking for in a cruise, look no further. The Haven is an exclusive cruise option that unlocks the uppermost portion of the ship, granting access to the finest, most elite experience aboard. From 24/7 butler service and a private concierge to priority boarding, dining, and entertainment, The Haven provides an experience unlike any other.
The Haven includes private venues such as lounges, pools, open-air decks, and restaurants that are only accessible to Haven members. The restaurant is private and beautiful with the style of a modern vista and both indoor and outdoor dining. You will be able to dine here morning, noon, and night. Luxury awaits! It is truly the most incredible way to experience a Norwegian Cruise to Alaska.
Overall
A Norwegian Cruise to Alaska is a one of a kind experience. I truly love Norwegian cruises as they have the perfect balance of fun for the kids, but also a ton for us grown ups who might just want to sit back and enjoy our Starbucks while checking out the view.
You May Also Like:
The Best Time to Cruise Alaska + The BEST Shore Excursions
The Ultimate Guide to the Best Cruise Lines Sailing Today!
Royal Caribbean vs Norwegian Cruise Line [Ultimate Faceoff!]