We all remember the days of camper style dining on Cruise ships where you were sat down at the same dinner table with strangers or ate at standard buffets with little variety. In those days the experience felt more like being shepherded like children into a cafeteria.
This is no longer the case on many cruises, and the Norwegian Joy is home to so many incredible restaurants! On our trip from Vancouver, we explored as many of the 14 Norwegian Joy Restaurants as possible.
"No Schedules" For Your Norwegian Joy Restaurant Experiences
If you know anything about Norwegian Cruise Line, you know they believe in Freestyle Cruising. Guests may eat whenever they please, though some restaurants are open only during certain hours of the day, there is always a place to enjoy a good meal. There are five dining experiences to choose from offered as complimentary with your cruise ticket; three dining halls, a garden cafe, and The Haven (For Haven guests).
The Norwegian Cruise line takes things a step beyond what we've come to expect out of Cruise dining. With many of these extravagant restaurants, the cruise line has dedicated its resources into bringing about the concept of Waterfront Dining.
Each of these unique venues starts indoors and then spills out onto the deck, to not only show you the ocean but to feel the ocean air and environment as you please. They serve this outdoor dining with the same luxurious feel of the indoor tables, so there is nothing to fear when taking a chance, there is no loss on the fine dining experience.
Norwegian Joy Restaurants- Complimentary Table Seating
Savor & Taste
You will have the option between three large complimentary central dining rooms. These are available to every guest. Two are playfully called 'Savor' and 'Taste,' and sit right across from each other with a bar separating them. While they do offer the same types of foods, the aesthetics in each of these sit-down restaurants are completely different.
Savor features calm decor with blues and whites and beige for a relaxing experience. Taste is much richer, in brilliant reds and dark browns this edgy eating experience speaks of excitement to come. They both serve standard breakfast food in the mornings, but lunch and dinner offer fun multicourse menu options; soups, salads, and finger foods for lunch with more elaborate courses for dinner.
Manhattan Room
The last of the big three dining rooms is the Manhattan, featuring beautiful jazz music, this fine dining if offered only in the evenings. With the feel of a New York City dinner club, 'The Manhattan' offers more options than Savor or Taste. In fact, every night there is a different menu. Each cruise has its own dining theme! This is based on where the cruise will be heading.
For all three of these dining rooms, we suggest making a reservation to cut down on your own wait time. This is by no means necessary, though! Of course, this is a fine dining experience, so there is an expectation of no shorts or jeans after 6 p.m in any of the dining rooms.
The Garden Cafe Buffet
The most elaborate buffet of the cruise, offered for breakfast, lunch and dinner comes in the form of the Garden Cafe. This open concept dining area sits with windows overlooking the ocean. It even comes with its own custom omelet station where a chef will handcraft your eggs with a variety of fresh ingredients of your choice. I always head to the Indian section of the buffet, it is some of the best Indian food I have had.
The best part of this buffet; Starbucks! You can find Starbucks coffee, custom juices and blends at the bar area, teas, and a wide variety of pastries and desserts to accommodate your meal. It's a tough choice to say whether the view or the food is the better deal here. It should be noted that guests view this area to be a smidge small inside during peak time, but it opens up into the pool center where there is an endless array of seating arrangements.
The Local Pub
The last of the five free dining options is 'The Local.' You will be happy to know this classic pub is open 24 hrs a day and offers comfort food from a lovely selection of prime rib to the traditional bar favorite fish and chips or shepherd's pie. It has a very fun 'sports bar' feel due to its wide open areas, large screens, and open sitting space!
A nice feature of the Local Pub is it is connected to an arcade, so your kids (or husband in my case) can play some games while waiting for the food to be served.
Norwegian Joy Restaurants Exclusively for Haven Guests
Now, before moving on to the Specialty restaurants, it's important to note Haven members of the cruise have one additional complimentary restaurant available to them. The Haven Restaurant is part of the Deluxe package you can purchase on Norwegian Joy. The restaurant is private and set up near the Haven lounge. This beauty has the style of a modern vista with both indoor and outdoor dining. You will be able to dine here morning, noon, and night.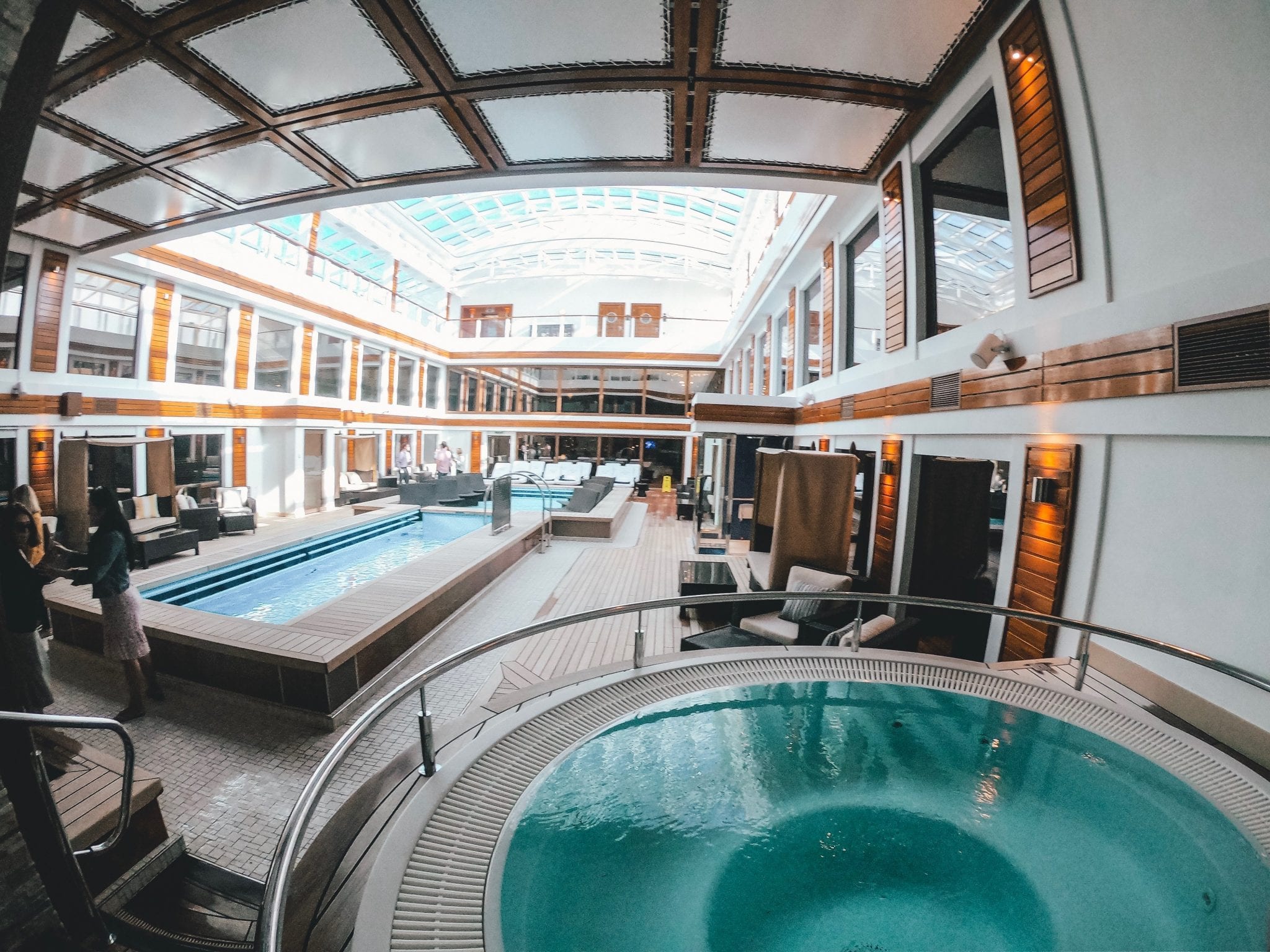 The restaurant has spacious table arrangements. The white decor makes for a bright and refreshing time away from the rest of the ship. It definitely never has the overcrowded feel that the other restaurants sometimes do. We recommend the Haven package to anyone looking for a more private, intimate experience aboard the ship. Although be warned, once you stay in a Haven classroom, you'll never be able to go back to a different class of rooms.
Norwegian Joy Specialty Dining – Upgraded Restaurants
One of my favorite parts of Norwegian Cruises is their specialty dining. Yes, there is an extra charge for the specialty dining, but often times Norwegian has FREE Specialty Dining as one of their promotions, so be sure to check it out. All guests have the option to purchase a dining package for these specialty restaurants as well, anywhere from three to fourteen meals can be pre-bought before ever stepping on the cruise and would waver the coverage charge accordingly. There is also a beverage package that covers everything from water bottles to soda and juices to some alcoholic selections.
The specialty restaurants have a larger wine list than the regular bars throughout the ship, so if there is anything special you have in mind, it would be best to ask at the front desk which restaurant is most likely to have the selection you desire.
Ocean Blue
As this is a sailing ship, it is only appropriate we start with the seafood fare. Ocean Blue is a luxury seafood restaurant with indoor and outdoor options for dining.
With light fixtures going along the ceiling, over the bar and across the wall, there is a flair of movement as shadows dance against the nautical artwork and decor, bringing the dining lounge to life.
The Teppanyaki (Our Kid's Favorite Norwegian Joy Restaurant!)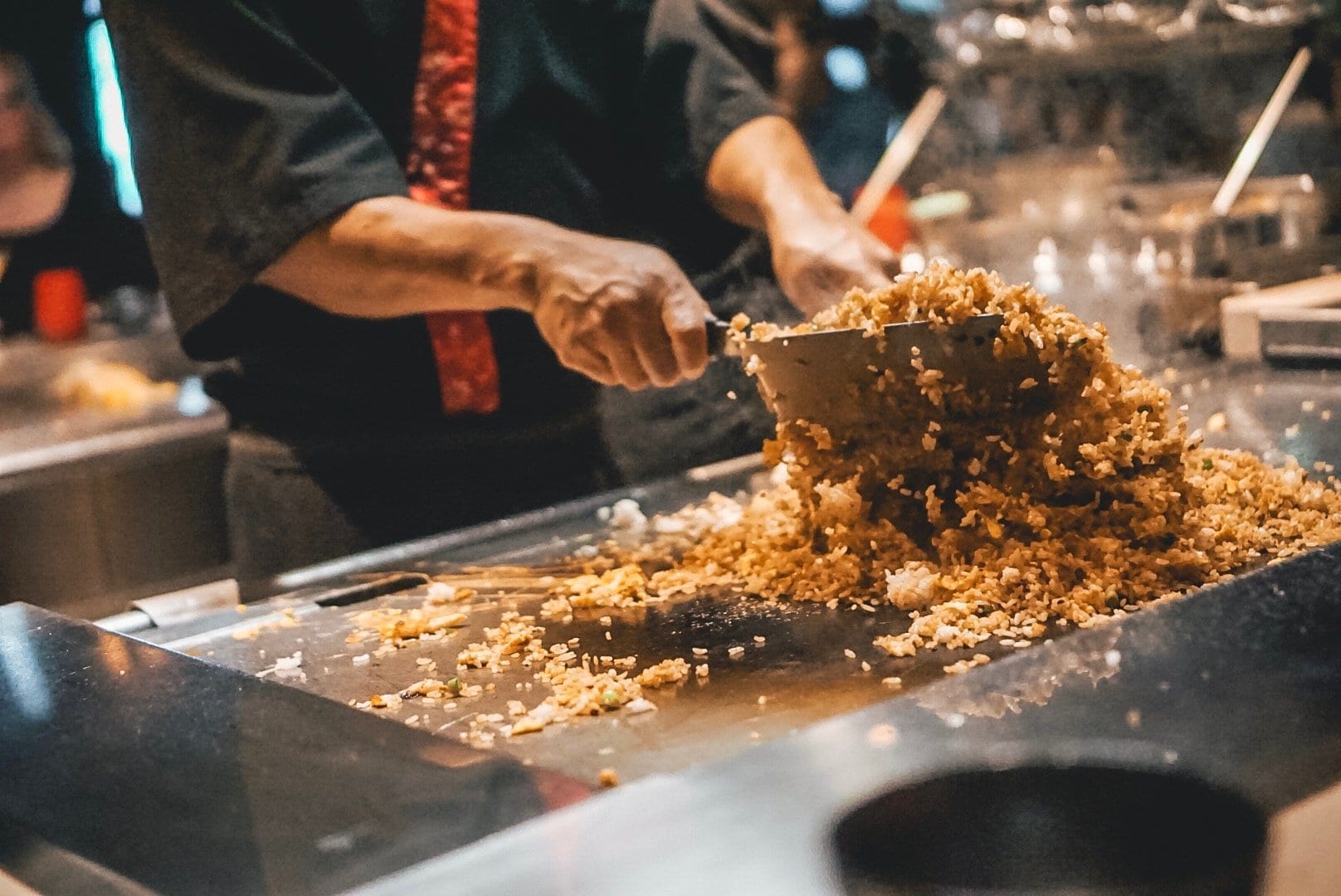 This is truly the best Teppanyaki experience I have ever had. I absolutely love Teppanyaki on Norwegian Cruises and my kids really do. We usually find ourselves going twice on a cruise. Teppanyaki is a restaurant has a modern contemporary style with rich reds and onyx to offer guests Japanese Hibachi.
A professional chef slices and dices in the center, crafting both a meal and entertainment for guests. Everything from onion volcanoes to flying shrimp can be found here under the professional knives of the chefs.
The American Diner
The American Diner has gone all out to create a 1960's feel! They even fit parts of a Mustang to their booths and have an old school gas pump directly in the middle of the restaurant. As is classic, this restaurant has been fitting in bright reds and whites, featuring burgers and fries among other delights.
It does have a tendency to get cold in this area of the ship while traveling through places like Alaska so remember to bring a sweater! One little tip about this restaurant though is the breakfast option, a small mini buffet is offered here for free in the early morning.
Cagney's Steakhouse
Cagney's Steakhouse brings sleek back with a black and white motif to the traditional American steakhouse. With an outdoor dining area almost fancier than the inside, this is a true treasure amongst the eateries on Norwegian Joy. Perfectly cooked steaks and large portion sizes make for great sharing fun amongst friends to try the wide variety of appetizers and sides available here.
My husband absolutely loves the Filet Mignon and I personally loved their salmon and truffle fries. If you can get a spot to sit at the back of the restaurant you are in for a spectacular view of the ocean.
Food Republic
Food Republic offers fun and unique options in its noodles, rice, dumplings, and grill. Like many of the smaller dining options aboard the cruise, the Food Republic uses tablets to order on each of the tables, a sophisticated and fast way to get things started.
The restaurant considers itself a 'fusion' experiment, providing delicacies and delights from around the globe. With bright and cheerful aesthetics, this is the location to find that little something that is new and exciting.
La Cucina
We enjoyed a delicious lunch at La Cucina as being on the concierge level lunch is included at La Cucina or Cagney's, depending on the sailing. La Cucina is an Italian fare set in an oakwood lounge and featuring comfortable booths and dark lighting. Designed with the Tuscan countryside in mind this Italian restaurant offers classic pasta dishes but welcomes adding any seafood on top for a Mediterranean twist.
Italy is known for its delicate cakes and pastries and La Cucina fulfills this brand with its own series of coffee, chocolate, and lemon flavored recipes. When it came down to what to choose for dessert, I couldn't resist the Tiramisu
Le Bistro
Le Bistro is a well-liked and much talked about French addition to the menu. With a romantic setting of elegance, dark lighting, and small tables, the restaurant creates an intimate mood few can match. Starting off the meal with what France does best, freshly baked loaves of bread compliment a choice of soup or salad, before finishing with delicious meal, and of course on the menu is Coq Au Vin (I would highly recommend it).
Q Texas Smokehouse
Q Texas Smokehouse is an American Style BBQ Restaurant. You will find Texas smokehouse style decor and a live band to listen to while enjoying your meal. This is no ordinary band Norwegian Cruise did a nationwide talent search for a great band for this restaurant.
This lively dining starts off with 'Texas Teasers' for appetizers in the form of deviled eggs, fried green tomatoes, loaded fries, and tortilla soups. It offers share-ables in the form of its 'Pitmaster Platter' and individual items separated by a wide selection of meats.
Getting Your Daily Fix From Norwegian Joy Restaurants
Finally, the thing everyone wants to know; where's the coffee?
Each of the restaurants offers its own selection of coffees. The stable coffee shop chosen to supply the cruise ship is one you are probably familiar with; Starbucks! They have two coffee shops on board. This way you can get that added pick me whenever you need it. They also offer breakfast sandwiches, small snacks, and pastries to go along with that double tall caramel macchiato.
My favorite location is on the Observation Deck. It has a beautiful ocean view and luxurious seating available all around. The Observation area also offers small treats on the deck to enjoy alongside the coffee shop.
There is also the most adorable Nitro Cold Brew Bike so you can relax poolside with a nice refreshing cold brew.
Room Service & Other Tips
Room Service is available 24 hours a day on the cruise but does incur a small delivery fee. Continental breakfast is an exception and will be brought to you for free until 10 a.m by room service. If you are a Suite or Haven guest, you will be free from the charge altogether.
It is important to note that we strongly recommend dining reservations. You can make these while you are on the ship, but I highly recommend booking months before when reservations first open. Reservations made close to departure or on the ship itself might not be available for guests. It is just nice to have your trip all planned out ahead of time. This way you are not leaving anything up to chance.
Norwegian Joy Restaurant Roundup!
With over twenty-five dining areas and bars (check out the Mojito Bar), it's difficult to choose which ones to prioritize! Trip lengths vary from 2-day weekend getaways to fifteen-plus vacation days. Choose ahead of time which restaurants you want to explore in case you can't make it to them all. On the Norwegian Joy, every restaurant is like a work of art and every meal is a very delicious stroke on the canvas.
Frequently Asked Questions About the Norwegian Joy Restaurants
How many restaurants are on the Norwegian Joy?
There are 25 different dining areas to choose from on the cruise. They have something for everyone's taste buds.
Do the restaurants have different options for people with dietary restrictions?
Yes, and what is great about going on a cruise is that you can also notify them of that ahead of time. So they can make sure to provide you with options that you can eat if you have any food allergies or restrictions. It makes it so much more enjoyable and takes the worry out of it!
If you have any questions about the Norwegian Joy feel free to leave a question in the comments
or send me a Direct Message on my Instagram
If You Liked This, Check Out More Norwegian Travel Tips;
12 Incredible Things You Did Not Know About the Norwegian Bliss + Photos
A Look at the 15 Incredible Norwegian Bliss Restaurants + Amazing Treats