Disney California Adventure is Disney Resort's second family-themed park located in Anaheim, California. While it can never outmatch Disneyland in nostalgia, it does outdo Disneyland in one key area, food.
California Adventure has some incredible rides but also incredible dining whether it be a quick service restaurant or fine dining. So let's take a look at the best Disney California Adventure restaurants.
---
Our Ranking of the Best California Adventure Restaurants
---
14. Flo's v8 Cafe
It wouldn't be a trip to Disney's California Adventure without stopping in at Cars Land and Radiator Springs, one of the best rides at California Adventure, and it wouldn't be a trip to Cars Land if you don't at least stop in to Flo's v8 Cafe.
This iconic restaurant replicates all things magical from Disney and Pixar's Cars. From burgers to fried chicken, roasted garlic mashed potatoes, and even the vegan Impossible Burger — Flo's has got you covered!
With diner-inspired eats, Flo's v8 Cafe serves up sensational, piping hot food to get you back out there enjoying all that Cars Land has to offer. Check out the full menu here!
---
13. Paradise Garden Grill
Located on Paradise Pier at Disney's California Adventure theme park is where you can find some delicious dishes from a yummy chicken tinga burrito to loaded yucca fries to a plant-based albondigas soup and even chicken tinga arepas. The reason this restaurant ranks so low, is the selection is very limited. Luckily Boardwalk Pizza & Pasta is next door so if the garden grill doesn't suit everyone's appetite, they can head on over for some pizza and pasta. Check out the full menu here.
---
12. Award Weiners
Located in Hollywood Land at Disney's California Adventure theme park, Award Weiners is an all-star collection of the tastiest hot dogs you'll ever get the pleasure of meeting. To name a few, the Bacon Street dog, Uptown Chili's dog, Asada Fries, and even the Plant-based Philly dog are all served up hot on the menu.
You can't miss the grand signage of Award Weiners when walking through Hollywood Land at California Adventure and you won't want to skip out on these buzz-worthy dogs! For park goers 21 and older, beer is available to help wash down your delicious dog. Check out the full menu here!
---
11. Lucky Fortune Cookery
If you're looking for healthy, fresh, and delicious meals then Lucky Fortune Cookery located at the Pacific Wharf in Disney's California Adventure theme park is the dining option for you.
They feature fresh, Asian-inspired cuisine that is served up for those looking for ultimate flavor. Creations like the Impossible Banh Mi sandwich, pork ramen, and beef bulgogi burrito can be found just steps from your favorite theme park rides; plenty of pot stickers included!
Lucky Fortune Cookie is known for its egg allergy-friendly, gluten-free, and fish-allergy friendly meal, along with having vegetarian options so that there is something delicious to try for everyone in the family! Check out the full menu here!
---
10. Cocina Cucamonga Mexican Grill
Visit the Pacific Wharf at Disney's California Adventure theme park for a taste of Mexican fare like you've never experienced it before. Park goers enjoy this dining option for its vegetarian-friendly food items on the menu. Alcoholic beverages are also available for those 21 and older.
Street tacos, quesa birria, margaritas, and cervezas can all be found in one happening grill. Beyond vegetarian options, there are plenty of gluten-free and egg allergy-friendly options available at Cocina Cucamonga.
Perhaps one of the best options for the whole family within Disney's California Adventure theme park. Check out the full menu here!
---
9. Fiddler Fifer and Practical Cafe (aka Starbucks)
The Fiddler, Fifer and Practical Cafe is located on Buena Vista Street within Disney's California Adventure theme park. The restaurant gives you an enchanted feeling with its charming sidewalk tables and scents of sweet cinnamon rolls from the cafe. You can even enjoy a cup of Starbucks coffee while visiting the cafe.
Breakfast, lunch, and dinner are all served up at this unique place to dine. They feature an assortment of pastries as well as wraps, sandwiches, and of course, everything on the Starbucks menu. Check the full menu here!
---
8. Smokejumpers Grill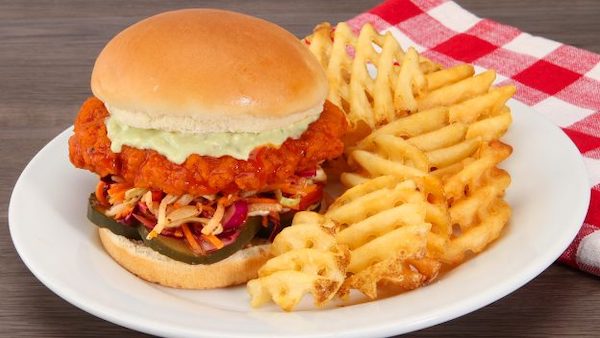 Did somebody say Mac n' cheese? Whether you're 5 or 50 you don't want to miss Smokejumpers Grills' brisket mac n' cheese dish among many other tasty American classics. Located in the Grizzly Peak area of Disney's California Adventure theme park, this restaurant is satisfyingly swell!
You'll find delicious menu options like the Monte Cristo sandwich, Impossible chili waffle fries, and the Basecamp burger. And, for a lighter bite the grilled chicken salad serves up tasty greens with mouthwatering chicken.
Inspired by men and women who fought California's wildfires, Smokejumpers Grill is an iconic taste of American treats. Check the full menu here!
---
7. Pacific Wharf Café
If you love sourdough bread, then this is the spot for you. The Boudin factory, directly from San Francisco, has what is probably know as the world's most popular sourdough bread.
At this restaurant you can enjoy delicious soups or salads served in bread bowls or even some delicious sandwiches served on….you guessed it, sourdough bread! Check the full menu here!
---
6. Boardwalk Pizza and Pasta
I have to say we end up here a lot. The pizza is pretty good and their pasta dishes are delicious. I love the pesto ravioli and sun dried tomato pasta and the kids love the spaghetti and meatballs. Plus, kids sizes are available for those with littler appetites.
Vintage-style lighting and open-air patio seating are the main attraction as you can view your food being prepared by some of the top chef's in Southern California.
Next time you are near the Paradise Gardens within Disney's California Adventure theme park, be sure to check out this Italian dime! Check the full menu here!
---
5. Cove Bar
Cove Bar is a highlight for those 21 and older, and is included in the Disney's California Adventure bar crawl list. But it's not just for adults. While the Cove Bar does serve up fun alcoholic drinks it also serves up fun and delicious food like the unforgettable
Lobster Nachos. Fajita quesadilla rolls and tri-tip sliders are also some must-try food items on the menu at the Cove Bar. One of California Adventures most buzzing places due to social media, this restaurant is one place you'll want to find and dine! Check out the full menu here!
---
4. Pym's Test Kitchen
The newest California Adventure restauran it located at the Avengers Campus. Pym's Test Kitchen features phenomenal food for everyone in the family. This restaurant offers up breakfast, lunch, and dinner and plant-based options as well. It is the perfect power-up for fans of everything Avengers!
Delicious chicken sandwiches, pastrami, and a variety of other American classics with a wacky twist can be found within California Adventure while enjoying the Marvel world of wonder.
Super-fans come and dine at this unique kitchen for their inventive dishes and all-day meals whether it's breakfast, mid-day, or dinner time for the family! Check out the full menu here!
---
3.Wine Country Trattoria
Wine Country Trattoria is a fine themed restaurant located at the Pacific Wharf in Disney's California Adventure theme park. Many visitors regard this dining option as an escape to wine country right in the heart of the Disney magic. Delicious Italian Cuisine can be found here in a very relaxing atmosphere.
Sit along the main path and you have a perfect view of the Disney parades if operating at time of seating. Check out their full menu here.
---
2. Lamplight Lounge
Located on the Pixar Pier, Disney's California Adventure theme park boasts this creative gastro pub with signature cocktails, waterfront views, and a variety of upscale eats.
From Lobster nachos, to tuna poke, or Lamplight Chilaquiles you could say this restaurant is one of the park's most diverse menu options. Due to its popularity, reservations are recommended to ensure available seating for your visit.
Adult park goers can choose from draft beers as well as creative specialty drinks at Lamplight. And still, there is a kids menu that includes everyone in the family when hitting this tasty gastro pub.
You can even visit the restaurant during brunch hours for New York Avocado toast and the signature Potato & Crab cake Benedict. A cuisine you won't want to miss! Check the full menu here!
---
1. Carthay Circle Lounge
The Carthay Circle Lounge can be found on Buena Vista Street in Disney's California Adventure theme park. This restaurant offers up a variety of Mediterranean inspired dishes as well as lighter fare. Alfresco dining includes Vietnamese twice cooked beef tacos, or delicious baked bay scallops among a variety of other flavorful dishes.
After dinner you can enjoy an item from their mesmerizing desserts like the California peach sundae and artisan cheese board served with marmalade. Visiting this exquisite restaurant is a meal you won't want to miss!
If you have an allergy Disney does cater to egg-free, gluten-free, fish allergies, as well as vegetarian options. Park goers can be guaranteed an excellent option to dine when visiting this Disney park. Plus, the flavors and variety of cuisines will leave you satisfied and wanting more.
Kids options, delicious dines, craft beer, signature cocktails, and California wines are all waiting to be experienced at California Adventure in Anaheim, California. Each restaurant features its own flare from cuisine to atmosphere. Check the full menu here!
---
Honorable Mention
Not all of the Disney California Adventure Restaurants made our list, but we have a few honorable mentions we wanted to include.
---
Corn Dog Castle
Craving a corn dog? You definitely want to check out Corn Dog Castle in Disney California Adventure. It's a quick service restaurant that is famous for its mouth-watering corn dogs that are hand-dipped in a sweet cornmeal batter and deep-fried to golden-brown perfection.
And let me tell you, those all-beef hot dogs are juicy and flavorful. But that's not all, folks. The Castle also serves up turkey legs, fresh-cut french fries, onion rings, and ice-cold beer to quench your thirst.
Shawarma Palace
Oh, let me tell you about Shawarma Palace in Disney California Adventure Park! This place is a taste bud's dream come true. Their shawarmas are the stuff of legend, with juicy, tender meat wrapped in warm pita bread and topped with all sorts of delicious fixings. And don't even get me started on the garlic sauce – it's like heaven in your mouth.
---
Frequently Asked Questions about Disney California Adventure Restaurants
What is the best restaurant at California Adventure
Carthay Circle is the go to restaurant for an incredible fine dining experience. Reservations are highly recommended
Does California Adventure Restaurants offer Allergy Friendly Options
Yes! each Disney restaurant has allergy friendly options. Ask your waiter for the allergy friendly menu
How far in advance can you make a reservation at California Adventure
You can book reservations up to 60 days in advance.
---
If you enjoyed our article about the best Disney California Adventure Restaurants, you might also enjoy:

DISNEYLAND HEIGHT REQUIREMENTS – EVERYTHING YOU NEED TO KNOW + PRO TIPS
DISNEYLAND GENIE PLUS RIDES: A COMPLETE LIST + HACKS TO HAVE THE BEST DAY!
33 AMAZING THINGS TO DO IN ANAHEIM BEYOND DISNEYLAND
---
Pin-It for later: We Ranked every one of the 14 Disney California Adventure Restaurants