In 2001, Disneyland unveiled its adventure counterpart: Disney's California Adventure. Over the last 20 years, this park has seen its fair share of rebranding and expansion, most recently with the addition of Pixar Pier and the opening of Inside Out's Emotional Whirlwind and Jessie's Critter Carousel this summer.
While this park does include a variety of thrill rides for those seeking adventure on their Disney vacation, rest assured that there are plenty of rides for kids of all ages to enjoy plus some delicious places to dine. We've pulled together the 10 best California Adventure rides that the park has to offer + tips on how to ride them all in one day!
The Best California Adventure Rides for the Little Ones
You may not consider including California Adventure into your itinerary if you are planning with little ones. However, there are several rides that are not only family-friendly but are great for little ones who might not be ready to take on some of the more thrilling attractions.
Golden Zephyr
This ride is one of the originals that debuted when the park first opened in February 2001. The Golden Zephyr features a silver "Flash Gordon" themed rocket ships that gently swing and extend outward for a scenic view of Paradise Pier. For those who are fans of Dumbo or the Astro Orbiters in Disneyland, this ride is a great DCA alternative.
Jessie's Critter Carousel
One of the newest additions to the park, this ride joins it's pier neighbor Midway Mania in bringing the Toy Story franchise to life. This gentle carousel features popular characters from Woody's Round-Up like Bullseye, Jessie and Sheriff Woody himself along with scenic art displaying decor from the movies. Take a ride on one of Jessie's crazy critters and enjoy a quick break from all the bustle of Pixar Pier.
Ariel's Undersea Adventure
For those of you who make frequent trips to California Adventure, you know that once the California heat starts to set in, your best bet for respite is in Ariel's Undersea Adventure. It takes the riders through the story of The Little Mermaid told through fun animatronics. Several popular songs like Under the Sea and Kiss the Girl are sung throughout the ride, making it fun for the little ones and a great break from the heat for you.
The Top California Adventure Rides for the Whole Family
What California Adventure lacks in the number of rides, they make up for in the quality of them. A large portion of the 17 rides in DCA feature intricate design details as well as inclusive height requirements, making them great for the whole family to enjoy.
Spiderman Web Slingers
Spiderman's Web Slingers is the newest addition to California Adventure. Located in the Avengers Campus, this ride is a fun interactive quest where you shoot webs from your wrist to help Peter Parker destroy the spider bots that have taken over his lab. There is no height limit for this ride so even tiny babies can ride.
Soarin' Around the World
This ride is a beautiful staple of Disney's California Adventure park and takes passengers on the flight of a lifetime around the world. Those aboard get the opportunity to visit far off places like the Eiffel Tower in Paris, the Taj Mahal, Monument Valley and even see the spectacular firework show at Disneyland all from the comfort of your hangar seat! The smells that accompany this ride (like the refreshing tropical scents when flying over Fiji) really make it an adventure for the whole family.
Mater's Junkyard Jamboree
One of the most detailed areas of the park to date has been the addition of Car's Land. Walking into this area of DCA really feels like you're stepping right into the movie. Naturally, the rides would follow suit! Mater's Junkyard Jamboree (themed as Mater's Graveyard JamBOOree or Jingle Jamboree during the holidays) is a hilarious whip ride that sends you flying around the revolving floor in baby tractors as you "dance" to the music. Mater serves as the emcee with themed commentary that will only fuel your laughter. Your kids are sure to get a kick out of being transported into the Cars universe with this ride!
Midway Mania
Similar to Car's Land, Midway Mania goes all out in detail and decor! This interactive ride is a digital counterpart to Buzz's Astro Blaster in Disneyland, but with an added 3D element. Compete against your friends and family as you partake in 6 mini-games with the goal of using the trigger in front of you to hit as many targets as possible. Pro-Tip: if you only have one child with you (a party of 2-3), consider going to the exit and asking for a Buddy Pass. This helps you avoid the line and gets you on the ride quicker!
Our Favorite California Adventure Thrill Rides
Grizzly River Run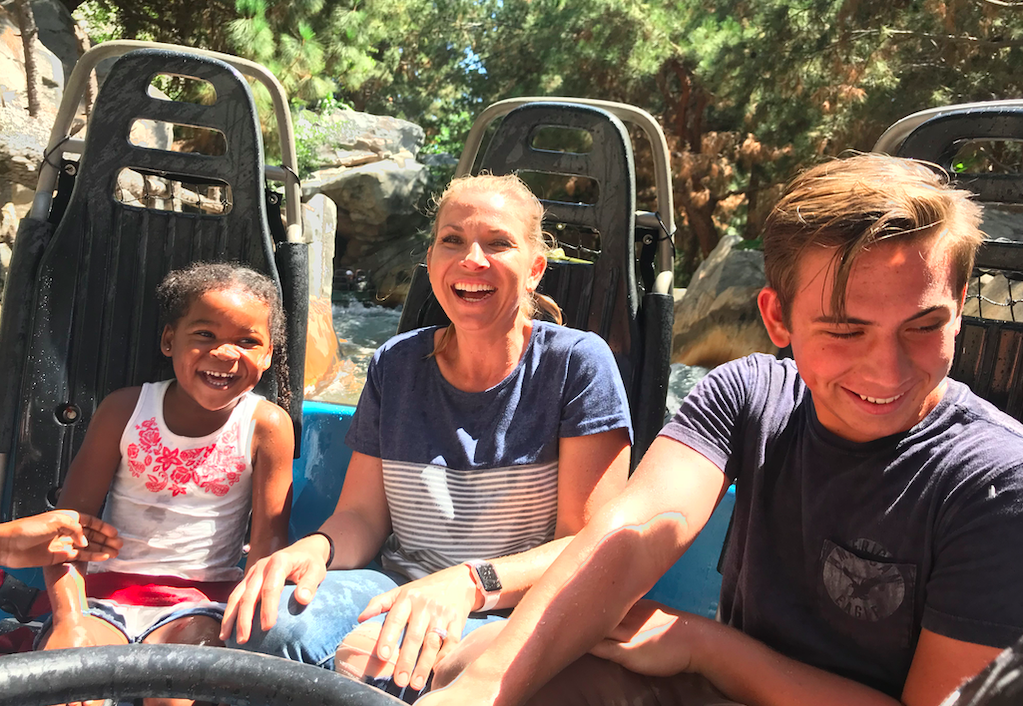 One of the best parts of visiting a theme park in Southern California is that most days, it's warm enough to warrant a trip on a water ride. Grizzly River Run is one of the best ways to cool off during the midday heatwave. This adventurous water rafting ride is definitely for more mature riders, but you are sure to have a great time. The spinning raft combined with the unpredictable current will leave the whole group soaked and laughing by the time the ride comes to an end.
Guardians of the Galaxy — Mission Breakout!
This Guardians of the Galaxy themed ride is a redesign of the beloved Hollywood Tower of Terror. Don't let this notion fool you, though. The two rides could not be more different! This free drop ride features six different versions, each with different songs, video components and drop sequences, giving you a different experience every time. To take your Guardian's experience to the next level, come back during the nighttime in the Halloween season for a totally different version of the ride that serves as a continuation to the daytime ride sequence called "Monsters After Dark".
Incredicoaster- The Best New California Adventure Ride Addition!
The transformation to Pixar Pier meant that a few favorite rides saw some revisions, one of them being Incredicoaster. This Incredibles themed roller coaster blasts off with the voice of Dash at a speed of 55mph! It features the full family of Incredibles as they work with Edna Mode to get Jack-Jack back who has disappeared via his new powers. This adventure ride is not for the faint of heart but is a great feat for younger ones who are ready to make the leap into thrill rides. It is one of my favorite new additions to the California Adventure ride line-up!
Radiator Springs Racers
Last, but not least is the pinnacle of Car's Land: Radiator Springs Racers. This ride really goes above and beyond to transport you into the world of our favorite four-wheeled friends. Plus, it puts you on the track for a real race just like Lightning McQueen! Take a drive through Radiator Springs, hang with Mater and get either a fresh coat of paint or new tires before heading out to the race track. This high-speed race against another car features fun, smooth dips and quick turns that may not be suited for very young kiddos. Those who meet the height requirement will be sure to have a memorable time! We promise, the wait is worth it.
How to Ride All the Best California Adventure Rides in One Day!
It is not going to be easy, but it is possible to ride all of the best rides at California Adventure in one day. Here is the best strategy to do so. If you are staying in a Disney Hotel, this will be fairly easy, though. They have days where you can enter the park one hour early, giving you a good advantage. 

1) Arrive at the park 30 minutes before opening. Check out park hours here!
2) Order Disney Genie +. – It is $15 per ticket but it will allow you to book fast passes from your phone + give you every photo pass picture taken to download
3) Once the park opens request a FastPass for Radiator Springs Racers. Then, walk to the back of the park and Ride Toy Story's Midway Mania
4) After Midway Mania enjoy Incredicoaster 
5) From Incredicoaster your FastPass should be ready for Radiator Springs Racers. Once you scan your Lightning Lane at racers, request a new FastPass for the ever-popular California Adventure ride, Guardians of the Galaxy.
6) While you wait for your Guardians Fastpass ride Mater's Junkyard Jamboree and Luigi's Flying Tires
7) Redeem your Fastpass for Guardian's and then immediately reserve another Fastpass for Grizzly River Run
8) While you wait for Grizzly River Run Monster's Inc Ride and then enjoy lunch. 
9) Ride Grizzly Run and book a FastPass immediately for Soarin'
10) Enjoy Little Mermaids Under the Sea. Then, ride all the smaller rides at Paradise Pier including Mickey's Swinging Symphony, Goofy's Sky School, Inside Out Emotional Whirlwind, Jessie's Critter Coaster. 
11) Ride Soarin, then book web slingers
13) Enjoy Dinner, head to Web Slingers and you have done it! 
California Adventure is a great park that you can easily knock out in one day with our tips, making it a great add-on to your family vacation. There are rides for the whole family and while this isn't the full list, these rides are definitely the best ones. You won't want to miss them! Be sure to check out these 10 best California Adventure rides on your next trip to the Disneyland Resort.
You May Also Like:
Why Disneyland in January & February Might be the Best time to Go!
How to Buy Discount Disneyland Tickets [10 Easy Ways to Save + Bonus Tips]
What You Can & Can't Bring into Disneyland- 3 Items Will Surprise You!