We have broken down the top 15 best theme parks in California and why they should be on your list the next time you are visiting or are trying to decide where to go.
Best Theme Park for Toddlers: Children's Fairyland in Oakland
Why You Should Go
Taking a toddler to a theme park (or most places) can be tricky. They're too big to stay put in the stroller but not big enough to ride most rides at the standard amusement park.
Children's Fairyland is specifically designed to suit the smallest of guests. The storybook sets feature child-sized, whimsical creations that bring classic stories like Peter Rabbit and Jack and Jill to life. There are no "thrill rides" at Children's Fairyland, but you and your little one will love to ride the carousel or Jolly Trolly together.
---
Best Theme Park for Young Children: Legoland California Resort in Carlsbad
Why You Should Go
For some, Lego is a fun pastime, while for others it's a serious hobby.
If your child is one of the millions of people who enjoy the endless possibilities of Lego then a trip to Legoland California Resort in Carlsbad is sure to be memorable. Your children can create their own masterpieces in the building zone then jump on the Cargo Ace ride and fly like a pilot.
Check out discounted tickets for Legoland here!
---
Best Theme Park for Tweens and Teens: Disney California Adventure Park in Anaheim
Why You Should Go
Disney California Adventure Park is located inside Disneyland and is the perfect blend of old and new school Disney.
The Guardians of the Galaxy – Mission: BREAKOUT ride features a big drop that daring teens and tweens will fall for. Avengers Headquarters offers character experiences and live entertainment for all ages.
If your child prefers the classic characters, you will still be sure to see the likes of Mickey Mouse, Minnie Mouse, Pluto, and more throughout the park. For the best places to eat in Disney California Adventure check out our list of favorite restaurants here.
Check out discounted tickets to Disneyland Resort here!
---
Best Theme Park for Adults and Senior Citizens: Pacific Park in Santa Monica
Why You Should Go
Located on the iconic Santa Monica Pier, Pacific Park perfectly blends modern amusement parks with a classic carnival.
You and your date can ride the Pacific Wheel, the only solar powered Ferris wheel in the world, and take in both the coastline and the stars at night.
Tap into your competitive side and play one of many carnival games like Ring Toss and Whack-A-Mole.
If you can't secure a sitter for the little ones, they will be sure to love riding the Sea Dragon and having a Banana Split from Scoops Ice Cream and Treats.
---
Best Old School Roller Coaster: Belmont Park in San Diego
Why You Should Go
If you're a roller coaster enthusiast then riding the Giant Dipper at Belmont Park in San Diego should be added to your bucket list. The wooden roller coaster opened to the public way back in 1925 and has been giving guests a thrill ever since. 
Taking a ride on this historic coaster is like tapping into a piece of American history.
---
Most Roller Coasters in the World: Six Flags Magic Mountain in Valencia
Why You Should Go
Not only does this theme park have the tallest roller coaster in California, Superman: Escape from Krypton, it also features the most roller coasters in the world with 20 roller coasters.
With coasters like The Viper, Scream, Full Throttle, and Apocalypse, you will have a full day of heart-racing and stomach-spinning fun at Six Flags Magic Mountain.
Check out discounted tickets for Six Flags Magic Mountain here!
---
Off the Beaten Path: El Dorado Frontier in Long Beach
Why You Should Go
When you picture amusement parks, El Dorado Frontier probably isn't the first one that comes to mind, but don't miss out on this quirky park. It is themed after the Gold Rush era where you can pan for gold or ride the Prospector's Journey Handcar Mining Buggy ride.
There are also games and concession stands.
---
Best Waterpark: Raging Waters in Los Angeles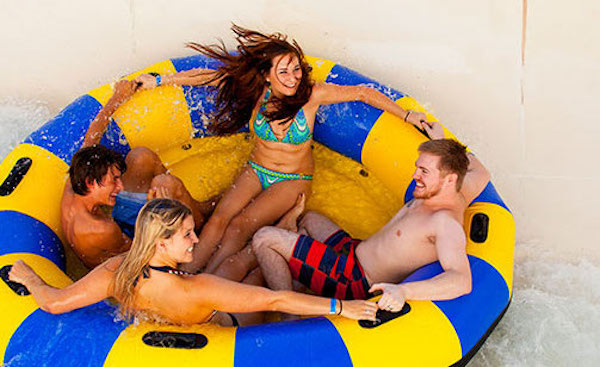 Why You Should Go
If you're like me and love when rides and water come together, then Raging Waters in Los Angeles will be your happy place. With rides ranging from intense to mild, there is something for every age and every preference.
You can ride the Aqua Rocket, which has the feel of a roller coaster, or chill at Splash Island Adventure, which has more than 75 activities to keep your littlest ones busy, happy, and wet.  
Want to know the best waterparks in Southern California? We ranked them all here!
---
Best Theme Park with Animals: SeaWorld San Diego in San Diego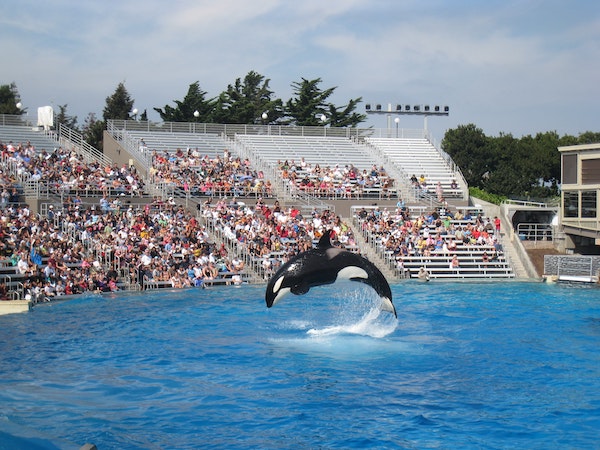 Why You Should Go
Sea World is, of course, known for their stunning array of sea life including dolphins, beluga whales, sharks, sea turtles, penguins and much more.
Sea World also has rides to accommodate everyone's thrill-seeking preferences. The Tentacle Twirl gently spins you through the air while the Emperor drops its riders more than 90 degrees into a dive plunge.
Check out discounted tickets to Sea World here!
---
Smallest Theme Park: Adventure City in Stanton
Why You Should Go
Adventure City occupies an area of just over 2 acres, so you might be wondering if a park so small could pack a punch.
It sure can!
This petite park fits all the fun you and your children could want into a small space. There is a coaster, carousel, arcade, and petting farm to just name a few of the rides and attractions specifically aimed at younger visitors.
---
Largest Theme Park: Gilroy Gardens Family Theme Park in Gilroy
Why You Should Go
Gilroy Gardens sits on a whopping 536 acres of land (yes, even more acreage than Disneyland), and they make good use of the space they have. Gilroy Gardens has a carousel, Ferris wheel, roller coaster, and paddle boats which are just a few of their rides.
What makes this theme park extra special are the 6 beautiful and immaculately kept gardens that showcase exotic flowers, gentle waterfalls, flowing streams, and a collection of topiaries.
---
Best Theme Park for Film and TV Enthusiasts: Universal Studios Hollywood in Universal City
Why You Should Go
Universal Studios is where fantasy and film come to life. There are endless rides, attractions, and events to pay homage to some of the most beloved movies and TV shows.
You can stop by the Kwik-E-Mart and have a Duff Beer with Homer Simpson. As you explore the park you may run into the likes of Curious George or the Minions making mischief. In my home, we live for Jurassic Park, so riding Jurassic World is a must.
If you've always wondered how movies pull off the special effects, you can get an exclusive behind-the-scenes look at the Special Effects Show where professional stunt performers recreate some iconic moments from your favorite movies.
Check out discounted tickets to Universal Studios here!
---
Best Theme Park for Horror Fans: Knott's Berry Farm in Buena Park
Why You Should Go
If you're looking to have a spook-tacular time, Knott's Berry Scary Farm will give you an experience unlike any other. From mid-September through the end of October, Knott's Berry Farm transforms their park into a haunted haven.
You can test your bravery in one of several themed scare zones, wander through a maddening maze, or just try to avoid being jump-scared by one of more than 1,000 terrifying creatures lurking in every dark corner of the park.
Check out discounted tickets to Knott's Berry Farm here!
---
Best Bang for Your Buck: Six Flags Discovery Kingdom in Vallejo
Why You Should Go
When planning a trip to any theme park, the unseasoned visitor may only account for the price of tickets and nothing else.
But at the end of a long day where you purchased extra snacks to keep the kids calm, bought a few extra souvenirs for jealous co-workers, and splurged on special events not included in the admission price, then you may be in for sticker shock when the credit card bill rolls in.
Six Flags Discovery Kingdom has you and your family covered.
When factoring in the price of tickets, food, and parking you are looking to spend an average of $138. This is not the most inexpensive price for a theme park in California but, considering that Six Flags Discovery has all the hallmarks including rides, attractions, dining, shopping, then you are getting a sweet deal without the sour aftertaste.
Check out discounted tickets to Six Flags here!
---
Most Popular Theme Park: Disneyland in Anaheim
Why You Should Go
No list of best theme parks in California would be complete without Disneyland.
For many die-hard Disney lovers, Disneyland is the mecca for theme park enthusiasts who live in or travel to California. So much so that Disneyland averages 18 million visitors per year and is second only to Disney World.
This theme park is always a guaranteed crowd pleaser for guests young and old. Whether you're there to see the cast of characters, hit the rides, or dine at any one of Disneyland's drool-worthy restaurants you and your family will have a magical time you will never forget.
Check out discounted tickets to the Disneyland Resort here!
---
Map of Theme Parks in California
Frequently Asked Questions about Theme Parks in California
Can you see both Disneyland Parks in just one day?
You probably won't have time to visit both Disneyland Parks unless you forgo several attractions or you're super-fast. It is recommended that you have a 2 or 3 day pass to give you and your family the time you need.
What is the minimum age a guest at Children's Fairyland has to ride the rides?
Children under the age of 1 are welcome into the park and free for entry. The rides are gentle and meant for small children to enjoy but also big enough for adults to accompany them. You can have your toddler next to you on the Jolly Trolly while your baby sits on your lap.
Is there anything at Legoland to do that has nothing to do with Legos?
Yes, Legoland offers attractions for those who don't see the appeal of Lego. There is also a waterpark, an aquarium, shopping, and dining. 
Is there a hotel on the Pacific Park property?
There is not a hotel on the property. If you visit the Pacific Park website, you can search for nearby hotels that fit your needs and budget.
I'm traveling with older and younger children to California Adventure. What is there for my younger children to do?
If you visit the Disneyland website, you can find an interactive list of attractions, events, and rides specifically geared toward younger guests.
If you enjoyed our list of the best theme parks in California, you might also like:
THE BEST PLACES FOR DISCOUNT THEME PARK TICKETS
---
Pins for later!