I think Disney World is our second home because we have profound memories of touring the park together. But there is one more thing we love about touring this popular spot: staying at the luxurious Disney World Monorail Hotels.
Mike calls us resortists! That's because both of us enjoy fine dining and the luxurious amenities these Deluxe Disney resorts have offer to guests.
Disney World has so many resort hotels to choose from and that's what we always love about the trip. But I tell you there only a few of these hotels, situated along the monorail which are super fun for lots of reasons.
With the quick access and incredible views of the Magic Kingdom to the adorable boat parade you can watch at night, these resorts are some of the most sought after.
---
What are the Disney World Monorail Hotels?
The Disney World Monorail Hotels are a collection of resorts that are strategically located close to Magic Kingdom Park, providing guests with quick and easy access to the iconic theme park. One of the major advantages of these hotels is their proximity to the Electrical Water Pageant, a stunning nighttime parade that takes place on the Seven Seas Lagoon.
Staying at a hotel on the monorail line also means that you can take advantage of the monorail system to get around the Disney World Resort.
The monorail travels directly from the Magic Kingdom to the Transportation and Ticket Center, where you can transfer to other modes of transportation or purchase park tickets.
---
Disney's Grand Floridian Resort and Spa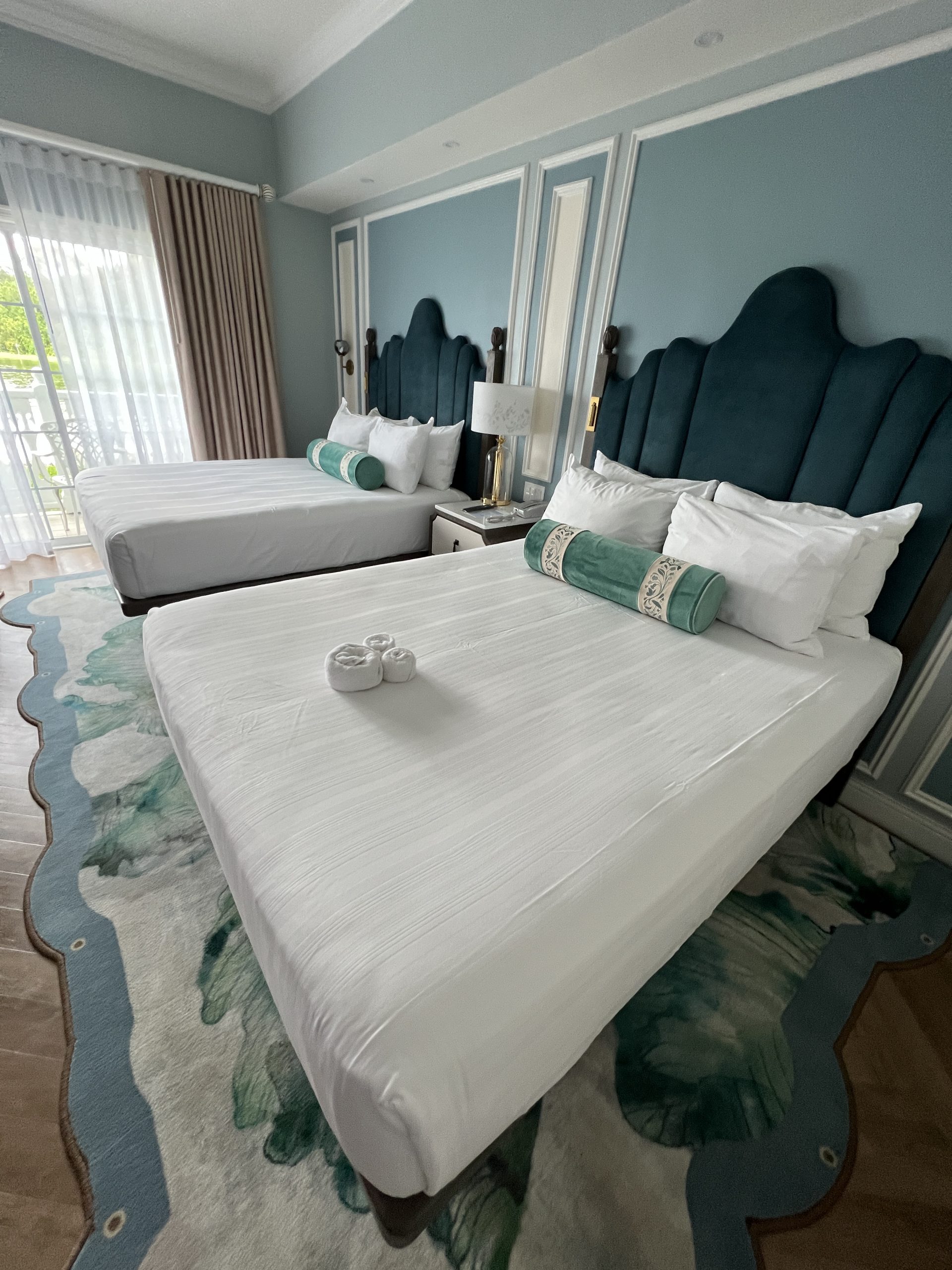 Why You Should Stay
Walt Disney World's flagship resort, Disney's Grand Floridian Resort and Spa, is on every Disney World fan's bucket list. Everyone wants to stay at this hotel to see what the hype is all about, and it is definitely our favorite of the Disney World Monorail hotels.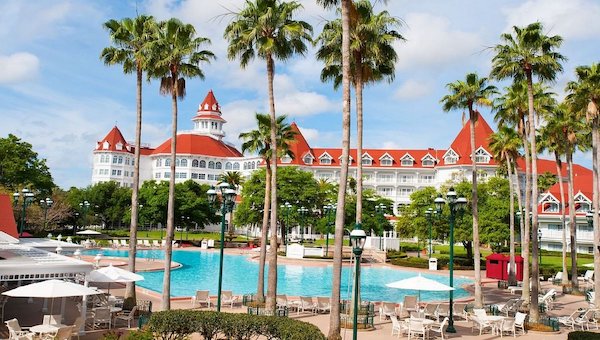 When you stay at Grand Floridian, you get all the bells and whistles of a Disney vacation. The lobby is beautiful set after a Victorian look and the grounds aound the resort are simply beautiful. I love taking a morning walk to get coffee with the beautiful view of the castle.
Additionally, along with all the other Monorail resorts you'll have access to Early Theme Park Entry and be able to reserve your Lightning Lanes starting at 7 AM. Since the Grand Floridian is a deluxe hotel, visitors get access to Extended Evening Hours, which gives them more time in certain parks on specific nights.
Resort Pool
The Grand Floridian has several pools you can enjoy and a splash area as well. This is probably the 2nd best pool of the Disney Monorail Resorts, the Polynesian having the best pool
Guests also enjoy a luxurious massage and witness an exciting firework show over Cinderella Castle. But the most important thing is that you are just a monorail ride away from Magic Kingdom.
Restaurants:
The Restaurants at the Grand Floridian are some of the most unique of any Disney Resort :
1900 Park Fare is the most whimisical character dining experience you will go to with characters from Alice & Wonderland
Citricos serves delicious Mediterranean Fare
Chef's Table at Victoria's & Albert is by far the most exclusive restaurant in all of Disney World and available to guest ages 18+ Only
---
Disney's Contemporary Resort
Why You Should Stay
One of the most popular monorail hotels is Disney's Contemporary Resort, which is located just a short walk to Magic Kingdom. The hotel's modern design and luxurious amenities make it a top choice for families and couples alike. Plus, with the monorail station located right inside the hotel, it's easy to hop on and off as you explore the various parks and attractions.
As part of the 50th Anniversary celebration of Walt Disney World, a lot has changed at Disney's Contemporary Resort over the past year. A new restaurant called Steakhouse 71 is also operational, along with new rooms inspired by 'The Incredibles.'
The revamped lobby and the updated California Grill are also highlights of the hotel.
The hotel's location allows some guests to enjoy stunning views of the Magic Kingdom and Cinderella Castle. In addition, some rooms offer views of Bay Lake.
Unlike its name, Walt Disney World's Contemporary Resort is Disney's oldest hotel. In addition to the central tower, Disney's Contemporary Resort has a more affordable Garden Wing and Disney Vacation Club villas in the Bay Lake Tower.
Short monorail rides and even shorter walks will get you to and from the park. However, the fact that you can walk five to ten minutes to and from the Magic Kingdom in the morning or after a long night is genuinely remarkable and one of the main reasons I love staying here.
Additionally this hotel has some of the best views of the fireworks of the three DIsney World Resorts in my opinion. I think it's close proximity is what makes it so much better.
Pool:
The pool at the Disney Contemporary is great, but it is the worst of the three disney world monorail hotels. It does not have the views the other resorts have and no splash park like the one at the Grand Floridian, but do not fret, there is still a ton of fun to be had here.
Restaurants:
The dining scene is also quite happening at the Disney Contemporary.
Steakhouse 71 is a classic steakhouse but don't miss out on their breakfast as it serves up some delicious plates.
Contempo Cafe is your quick service stop to get grab and go eats.
California Grill is the iconic restaurant of the hotel with amazing views of the Castle and subsequently the fireworks if timed right. Book this restaurants as soon as you can as it does book up fast.
Chef Mickey's is one of the most popular of the Disney World Character dining experiences. With all the main characters visiting the tables including Mickey, Pluto, Minnie and Goofy.
---
Disney's Polynesian Village Resort
Why You Should Stay
The Polynesian, one of Walt Disney World's original hotels, has a rich history and enjoys incredible popularity among Disney enthusiasts.
The Walt Disney World recently finished the multi-year enhancement project's guest room and building component at Disney's Polynesian Village Resort. Fans affectionately call it 'Poly.'
In addition to the renovated rooms, Poly has recently undergone many improvements. Updates The Great Ceremonial House underwent several updates, and a new porte-cochere and monorail station were constructed. In addition, the front entrance's grounds are newly decorated.
Polynesian Pool
The Polynesian has the best pool of any of the three disney monorail resorts The marina, the main pool of the Poly, and outdoor seating places for a few of the resort's eateries are all outside the Great Ceremonial House. You can enjoy watching fireworks from the pool, the awesome volcano water slide and sit back and enjoy a Dole Pineapple whip served to your pool chair.
Polynesian Restaurants:
There are two amazing main restaurants at the Polynesian resort as well as a quick service dining establishment
Ohana: Ohana is one of my favorite places to Dine for both dinner and their character breakfast (check out my full review here) The meals are served family style in a fun and entertaining environment.
Kona Cafe If Ohana is booked up head over to Kona Cafe, you won't be disappointed. At breakfast their Tonga Toast is one of the best breakfasts in all of Disney World and at dinner enjoy some amazing asian inspired dishes and amazing seafood as well.
---
Final Thoughts
Now you know the best Disney World monorail hotels you can choose to enjoy a great time with your friends and family. With basic amenities and stunning views, you are sure to enjoy a memorable stay.
if you are thinking of booking a Disney World Vacation check out our friends over at Best Day Ever Vacations, they do amazing Disney vacation planning and their service is 100% FREE.
Find out more about how to make the most of your trip on our Instagram over at @Global_Munchkins, your ultimate guide to travel-related tips.
---
Map of the Best Disney World Monorail Hotels
---
Frequently Asked Questions about Disney World Monorail Hotels
What is the Disney Monorail?
A public monorail system runs in the Walt Disney World Resort in Bay Lake, Florida. The Disney Monorail debuted in 1971 alongside the rest of Walt Disney World. However, the original Monorail System emerged in 1959, four years after the California park's launch.
Why should you stay at Disney monorail hotel?
Staying at a monorail hotel is a fabulous way to have instant access to Magic Kingdom. However, there are more advantages you can enjoy.
First and foremost, extended theme park hours at specific parks on specific evenings are available to visitors of deluxe resorts and deluxe villa resorts during this time.
You'll have access to those extended hours because all Disney World monorail resorts are luxury resorts. At present, the extended hours are available for two nights/week.
Planning a holiday trip to the Magic Kingdom is another advantage of staying at a monorail resort. Magic Kingdom regularly hosts holiday-related special events like After Hours, a Halloween Party, and a Christmas Party.
For these events with special tickets, Magic Kingdom is open till quite late. Once the night is over, your chariot or (the monorail) will be waiting for you so you can return to your hotel.
Does Disney's Contemporary Resort offer any entertainment opportunities?
Disney's Contemporary Resort provides a range of entertainment experiences throughout the year. For example, there is a gingerbread exhibit at Christmas. In addition, guests can spot decorated eggs in the atrium around Easter. Also, there are movies and other attractions for visitors all year long.
---
If you enjoyed our picks of the best Disney World monorail hotels, you might also like:
EVERYTHING YOU NEED TO KNOW ABOUT THE DISNEYWORLD DINING PLAN
---
Pin-it for later: Everything You'll Love about the Disney World Monorail Hotels
Latest posts by Ashland Hendrix
(see all)