One experience that is really a can't miss at Disney World, especially if you have little ones is Character Dining. Character dining is one of the absolute best experiences and it truly can be fun for everybody.
Choosing the best character dining at Disney World is not easy due to their being there are over 17 awesome options, but we did our best to narrow it down for you.
---
Top 11 Places! – The Best Character Dining at Disney World
---
11. Disney Jr. Play and Dine
Perfect for your Disney Junior Fans + Special Themed Meals
Hollywood and Vine is a must do if you have little ones tagging along with you at Disney World. The Disney Junior Play n Dine experience is truly catered to them and there's a good chance this will be their favorite memory. You will be dining with Disney Junior's biggest stars like Doc McStuffins, Sofia the First, Jake and the Never Land Pirates, and more!
There is no better way to kick of a day at the parks for your little one than the magic of hanging out with all their favorite characters.
Hollywood and Vine also hosts seasonal dinners, like a summertime beach bash and a not so spooky Halloween, with Minnie Mouse and friends. These are super fun events, especially the Halloween one, where the chacters are dressed up in their Halloween Costumes. Check Menus Here!
*Pro Tip – If you are planning on dining here, book it with the Fantasmic Package and you will get premium seating at Fantasmic!
---
10. Cinderella's Royal Table
Cinderella's Royal Table is an incredible experience. While it is not my favorite princess dining experience it is certainly the most unique. Cinderella's Royal Table you get to dine inside Cinderella's castle at the Magic Kingdom (so, park admission is required).
You start off your journey with a picture with Cinderella and then you are guided up the castle to the restaurant. Princesses will visit your table as you dine. We visited during breakfast and had Snow White, Jasmine and Princess Aurora visit our tables.
All the children receive Magic Wands and a fun show is performed by the fairy godmother to make the experience more magical. In my opinion, for breakfast anyways, was unimpressive.
In my opinion, if you want to dine in the Castle, go for it, however if you want a better princess dining experience we have two more options. Reservations are very hard to come by so book early.
---
9. Akershus Royal Banquet Hall
Best Princess Only Dining
I am going to start off with a little controversy right off the bat. In my opinion, Akershus Royal Banquet Hall in Epcot is the best Princess Character Dining.
You might ask, what about Cinderella's Royal Table. Cinderella's Royal Table is incredible in the fact that you are eating inside the castle, but after that, Akershus is better in every way.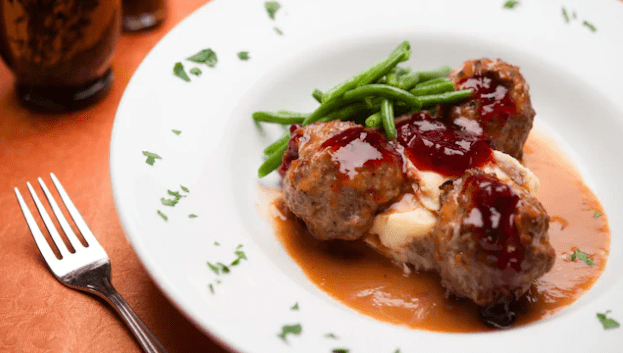 First off, Akershus is less expensive and if you are on the dining plan it only takes one dining credit versus 2 for Cinderella's Royal Table. Akershus is a buffet dining experience with a full omelet station and plenty of healthy options as well.
Because Akershus is not as popular we found that our little ones got to spend more time with the princesses then at Cinderella's royal table. It is amazing to see your little one's eyes light up when they meet a princess. It is such a fun experience.
Akershus is in the Norway section of Epcot, and yes this does mean you will get to try out some yummy Norwegian dishes for lunch or dinner if you book your character dining experience here.
Make sure to check out the special extras Disney offers that will make the experience even more memorable, like flowers or balloons.
---
8. Tusker House at Animal Kingdom
If you've done any other research on Disney World dining, you have surely come across the Tusker House. It is one of Disney's finest both in terms of the atmosphere and the yummy food.
Plus, it is located in Animal Kingdom so you will get to see the characters in a bit of a different light as they will all be in their safari gear. You get to see Donald and his friends
The restaurant resembles a bustling marketplace with so much detail you will feel like you have been transported. It is my favorite atmosphere of any of the character dining locations. A common reason it's favorited is that it suits both the adventurous palette and the picky eaters.
There are some delicious African options on the menu, which is a really nice change up from the traditional theme park food. Plus, they have some super cute Simpa and Nala Waffles for Breakfast.
A nice feature about this character dining is you can choose from breakfast, lunch, or dinner unlike some others where characters come out only during breakfast. Check out all the Menus for Tusker House Here!
---
7. Storybook Dining at Artist Point – Disney's Wilderness Lodge
A new entry to our best character dining at Disney World is Located in Disney's Wilderness Lodge and is the most upscale character dining experience you will find at Disney World. Disney revamped Artist Point a few years ago and now the restaurant is the Enchanted Forest.
For those of you who loved the old Artist Point, Story Book Dining at Artist Point still has a very upscale and sophisticated menu, however now it's completely Snow White-themed,
This character dining is dinner-only. One of my favorite aspects of this restaurant is the special potion-themed cocktails and mocktails, my kids loved the In the Clouds beverage.
For characters, you'll see Snow White, Dopey, Grumpy and even The Evil Queen. Those last three are a real premium because while you can meet and greet Snow White in other places around the park, you can only meet with the queen and the dwarves at separately-ticketed seasonal events.
But the best part of the experience is probably dessert, as the meal finishes with a sweets flight inspired by Disney's first feature-length film, from shiny poison apples to "Miner's Treasures" that feature chocolate gemstones.
---
6. Minnie's Beach Bash at Cape May Cafe
Best Character Interaction
My personal favorite is Minnie's Beach Bash at Cape May Cafe. I might have a soft spot because it is located at my favorite resort, the Beach Club. The characters are alll dressed for a beach party. Typically, the characters include Minnie, Donald, & Goofy, sometimes Chip & Dale.
The reason I love this, is not only is the food really good, the characters at this restaurant always spend a little extra time with the guests. We have had Goofy sit at our table and color, on our most recent visit Minnie was flirting with my teen boys. I think the interaction with the characters is by far the best.
At night, there is no character dining, this is a breakfast only event. Check out the menu here!
Whichever one you choose, you for sure will have a blast. Make sure to take your time, don't feel rushed to eat and take lots of pictures. Enjoy your experience with the characters and if your kids don't feel like taking pics with the characters, that's ok too. Just enjoy the experience.
---
5. Trattoria al Forno Bon Voyage Character Breakfast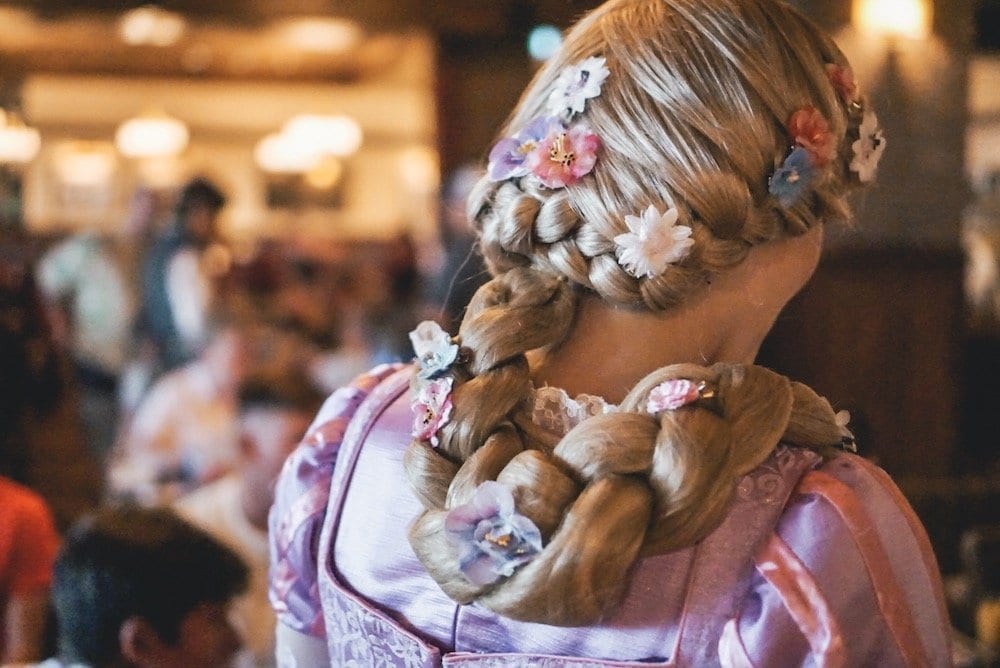 Best Prince & Princess Breakfast
A new addition to my best character dining at Disney World is Trattoria Al Forno's Bon Voyage Character breakfast. If you want to take your little one to a character breakfast but you have some reluctant siblings this is a great restaurant because it has both princes and princesses At this breakfast, you will be greeted by Rapunzel, Flynn Rider, Ariel & Prince Erik. The characters are great fun as Rapunzel danced around and played hide and seek with my daughter.
What us grown-ups will love is the amazing food. This character dining experience has some of the best food of all the character dining experiences. I had the fruit and yogurt plate which might seem plain but was quite extraordinary. (check out the image below).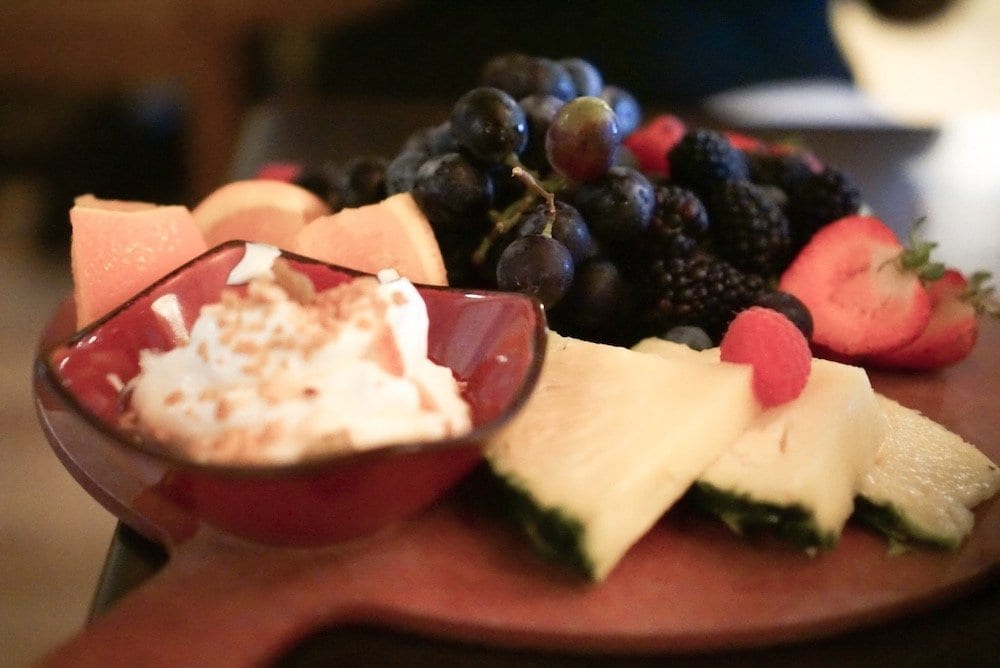 Also, they had some amazing omelets, a delicious bread basket, and some extraordinary french press coffee.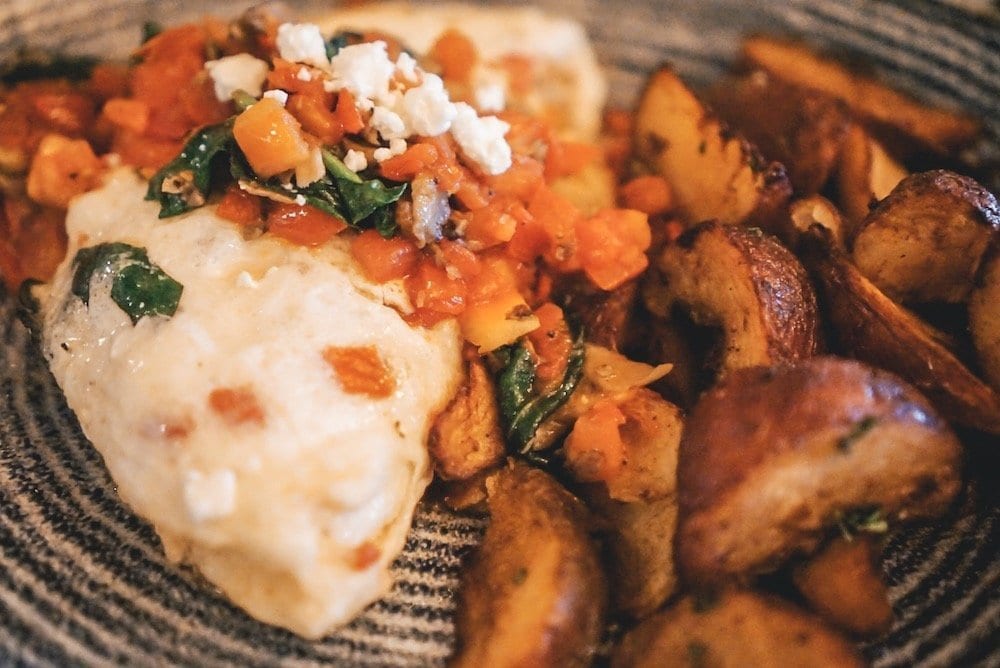 This character experience is only offered during breakfast and is one table service on the Disney Dining Plan. Do not miss out on this character experience. You'll love it!
---
4. Chef Mickey's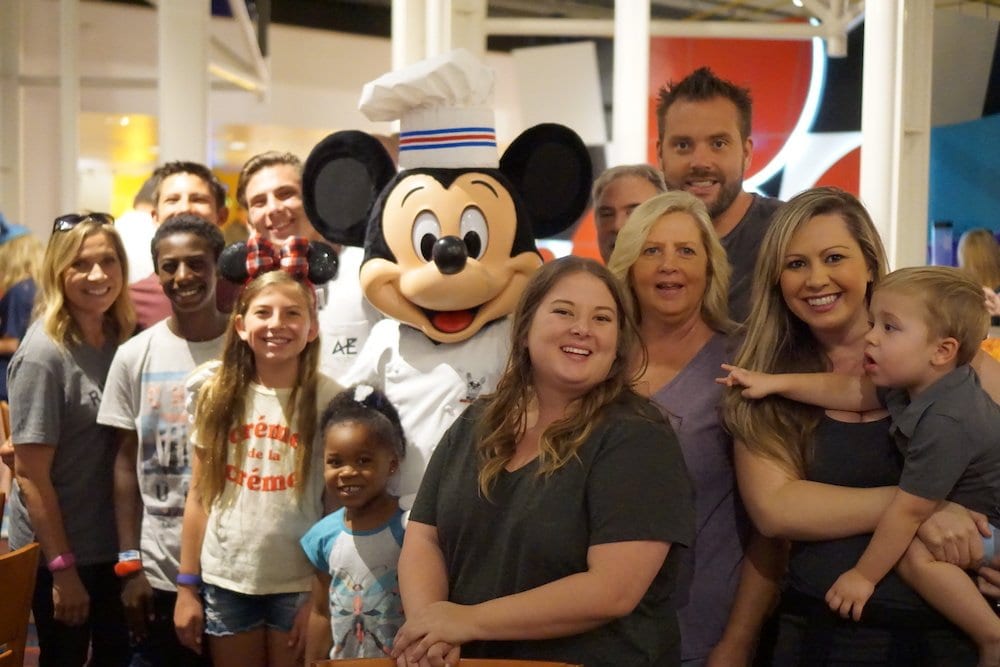 Most Classic Characters
You just can't go wrong with a classic. Chef Mickey's is in the Contemporary Resort and serves buffet style breakfast, brunch, and dinner.
The Contemporary is very close to Magic Kingdom and just a quick monorail ride away, so you can walk off the filling buffet meal at the park. At Chef Mickey's you get to see all of the favorites; Mickey, Minnie, Donald, Goofy, and Pluto.
The characters will have a celebration as they dance around with towels waving over the their head. Our little ones always enjoyed grabbing their napkins and swinging them around with the characters.
You will also have a huge variety of food and dessert items. There is an omelet bar in the morning and a custom carving station at night. This character dining restaurant books up very fast though, so if it is something you really want to do make reservations as soon as you possibly can.
*Pro Tip* Plan a day at Magic Kingdom – You can park at the contemporary for the day with your reservation and then its a short walk to the parks (much closer than traditional Magic Kingdom Parking)
---
3. 'Ohana – Best Friends Breakfast with Lilo & Stitch
Best Family Style Character Dining
Turn your Disney World vacation into a tropical paradise with a family style meal, limbo dancing, and maybe even a visit from Lilo & Stitch.
The Best Friends breakfast service at 'Ohana is unparalleled and you will feel like you have truly become part of one big family. In fact, all the food is served family style on one big platter. Breakfast is served with eggs, bacon, hawaiian bread, Mickey & Stitch waffles sausage, fruit and potatoes.
If you have special dietary needs, don't worry they will custom make you whatever you need to fit your situation. We had an egg white scramble which was incredible.
Keep in mind 'Ohana is only a character dining experience for breakfast, but if you choose to go there for dinner there are no characters but they will surely keep you entertained. Just make sure to arrive hungry because the food doesn't stop coming.
While still expensive, this is some of the best character dining at Disney World that won't break the bank. You can check out our complete review of Ohana here!
---
2. Supercalifragilistic Breakfast – 1900 Park Fare
Most Unique Experience
We recently hit up 1900 Park Fare for the first time, and loved it. The Mad Hatter will visit your table and is truly Mad, which was pretty hilarious. You get to enjoy a breakfast suited for Mary Poppins.
The Mad Hatter is an absolute delight and all the characters are an absolute blast.
1900 Park Fare is an awesome character dining experience both in the mornings or the afternoons. If you make breakfast reservations you will get the Supercalifragilistic buffet with made to order omelets, carved ham, and Mickey-shaped waffles.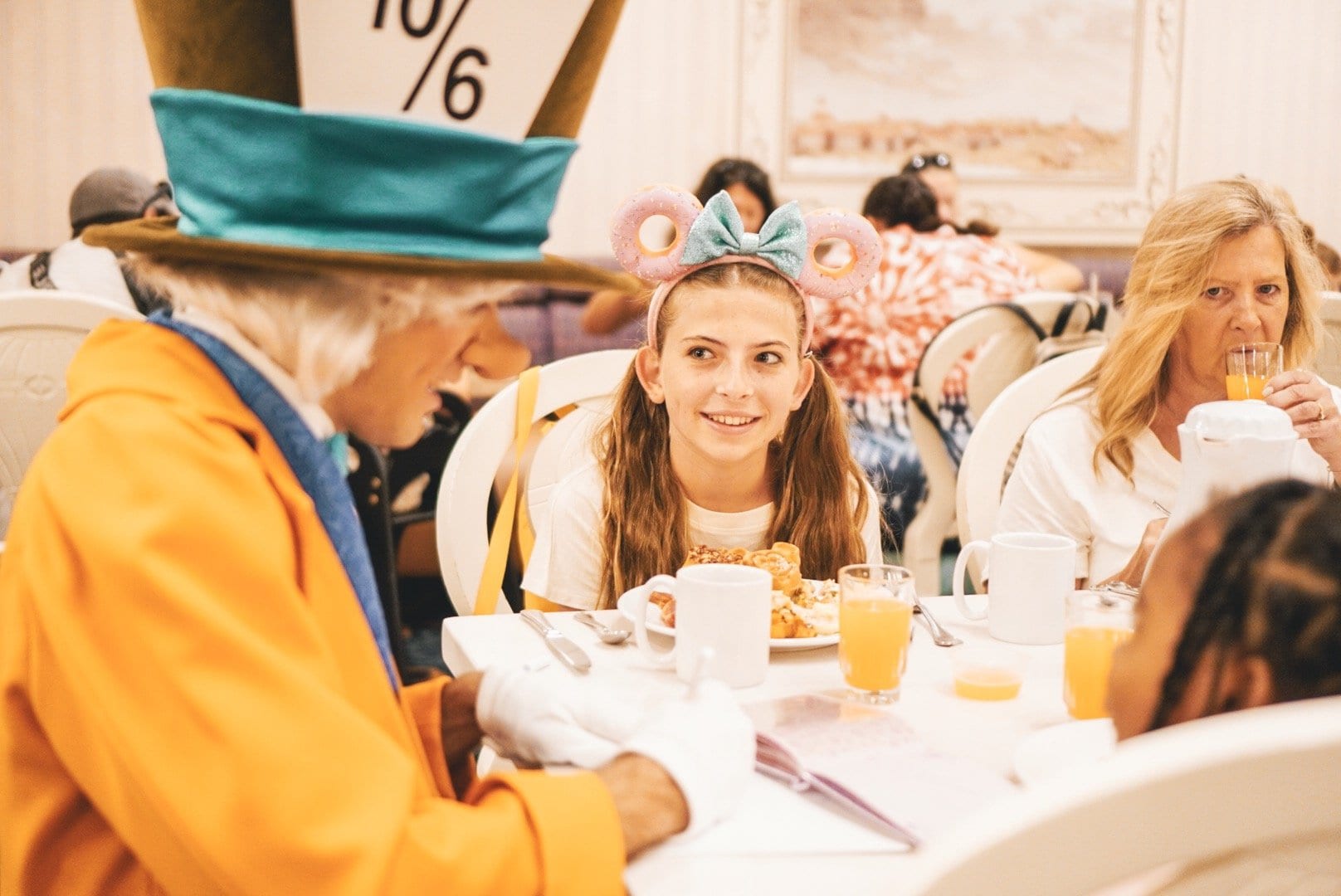 You will dine with Mary Poppins, the Mad Hatter & Alice, Pooh, and Tigger. When joining the characters for tea, you will get to decorate cupcakes and work on crafts while snacking on some lighter food like sandwiches and chicken nuggets.
Making this a superb option if you want to spend some time with characters but do not want a big buffet style meal.
Topolino's Terrace earns our #1 spot for the best Character Dining at Disney World. Topolino's Terrace – Flavors of the Riviera is a fine dining restaurant located at Disney's Riviera Resort in Walt Disney World, Florida.
The restaurant offers a unique dining experience, showcasing the flavors of the French Riviera with an eclectic mix of Mediterranean and coastal cuisine.
The menu features a variety of dishes that are inspired by the sunny and colorful coastal region, including fresh seafood, salads, grilled meats, and other delectable entrees. Some of the most popular dishes include bouillabaisse, ratatouille, and roasted chicken with fennel.
In addition to its delicious food, the restaurant also boasts a stunning view of the nighttime lights of Epcot and Hollywood Studios, making it a great place for a romantic dinner or special occasion.
The restaurant also has a full bar, offering a selection of signature cocktails and an extensive wine list, as well as a dessert menu featuring classic French pastries and confections.
Note: That the characters only appear at breakfast and are not present during dinner.
---
Quick Overview of Disney Character Dining
For those of you who are not familiar with character dining, let me go over it really quick. The character dining experiences at Disney World are where your family dines and as you dine, characters come around to see the kids, take some pictures and even sign some autograph books.
It's a great way for your kids to interact with the characters as you don't have to wait in a line and the kids usually get to meet between 3-5 characters while having their meal.
At some of the dining experiences, the characters will have a little celebration or fun interaction with the kids to keep the family entertained as they dine. This is definitely a great place to celebrate a birthday. We have done it many times with our kids on their special day.
To book a reservation, visit Disneyworld.com – You can book a reservation 180 days before your visit.
---
Character Dining In the Parks
There are two options when it comes to enjoying character dining at Disney World, you can have a meal at one of the many Disney resorts, or you can have it right in the theme park itself. Now, when you do have dining in the Theme Park, you do have to have park admission so make sure you are ready to seize the day in one of the parks.
If you need help planning and booking your magical Walt Disney World vacation, contact our friends at Tink's Magical Vacations. They are truly Disney Experts, and not only are their services FREE, but they will save you both time and money.
---
Map of the Best Character Dining at Disney World Locations
---
Have any questions about Character Dining? Ask away in the comments!
---
If you enjoyed reading about the best character dining at Disney World, you might also enjoy:
The Ultimate Disney World Packing List [Over 50 Must-Pack Items]
An Ultimate Guide to Hollywood Studios Quick Service Dining
Discount Disney Tickets – Disney World Tickets on the Cheap!
---
Frequently Asked Questions about the Best Character Dining at Disney World
Do you need a park ticket to enjoy character dining at Disney World
If the character dining is inside the park, then yes. If the character dining is at one of the meany Disney World hotels, no.
Are Character Meals Back at Disney World
Yes, but the character dining is slightly different. Characters are not directly coming up to the tables
Is Chraracter Dining Worth it
If you love characters or your kids are in the age where they love characters, then a most definite yes.
Which Character Dining is the Best
Our recommendations are: 1900 Park Fare, Ohana, Chef Mickey's & Toppolinos
---
Pin for Later – The Best Character Dining at Disney World – Top 11 Places!