The Magic Band has finally come to Disneyland. Beginning October 28th, Disneyland resort guests can finally enjoy the fun that has been in the Florida parks for years. It's an awesome upgrade to your theme park experience. So, let's get to the gist of it. Here is everything the new Disneyland Magic Band + can and can't do….yet.
THE DISNEY MAGIC BAND IS YOUR TICKET
The Disney Magic Band Magic starts right from the first moment you enter the Disney parks. Your MagicBand is literally your park entry ticket. On first entering the park, all guests over 9 years old have access to the parks when their MagicBand is tapped. This links you to your band and activates your park ticket.
Every time after that, you simply tap your band to the fancy Mickey Pole (I'm pretty sure that's the technical name) and the cast member will compare your picture to the banned scanned. (We are not sure if Disneyland will be using the finger print technology in the Florida Parks)
The Magic Band will help you tap into your lightning lane experience.
MagicBands are your ticket to Disney Lightning Lanes. Using the Disney Experience app, you can make all your daily Lightning Lane reservations and link them to your band.
Once your Lightning lane reservation time comes up, simply head to the ride and tap your band on the reader. You'll be whisked right away to the front of the line.
They are Waterproof!
Since you will need the Magic Bands for rides like Splash Mountain or Grizzly Rapids, your Magic Bands are most definitely waterproof. The MagicBands are completely waterproof and don't need to be taken off, even if you decide to jump in the hotel pool. Now, that being said, they are known to fall off every once in a while We lost a few in our day. Grab some of these Bit Belts and they will stay on the whole time at the parks
Magic Bands Will Store Your Photo Pass Photos
You know all those Photo Pass photographers and ride photos, all those photos can be magically stored with the tap of your band. No more worrying about getting the code off the ride, simply tap your band and voila, the photo is now saved.
Don't Forget….. Photo pass photos are including with the Genie + at the Disneyland Resort.
Enjoy Enhanced Experiences!
One of the cool things about the Disneyland Magic Band is that it will enhance experiences throughout your day in the parks. Currently you can become a Bounty Hunter at the Star Wars Galaxy Edge part of the parks.
In addition over in California Adventure there are several magical experiences with touch points at the Avengers Campus with your interactive Magic Band.
YOUR PHONE CAN BE YOUR MAGIC BAND
Here is a little secret. You don't actually need a magic band. Your Smart phone can now do everything the Magic Band can do. With the My Disney Experience App you can do all the same things with your phone as you can with your magic band, but the magic band is way more convenient and never runs out of battery.
Here are a Few Things Your Magic Band Can't Do Just Yet, but we think will be available soon.
You Can't USE YOUR BANDS FOR Purchases in the Park…..Yet
One of the cool features of Magic Band + in Florida is that you can link your credit card to it and make your purchases with a tap of the band and your personalized 4 digit code.
The MagicBand purchase option will eventually work at pretty much every checkout in the park from gift shops to food stands and favorite California Adventure Restaurant . We can't imagine this feature not being added in the very near future.
Disneyland Magic Band is Not Your Room Key…..Yet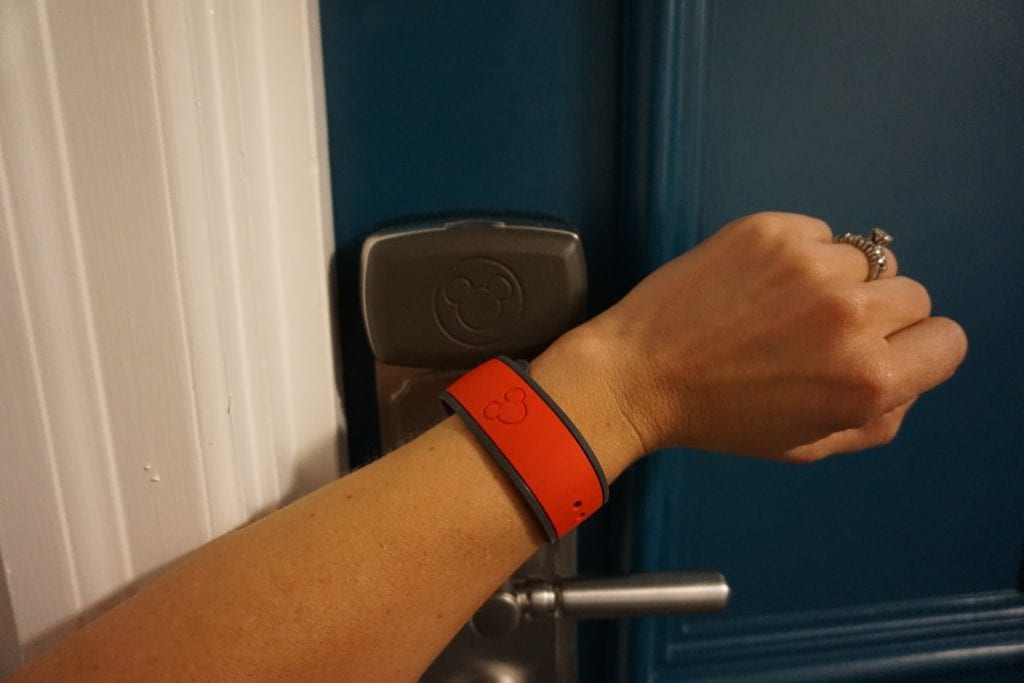 In the Florida parks not only is your Magic Band your park ticket, if you are staying at a Disney Resort hotel, it is also your room key. This is currently not offered at the Disneyland Resort but we can't imagine it not coming in the near future.
No more getting locked out of your room or demagnetizing your room key. If you have older kids or are on a large extended family vacation, there is no need to worry about who has the room keys. Each family member can scan into the hotel room using their own band.
---
FREQUENTLY ASKED QUESTIONS ABOUT DISNEY MAGIC BANDS
ARE DISNEY MAGIC BANDS FREE?
No, Magic Bands cost between $10 and $30 depending on the style you choose. You can order online or purchase in the parks.
WHAT CAN THE DISNEYLAND MAGIC BANDS DO?
Your MagicBand enables you to travel lighter throughout your vacation. Use it to enter the parks, get on Lightning Lane Rides and to store all your photos.
DO THE DISNEY MAGIC BANDS NEED BATTERIES?
Yes, they do run on batteries. The batteries tend to last up to two years before needing to be replaced though.
Are Magic Bands Waterproof
Yes, you can bring them on any water ride or even jump in the pool with them.
Pin for later
Latest posts by Michael Mamian
(see all)