Ah, old Paree! It is a city rich with history and full of beauty. There you can find decadent cuisine, priceless artwork, and trend setting fashion.
Do you know what else you can find in Paris?…Disneyland!
Awhile back we were fortunate to travel to Europe with all the kids! After an amazing trip to Europe, Rome and Paris we had the opportunity to take the Kids to Disneyland Paris!
Disneyland Paris was such a unique experience that we absolutely loved. Sure, you have the traditional Disney Castle and Main St. but Disney Paris has so much more! You can read all about our Disneyland Paris Guide here.
Yes, the magic that is Disney can also be found in Europe at Disneyland Paris. Like Disneyland in California, Disneyland Paris has some of the same rides and attractions as its American counterpart.
However, there are some differences between the rides in the USA versus in France that would make your trip to Disneyland Paris unlike your trip to Disneyland in Anaheim.
Check out our list of the best Disneyland Paris rides!
---
Top 8 Best Disneyland Paris Rides
We loved almost all the Disneyland Paris Rides, but we were able to fiddle down some of our favorites to our top 8 list!
---
Star Wars Hyperspace Mountain
Before you even enter the building that houses Star Wars Hyperspace Mountain, you will be mesmerized by the stunning architecture from the outside.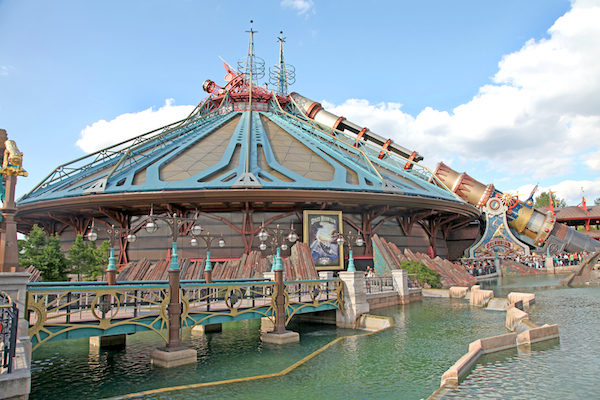 Unlike the white dome where the Space Mountain ride is in Disneyland in California, the Star Wars Hyperspace Mountain has more of a steampunk vibe.
The outside is decorated with blue, gold, and brown plates and reflects beautifully off of the water right outside its doors. A huge cannon rests on the building aiming straight toward the sky.
In terms of the actual ride, it is much the same as its Space Mountain predecessor just with a Star Wars theme. If you love Space Mountain or Star Wars, this ride is worth a whirl.
Space Mountain truly earned its spot on our top 8 Disneyland Paris rides!
---
Indiana Jones et le Temple du Peril (Indiana Jones and the Temple of Peril)
If you have been to Disneyland, then you are probably already familiar with the Indiana Jones ride there. Despite having a similar name, Indiana Jones et le Temple du Peril isn't the same as the one in California.
The ride in Paris is more of a straight forward roller coaster ride, the theme of which is an out-of-control mine cart racing through a temple.
Compared to the visuals of the Indiana Jones Adventure ride at Disneyland, Indiana Jones et le Temple du Peril is far more tame than perilous, but it still gives adventure seekers the rush they're looking for.
---
Autopia
Have you ever dreamed of taking a drive through the French countryside? This Disneyland Paris ride allows you to do just that!
At Autopia you can get a small taste of what it could be like to take a scenic cruise outside of the hustle and bustle of the streets in Paris. This leisurely ride is perfect for people of all ages and has the same premise as Autopia in Disneyland.
Unlike the American version, Autopia in Disneyland Paris allows you and your children to drive a mini classic car around a winding track lined with lush green grass and trimmed topiaries.
At Autopia in Disneyland, you can also drive a classic car, but the scenery is designed to look more retro-urban rather than relaxing.
This ride is perfect for small children who may be too little for the more extreme rides, or for anyone that loves the nostalgia of bumper cars minus the bumping.
---
It's a Small World
One thing It's a Small World in Paris and It's a Small World in Anaheim have in common is that they are both adorable, albeit simplistic in it's message about world peace. Perhaps it's not everyone's cup of tea, but this sweet little ride is still beloved by adults and children alike.
The difference between the Paris version and the American version is subtle. The landmarks featured at It's a Small World at Disneyland Paris are different from the ones in California, and there is a special section focused on America.
The Parisian version still has all of the charming scenes and fun animatronics that make it a visual delight. This is not a ride for thrill seekers or for anyone who doesn't appreciate a song played on a loop, but it is a Disney classic that can be appreciated by people of all ages.
---
Phantom Manor
This haunted house has recently undergone its biggest refurbishment since the '90s, and it is spookier than ever! Phantom Manor is Disneyland Paris' version of Disneyland's Haunted Mansion.
Both rides take place inside of impressive homes, but with different styles. The Disneyland Paris ride, Phantom Manor looks like the classic haunted house at the end of a residential block. Its position in the park allows it to practically loom over its guests, so that, as you approach, you feel a sense of foreboding.
The Haunted Mansion is much more inviting from the outside. It is designed to look like a New Orleans style home that invokes images of sipping lemonade on the porch as the sun sets rather than ghoulish ghosts haunting the halls.
Speaking of more inviting, the Haunted Mansion describes the ghosts that roam within its walls as "happy haunts," while at Phantom Manor the scares are much more sinister. Phantom Manor's storyline is that the home once belonged to Henry Ravenswood, who loved his only daughter Melanie. Melanie attracted several potential suitors only for them to meet an untimely demise.
Who or what made these men disappear? This ride's conclusion has a huge plot twist.
At the Haunted Mansion, there is more of a gaggle of ghosts in different themed rooms rather than a linear storyline. If you love fearful frights, Phantom Manor promises those in spades.
---
Big Thunder Mountain: Le Train de la Mine
Located in Frontierland, Big Thunder Mountain: Le Train de la Mine promises all of the excitement as the original. Like, Big Thunder Mountain Railroad in the USA, you will be transported back to an old Western Village where you will race around through mountains and under rushing waterfalls.
Both coasters aren't particularly scary for younger audiences, although they both have bumpy sections and places where the coaster is in darkness. Big Thunder Mountain in Paris may edge out Big Thunder Mountain Railroad when it comes to aesthetics.
The trains and tracks were designed to look more worn down and ragged than the American one which adds an element of danger to your ride.
Overall, Big Thunder Mountain won't let you down if you're looking for the same thrills as the one in California but with different visual surprises.
---
Avengers Assemble: Flight Force
Heroism is universal, and that is no exception when you visit Disneyland Paris. There you will find Avengers Assemble: Flight Force, which is the Parisian take on the Guardians of the Galaxy – Mission: BREAKOUT! ride.
These rides have perhaps the most striking difference between them compared to the others on this list. When you ride Avengers Assemble: Flight Force, you will be seated two per row in a coaster car, and your mission will be to help Iron Man and Captain Marvel save the planet from an alien threat.
Just another average day in the life of a superhero, right?
Unlike Avengers Assemble: Flight Force, the Guardians of the Galaxy ride is not a coaster. Instead, you and your guests will be dropped via freefall. This ride is housed inside the former Tower of Terror building (RIP to a classic) and has been completely redone to look more intergalactic than spooky.
Avengers Assemble: Flight Force delivers to loyal fans of the Marvel characters without sacrificing the fun.
---
Pirates of the Caribbean
Yo ho ho and a bottle of… champagne?
Toss the rum aside for some bubbly and take a sail on the Pirates of the Caribbean at Disneyland Paris. Like the Pirates of the Caribbean in America, this is a slow boat ride with the sights and sounds of the original.
A very noticeable difference between the rides is that everything is in French instead of English. Don't worry if you don't speak a lick of French as this ride transcends language barriers. In fact, while the premise of the rides is the same, the layouts are a bit different.
The concluding scene at the Pirates of the Caribbean in Anaheim is the first scene at the one in France. Also, Dead Man's Grotto is at the conclusion of the ride in Paris. Keep an eye out for Captain Jack Sparrow, as he also makes an appearance along with other characters from the film.
---
Frequently Asked Questions about Disneyland Paris Rides
I don't speak any French. Can I still visit Disneyland Paris and get the full experience?
Yes! In fact, all cast members and hotel staff speak English and a host of other languages, as they get visitors from around the world.
When is the best time to visit Disneyland Paris?
If you would like to visit the park when the amount of visitors is low, plan your trip for mid-week between January and March or April through May.
What rides are best for young children?
Disneyland Paris has rides for children (and adults) of all ages. Symbols and information are posted online and at the entrance of each ride indicating who can ride the ride.
Young children can enjoy It's a Small World or Autopia if they meet the height requirement.
Can I use American currency at the park?
No. Only Euros are accepted inside the park. There are several currency exchange points inside that can be used to swap your dollars for Euros.
---
If you enjoyed our list of the best Disneyland Paris Rides, you might also like:
DISNEY PARIS! OUR 25 BEST TIPS & TRICKS + A COMPLETE GUIDE
3 & 4 DAY PARIS ITINERARIES + AWESOME DAY TRIP IDEAS
EVERY DISNEY ARTICLE – DISNEY WORLD, DISNEY CRUISE, DISNEYLAND, AULANI & MORE
---
Pin-It for later: Top Disneyland Paris Rides