There are a few things that complete a trip to Magic Kingdom; thrilling rides, parades, and some truly scrumptious treats. Of course, there are some famous snacks that have become classics- looking at you, Dole Whip- but did you know that there are many new treats at Magic Kingdom as well?
Whether you are an expert or anxiously awaiting your first visit, this list is full of all the best snacks at Magic Kingdom. 
To help you plan your snack stops throughout the park, this list is organized by type of snack so you can make a beeline for whatever suits your mood.
(Check out our favorite Magic Kingdom Dining Spots Here) I hope you've worked up an appetite! Read on to get the inside scoop on snacks!
---
The Magic Kingdom Park
As one of the most popular theme parks in the world, Walt Disney World Magic Kingdom is known for its iconic attractions and magical experiences. However, it's also a great place to indulge in some delicious and savory snacks at Magic Kingdom that are sure to satisfy your cravings.
Whether you're visiting for the 50th anniversary celebration or just looking for a quick bite to eat, there are plenty of options to choose from.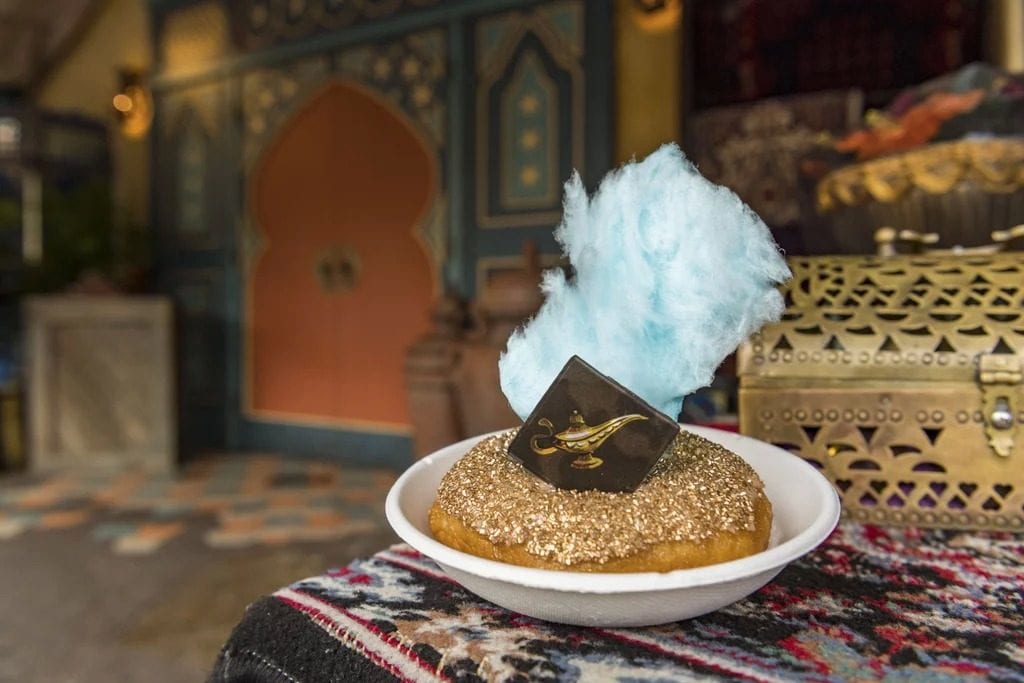 ---
Cool & Refreshing Snacks at Magic Kingdom
Walking all day in the hot summer sun is pretty much a given on a Disney World Vacation. It will be sure to make anyone thirsty; quench your thirst with one of these restorative drinks, they are not just the best snacks at Magic Kingdom, but the most refreshing ones as well.
---
1. Dole Whip Float
Aloha Isle in Adventureland or Storybook Treats
Dole Whip Floats are a light and refreshing take on traditional ice cream floats. These sweet treats are traditionally made with pineapple soft serve and pineapple juice for a tropical twist.
For something a little different, try one of the new Lemon Lime Dole Whip Floats for a tangy, key-lime inspired taste (new in 2019).
---
2. LeFou's Brew
Gaston's Tavern in Fantasyland
This frosty apple drink features a hint of toasted marshmallow and is topped with a delicious foamy mango topping.
Honestly, it is arguably one of the best refreshing snacks in Magic Kingdom! For the full experience, try it in a stein or goblet. We're told that you may enjoy this drink if your friends use antlers in all of their decorating.
---
3. Orange-Pineapple-Mango Smoothie
Auntie Gravity's Galactic Goodies in Tomorrowland
Auntie Gravity's refreshing smoothies are just the fix for a hot, humid Florida summer day. Tropical flavors blended into a smoothie, cool and refreshing- this is the kind of drink that makes you really feel like you're on a vacation!
---
Savory Snacks to Fill Up On
Looking for something a little more substantial? Look no further. These Magic Kingdom snacks can occasionally double as meals, too!
---
4. Cheeseburger Rolls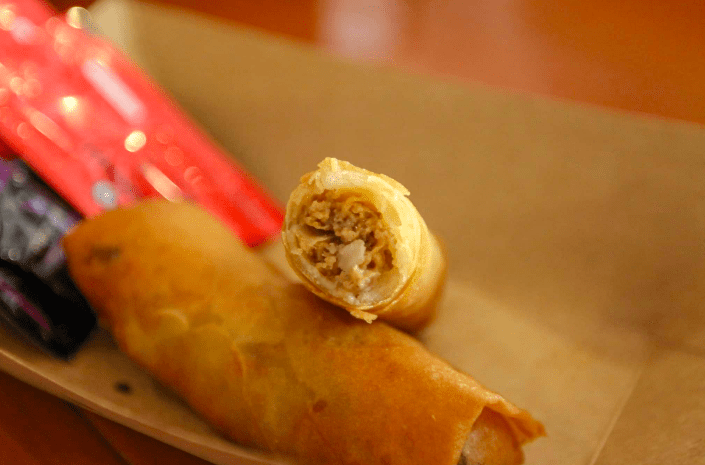 Adventureland Snack Cart
Continuing on our list of the best snacks at Magic Kingdom is the cheeseburger spring roll. This snack puts a new spin on the All-American favorite, by turning it into a spring roll! Flaky, crunchy wrapping around a classic cheesy, beefy burger filling- what could be better!
Word on the street is that there are sometimes new flavors available in these savory rolls, such as buffalo chicken or philly cheesesteak- keep your eyes peeled!
---
5. Loaded Buffalo Chicken Tots
I think we might need to revisit the name of this snack to truly appreciate it. Loaded. Buffalo. Chicken. Tots. Is your mouth watering yet? You could find a loaded baked potato anywhere.
But loaded buffalo chicken tater tots? That's magical. Which makes sense, since they are available at the Friar's Nook in Fantasyland at Magic Kingdom!
---
6. Honey-Barbequed Brisket Mac and Cheese
They had us at honey-barbequed brisket. This mouthwatering combo features cheesy cheddar mac, topped with golden bread crumbs and fried onions, topped with savory, tender brisket is located at the Plaza Restaurant.
This hearty meal is enough to keep you fueled for hours of fun at Magic Kingdom…or at least until it's time for dessert!
---
Feed Your Sweet Tooth
Something sweet for kids of all ages!
---
7. Dole Whip Cone
Aloha Isle in Adventureland
Probably the most infamous snack on this list, Dole Whip is a Magic Kingdom staple that you simply can't miss. This creamy pineapple flavored soft-serve comes in a cone and can be swirled with vanilla ice cream or served plain.
From time to time there are also new flavors to try, such as raspberry or lemon-lime. There are even themed cones such as the Rapunzel Dole Whip: a purple cone, yellow lemon Dole Whip, and edible flowers!
---
8. Nutella & Fruit Waffle Sandwich
Sleepy Hollow Refreshments in Liberty Square
Waffles are no longer just a breakfast food at Magic Kingdom- they can now be enjoyed any time of day, beneath a thick coating of delicious Nutella, topped with fresh fruit and whipped cream. Nutella not your favorite? Don't worry- there are plenty of other waffle sandwiches to try as well.
BONUS – Checkout the Churro Ice Cream Sandwich at Sleepy Hollow Inn. It is defintiely a contender for one of the best snacks at Magic Kingdom.
---
9. Sweet & Savory Pretzels
Visit the The Lunching Pad for stuffed pretzels that have never tasted this good. The original Sweet Cream Cheese Filled soft pretzel was already amazing- gooey and warm and full of cream cheese, perfect to take on the go between rides or attractions.
Another great spot for savory snacks at Magic Kingdom is the Cheshire Cafe in Fantasyland. Here you can find a the delicious and iconic Mickey Pretzel.
Now, the Lunching Pad has introduced a second sweet pretzel- the Salted Caramel stuffed pretzel, complete with chocolate dipping sauce. Need we say more? This is definitely a must-have snack in Magic Kingdom.
Now, my personal favorite and one of the best snacks in Magic Kingdom is the Jalapeño Cheese Pretzel. In fact, we love it so much we learned to make it, well technically we cheated and snagged the recipe from Favorite Family Recipe
---
10. Cheshire Cat Tails
Cheshire Café in Fantasyland
If you are a fan of chocolate and pastries, the Cheshire Cat Tails in Fantasyland will bring a smile to your face! These twisted pastries are warm and filled with gooey chocolate, topped with bright pink and purple frosting that will remind you of a certain familiar grin! These sweet treats pair well with a cold brew coffee also available at the Cheshire Café.
---
11. Warm Giant Cinnamon Roll Gaston's Tavern
Located at Gaston's Tavern You will find my favorite breakfast item in all of Disney World. The warm Giant Cinnamon Roll. This cinnamon roll used to be located at the Bakery (Now Starbucks) but I was happy to find it is still available.
---
12. Hei Hei Dole Whip Cone
Aloha Isle in Adventureland
This snack is perfect for fans of Moana, and fans of Dole Whip! The new Hei Hei Cone features two flavors of Dole Whip (pink raspberry and yellow pineapple) atop a blue ice cream cone, with candy eyes and a sour candy feather.
This sweet treat resembles the lovable chicken from Moana, and is as refreshing as a summer breeze on the island of Motonui!
---
13. Wish Granted Donut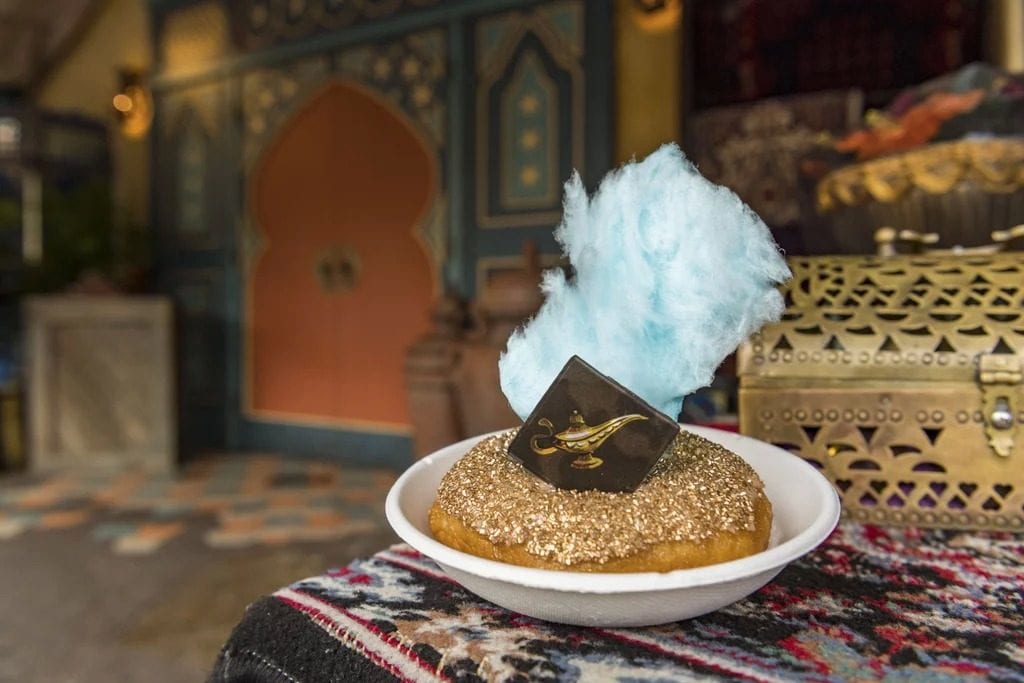 In celebration of the new live-action Aladdin movie, Magic Kingdom has released a "Wish Granted" donut, and let's just say our donut-related wishes have indeed been granted! This glazed donut is covered in golden sprinkles and complete with a chocolate genie lamp and blue cotton candy "smoke"!
---
14. Vanellope's Ice Cream Sundae
Is your family up to this ultimate snack challenge at Magic Kingdom? Tackle Vanellope's Ice Cream Sundae- a kitchen sink-style ice cream sundae served up in a golden trophy bowl!
Pick 5 scoops of iced cream and enjoy sprinkles, fruity cereal, chocolate chunks, and more atop this monstrous sundae. Hurry in to get one- they're limited time only!
---
15. Philly Cheesesteak Spring Rolls
Adventureland Snack Cart
These are a delicious new twist on the beloved Cheeseburger Rolls that we mentioned above. The cart always has a featured flavor and if this is what they're offering, definitely give it a try! Just like with the cheeseburger option, these have that delicious flaky, crunchy wrapping. 
---
16. Starbucks Frappuccino
Main St. USA
Sure, you can get a Frappuccino anywhere, but there is no place like the happiest place on Earth to enjoy your favorite Starbucks Beverage. This is a great little treat when the Florida heat is ramping up. 
---
17. Ooey Gooey Toffee Cake
The ooey gooey toffee cake is one of Disney's most amazing desserts. I did not include this on the top 10 because technically you need to be eating at the Liberty Tree Tavern
The cake is a vanilla toffee cake, chocolate sauce, and vanilla ice cream. Check out how to make it at home from Recipes of Disney
---
What are some of your Magic Kingdom must-have snacks?
Tell me in the comments below so that we can all stay up to date!!
---
If you enjoyed reading about the best snacks at Magic Kingdom, you might also enjoy:
Best Snacks at Epcot! Delicious Bites from Around the World!
Magic Kingdom FastPass; Tips and Tricks to Help You Choose the Best Rides
5 Amazing Tips for Parking at Disney World [Save Money]
The Best Character Dining at Disney World; 7 Places to Try
---
Pin for Later: The Best Snacks at Magic Kingdom – 17 Whimsical Treats to try in 2023!
---
Frequently Asked Questions about the Best Snacks at Magic Kingdom
What are the restaurants in at Magic Kingdom in Walt Disney World?
Be Our Guest Restaurant
Cinderella's Royal Table
Cosmic Ray's Starlight Cafe
The Crystal Palace
Gaston's Tavern
Jungle Navigation Co. Ltd. Skipper Canteen
Liberty Tree Tavern
Pinocchio Village Haus
Plaza Restaurant
Tony's Town Square Restaurant
Are you allowed to bring snacks into Magic Kingdom?
Yes, guests are allowed to bring their own snacks into Magic Kingdom at Walt Disney World. The official Walt Disney World website states that "Guests are allowed to bring food items—such as snacks or foods that do not require heating—into Disney theme parks." Everything is subject to change, so we highly recommend checking out the Walt Disney World Website.
Latest posts by Mama Munchkin
(see all)