The land of croissants, beautiful blooms, the Eiffel Tower, and a reputation of romance… Paris, France. This is one European city that does not disappoint and with the right itinerary, Paris might just soon become one of your favorite destinations. Whether you are traveling on a romantic getaway or as a family, this Paris Itinerary will help you to see the best parts of the city and have an absolutely amazing time.
3 & 4 Day Paris Itineraries + Awesome Day Trip Ideas
Day 1 Paris Itinerary
Eiffel Tower
There is no better way to start off your time in Paris than by seeing the iconic and mesmerizing Eiffel Tower. Of course, the Eiffel Tower will probably be in the background of the majority of your trip but there is nothing like seeing it up close. You can simply hang out, stroll around the base, and take pictures in front of the Eiffel Tower or you can head up to the top.
From the top, there are breathtaking views of the city. Of course, this is an extremely popular tourist attraction and because of this, you need to plan accordingly. You can climb the steps to the first level or take an elevator from the base. Getting here early will help, but even then the line can quickly become insane, especially for the elevator (3 hours on busy days!).
I recommend walking the steps to the first level, if you are up for it, and then taking an elevator from there. You will feel so accomplished when you make it to the top and then you can eat all the crepes, cheese, chocolate, and croissants you want later! If you decide to take the elevator all the way from the base, be sure to book your tickets well in advance.
Then, have a picnic! 
Once you have gone to the top and taken in the view, enjoy the park at the base of the tower. Bring a picnic along for a little extra Parisian touch. Poilâne is a famous bakery right near the Eiffel Tower that you can grab a pastry or a baguette to snack on in the shadow of the Eiffel Tower.
Stroll the Streets
You have experienced the Eiffel Tower and fueled up with a picnic, now it's time to stroll the beautiful streets of Paris. This is one of the best ways to get a real feel for the city while still taking it easy on your first day. Rue Cler is a great option for this within walking distance and there are plenty of shops to browse around. In fact, this is one of the most beloved market streets in all of Paris.
My absolute favorite thing about Rue Cler is all of the floral shops lined up along the street. Pick up a colorful bunch to brighten up your Airbnb or hotel room! Some other treasures here are fruit, chocolate, and of course fresh bread! Your kids will probably put up with this little shopping adventure if the promise of chocolate is looming.
Tour the Louvre
The Louvre, the largest art museum in the world, will be the next stop on your Paris itinerary. Visiting this museum is a big undertaking and there is no way you will get through it all in one visit, so you need to pick out some exhibits that you definitely want to see beforehand! The Mona Lisa is, obviously, one very popular exhibit. Some other popular options are; Venus de Milo, The Winged Victory of Samothrace, the Great Sphinx of Tanis, and so so much more.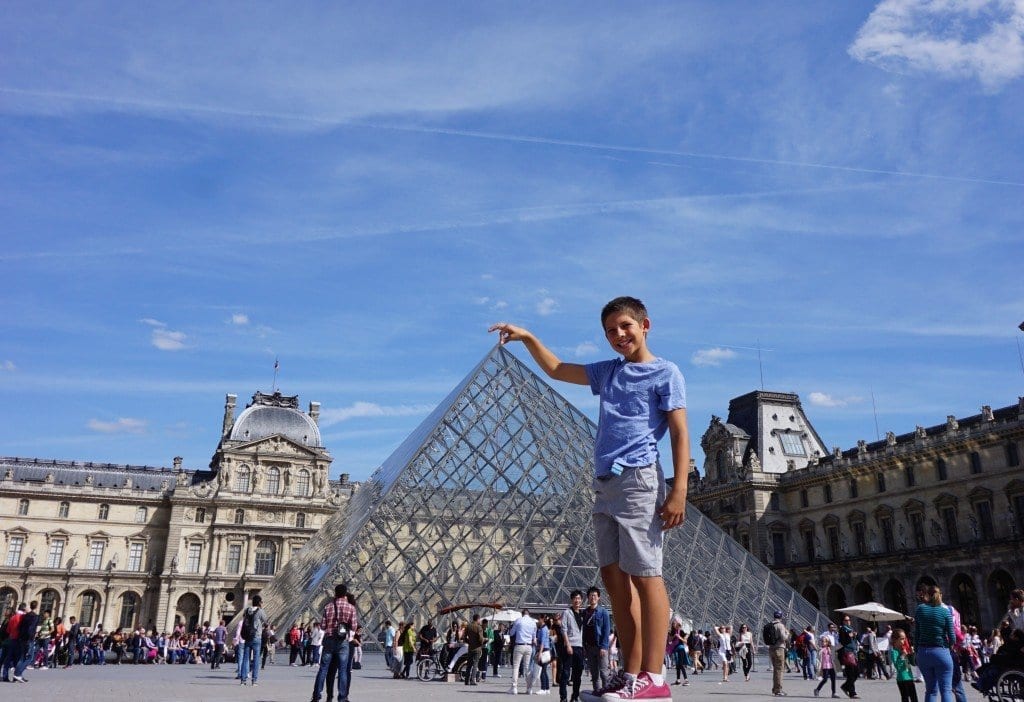 Making It Work with Kids
I know that as parents you picture a museum-heavy vacation as dragging your kids from exhibit to exhibit, but trust me the Louvre can actually be fun for everyone! First of all, it is free for kids 18 and under. Therefore, you will not be at a loss if someone throws a fit an hour in.
My #1 tip is to not overplay the museum. There are plenty of people here so your kids don't have to be silent and if they don't want to hear about art or history than find something else to focus on! Sculptures tend to capture my kid's imaginations and luckily the Louvre is full of them.
Another important tip, buy skip the line tickets! Here are some options!
Champs-Elysees and Arc de Triomphe
Yes, Champs-Elysees is one of the most recognizable streets in Paris, but it is also home to Laduree where you can purchase some delicious macarons. Jokes aside, you can walk the entire length of Champs-Elysees (with some stops along the way!) to the Arc de Triomphe. The sidewalks are wide, which makes for peaceful strolling with kiddos.
If you are like me, then you might be surprised to find out that you can climb to the top of the Arc de Triomphe for a spectacular view of Champs-Elysees and beyond. It is literally like standing on a piece of history while getting a spectacular view of Paris. Kids climb for free and it is just 8 euro for adults!
Place de la Concorde
On the opposite end of Champs-Elysees of the Arc de Triomphe, you will find the Place de la Concorde. It is worth a quick stop before your walk, especially if you are interested in history. It is a large public square and was the execution site of Marie Antoinette, Louis XVI, and others during the French Revolution. Today there are two monumental fountains, some fancy hotels to take a peek at, and the 3,300-year-old Luxor Obelisk.
Tour Options for Your Day 1 Paris Itinerary
Day 2 Paris Itinerary
Take a Morning Stroll Along the Seine
We believe in the idea of loose itineraries that way you can take things at your speed and experience a new city in your own way, this is why we recommend starting off your Day 2 in Paris with a leisurely stroll along the Seine.
There are over 30 gorgeous bridges to walk across and take pictures on. Pont des Arts Bridge is where lovers started the tradition of leaving "love locks" and throwing away the key. While the city has been making attempts to remove the locks, many still remain and the bridge is very romantic. Some other popular bridges are Pont Alexandre III, Pont-Neuf (the oldest bridge along The Seine), and Passerelle Debilly (you get great views of the Eiffel Tower from here!).
View Notre Dame.
This cathedral is known to many as the heart of Paris and is absolutely stunning. Sadly, because of the tragic fire in 2019, you will not be able to enter Notre Dame. However, this does not mean that you cannot take it in from the outside and learn a bit about its history. Many recent tourists have said it is a somber visit but seeing the repairs will give you great hope that this monument will someday be restored.
Take a Bike Tour with Fat Tire Paris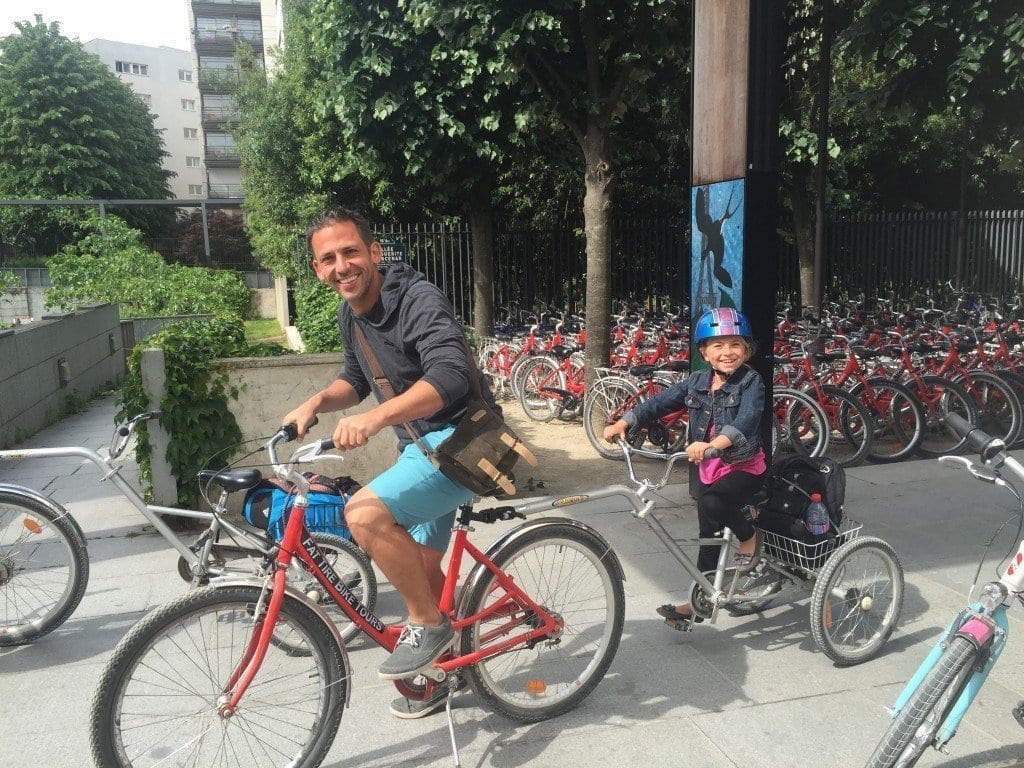 This is our absolute favorite Paris tour (maybe our favorite in all of Europe!). The ride is pretty flat and friendly for all ages, little ones can even ride along in a bike trailer. Fat Tire tour guides do an amazing job of tying together fun and history, so you will walk away with not only a smile on your face but some new knowledge, too. Our kids still remember facts about Napolean and the French Revolution that they learned a few years back on this tour!
There are a couple of different tour options, but we recommend the Paris Day Bike Tour. The tour includes viewings of all of the following sites;
If the bike tour doesn't interest you, there are a couple of other things you can spend your afternoon doing! Check them out below.
Musee d'Orsay
Musee d'Orsay was once a train station but has been transformed into one of Paris' many beautiful museums. It is much easier to navigate than The Louvre and you can easily cover many of their exhibits in one visit. Small Dancer by Edgar Degas is one work of Impressionist art you won't want to miss here, along with Starry Night by Van Gogh and Poppy Field by Monet.
Check out the model of the Paris Opera House and the Paris streets, they are covered in glass tiles that you can walk over which is fun for kiddos and adults alike!
Jardin d'Acclimatation
You definitely will want to add the Jardin d'Acclimatation to your Paris itinerary if you are traveling with children. It is basically like a small amusement park, so it is a big change of pace from the museums and sightseeing. You can buy tickets for the different rides individually, but we recommend purchasing a day pass so that you have the freedom to do everything you please.
Don't miss the water attractions in the summertime! It is the most fun way to cool off in the city.
Tour Options for Your Day 2 Paris Itinerary
Day 3 Paris Itinerary
Walk Through the Paris Catacombs
I will admit, some people think this is an awesome experience and others think it is overrated and creepy. I fall into the awesome category and think this is a must-do when in Paris! However, as with other popular sites, the line can get extremely long. I recommend going early in the morning and getting a timed ticket. Make sure to come back right at your assigned time as they are known to be strict about this! You can also beat the crowd by purchasing skip-the-line tickets.
Once inside, there isn't much information about the catacombs so if you really want a deeper background, a tour is a good idea. However, I thought it was interesting just to be underground in Paris. You enter in one part and come out of the tunnel somewhere else entirely.
*Tip Visiting the catacombs is more teen and adult-friendly. It is hard to explain the purpose and history of these tunnels to younger children. However, if you do think your children would find this interesting they are definitely welcome.
Visit the Sacre-Coeur Basilica and Montmarte Village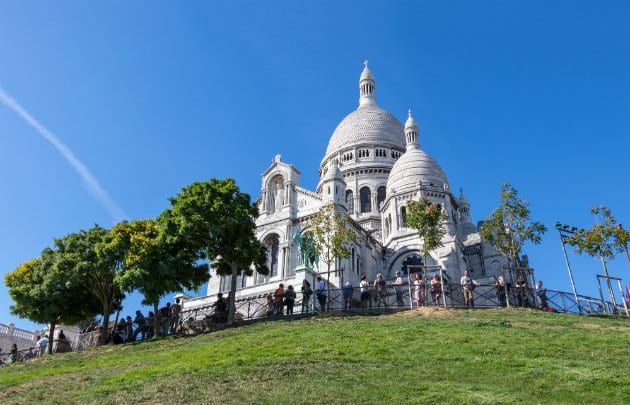 This is one of my favorite areas in Paris, it is quaint and unique and the perfect place to spend the afternoon. As you stroll along the cobblestone streets past bistros and unique art, you will see why so many people fall in love with France's charm.
The Sacre-Coeur Basilica is, of course, one of the main attractions. The 19th-century basilica is gorgeous in its own right, but also offers beautiful views of this whole area. Keep in mind, there are 300 steps up to the chapel so wear your walking shoes!
Head back to the Eiffel Tower
Whatever you do, make sure that seeing the Eiffel Tower lit up at night is part of your Paris Itinerary. It is completely different than seeing it during the day and takes me breath away every time. This will be the perfect way to wrap up your journey and there is no prettier spot to chow down on one last chocolate crepe.
Date Night Option
Note: This is not a fancy date night, but a fun way to eat fondue and get to know some other visitors! I don't recommend taking children because of the set price. 
Wine and cheese for mom and dad at the Le Refuge Fondus! This destination might be a bit touristy, but it is so worth it. To get an idea of what this place is like, the wine is served in baby bottles, you may have to climb over the table to your seat, and the menu is set. You get what you get, but don't worry the fondue is delicious.
Not only do you get delicious cheese and wine, but it will be an experience you will never forget. Do not forget to snap some pictures in this wacky place! After you have eaten your fill, head back to the Eiffel Tower for twinkling nighttime views.
Tour Options for Your Day 3 Paris Itinerary
Optional Day Trips to Add to Your Paris Itinerary
Versailles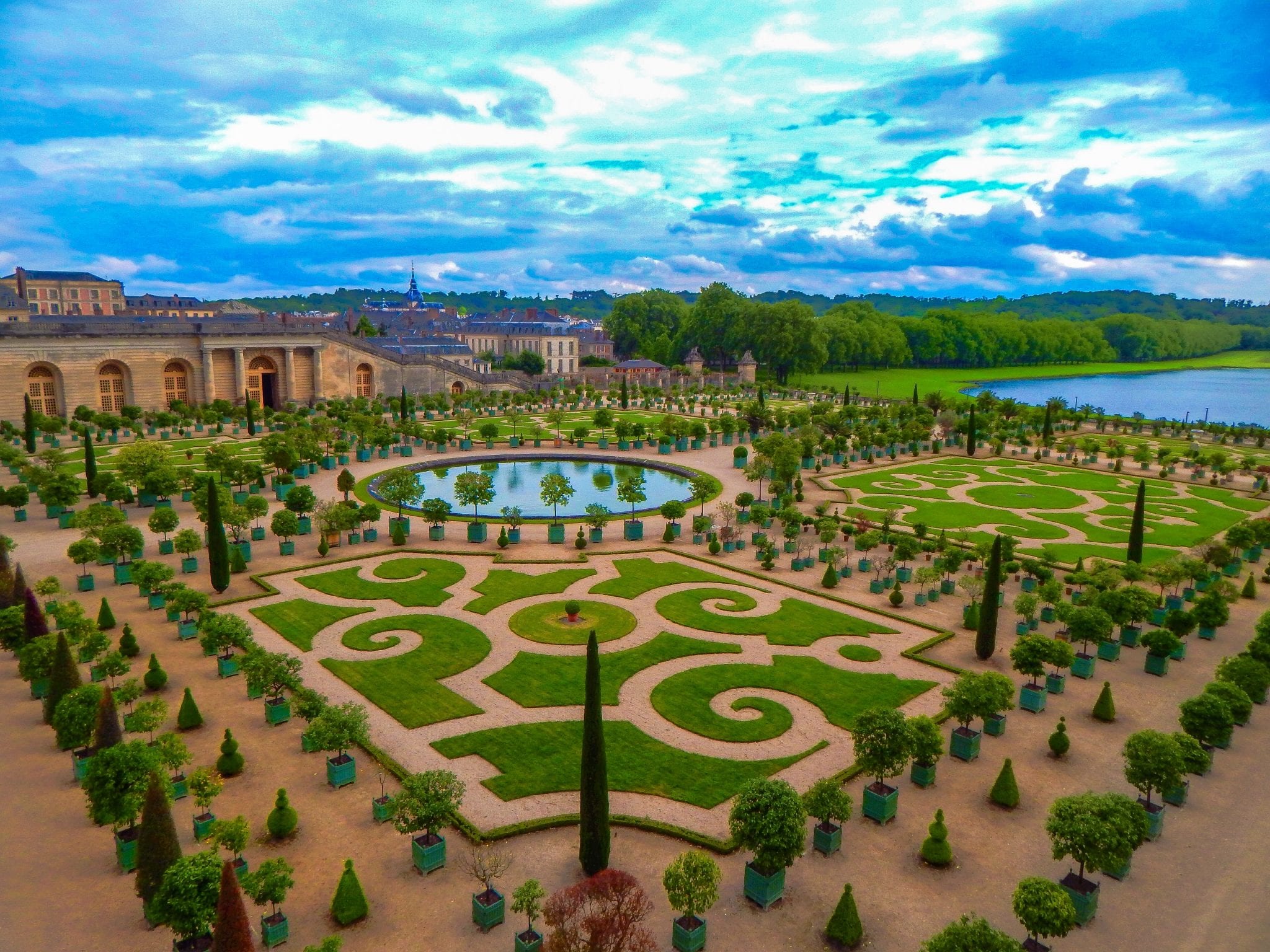 Versailles is probably the most popular day trip from Paris, and if you have an extra day in your schedule I highly recommend making time to visit. Buy a round trip ticket from Paris to Versailles (you want your destination to be Château de Versailles) from the RER Station. The trip will be just about 45 minutes. We always use Rome2Rio to map out our train travel; check it out here.
Once you have arrived, head to the Palace of Versailles. Louis XIV definitely built this palace to impress and there are many attractions for visitors today to see. You can walk through the Hall of Mirrors which is extravagant and decorated in baroque style, visit the Queen's Hamlet where Marie-Antoinette's hid out, and walk through the beautiful gardens.
If you make it through the palace before the day is over, you can also walk around the city. There is a food market and the Royal Opera.
Disneyland Paris
Disneyland Paris is not just for Disney fanatics. In fact, we thought it was a really unique experience and had a ton of fun! First off, you should know there are two parks here and they are located about 19 miles from the center of the city. You can easily hop on a train in Paris for a quick 4o minute ride to the parks, making it realistic to spend just one day here if that's all the time you have.
We loved Adventure Isle and were so happy that our kids had a chance to run around and explore. There are crisscrossing suspension bridges, narrow pathways, and the spooky caves. This is definitely a change of pace from the museums and landmarks in the city.
As for the thrill-seekers, you will definitely want to ride Space Mountain: Mission 2. It takes riders through the Rebel Alliance's mission into a hyperspace battle. Check out more of our Disney Paris recommendations and tips here!
If you have any questions about Paris or traveling with kiddos, feel free to leave them in the comments or message me on Instagram!
You May Also Like:
5 Super Amazing Things to Do in Paris with Kids!
20 Epic Things To Do in Rome with Kids
Disney Paris! The Ultimate Guide of Top Tips & Tricks You Need to Know!