Epcot, or as I call it, a world of deliciousness. Eleven countries encompass Epcot's World Showcase. Whether you are in a search for a delicious pretzel and beer from Germany, Fine Dining in Canada or some Napoleon from France, Epcot has some of the most delicious theme park food you will ever have. To be perfectly honest, it is not even fair to call it theme park food, Epcot Restaurants are far superior to any other theme park restaurant. Here are the 15 Instagram Pics of Epcot Restaurants that will inspire Disney Magic!
15 Incredible [Instagram Pics] of Disney's Best Epcot Restaurants
Teppan Edo is teppan style restaurant located in the country of Japan at Epcot. You can enjoy a delicious meal where the chef prepares the food and entertains with some fancy schmancy cooking moves with a little Disney flair of course. Out of all the Epcot Restaurants, this is our boys favorite.
Merci, Merci. Chefs de France is some incredible French Cuisine, in fact, it was a lot better than the restaurants we had on our trip to France. Some of the more popular dishes are the Canard aux cerises (Duck Breast with Cherries) and of course the French Onion Soup is incredible.
Via Napoli Ristorante e Pizzeria
Mama Mia, that is one giant pizza! Via Napoli Ristorante & their giant pizza first arrived to the Epcot restaurant scene back in 2010. Since then they have been wowing guests with their Mezzo Metro a giant one-meter long pizza that should easily fill the entire families appetite. In addition to their giant pizza, they also have traditional Italian cuisine. In addition, there are some delicious cocktails in the Italian pavilion of Epcot including the Lemonciello Mule.
Spice Road Restaurant – Morocco
I am going to sadly admit something here. After all my visits to Epcot and my incredible love of Mediterranean Food, I have never eaten at Spice Road Restaurant. You can enjoy some delicious tapas as well as Coriander-crusted Rack of Lamb (pictured below). If you choose a later seating you can enjoy a view of Illuminations while enjoying a delicious meal.
In the Mexico Pavillion located inside the pyramid is a beautiful little restaurant located right next to the Gran Fiesta Tour Ride. Enjoy some classic delicious Mexican cuisine (although I do personally prefer the Hacienda Restaurant right across the walkway) with an amazing atmosphere. Here is a little tip, check out the tequila bar right next door to San Angel Inn for some delicious Margaritas or shots if you prefer ;).
Oh, Canada! Le Cellier is a must go if you want to head to a delicious steakhouse, but they have so much more than steak. (Although my husband gets the filet mignon every time, so he wouldn't know). They have a really good Bouillabaisse and my daughter loves the brown butter gnocchi) We used to go to Le Cellier on every visit to Disney World when it was just one dining plan credit (now 2), so now we probably visit every other time.
Akershus Royal Banquet Hall
Akershus Royal Banquet Hall is where you can have breakfast with Belle, Aurora, Jasmine and a few other princesses. In addition, you get to enjoy a pretty delicious lunch.
*Disney Dining Tip – This princess meal is the only one that is just one table service credit.
This is our personal favorite Mexican restaurant of all the Epcot Restaurants, La Hacienda de San Angel is located across from the Mexico Pavillion and like Spice Road if you get there at the right time you can enjoy illuminations while sipping on a delicious Margarita. Below, you will see the tacos, which I get every time and a delicious Orange Mango Fire Margarita
Besides Teppan, you can also enjoy some delicious sushi in the Japan Pavillion. You can grab a quick bite and this cute little panda at Katsura Grill or head to a more formal setting at Tokyo Dining located right next to Teppan Edo
Rose & Crown Pub – United Kingdom Pavillion
Fish & Chips, Pints of Guinness & Bass is what the Rose & Crown Pub is all about and I love it. For those of you who are staying at the Beach Club & Boardwalk Resorts, it's only a 5-10 minute walk to the United Kingdom Pavillion.
Les Halles Boulangerie & Pâtisserie
Also within walking distance of Beach Club & Boardwalk Resorts is Les Halles Boulangerie & Patisserie. While technically not one of the Epcot Restaurants, since it's counter service we dine here at least 3 times during our trips to Walt Disney World. Their jambon sandwich on a French Baguette is le Magnifique and then you can enjoy some creme brulee or a macaron for dessert. For Disney Dining guests this counts only a counter service and probably is the best counter service of all 4 parks in my opinion.
Of all the Epcot Restaurants, Coral Rees Restaurant is the only one not in the World Showcase. You get to dine in front of an aquarium wall that has over 4,000 sea creature inside. The food is top notch and I would say this is a must do Epcot Restaurant.
Pin for later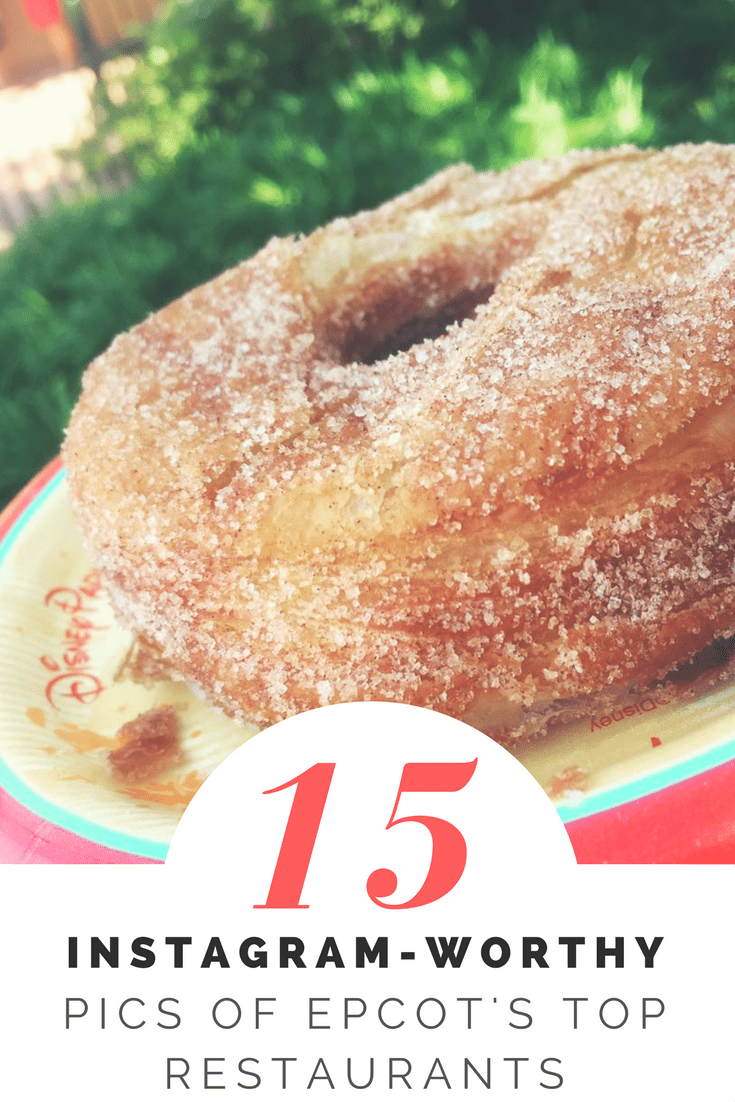 What are your favorite places to eat at Epcot?
Latest posts by Mama Munchkin
(see all)