Disney Cruise vs Disney World, have you ever wondered which of the two Disney Vacations would be right for your family? As someone who has visited Disney World 20+ times and to WDW and just finished our 10th Disney Cruise with kids ranging from babies to teens. Let me open your eyes to the pros and cons of both of these awesome family vacations.
Disney World vs. Disney Cruise Pace of Vacation
This is probably the biggest difference when it comes to deciding whether to do Disney World vs. Disney Cruis
Walt Disney World Pace
Walt Disney World is comprised of four theme parks, two water parks + Disney Springs. That is A LOT! In order to see and do everything on your list, you can expect a fast-paced and often exhausting trip. Don't get me wrong it's also exhilarating, magical and super incredible to tour the parks. But, expect to be exhausted. Expect tired and sore feet at the end of the day and don't expect to come home feeling rejuvenated. If I am being completely honest, I often come home from Disney World needing another vacation- ha!

One thing that has helped us get through Walt Disney World feeling a little more relaxed is scheduling in downtime. Our typical schedule is to hit the parks as soon as they open. Come back to the resort to nap and swim in the pool (they have some AMAZING pools at the Disney Resorts. Our fav is Beach Club's below). Then we head back into the parks in the evening once again. This pace allows us to hit two parks in one day while avoiding the heaviest crowds. It also ensures better moods!

Disney Cruise Pace
When comparing Disney Cruise vs Disney World one thing you can take into consideration is the walkability factor. Unlike the parks, everything onboard the cruise ship is condensed onto the ship. The activities and shows are all neatly scheduled out in advance for you and your stateroom is always just a quick elevator ride away, in case someone needs to head up early for a nap.

I covered this topic on my Family Travel Chat LIVE on Facebook episodes.
Watch it here-
Winner – (Tie)
This one really depends on what you are looking for. If you want slow pace, the cruise is where it's at. Want a little more excitement, than Disney World is the spot.
Childcare
Walt Disney World
There are plenty of childcare options available including Kids Activity Clubs and In-Room Childcare offered by Disney when you are visiting Disney World. There is a fee when it comes to getting child care and it is not so cheap. There are also 3rd party sitter services like Sitters In A Second Inc. (read about our experience here). The thing is 1) it is expensive and 2) your are SO busy and have SO many things to do that include the kids it is hard to squeeze in time away from them.
[bctt tweet="Disney Cruise vs Disney World, which to choose & why. Plus, tips on how to save big on your next Disney vacation." username="globalmunchkins"]
Disney CRUISE Child Care
INCLUDED CHILDCARE- woot!! woot!! Yes, childcare for potty-trained munchkins 3-12 years old is included in the cruise pricing and it's AMAZING!!! There is also cool hang out areas on board, The Edge is for 11-14-year-olds, and Vibe is for 14-17 years old.
Infants up to age 3 (not potty trained) can be checked into the onboard nursery as well. But, there is a small fee (I believe we paid $9 per hour in 2014).

This means grown-ups get ALONE TIME, now that's a Disney Dream!!!! There are adult only areas onboard the ship as well as a few clubs. It was heavenly to steal my hubby away for a cup of fancy coffee, to lounge at the adult pool or hit the comedy clubs. For me, this is a HUGE benefit!!

Available Activities/ Entertainment –
Disney World Entertainment
Clearly Disney World takes the cake on this one. I mean there is SO much to do. In fact, it is impossible to hit every ride, show, and attraction. Trust me, we've tried! So, if you are a thrill-seeking family you can be guaranteed to get your rush in the parks. And, because of the sheer amount of things to do there is also a ton of variety and many things to do for each age group.
Check out this great review from We3Travel on our FAVORITE Ride- Avatar Flight of Passage.

Little ones love all the character meet-ups, watching the incredible parades and fireworks.

Older kids dig hitting up the rides. A few of our favorite rides include Seven Dwarf's Mine Train, The Little Mermaid Ride, Space Mountain and Dumbo at the Magic Kingdom. At the Animal Kingdom we always head to Everest, Kali River Rapids, the Safari Ride and Dinosaur. Epcot has Olivia (my 3-year-old's) favorite which is the NEW Frozen ride, we also love Test Track and Soarin. And, at Hollywood Studios we love riding Rockin' Rollercoaster, Tower of Terror and Toy Story Mania.


Our kids also love heading around the world at Epcot. They love trying all the different cultural foods and chatting with the cast members, all of whom are actually from the country they represent. A great FREE activity at Epcot is decorating your Duffy Bear as you go around the world. The kids love finding the Kidcot coloring station so that they can finish coloring their bear and collect their country stamp. If you ask the cast member there they will also write your child's name on the back of their Duffy Bear in their native language.
And, Disney just re-did the Down Town Disney District and turned it into Disney Springs which is a gorgeous outdoor mall with tons of amazing shops (many big brands) and a bunch of incredible restaurants. It's one of my new favorite places in Disney World!
Looking for more Disney World Tips? Check out this guide here- Essential Guide to Disney World in Orlando
Disney Cruise Entertainment
The cruise is also filled with super fun family activities just not nearly as many. However, the kids will LOVE the amazing waterslides, splash areas, nightly shows, character meet and greets and hanging out in the kids club.

Plus, when the ship ports in Castaway Cay (Disney's private island) there is even more to do!!


There is also a Pirate Night onboard every Disney Cruise and people go ALL OUT!!! The kids have a blast at the special pirate-themed dinner, show, fireworks and midnight buffet. Plus, special holiday cruises have Halloween on the high seas & Star Wars themed nights
Entertainment Winner: Disney World
While they pack a lot onto a Disney Cruise ship, Disney World is the size of San Francisco, so Disney World has much more entertainment.
Disney World Dining Options vs. Disney Cruise Dining Options
Walt Disney World Dining Options
Walt Disney World is full of every type of eatery and about every type of cuisine that there is. It's truly a mecca of good foodie-ness. Whether you are in the mood for something casual, a meal with your favorite characters, or an intimate and unique dining experience you are sure to find it at Disney World. But, the prices do add up especially if you hit the later two. Luckily, WDW offers Dining Plans to suit your needs.

When the kids were young we loved the standard dining plan because we hit up a lot of character meals. However, more recently we have been choosing the quick service plan because the kids prefer eating quick and hitting up more rides. For more information on the Disney Dining Plan see this post from Disney Tourist Blog.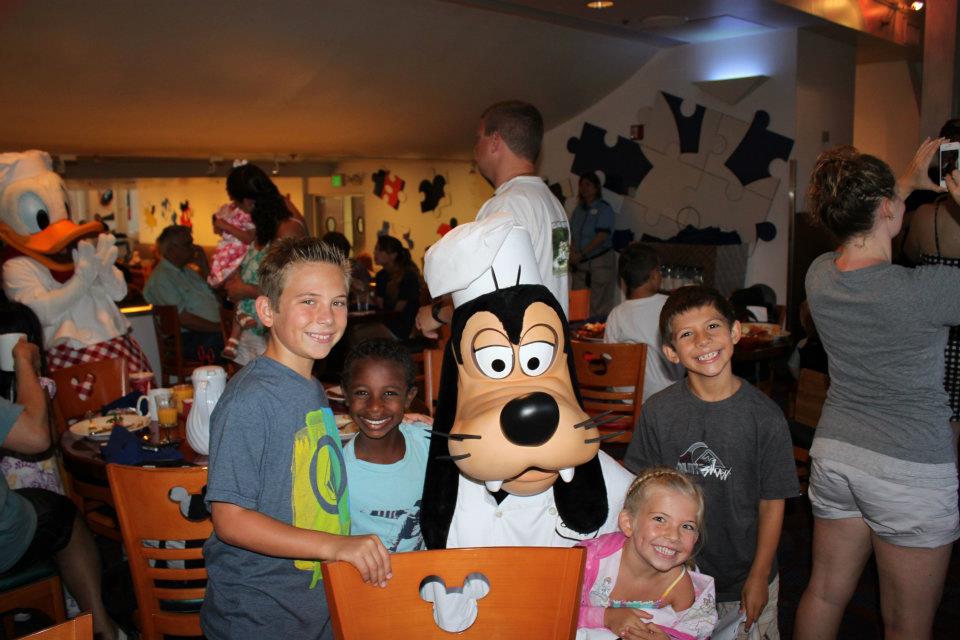 DISNEY CRUISE

DINING OPTIONS

Onboard the Disney Cruise your food, snacks, juices, milk, tea, coffee AND SODA (typically you have to buy a separate soda package on cruises) have already been wrapped into the price of your cruise. And, there is food everywhere onboard! Plus, lunch is included on Castaway Cay (Disney's private island) too! (Read about the other cruise lines we've cruised with here).

The ease of not having to decide on dinner every night is one of my favorite features. I don't know how that conversation goes in your house, but in ours, someone is always unhappy about not getting their way- ugh!

Another thing that is unique to Disney is that you get to rotate restaurants each evening, but your waitstaff stays with you. The benefit is that the waitstaff gets to know your kids, your drink orders, allergies etc… Making each night a breeze.

And, because cruises are ALL YOU CAN EAT, you can order as much as you want! This comes in handy when you are feeding active boys who seem to never get enough to eat- ha! It also means you can treat the kids to ice cream cones every night without breaking the bank. It will earn you some awesome brownie points!

FREE Room Service is another super fun thing, at least in our family. The kids get a kick out of ordering things like hot cocoa and Mickey ice cream bars. I love having my morning coffee arrive as soon as I wake up as well as being able to get the baby milk when she needs it.
Dining Winner – Disney Cruise
Disney Cruise has some pretty amazing dining options that is hard to beat.
Planning/ Booking-
Walt Disney World Planning
Planning a trip to Walt Disney World takes a lot of research as there are so many options. You need to choose whether you are staying on or off the property. Which park passes to purchase. Whether or not you want to add the dining plan to your package and more!
Then you literally have to set reminders on your phone and wake up insanely early to jump online and book your restaurant reservations (180 days in advance) and fast pass reservations (60 days in advance if staying at a Disney hotel or 30 with a park ticket). It can be a bit daunting especially your first go round.
Flying into WDW? Check out these 9 Tips to Help you Plan Smarter!

DISNEY CRUISE PLANNING
The cruise is a whole lot easier to book and plan. The best part of a cruise is almost everything is done for you. Here you need to choose what cruise ship you want to go on, which itinerary you want and what excursions you are going to book. (Read about why we choose to book 3rd party excursions here)
Winner: Disney Cruise
Disney Cruise is by far more easy to plan for. We always recommend using a Disney Travel Agent for any Disney vacation booking. They are Disney specialists, don't cost any money and typically save you money. We personally use Tink's Magical Vacations and love their services.

Disney World vs. Disney Cruise Pricing
No matter whether you choose to book a Walt Disney World Vacation or a Disney Cruise, spring break, summer, Thanksgiving, and Christmas are all going to be the busiest and most expensive times to travel. So, if you can avoid those times. You also want to check the weather because July can be VERY wet!
This one really is based off what kind of Disney Vacation you want. Typically I find these vacations run about the same price. The main difference was the cruise was paid for upfront and WDW the costs snuck up a little more during our travels. So, where initially we thought the parks were cheaper it turned out they were not. However, because of different pricing structures that are seasonal and promotions being run it is really hard to nail down which is cheaper.
We have a full breakdown of Disney World Costs Here and Disney Cruise Costs as well.
Disney also has great vacation planning videos to help you here.
Curious which Disney World Resort hotel class is best for your family? Check out this guide to help you choose.
Tips to Help Save You $$$-
Walt Disney World
Below you will find some of my best tips for saving money on your Disney World Vacation.
Use a Travel Agent – My husband was completely anti travel agent as he always insisted it was cheaper if he did it on his own. He was very wrong. We tried out Tink's Magical Vacations. and not only did they help us with planning,their services were FREE, and they save you both time and money.
Watch for promos. There is one in particular that Disney has been running the past few years that I love. It is a package deal that usually comes out right after summer, where you purchase your hotel and park tickets through Disney and they throw in the dining plan FREE! It provides huge savings as the adult dining plan costs about $67 per day and the kids plan runs around $24.
Another route is by renting Disney Vacation Club points from a member like me on sites like DVC Rental Store and DVC Request. Villas also offer conveniences like fridge, microwave etc… which allows you to save on meals too.
Staying off property is often cheaper as well. Read why my friend at Luxe Recess loves staying at the luxury hotels off-property here.
You can also save quite a bit by avoiding park hopper passes and instead choosing the one park per day option.
Packing snacks and eating in some meals like quick breakfasts can help curb costs as well.
Planning off-days, where you stay at the hotel and explore Disney Springs versus head into a park, also limits how many days you will need passes for. It also slows the pace down which is nice!
Skipping the soda and opting for the free iced tap water available all around Disney parks and resorts is a great choice for your pocketbook and your waistline too!
Always check your memberships for discounted tickets. Military, AAA, AARP and D23 fans have all been known to receive discounted theme park passes. Costco also often has discounted Disney Gift Cards at discounted rates. Or sometimes they have gift cards to restaurants like Rainforest Cafe too.
Save on photos by asking the Disney Photographer, kindly, to take a pic with your own camera or cell phone.
Skip the rental car and use WDW FREE Transportation to and from the resorts/ parks/ and Disney Springs.
Click the banner below for more WDW Tips & Tricks!
CRUISE
There are some basic things you can do to save money on your family friendly Disney Cruise. Here are the ones I recommend.
Book early, about 12-18 months in advance for the best pricing. You also save be re-booking your next cruise while you are onboard too!
Shore Excursions – Look at booking through a reputable vendor outside of the cruise line. And if you are doing the Atlantis Day pass at the Bahamas it might be cheaper to just book a room there for one night.
Check for Last Minute Offers, yup I know that is exactly the opposite. But, you should check for last minute deals bc they can be a steal!
Use a travel agent, they can actually SAVE you money and provide you with other perks. Most travel agents offer onboard credit. Like I said earlier we highly recommend our friends over at Tink's Magical Vacations
Look for repositioning cruises. The Disney Dream, Disney Magic, Disney Wonder all have repositioning cruises at a time and often those are the best-priced cruises as the start in one location and end in another. We took one from Miami to San Juan, Puerto Rico and it was so much more affordable.
If you are flexible or are feeling lucky, a great option is to book a guaranteed space. It means you can pick the category but not the actual cabins and it can save you tons. We've always still received great rooms, even rooms that are connecting, although they can't guarantee that. We saved about $2,500 doing that on our upcoming trip!
Save on transfers! Disney charges something like $70 pp round trip from the airport to Port Canaveral. Local companies charge about $250 for up to 7 people. So, if you have a large family make sure to check into getting your own transport. Or what we have been doing the last few times is using Uber. We actually rented a car on our last Disney Fantasy Cruise and paid $6.00 a day to park near the port. It was still cheaper than the transfer.
You may also like this Disney Cruise Travel Guide from LuxeRecess.
Take Aways-
No matter which Disney Vacation you choose, you are sure to have a magical experience you won't soon forget. I think the main difference is going to be in pace. If you are a thrill-seeking family who loves being super active I think a Disneyworld vacation is the way to go. If you are truly looking for a getaway where you can sit back & relax? If so, a Disney Cruise would be a perfect fit!
Have more questions, still not sure which to choose? Simply leave me a comment below with your question or DM me on Instagram
Which Disney Vacation would You Choose?
More Disney Travel below:
Still looking for more great information about Disney? Check out these posts from some of my favorite family travel writers-