When we were preparing for our first trip to Cancun, Mexico we heard a lot of amazing things about Xcaret Parks. Friends and family alike were boasting about the amazing experiences they had at Xcaret however when I would go to their website I was a bit confused. You see Xcaret has a park of it's own in Cancun but they also have a bunch of Xcaret Experiences including other eco-adventure parks like Xel-Ha.
After checking into all the different options Xcaret had to offer we opted for their water bound Xel-Ha Eco-Adventure Park. And, I am SO glad that we did. This park is absolutely gorgeous and full of things to do for families. Read on to learn why I think this park deserves to be on your list.
3 Reasons your family will LOVE Xel-Ha in Cancun- a review
This all-inclusive adventure park is filled with tons of family fun activities like snorkeling and zip lining, natural aquariums, plus unlimited food and drink throughout the day at any of their 4 restaurants on site and you can even enjoy the open bar. There are SO many reasons to love this place but I will give you my top 3.
1 Snorkeling
With ocean water as gorgeous as the Riviera Maya you have to dive in and get a closer look. The crystal clear turqoise waters are the perfect foundation for scoring up close and personal accounts with tons of gorgeous sea life.
Your life vests, fish food and snorkel gear are all included. They also have lockers to store all of your valuables leaving you worry-free so you can relax and have fun! We opted to test out some of our full face snorkel masks while we were there as well. But, regular masks are provided.
Speaking of our full face snorkel masks… have you seen these things? They were awesome. So, comfortable and zero water gets in your mouth. You can even dive down a bit without any worries. I don't get how they worked but they are SOOOO much better than traditional masks. And, great for kids too! Get yours on amazon here.

Getting back to the snorkeling business. The other thing I liked about snorkeling is you are contained in their snorkeling area and free from big waves making it much easier for little ones and much less stressful for us parents. They had some fun areas with man made fountains and apparatus' that the kids could climb on too making it equally fun and beautiful for all of us.

2 Ziplines
We love a good zip line and when we saw you were able to zip straight into the water we were pretty excited! There are zip lines located throughout the park so all you have to do is simply walk up and go. I loved that the kids could zip over and over as much as their little hearts wanted. It gave them the courage to try new tricks on the way down which was super fun to watch. The ziplines here are pretty short and instead of being strapped into a harness you can either sit on it like a swing or hold onto a bar. So, you can imagine the possibilities and contest they came up with as they zipped down.

Head down the Zipline with Owen. You can see why we call him our WILD CHILD!!!
3 Cenotes
It's true there are gorgeous cenotes all over Riviera Maya and quintana roo area but it sure was nice to knock off several things on our bucket list all at one park. We loved swimming into these gorgeous caves. The caves felt like you entered some sort of magical land the way the light would shine through and light up the water and the tropical fish could be seen so easily. It was an incredible experience! It reminded me of swimming in the Blue Grotto in Capri, Italy actually.
There are several different cenotes there. The park is massive but connected very well through bridges and pathways. It was very easy to navigate to thanks to all their great signage. The one thing I love about Xel Ha is the very different feel though inside this park. It is a mix between being out in nature alone and a theme park. Sounds odd, but that is the best way to describe it.
BONUS!!!
4 The Grounds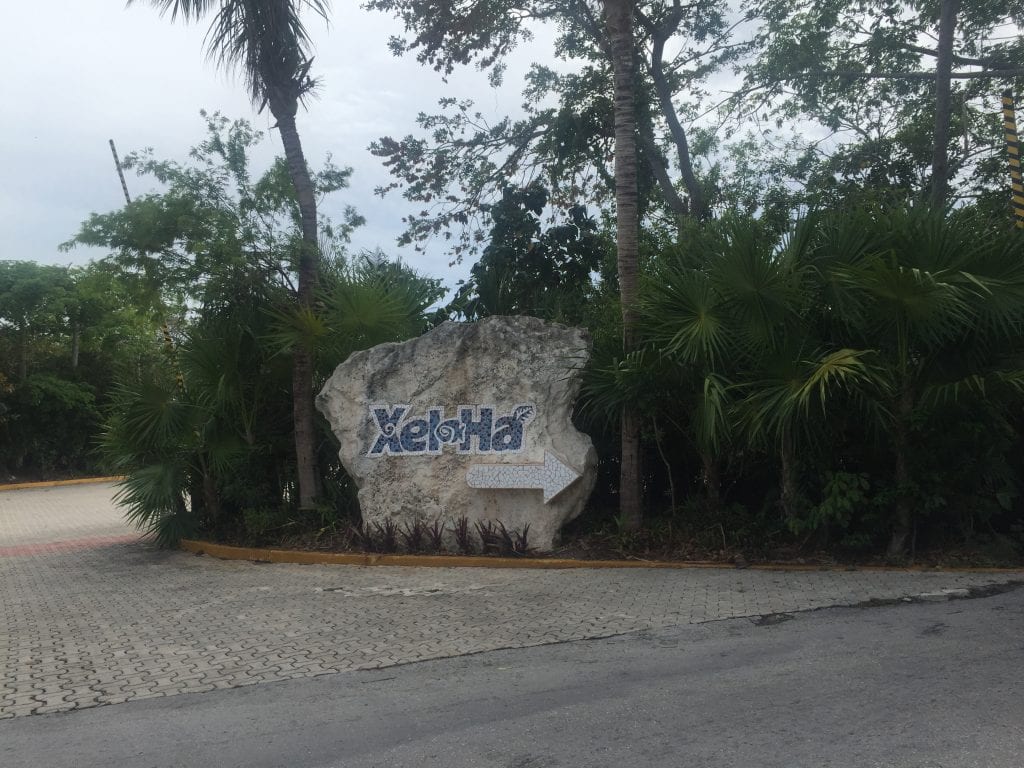 From the moment we entered I was impressed by the grounds. It was incredibly clean, the staff is super friendly and there is so much to do. Xel Ha is also eco-friendly and does not allow any sunscreen that is not organix. So, make sure to have some eco-friendly sunscreen or you can buy some at their gift shop.
Here are a few of the stores… as you can see this part feels like you are at a theme park. As do the restaurants as they are all themed like the one below.
Then you keep walking and you hit sights like this which feel like you are alone on some gorgeous island. It feels so far away from any theme park like vibes, right?

As you keep exploring there are nods to the park, like this hidden sign under the water with the fish. Such a neat place!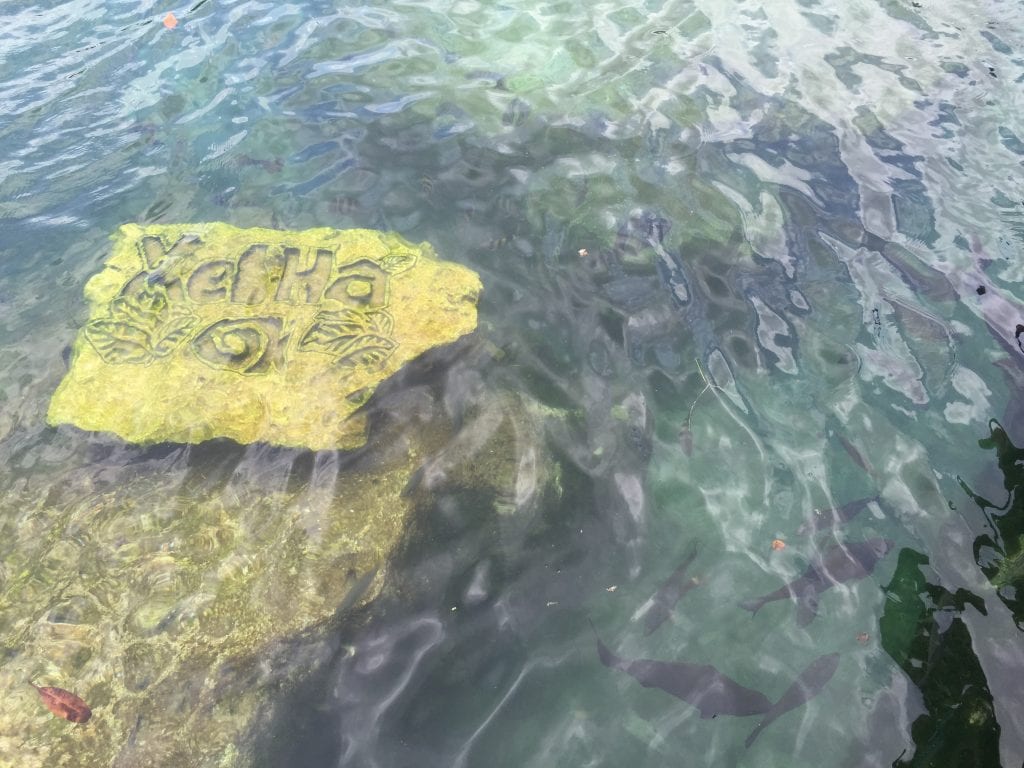 Besides all of the water adventures Xel-Ha also has a beautiful nursery where they have all kinds of beautiful native flora to check out. It sort of felt like a secret garden. They also have a colony of melipona bees here which Mayans believed to be sacred due to their honey's healing powers.

Bees and fish are not the only wildlife you will see while visiting Xel-Ha there are plenty of Iguanas roaming around too.

Overall

Xel-Ha is a wonderful choice for families with kids ages 5+. I know there is still a lot to do for the youngsters but I think families would enjoy this park when kids are old enough to zipline and swim well on their own. Xel-Ha is an all inclusive park so from the moment you walk in all your drinks, food, lockers and equipment are provided making it incredibly easy with kids in tow. I also loved that they had wifi access so that I could keep in touch with our sitter (read more about Playa Kids services here). Of course being able to post a few pics on social media was fun too!
Besides the included amenities there were also additional experiences offered at Xel-Ha. Maybe next time we are in Cancun we can check some of them out. It included things like swimming with dolphins, these really cool looking Zip-Bikes and some crazy looking speed boats. They even had spa services!
Pin for later-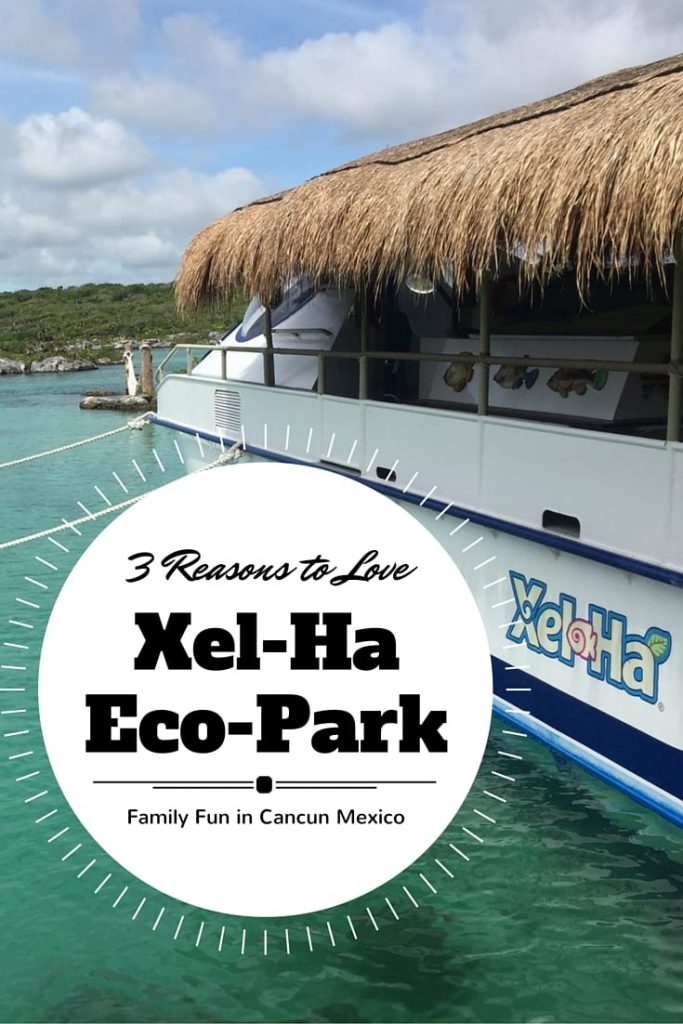 You Might Also Enjoy
Xplor Cancun [4 Incredible Experiences] in One Park + Pro Tips
*A special thank you to Xel-Ha for hosting the munchkins on our recent trip. My thoughts and opinions are, as always, 100% my own.
**This post also contains affiliate links so that you can purchase the items we love most. Affiliate links do not change the price of the product but they do provide us with a very small commission to help us run this blog and keep bringing you all the best information in Family Travel.