When it comes to shore excursions I have found you can save tons of money and typically have a much better experience booking direct vs. through the cruise line . On our recent cruise we did just that! Our ship had us at port in Costa Maya. I jumped on Tripadvisor and Cruise Critic to start checking out the best on shore excursions for families and I came across this amazing NEW water park. Maya Park – the Lost Mayan Kingdom looked like a perfect fit for our family and boy was I right! This gorgeous property has some of the best waterslides, ziplines and splash parks we've found outside of the US.
Maya Park- One of the Best Waterparks & Cruise Excursions
Getting There
Located in beautiful Costa Maya Mexico the Maya Park is a short 5 minute shuttle ride from the Costa Maya port where the cruise ships dock.
This gorgeous port is a walk-off port so you don't even have to worry about hopping on a tender boat. You simply walk right off the boat, onto a pier overlooking this incredible view-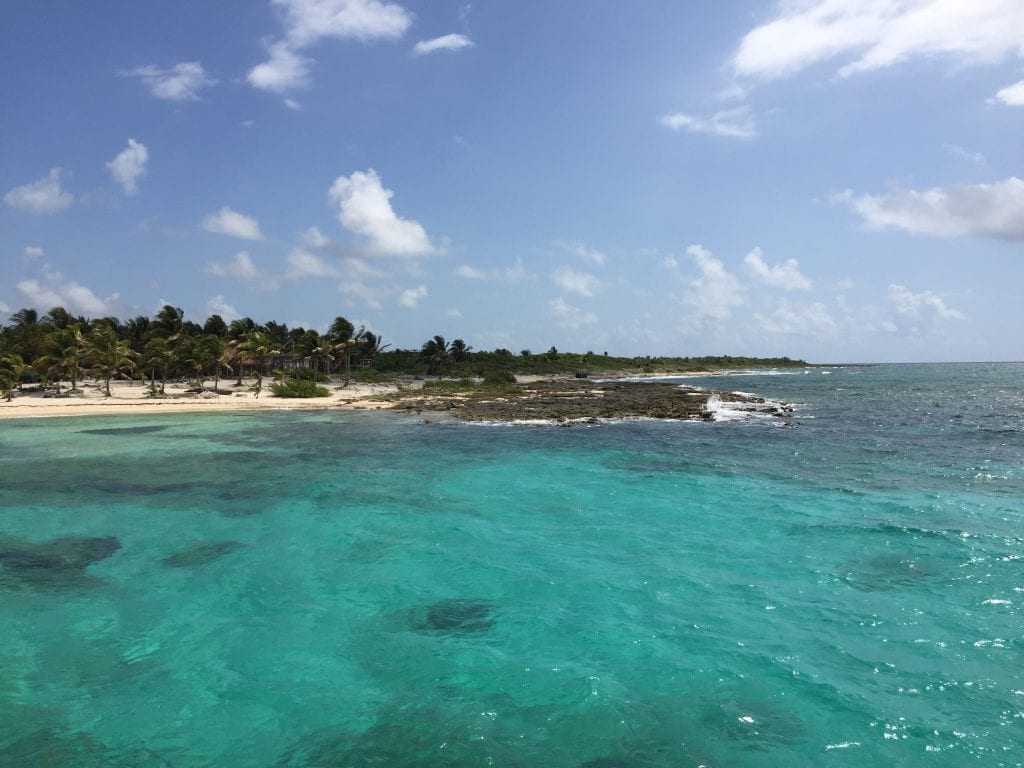 This port happened to be the most efficiently run cruise port I have ever visited. Not only was it efficient but it was incredibly clean and had a variety of shops, restaurants and even a free pool with a swim up bar just steps from the boat. You could quite honestly spend your entire day just hanging out there if you wanted to. It was that nice!
But, if you really want to have fun you should walk right past the port to the shuttles and head to Maya Park- lost Mayan Kingdom. Once there you will find a magical place filled with family fun activities. Take a look…
The Incredible Property
As soon as we stepped foot onto this property I was excited. It reminded me of Disneyland mixed with some Indiana Jones vibes. You can tell this park was thoughtfully planned out and well crafted.
Don't you just love the look of this place… so fun! It felt like we came across some ancient village that had been re-designed into an incredible water park. They did such a good job with the theme here!
Some of the Most fun Waterslides Ever!
Of course the waterslides are the major attraction at most water parks. And, with a full pyramid of twists, turns and steep dropping slides this park has that area pretty well covered. My kids loved that all the major slides were located close together so they could really conquer them quickly and easily. They also love that there was an elevator inside to take you up! Pretty sweet right?
My kids are MUCH braver than me… watch as Owen head down this crazy slide- YIKES!
Maya Park Ziplines & Zip Coaster
You see they didn't stop the thrills at just slides. This park is filled with zip line courses and even a zip coaster. For the first time ever we were even able to zip straight into the water. What an incredible experience!!!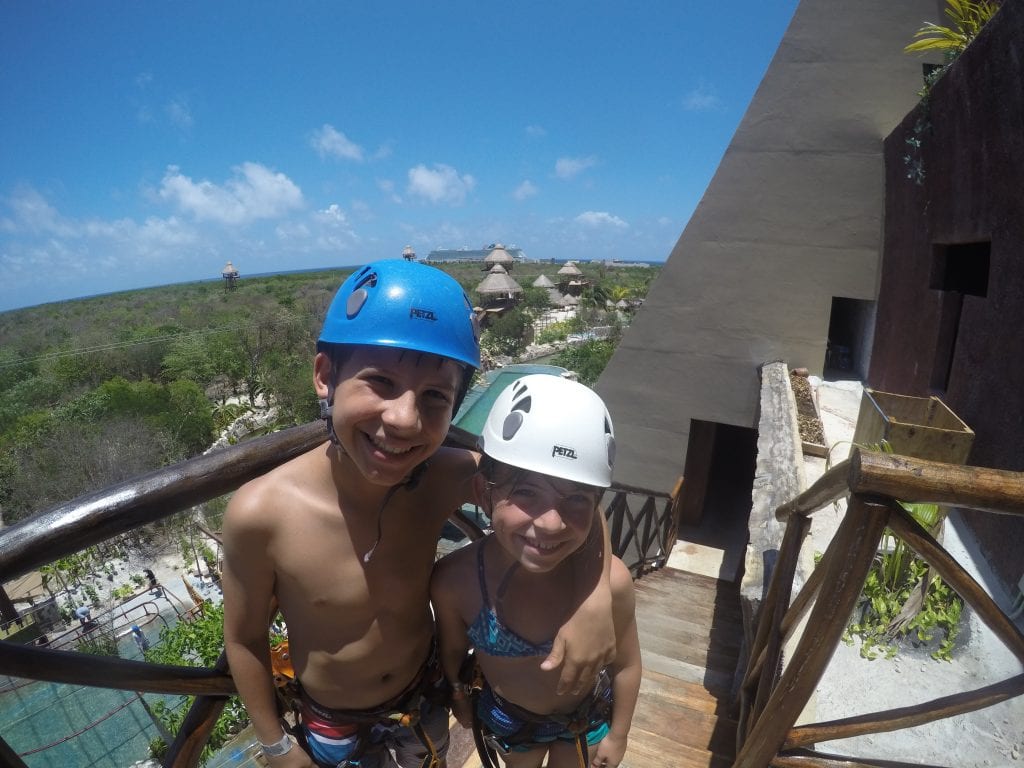 Take a ride on the Zip Coaster and into the water with Owen- our wild child!!

Splash Park for the little ones
We had our two year old with us as well so we were thrilled to find a splash park with slides just right for her age in it too! As you can see we practically had the place to ourselves it was amazing. There are several different slides all which were pretty slow and great for kids. My only suggestion would be to catch them at the bottom because if they come out too fast they will rub their bums across the rough cement below. The park needs to quickly invest in some mats for under the slides. But, if you are there to grab them all will be good.
Liv loved the giant bucket that would send water crashing down over anyone in its path below. I watched as some kids ran towards the pouring bucket… Liv liked to watch from afar.
What was great about the kids area was the number of umbrellas, tables and chairs around it. It was so great to have a shaded spot to relax in while watching her play in the water.
An Adventurous Lazy River
Some would say the best part of a water park is the Lazy River. Okay, not sure if that's really true but it's what I would say 😉 I am a HUGE fan of Lazy Rivers and the Rio Del Jaguar was one of the best I have ever been on. This river is a good 20 minute float. You are sent into a jungle themed river on a cozy inner-tube where you have to come face to face with a jaguar at one point. Before you get there you float through a ropes course, into the waterslide pyramid and under some bridges. There are a few spots where you unexpectedly get hit with some ice cold water but don't worry it will feel refreshing 😉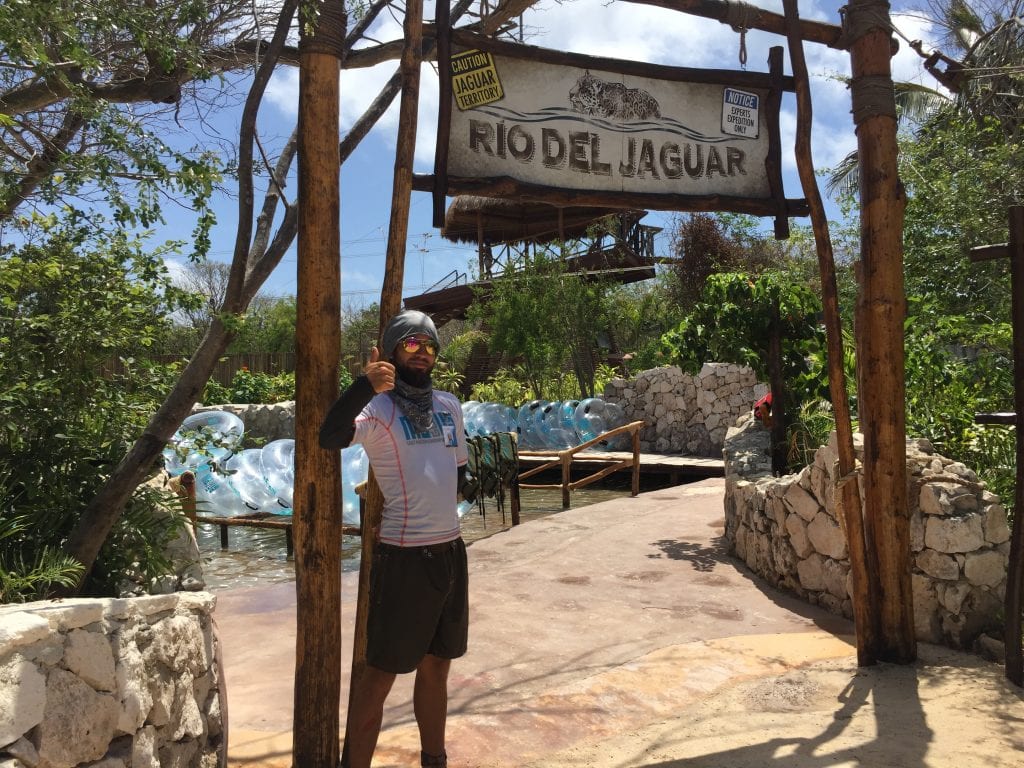 Relax Pool
When you get tired of all the thrilling activities you can head to the Relax Pool and… well relax! The park is small enough in size I would have been fine chilling here while the kids went up and down the slides a zillion times to be honest. It was so nice to just hang out in the refreshing water.
Across the way from the Relax Pool was another area built just for me I think. It was filled with hammocks so you really can get your relaxation on in style here. I sure did- ha!
Dining
We only had time for snack and lunch because we had to get back to the boat in the evening but the food was pretty good. Equal to what I would expect at a theme park.
I chose the chicken burrito but I was a bit jealous of my boys burgers and fries. They had really really good fries- YUM!!
Liv opted for a smoothie which really beat everyone else's choices out of the water. Smoothies are the best!!! The juice and smoothie bar is a bit tricky to find. It is actually located in the giant pyramid where the water slides are. The lockers are there as well!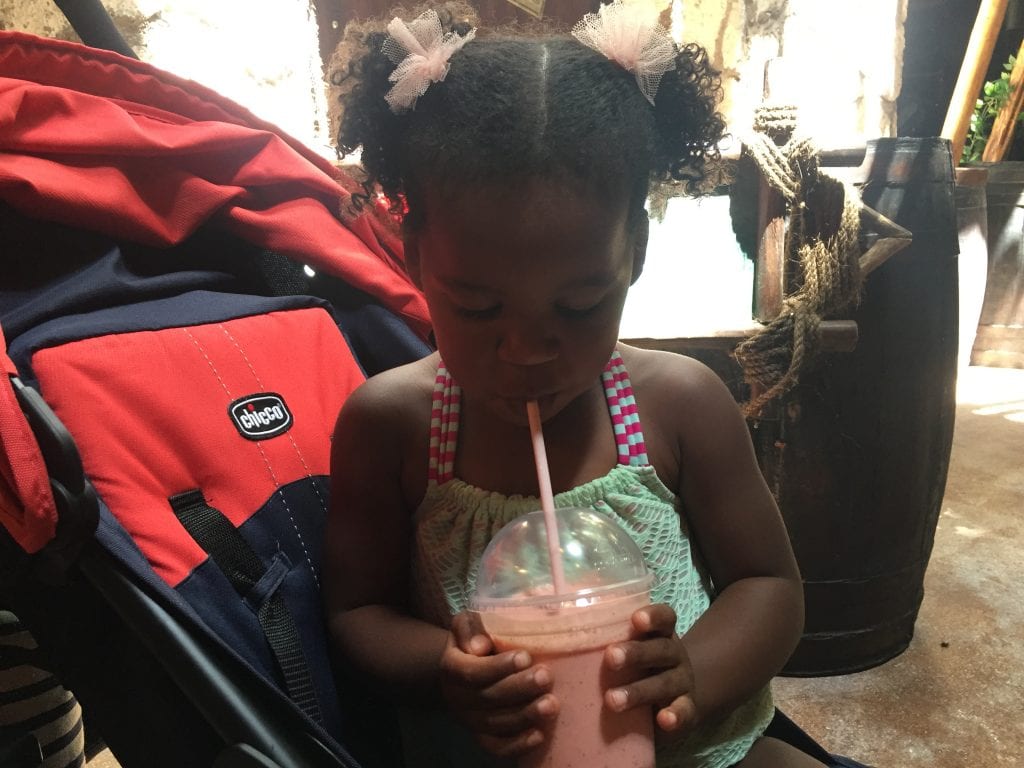 Overall Maya Park Review!
I would highly recommend the Maya Park- lost Mayan kingdom to any family looking to have fun off the ship in Costa Maya. Whether you are a thrill seeker, just want to relax by the pool or are trying to entertain a little one this park will fit the bill. There is something there for everyone. Plus, the transportation is included and the park is located literally 5 minutes away from the port so you won't have to worry about missing the boat!
Pin for Later-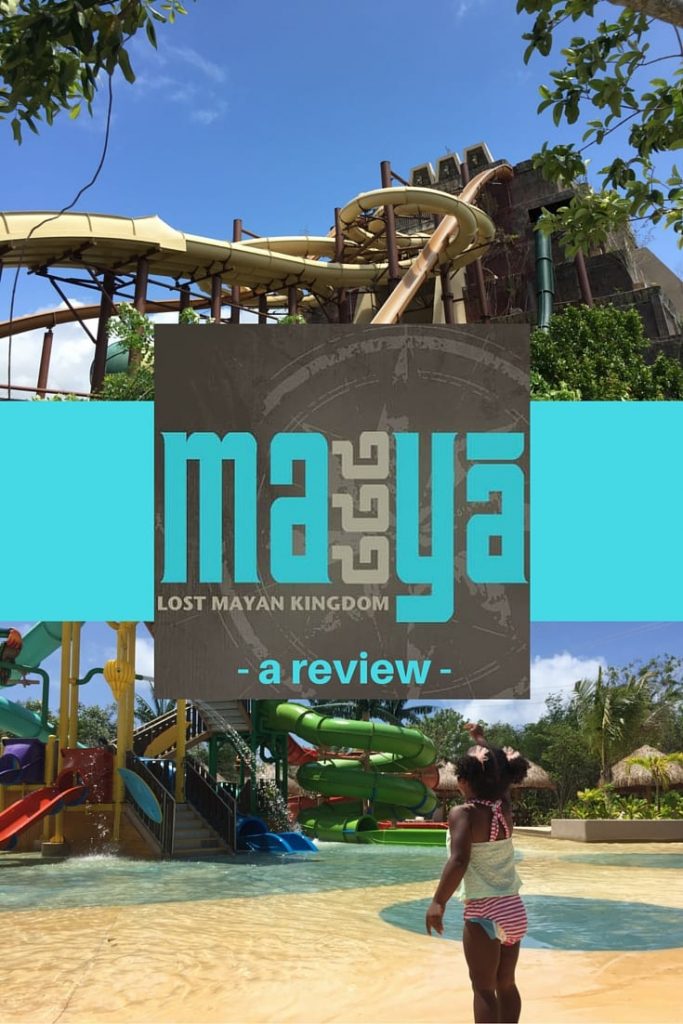 For more information on Maya Park- lost Mayan kingdom check out their website, Facebook page and Instagram feed.
Would you put Maya Park on your list? Which activity would you head to first?
You might also enjoy:
Cozumel Tours – 3 Reasons to Love Cozumel Chef  Food Tour!
Shore Excursions- booking with the cruise line vs. booking independently
 *A special thanks to the staff at Maya Park for inviting the munchkins to check out their incredible property. My thoughts and opinions expressed above, as always are 100% my own!
Latest posts by Mama Munchkin
(see all)