As you all know Cozumel is one of my favorite stops when taking a Caribbean cruise. And food tours are one of my new favorite ways to get acquainted with a new city. So, when I had the opportunity to try a food tour out WITH the munchkins I was stoked!!! We were headed out on a Norwegian Cruise which had a stop in Cozumel. Being that this Cozumel is in Mexico and my kids are big fans of Mexican food I figured this would be one of the best Cozumel tours. And, guess what I was totally right!
Cozumel Tours – 3 Reasons to Love Cozumel Chef's Food Tour!
Food is such an integral part of a community. Recipes are passed through generations, produce and ingredients are most likely sourced locally and so you can learn a lot about a place simply by taking a food tour. I chose to tour with Cozumel Chef after reading their excellent Tripadvisor reviews and noticed their 5 star rating! And, I am SO glad we did. Our tour guide was the friendliest and knowledgable guides we've had. He was great with our kids and worked incredibly hard to keep everyone on the tour happy at all times. It was an absolute all around wonderful tour. But, let me break it down for you even more…
1. Delicious Food
This tour featured dishes influenced by a blend of Mayan/ Aztec and even some European (mainly Spain) elements. We sampled a variety of dishes from street food to table service restaurants and I have got to say the Yucatan knows how to cook.
Our first stop was at the Quesadilla Hut. Here they serve a variety of small quesadillas served on freshly made corn tortillas. These are not your typical quesadillas like you would find at a Mexican joint in the states as you can see. These tasty snacks are served with Oaxaca cheese and filled with a variety of savory add ins. They were absolutely delicious!!
Our next stop was at a quaint little family owned shop that served amazing tacos. They were stuffed with a type of pork dish local to the area known as cochinita pibil which is a type of baby-suckling pig that is slow-roasted in the ground wrapped in a banana leaf. These might have been my favorite dish. The meat was so tender and the sauce was divine.

They served their tacos with pickled onion which I have never tried before. It was the perfect combo! The family that owns the little shop actually has their house attached to the shop in the back. So, after we ate they were kind enough to allow us to take a peek into their home. It was such a neat experience because it felt so personal and intimate. The people in Cozumel are truly the warmest most welcoming people.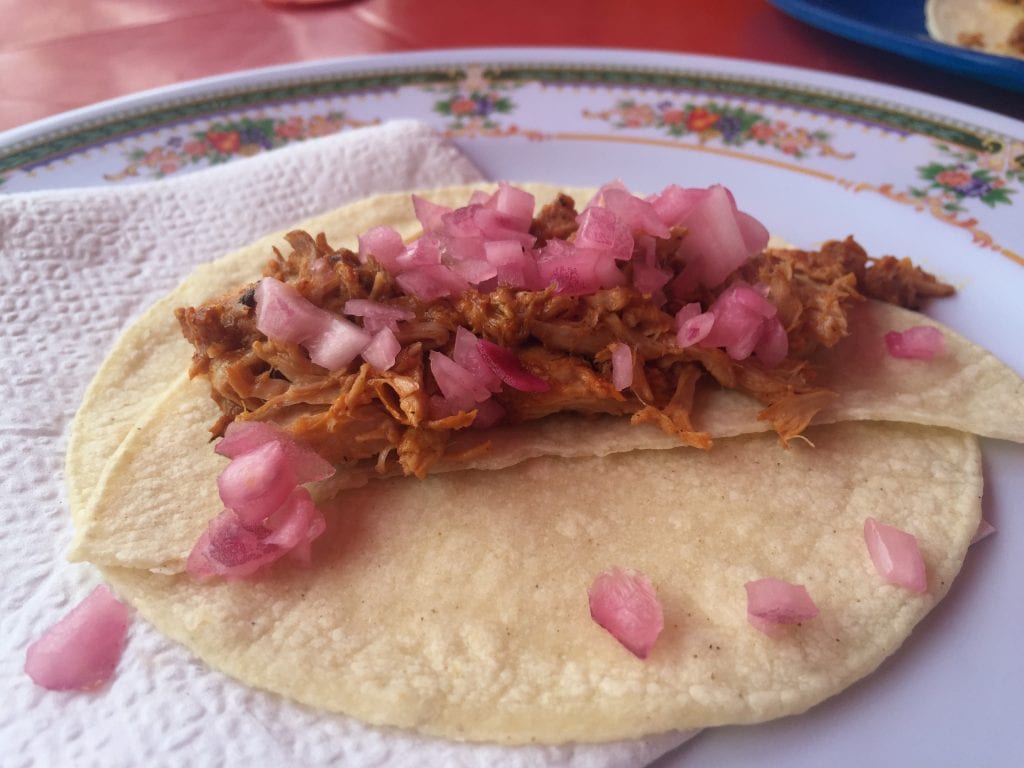 After our second stop we took a break from eating and visited a local market or El Mercado as they call it in Cozumel. Here we watched as locals came in to pick up their meats and produce for the day. It was incredible to see how fresh everything is. Most shoppers were literally buying their food for the day. Unlike in the states where we shop maybe once per week. The kids got a kick out of seeing fruits and vegetables they had never heard of. And, of course watching the butcher chop the meat and the fish monger slice off the heads of the fish was definitely entertaining to them as well.
Next up was an adorable restaurant named Cocina Economica (or inexpensive kitchen) that served the most wonderful key lime chicken soup. I'm not sure if that the official name but that's what I am calling it. It was a broth based soup that you squeezed a lime into for added flavor. I will now and forever crave this soup whenever I am congested because it had this amazing power to clear your sinuses and it was so light and refreshing even though it was served piping hot on a scorching hot day in Cozumel.
After clearing our sinuses we were ready for some locally caught fish from the Pescaderia. Here locals come to pick up fish to cook at home but if you are smart you will stay and eat here because they serve up delicious ceviche and fried fish too.
The ceviche was good but for me a little too runny. Although, it went down just fine with the freshly made chips and salsa they served. What really was a hit was the fried fish!
Although, the dish looks a bit scary to squeamish eaters like me with a little coaxing from our tour guide we learned how to flake the meat off the fish and make it into tacos. Much more appealing to my eyes. And, seriously they were delicious!!!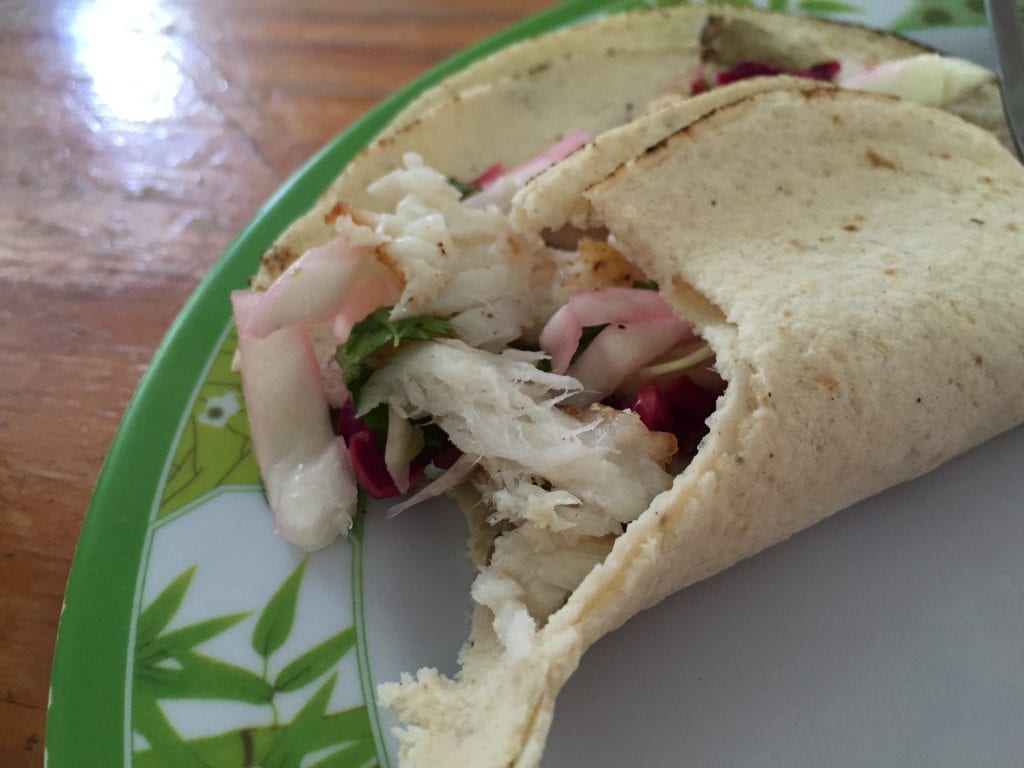 My not so squeamish fish loving son had just as much fun playing with his food as he did eating it- ha! Actually, all of my kids even tried eating the fish fins like the guide which I found very impressive!
The tour came to an end in a very sweet way. A stop at a traditional Mexican Bakery. We were told to each choose or own and with all the gorgeous treats it was no easy task. We decided to divide and conquer each getting something different so that we could share and sort of taste test the different varieties. Unlike American sweets we found that these Mexican pan dulces were not very sweet compared to American pastries. But, they were delicious nonetheless!!
Our favorite pastry were these sort of doughnut hybrid looking things below. They were lightly sweetened on the top with a doughy center.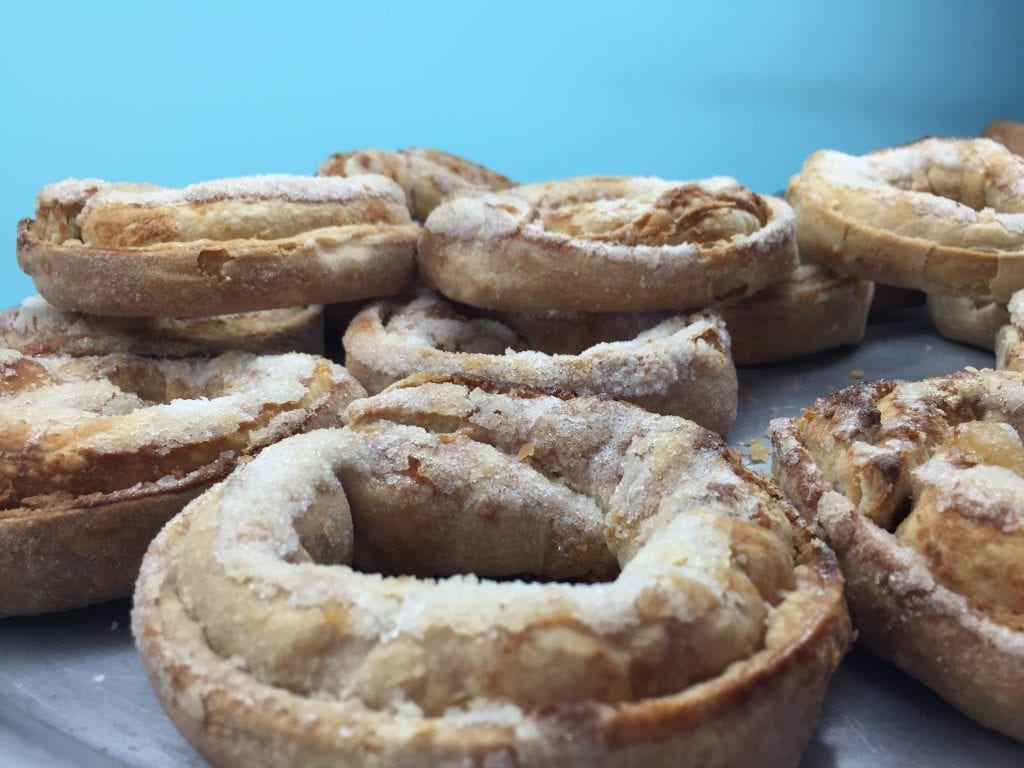 2. Very Family Friendly
As I mentioned I love a good food tour. But, prior to this one I had only ever taken them sans kids. So, I was a bit nervous as to how the kids would react to that much food. If they would have the patience to sit through that many meals (especially the 2 year old) and what I found was this particular tour was perfect for families.
Each stop the kids were allowed to pick a soda or a juice (adults could also grab a beer) and in our house that is a huge treat. So, the kids were pretty stoked about getting to try all types of sodas throughout the tour.
The tour was not a walking tour but instead we were driven around in a nice air conditioned van which I think helped the kids a lot. No complaining about their legs hurting or that they were too hot!
Plus, the culture in Cozumel is super kid friendly. They didn't mind kids walking around the restaurants. In fact some of the restaurants even had little play areas set up to help entertain the kids like the one below Liv found at the Quesadilla Hut.

3. Get to See the Real Cozumel
Of course one of my favorite reasons people should take a food tour is it allows you to see the "real" Cozumel. You know the one outside of the little cruise port bubble where all you can find is the same cheap souvenirs…
And, the token Starbucks and Hooters. Not that we still didn't grab ourselves a nice cold drink. But, seriously the local town has so much more to offer you are truly missing out if you don't get past the tourist traps.
Instead, you get to watch locals hand make the tortillas that your quesadilla will be served on. Which also provides awesome educational aspects for your kids as they get to see what life is like somewhere else.
One of my favorite things is taking an inside peek at a family run business that happens to be connected to the said family's home. It's the real deal. Then you get to experience the culture and you get to learn about the history of the town. You learn what the locals love about where they live. It's just all around a much more meaningful and unique opportunity. One that is too rich to pass up.
Overall
So, if you find yourself looking for something to do in Cozumel with or without kids I would highly recommend Cozumel Chef. Not only do they offer tours (which are great as shore excursions) but they also offer grocery service, cooking classes and more if you are staying in the area for a few days. After experiencing their level of professionalism, their desire to ensure you have a great time I couldn't imagine going anywhere else. Check Prices Here for Cozumel tour
You might also like:
The BEST Shore Trips for Your Next Caribbean Cruise
Shore Excursions- booking with the cruise line vs. booking independently
Maya Park- One of the Best Waterparks & Cruise Excursions
Pin for Later-
For more information on Cozumel Chef check out their website, Facebook page and Twitter.
Have you taken a food tour? What was the craziest dish you tried? Tell me in the comments below…
*a special thanks to Cozumel Chef for hosting us on our recent visit. As always my thoughts and opinions are 100% my own.