A couple of years ago we were lucky enough to find ourselves in Europe with all the kiddos. After a whirlwind journey through England, Rome & Paris, it was time to give the kids something for them, so we headed to Disney Paris. Disneyland Paris was such a unique experience that we absolutely loved. Sure, you have the traditional Disney Castle and Main St. but Disney Paris has so much more!
Tips & Tricks You Need to Know about Disney Paris
Disney Paris has Two Parks

Well, this seems obvious enough, but when we headed to Disney Paris we thought it was just one park, Disneyland. It turns out there are two parks right across from each other. Disneyland Park & Walt Disney Studios Park.
Some Rides are in English, Some are in French, & Some are in Both Languages
We expected that pretty much everything would be in French when we went to Disney Paris, because, well we were in France! But, we were surprised by the amount of English spoken on the rides. We did not find a way of figuring out what language would be spoken before boarding, but that's okay! It was a nice surprise every time.
Heading to the Disneyland Paris Bus Stop and passed a delicious Boulangerie
There are 7 Hotels to Choose from!
Disney Paris hotels are a plenty as Disney Paris has 7 hotels on the property for those who want to have the full Disney Experience.
These include the Disneyland Hotel (located just 5 minutes from the parks), Disney's Hotel New York, Disney's Newport Bay Club (a very similar look to Disney World's Yacht & Beach Club), Disney's Sequoia Lodge (also very similar to Disney's Grand Californian at Disneyland) Disney's Hotel Cheyenne (Most Affordable). Plus, the Brand New Disney Marvel Hotel. (Check out the Review)
Disney's Hotel Santa Fe, & Disney's Davy Crockett Ranch where you have your own bungalow and adventure trails as soon as you step outdoors. Check Prices for all hotels here!
In addition, there are several partner hotels and a ton of Airbnb's, which is what we used for our vacation. Check Prices for all hotels here!
Holiday Events –
Just like Disney World and Disneyland Holidays are a huge deal at Disney Paris! The main holiday celebrations include:
Christmas at Disneyland Paris – Runs from Early November through January
Disney's Halloween Festival – Runs September through October 31st.
Other Seasonal Events
Marvel Season of Super Heroes
Lion King Festival of the Seasons
Festivals of Pirates and Princesses
Legends of the Force
Transportation to Disney Paris is a Breeze
– From Disney Hotels – If you are staying at a Disney hotel, you are looking at a walk from 5-15 minutes.
– From Offsite Hotels & Airbnb's – Around Disney Paris is such a cute town with Free Buses that take you to Disney. Each Hotel will have the times listed for when the buses arrive and they usually come every 15-30 minutes during the day.
– From Paris – If you are traveling from Paris the Disney Parks are just a 40 minute train ride. Simply hop on the RER train and it costs about 7 euros per passenger. The train is very clean and the last stop is Disney Paris so there is no worrying about missing your stop.
How Long Do You Need in the Parks?
If you have the time, three days seems like the optimal amount of time to enjoy the parks and get to experience everything you wanted to do. We spent two days and we had an incredible time but did not get to everything on our list.
Fast Passes & Child Switch
Fast Pass is a system to allow you to maximize your time at the parks. The way fast pass works is you can get a ticket for one ride at a time that will give you a time to come back on the ride at a significantly reduced wait time (15 minutes or less). Simply enter your park admission tickets into the FASTPASS machines and receive a return time (you need a FastPass for each person). Then go have fun until your return time and enter the specially marked Fastpass line.
FASTPASS is available for the following rides in Disney Paris
DISNEYLAND PARK
Indiana Jones™ and the Temple of Peril, Adventureland
Star Wars: Hyperspace Mountain, Discoveryland – * Our Favorite*
Buzz Lightyear Laser Blast*, Discoveryland
Big Thunder Mountain, Frontierland
Peter Pan's Flight, Fantasyland
Star Tours, Discoveryland
WALT DISNEY STUDIOS PARK
Rock'n'Roller Coaster starring Aerosmith, Backlot
The Twilight Zone Tower of Terror™**, Production Courtyard
Flying Carpets over Agrabah, Toon Studio
Ratatouille: The Adventure, Toon Studio
Child Switch Pass
If you have kids who are too little to ride some rides you should take advantage of the child switch pass. The way it works is while one person waits off with the child, the other family members grab a child switch pass as they go through the normal queue and ride the ride. When they exit, they give the pass to the person who was waiting and he or she can go on the ride with one other person without waiting in line.
Weather at Disney Paris
This is definitely one of the colder Disney Parks since it is located in Paris, so make sure to pack some warm clothes. We were there in June and needed jackets, especially for the evening.
*Pro Tip – Pack a Small but Strong Umbrella – We ended up needing to pay for one at the park that was destroyed in just a few days.
Top Things To Do in the Parks
Disneyland Paris Top Attractions
1. Pirates of the Caribbean
This Pirates of the Caribbean is the best of any of the Disney Parks I have been to. From the incredible outside decor with battleship and adventure isle to the ride itself, this is one attraction you must see. It is definitely a must-do in Disney Paris.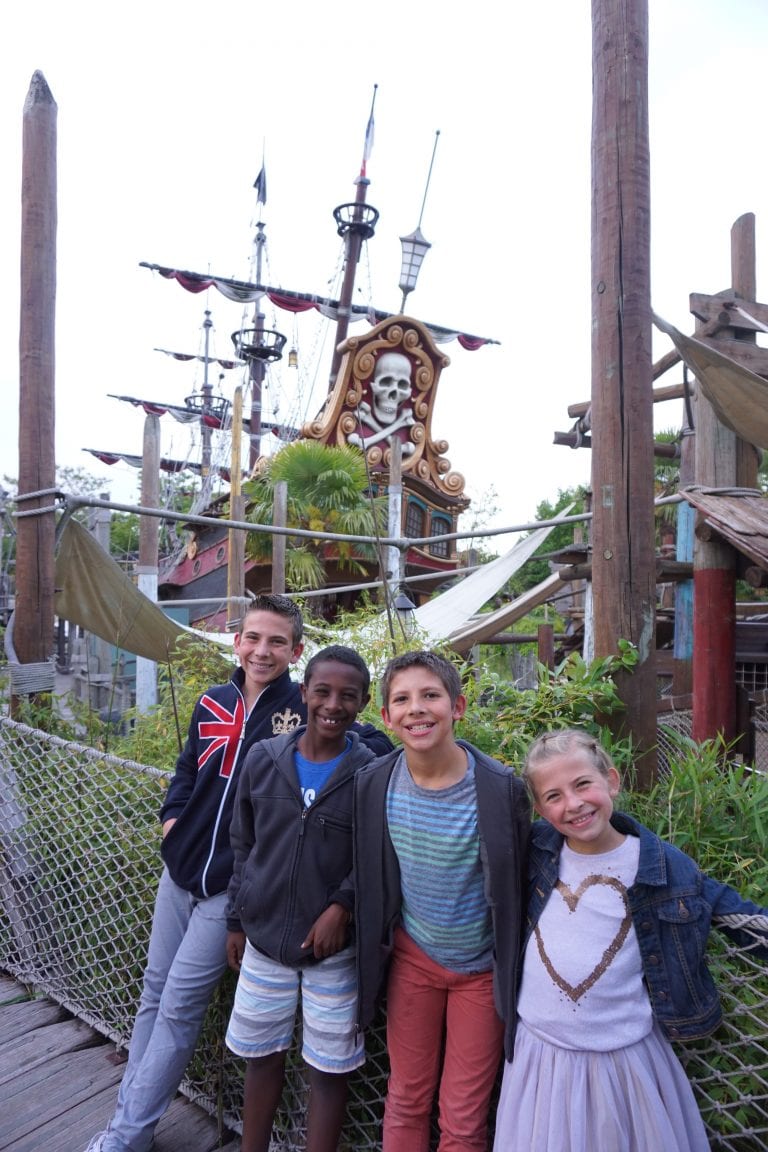 2. Adventure Isle
Explore this mysterious land and uncover the secrets that lie behind Skull Rock! This attraction is perfect for your little treasure hunters! Be ready to keep an eye out for the danger that lurks in the crisscrossing suspension bridges, narrow pathways, and the spooky caves! Discover secrets and stories at every turn that will give you and your little adventurers a trip they won't forget!
3. Alice's Curious Labyrinth
Wander through your very own adventure in Wonderland, and follow in the footsteps of Alice! Embark on a voyage into the white rabbit's hole, where you'll come across many of the famous magical creatures, have to decipher signage, and meet the notorious Cheshire Cat himself! A fun challenge for the family to see if they can reach the Queen of Hearts castle! It is definitely one of our Disney Paris favorites.
4. Phantom Manor
This is Disneyland Paris' version of the Haunted Mansion attraction. This one is actually reimagineered with a darker theme than the ones that are seen at the other Disneyland parks. It definitely is creepier than the other haunted mansion. It even features live actors!! You'll get to experience the curse of Thunder Mesa! Who haunts the halls? Who is this mysterious phantom? What happened to the family that once lived there? You'll have to find out yourself at the Phantom Manor! A must do if you're a fan of the other Haunted Mansion attractions.
5. Indiana Jones and the Temple of Peril
Personally, this wasn't my favorite ride in Disney Paris (I thought it was too short) but my kids loved it. This is a roller coaster in Adventureland based on the Indiana Jones movies! Take a high-speed train ride through the jungle! Riders are sent to find out what happened to an earlier expedition, but come to find a cursed ruin and need the courage of Indiana Jones to make it out alive!
6. Space Mountain: Mission 2
A must-do while you're here at the Paris Disneyland! Unlike the Walt Disney World and Disneyland version, this Space Mountain is a completely unique adventure. This ride launches you into your outer space adventure!! They even have the special Star Wars edition now up and running that takes riders through the Rebel Alliance's mission into a hyperspace battle! Perfect for those adrenaline seekers and Star Wars lovers alike!
7. La Tanière du Dragon (The Dragon's Layer)
A walk-through adventure for the family to see the once ruler of the skies dragon that lives underneath the sleeping beauty castle! Fret not it is chained against jagged rocks in this dark dungeon, but carefully not to get too close one wrong move could lead to a hot surprise! It is a must see for the whole family while you're at Disneyland Paris.
8. Peter Pan's Flight
One of the most popular rides in the magic kingdom, you will set sail in a flying ship to battle Captain Hook. *Pro Tip – If you want to ride this ride, get to the park early and go first thing in the morning, the line never goes down
9. Star Tours the Adventures Continue
If you have been on Star Tours in the American parks, then this is a pretty similar experience. You will board a simulator ship and blast off through the galaxy. There are over 60 different mission combinations, so it's the perfect ride to hop on again and again.
Walt Disney Studios Park Top Attractions
1. Crush's Coaster
This was our families favorite ride in both parks! It is a rollercoaster ride that invites you to climb on the back of crush, the giant sea turtle, and dip and dive and spin through many of the memorable scenes featured in the film! You'll find yourself exploring the Great Barrier Reef, the East Australian Current, and more!!
2. Ratatouille: The Adventure
This ride shrinks you down magically into the size of everyone's favorite chef rat. The line itself is entertaining and the ride is a blast, you definitely need to check this one out.
3. Rock n Roll Roller Coaster
Popular at Disney's Hollywood studios this ride is an intense looping roller coaster set to music from Aerosmith. The only reason this ride probably wasn't our favorite is that we have already experienced it at Disney World.
4. Tower of Terror
Take a tour of the infamous Hollywood Tower Hotel, and face your fears and enter the haunted elevator and take the 13-floor plunge into the twilight zone! Perfect for those adrenaline junkies out there! Find out if you can make it out of the twilight zone or if you'll be a permanent resident of doom!
5. RC Racer
The Walt Disney Studios actually had the first od Disney Pixar's Toy Story Land. In this land, one of the fun rides is RC Racer. Take a Giant version of the RC Car from Toy Story up and down a giant hot wheels track. This is great fun for the entire family.
6. Toy Story Parachute Drop
Another ride from the movie Toy Story, this adorable ride takes you up to the top of the parachute and drops you below. My daughter absolutely loved it and I think it was one of her Disney Paris favorites.
7. Slinky Dog Zigzag Spin
Okay, one last Toy Story ride and this one is great for little ones. Hop aboard Slinky Dog and go on a loopy ride as he tries to catch his tail.
Other Great Things to Do in the Parks!
Climb up the Castle for a Magical View
In Disneyland, you can climb inside the castle, at Walt Disney World you can dine inside the castle, but in Paris, you can actually step outside from the castle and enjoy a view of the park. It's a pretty cool experience.

Disney Illuminations Show at Disneyland Park
An incredible nighttime show. I would say this is a must-see.
Disney Junior Live on Stage
This is a great show for kids ages 7 & under visiting Disney Paris.
Disney Stars on Parade
Mickey and friends pass by on fabulous new floats, including a fire-breathing dragon (which is awesome!).
Bonus Disney Paris Tips!
Wear comfortable shoes – As with all Disney Parks there is a ton of walking.
Pack Warm clothes – This is one of the few Disney Parks where it actually can snow and even in the summer it gets a bit chilly at night.
Tour the Hotels – Even, if you are not staying in the hotels, you can visit their lobby, restaurants and bars…the glowtinis are quite popular!
Make your restaurant reservations well in advance. Nothing is worse than having to wait over an hour for a table to become available.
Make a list for each family member's must-dos. This will make sure you don't rush to try to do everything but do accomplish the main rides you want to see.
Don't wait for It's a Small World if the line is long during the day. Just go back in the evening it is normally walk on, the Pirates of the Caribbean line also gets quieter at night.
Single Rider Line – is available for some rides including Ratatouille. This is a great option if you don't mind riding separately and want to skip past the line
Money Saving Pro Tips

It is allowed to bring food in the parks, this can help offset the costly snacks at Disney Paris
The costumes are expensive and not great quality at the parks, you can save a ton by buying them online before you go and giving them to the kids when you are there. You can check out some great costumes on Amazon here.
Get into pin trading it's a fun way to get unique souvenirs that don't break the bank
You May Also Like:
Heading to Disney World? – Check out My Ultimate Guides with over 75 Tips & Tricks to Enjoying Disney World
Dreaming of a Disney Cruise? Here are our Disney Cruise Tips & Tricks [Over 100 of our Best Cruise Tips]
Curious about Hong Kong Disney? Check out Trips with Tykes post here.
How Many Days Do You Need at Disney Paris?
We recommend 3 days. We were there for 2 days and could have really used a third to enjoy both parks fully, however you definitely can fit a lot in 2 days.
Do they speak English at Disney Paris?
All Disney Cast Members speak English. There are park maps in English and some rides are in English while others are in French
What Time Should I Arrive at Disney Paris?
I recommend arriving right when the park opens. Typically that is 10 am, but park hours do vary.
Pin for Later: Disney Paris! Our 25 Best Tips & Tricks + A Complete Guide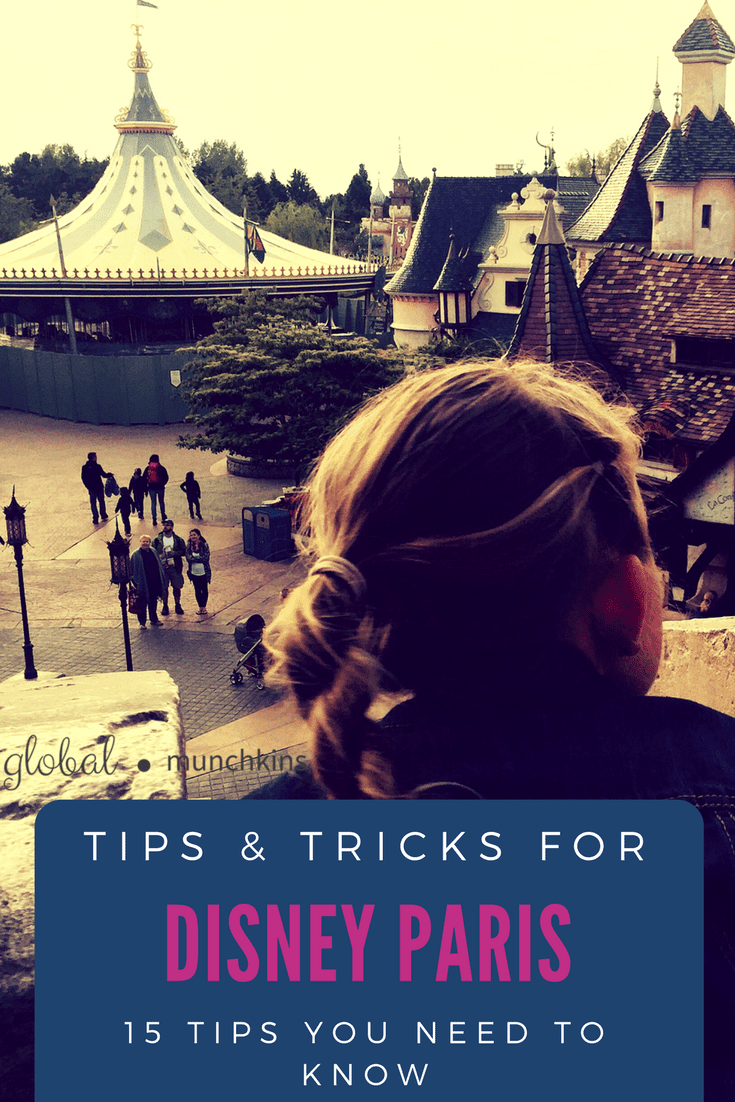 Latest posts by Mama Munchkin
(see all)