From the gorgeous landscape that lines the island to the fabulous theme parks with thrills and chills, there is no shortage of awesome, kid-friendly activities in Cancun.
There will be no "I'm bored" whines here! Cancun is one of the most popular resort destinations in all of Mexico, luckily despite its popularity, you can still find lots of charm.
Many of these activities include the sun, the sand, and the ocean but you can also find many thrills and cultural experiences. See for yourself, check out our top 16 things to do in Cancun with kids!
Our List of the Best Things to do in Cancun with Kids
As a mom, visiting Cancun with kids offers a plethora of exciting and family-friendly activities. From beautiful beaches to cultural attractions, Cancun provides an ideal destination for a memorable vacation.
Let's explore some fantastic things to do in Cancun with kids, including nearby attractions like Playa del Carmen and Puerto Juarez.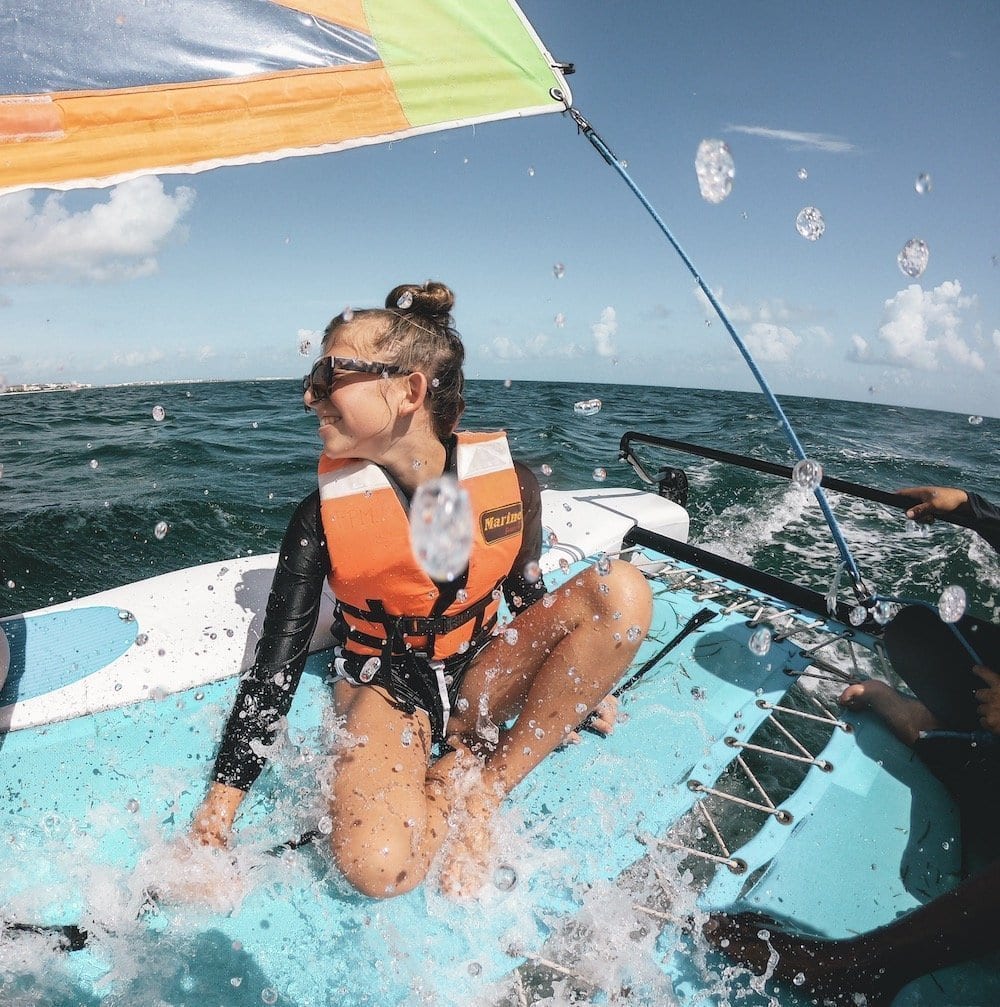 ---
Dolphin Discovery is one of the most exciting activities in all of Cancun. You'll feel nothing but excitement as you cruise over the crystalline water to Isla Mujeres. When you arrive, you and your kids will get to hop in and swim around with the dolphins!
You may even get a little kiss from one of these flippers if you're lucky. There are also manatees to feed, sea lions, and sharks that you can swim with. This is a care facility and you can tell the staff truly love the animals and want you to have an amazing experience bonding with them.
One thing to keep in mind is that you cannot take in your camera, so take note of the photo package prices before booking your experience.
---
Hop aboard El Bucanero or El Galleon to experience a true pirate adventure in Cancun for the Captain Hook Dinner Cruise. This is a great thing to do in Cancun if you have little ones with you.
These 18th-century vessels are just over 93-feet long and have state-of-the-art sound and lighting systems. Here you'll get to enjoy beautiful views of the Mexican Coastline as you dine on a delicious dinner all while watching fantastic sword fights.
There is even an open bar for adults! What better way to experience Cancun with the kids than an adventure out on the water?
---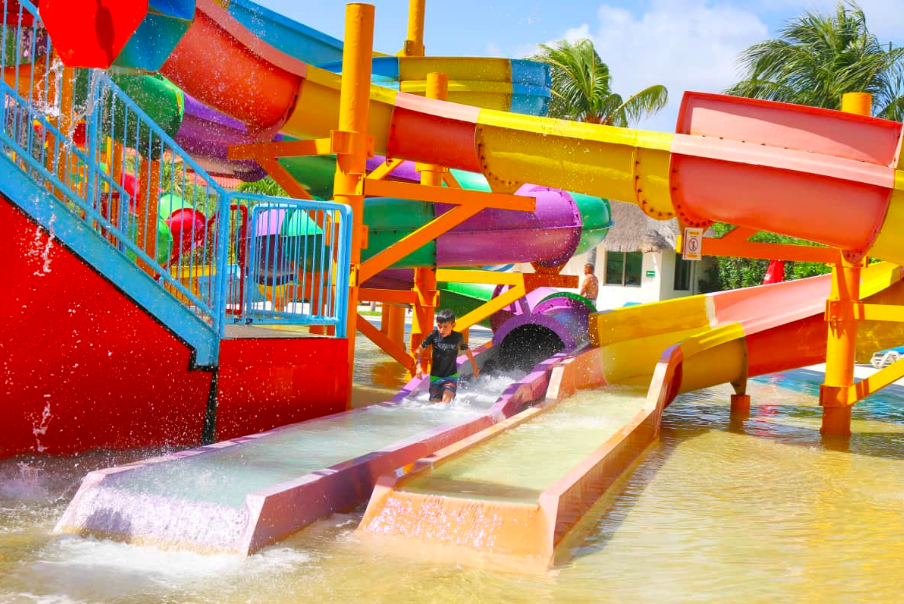 The All Ritmo Water Park is a family-friendly resort, but the pro tip here is that the amenities are open to the public for an entrance fee! They even offer an all-inclusive entrance fee which includes your food and drinks. For mom and dad, this fee also covers alcohol!
I think this is the perfect way to let the kids loose and relax for the day. Keep in mind, it is significantly cheaper on the weekdays!
---
The Interactive Aquarium is located just inside the La Isla Shopping Village and can be explored in under an hour, perfect for those last-minute itinerary mishaps.
Your little ones can touch the beautiful manta rays, play with the sea turtles, and even feed a shark! This is definitely a great thing to do in Cancun with the kids when you're looking to take a little break from the sun and the sand.
---
We love The Crococun Zoo for its conservationist attitude! Plus, it is located just under 20 miles from the center of downtown. What started out as a breeding farm for crocodiles has turned into a protection facility for these massive reptiles.
It is a wonderful place for your kids to learn more about the environment, as well as hold a baby crocodile! It is very hands-on and the tour guides do a wonderful job of teaching you about the animals. Book your experience here.
---
With a laid-back feel and dreamy island beaches, you and your kids will fall in love with Isla Mujeres which is one of the most popular day trips from Cancun.
You can rent a golf cart and explore the island's many shops, restaurants, and shorelines. Check out Lonely Planet's guide to Isla Mujeres here!
---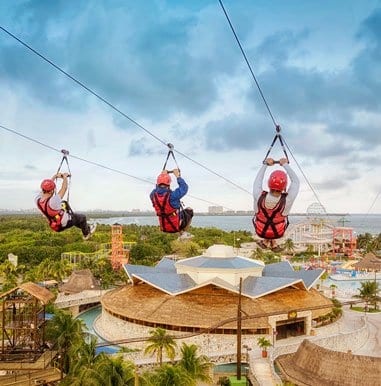 Ventura Park, formerly known as Wet'n Wild, is an adventure park that is located within the Hotel Zone of Cancun. The park is filled with different worlds, each of which has its own theme, sort of like Disney World.
Part of the park is the water park where your older kids can enjoy the massive water slides, such as the Kamikaze, while your little ones can float around the lazy river. There is also a zipline, interactive dolphin experiences, and a small amusement park. You can buy your tickets here!
---
Cancun is full of culture, and that this definitely something you will want to show your kids! Xcaret is an eco-archaeological park that is filled to the brim with music and art from traditional Mayan culture.
From the butterfly pavilion to the aquarium to the aviary, you can also catch a glimpse of true island wildlife. Visit the cemetery to show respect, climb over a Mayan ruin, or chill out on the beach. Make sure to stick around for the fabulous night show as well! You can check out our full review here!
Their Xplor parks are all about adventure. You can ride atv's, zipline, swim in cenotes, and so much more. Both parks are incredible, I recommend visiting both if you have the time. You can check out our full review of Xplor here!
---
The best way to get elbow to elbow with the locals is by making a visit to Parque Las Palapas. Here you can find live entertainment, affordable authentic Mexican snacks, and a wide variety of different vendors with awesome souvenirs.
Plus, it is 100% free to go to! If you want to take some time to just hang out while you're in Cancun, this is a wonderful spot.
---
If you end up visiting Cancun during the rainy season, you and the kids might be looking for something other to do than just the sand and the sea.
Plaza Las Americas is one of the best plan B spots, as this Cancun mall has plenty of different shops and activities to keep the entire family entertained for hours! If you need a good spot for your kids to blow off steam, look no further.
---
One of the best ways to dive into the deep and rich history of Mexico is by visiting one of the country's many ruins. The El Rey ruins possess some pretty incredible Mayan secrets.
The beauty of the El Rey Ruins is that they are within the Cancun hotel zone, so there is no need to make the long trek out to Tulum or Chichen Itza. Check out some tour options here.
---
Selvatica is a one-of-a-kind outdoor adventure for kids eight and older. You and your kids can enjoy Polaris ATV rides, zip-lining, and an onsite cenote! It's the perfect activity for active families to enjoy. Plus, there is no better way to enjoy Cancun than with a sense of adventure. Check out their different experience packages here!
---
Hop aboard a catamaran to take a tour from Cancun to Isla Mujeres. You can enjoy a fabulous lunch while listening to music and taking in views of the surrounding water. We recommend booking a trip that includes a stop to snorkel at the Mesoamerican Reef, otherwise known as the second-largest barrier reef in the world!
---
Dolphin Beach, or Playa Delfines, is one of the best beaches in the region. Whether you are looking to spot some dolphins, take in some sun, kick the fútbol around, or go snorkeling, Dolphin Beach is a wonderful thing to do with the kids in Cancun! It has gentle waves for small children too, and there are lifeguards who patrol the area.
---
Xenses Park is an awesome activity for kids who love science. Here you can find nature activities, water sports, cultural events, and a wide variety of special activities for children.
The best part of Xenses Park is the physically impossible part with backward-flowing water, upside-down streets, and tiny doors! Get your tickets here.
---
16. Discover Xel-Ha Park
Another incredible natural wonder near Playa del Carmen is Xel-Ha Park. This eco-park offers various activities for the entire family.
Let your kids snorkel with tropical fish, float along the lazy river on inflatable tubes, or venture into cenotes, natural sinkholes filled with crystal-clear water. The park also features children's playgrounds, a kid's world, and a dolphin encounter program.
---
The Overall: Things to do in Cancun with Kids
While many people like to think of Cancun as one of the party capitals of Mexico, it is easy to find tons of activities that are kid-friendly as well. We hope that this list has helped you to better plan your stay in Cancun. Have fun!
With miles of crystal blue water, there are plenty of fun activities to enjoy with the family. Between the boat tours, historic Mayan ruins, plenty of live entertainment, delicious Mexican food and beautiful beaches there is so much to see and do! It is the perfect destination for your next family vacation!
---
Map of Things to Do in Cancun with Kids
---
Frequently Asked Questions about Things to do in Cancun with Kids
What can you do with kids in Cancun?
Captain Hook Pirate Dinner Cruise
Ride ATVs
Dolphin Discovery
All Ritmo Water Park
Interactive Aquarium
Parque Las Palapas
Croco Cun Zoo
Xcaret
Isla Mujeres
Ventura Park
What are the best all-inclusive family resorts in Cancun?
Club Med Cancun
Hard Rock Hotel Cancun
Moon Palace-Cancun
Iberostar Cancun
Paradisus Cancun
Panama Jacks Resorts Cancun
Royal Solaris Cancun
The Westin Lagunamar Ocean Resort
Omni Cancun
Hyatt Ziva Cancun
Best water sports to do with kids in Cancun?
Flyboard in Cancun 
Jungle Boat Tour 
Snorkeling in Cancun
Cancun Jet Ski Rentals
Cancun Scuba Diving
Cancun Jet Pack Tours
Cancun Swimming with Whale Sharks guided tour 
Paddleboarding in Cancun
---
If you enjoyed reading about Things to do in Cancun with Kids, You May Also Like:
8 Reasons We Fell in Love with Finest Resorts Playa Mujeres
20 [of Our Absolute Favorite] Winter Family Vacation Destinations!
[100 of the Best] Travel Hashtags to Grow Your Instagram
---
Pin-it for later: Things to do in Cancun with Kids