As many of you know, I absolutely love Norwegian Cruise Lines. As luck might have it I found my way onboard a wonderful 2 night sailing out of Los Angeles onboard the New Norwegian Bliss! After sailing on the Norwegian Epic, Joy and Norwegian Getaway, I was so excited to sail once more with Norwegian Cruise Lines.
Once I got onboard I made sure to take as many Norwegian Bliss photos as possible. You can see all the incredible aspects of the ship, let me tell you, the NCL Bliss does not disappoint.
---
Things You Did Not Know About the NCL Bliss + Norwegian Bliss Photos & More
The Norwegian Bliss cruise is an exceptional experience that offers something for everyone. This magnificent ship has it all – from luxurious accommodations to exciting activities and delicious dining options.
---
1. Larger Ship with Less Staterooms
One of the things I loved the most about the Norwegian Bliss, was that even though the ship is slightly larger than other ships in the Breakaway class, the main seating and dining areas were a lot less crowded.
This was an intentional move by Norwegian as they reduced the number of staterooms and increased the area of the public spaces.
I could not believe the difference this made onboard the Bliss as the pool decks and main decks hardly seemed crowded. The only time it seemed slightly crowded was exiting one of their Broadway shows, like the Jersey Boys and that was just for a few seconds.
On top of this, we really have to admit that the Norwegian Bliss cruise has some of the most comfortable and stylish cabins at sea. Guests can relax in a king size bed, enjoy stunning ocean views, and take advantage of room service whenever they want.
---
2. NCL Bliss has spaces exclusively with the Alaska Itinerary in mind.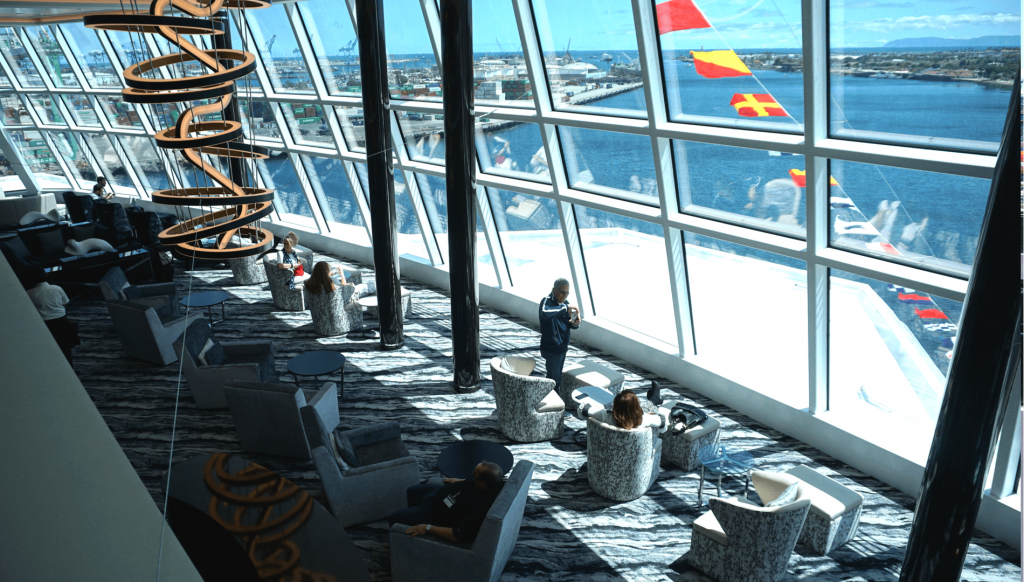 A large portion of the NCL Bliss itinerary is up in beautiful Alaska, with that being said, Norwegian Cruise Lines designed some exclusive areas just for the Alaska Experience.
On deck 15 is an inside observation lounge which has an incredible view of the front of the ship. Inside the observation lounge are light snacks and a bar to grab some cocktails while sailing through the glaciers.
This is one of the areas that used to have staterooms on some of the other Breakway ships but now is just another great area to enjoy the beauty of Alaska. If you are lucky enough to stay in the Haven Suites, there is another exclusive area for Haven guests to check out the beauty of Alaska.  
---
3. Enjoy chocolate from a $500,000 Chocolate Machine that is on display.
That is right, $500,000 is the cost of this chocolate maker and it is on display right in front of Norwegian Bliss Chocolate Shop, Coco's. In fact, all the chocolate onboard the Norwegian Bliss is made fresh right on the ship and it is quite delicious.
I highly recommend getting the milkshake from Coco's it is an Instagram worthy item, that tastes as good as it looks. It is massive so find a friend to share.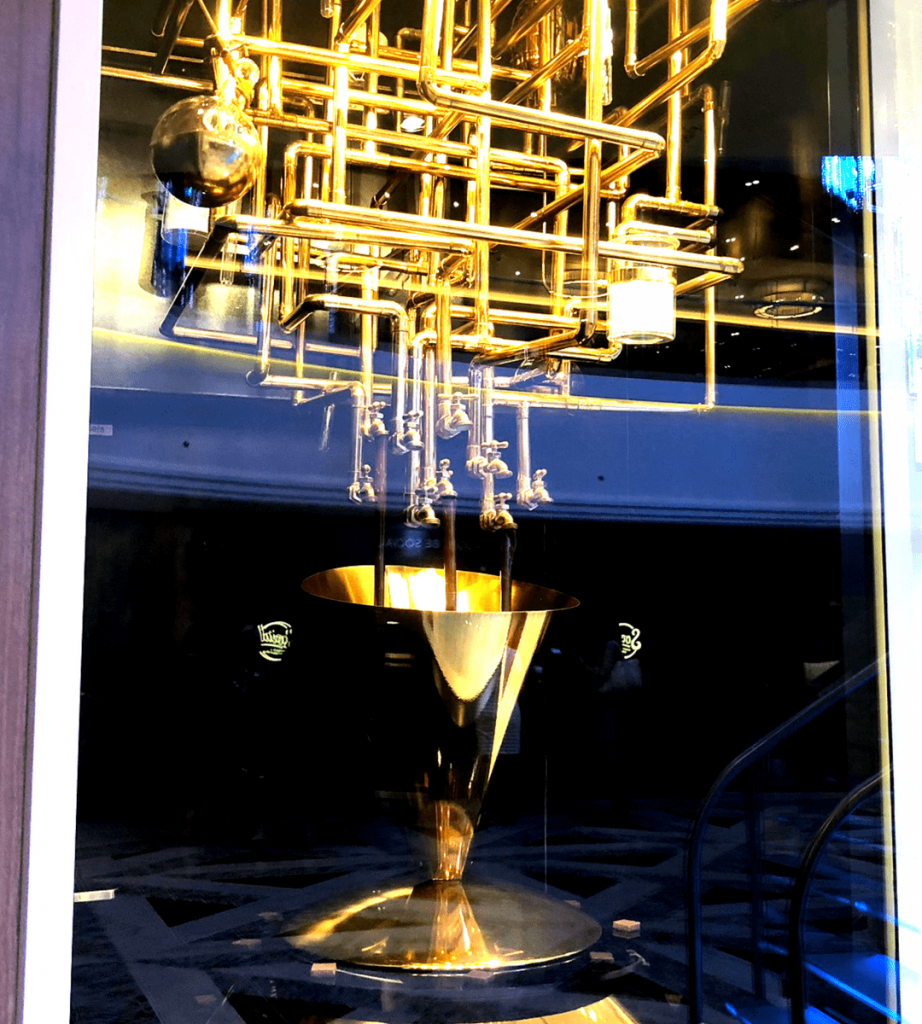 ---
4. There is a Mario Kart style "Boost" button on the only Race Track at Sea in North America
If you have looked up any facts about the Norwegian Bliss, the one thing you can't miss is their massive race track at sea. This was one of mine and especially my husband's favorite things to do. It is the largest race track at sea (the only other race track at sea is on the Norwegian Joy sailing out of Asia).
Once you buckle up for the race you will love speeding around tight corners on this two level go kart track. My favorite part of the race was once every lap you can press a boost button to give you an extra boost to help you speed around opponents on the track.
**Pro Tip** – Make reservations for the go-kart track when you first get onboard the ship as it does book up quickly. I recommend going at least twice.
---
5. Some lucky guests get to enjoy a pool with a retractable roof for when it gets frigid outside.
If you are staying in the Haven Suites, you get access to your own private pool exclusively for Haven guest. That pool comes with a clear retractable roof on the NCL Bliss so when the temperature drops (and it definitely can in Alaska even in the summer) you can still enjoy some pool time.
This is such a great bonus to be able to enjoy the pool even while cruising through glaciers!
---
6. Yeah, most ships have steam rooms, but this ship has a Snow Room!
I love a spa, my husband, not so much. However, when we toured the Thermal Suite onboard the Norwegian Bliss, he was ready to buy a pass immediately. Inside you will find your classic saunas and spas, but where the Bliss takes it to the next level, is all their other incredible rooms.
A salt therapy room, a snow room, which inside has real snow, heated loungers with a view of the ocean and so much more. It was simply heaven.
Now, that being said, Norwegian knows this will be a popular amenity so we were told they sell only 120 passes where you can enjoy the Thermal Suite the whole cruise. So book Early!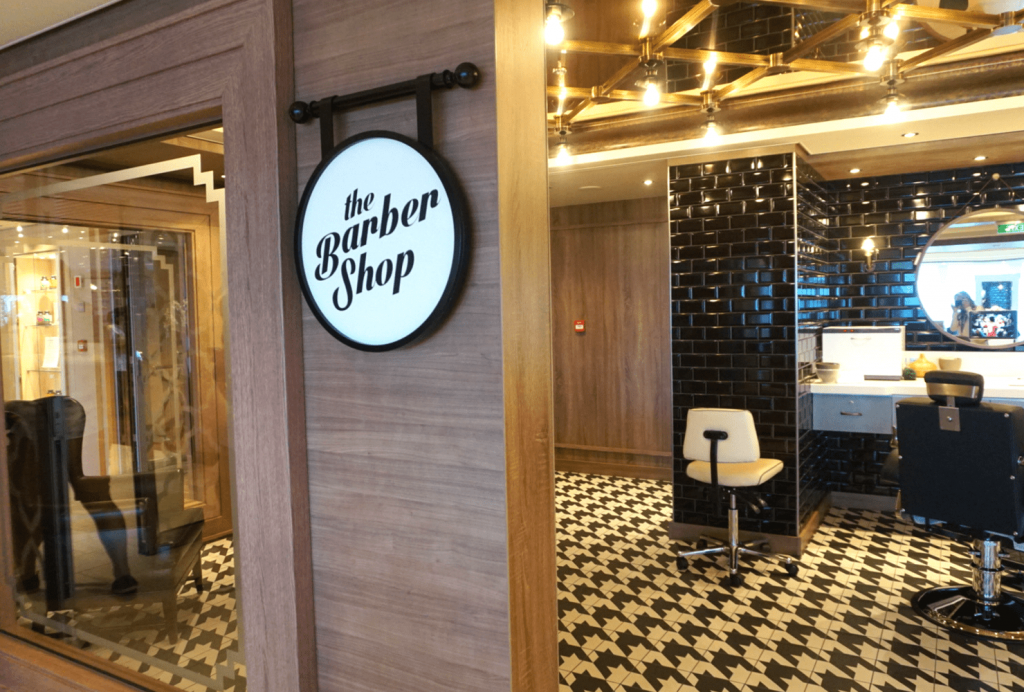 ---
7. Whatever you like to drink, there's a bar for it.
Whether you are a whiskey lover, beer lover, or even a mojito lover like myself, there is a bar for you. The Bliss has some of the most amazing bars of any ship I have been on.
Up by the pool deck is Jimmy Buffett's Margaritaville, where you can grab some amazing nachos and of course Margaritas. Down on Deck 8 is a Mojito Bar, The Maltings Whisky Bar, and my husband's favorite place the District Brewhouse.
Beer lover tip: The District Brewhouse has over 24 beers on tap and an additional 50 bottled and canned beer choices. No matter which bar you go to you will have plenty of drink options.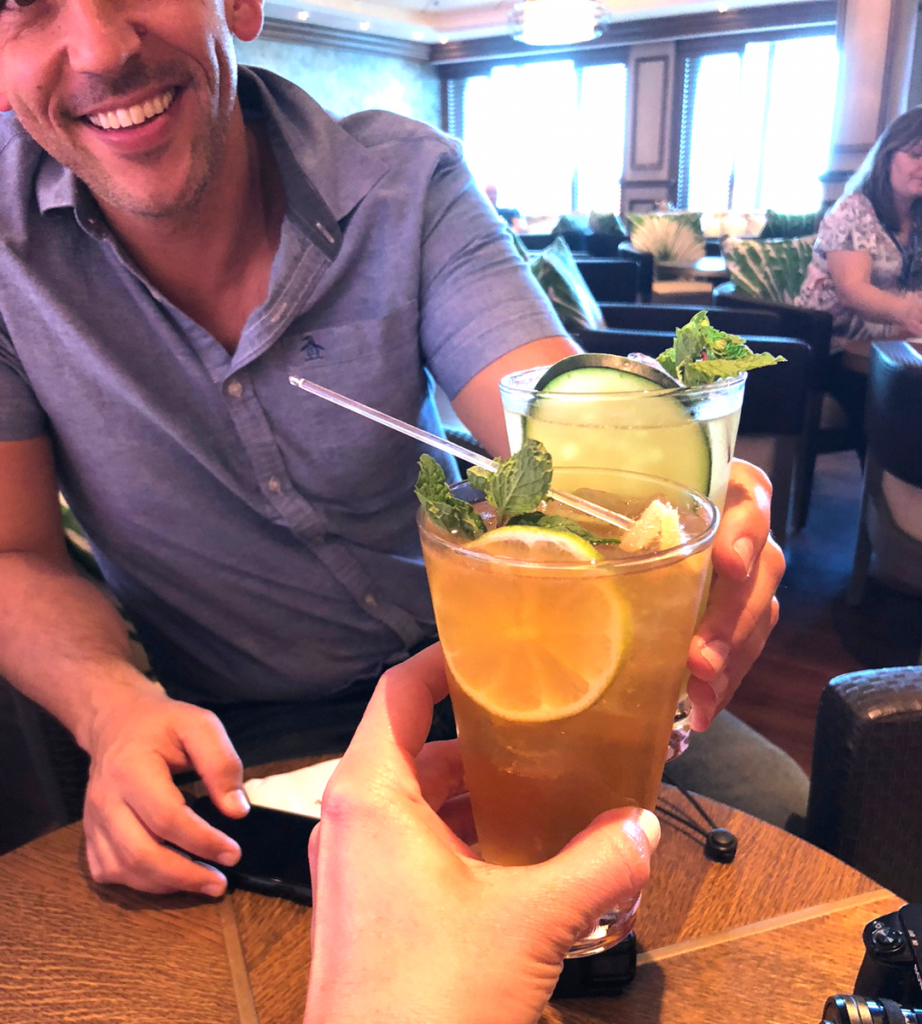 ---
8. There is some crazy attention to detail inside your staterooms
Inside your stateroom, the one thing any cruise goer knows is that space is an important thing. Inside the staterooms, the beds are raised to easily fit your luggage after unpacking. The closets are larger than most staterooms.
If you are staying in a mini suite, family stateroom or regular suite there is a double sink inside the restroom so that more than just one person can get ready. One of my favorite features was a USB plug by the night light on each side of the bed to charge your phone or any other device.
---
9. Laser Tag is fun for the whole family and little kids will love Hero Blast.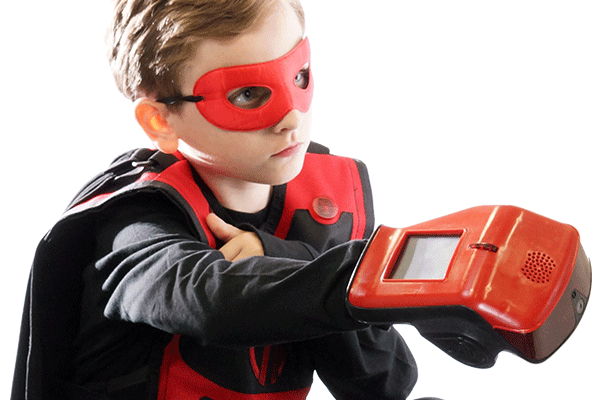 Having a wide range of kids in our family (from 1 year to 20 years old) you can't always get to do everything together as a family. The laser tag onboard the Bliss is so much fun for the whole family.
That is because not only do they have the traditional Laser Tag Guns with an amazing laser tag course, but they also have a Hero Blast glove for smaller kids so that they can act like a superhero and blast the other team by holing out their fist. This is one of those little details that make me love Norwegian Cruise Line!
---
10. Two loops on one slide and two people on the other slide with an amazing light show
The Norwegian Bliss has two waterslides onboard. One is a drop slide which the floor drops out and you sail through two loops over the water as the slide extends beyond the borders of the ship.
The second slide is not your normal tube slide on a raft. Instead, two people can ride (you have to be less than a combined 300 lbs) down the raft and inside is an amazing array of light tunnels that make the ride so much more fun than if it was just dark inside. This one was my favorite, my hubby loved the drop slide.
---
11. Large Families can stay in the Haven Suites for cheaper than regular staterooms.
That's right, a family can possibly stay in the Haven Suite for less than the price of traditional rooms. If you are a family of 6, in many of the off seasons you can actually book a 2 bedroom Family Villa with butler service and everything for less than the price of two balcony staterooms.
Plus, when you book the Haven suites you get all 5 of the Free at Sea options. That's Free Wifi, Free Upgraded Dining, Free Beverage Package, & Shore Excursion Credits. One more bonus thing is an incredible tub overlooking the ocean.
---
12. There is a hidden set of Hot Tubs that barely anyone uses
Onboard a cruise ship, everyone needs a little hot tub time. Unfortunately, those hot tubs can get filled up pretty quickly. Onboard the Bliss if you head to Deck 19 and walk past the laser tag entrance there is a nice set of two hot tubs just sitting there.
It is located near the Haven suites, so I believe people think it is for the Haven. I asked and it is not and it was empty the whole time we were onboard. Enjoy!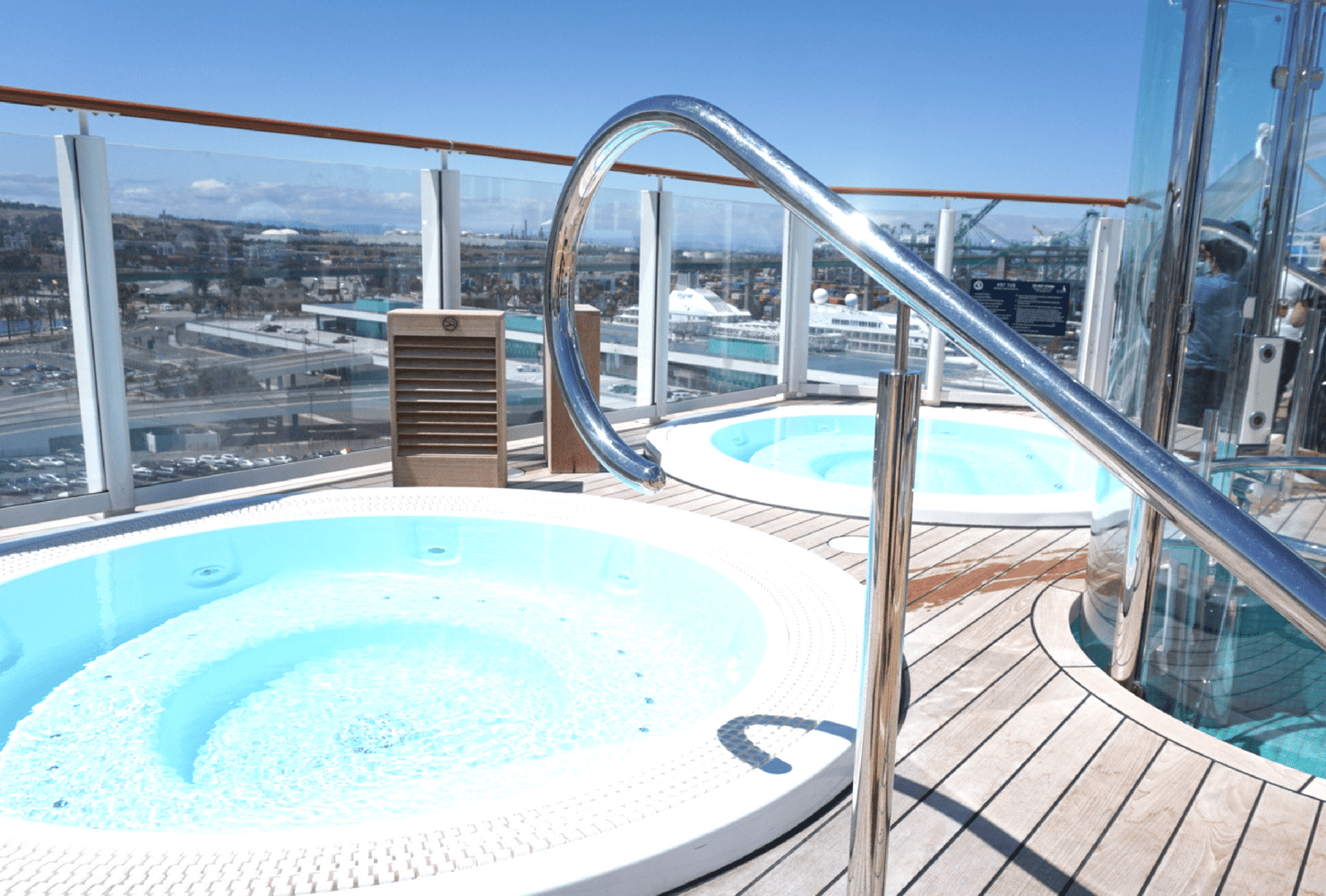 Overall, the Norwegian Bliss, was my favorite of the Norwegian Cruise Ships. Everything was done beautifully and their attention to detail is amazing. If you  have any questions about this ship comment below and I will be happy to answer.
---
**Bonus** – The NCL Bliss has a sister ship that will be sailing in Alaska too!
The NCL Bliss has a sister ship that is very similar, called Norwegian Joy. The Joy was sailing in Asia for one year but is heading to the west coast in May and will begin sailing to Alaska.
Onboard they have the amazing race track, laser tag and more. Plus, the featured show was announced and for those of you who love the 80's you'll be sure to enjoy Footloose the Musical.
---
If you enjoyed reading about the this cruise and Norwegian Bliss Photos, You Might Also Enjoy:
5 Things Families will Love about the Norwegian Getaway
A look at the 15 Incredible Norwegian Bliss Restaurants + Amazing Treats!
The Ultimate Guide to the Best Cruise Lines Sailing Today!
---
Frequently Asked Questions about the Norwegian Bliss
Is Norwegian Bliss the biggest cruise ship?
No, the Norwegian Bliss is not the biggest cruise ship in the world. At the time of its launch in 2018, it was one of the largest ships in Norwegian Cruise Line's fleet, with a passenger capacity of approximately 4,000.
However, since then, larger ships have been introduced, such as Royal Caribbean's Symphony of the Seas, which is currently the world's largest cruise ship with a passenger capacity of over 6,500.
When was Norwegian Bliss refurbished?
What other activities and attractions can you do on the Norwegian Bliss?
The Cavern Club
The Garden Cafe
The Splash Academy
Enjoy the Restaurants Ocean Blue
---
Pin for Later: 12 Incredible Things You Did NOT KNOW about the Norwegian Bliss Photos
*We were hosted on a 2 Night Inaugural sailing by Norwegian Cruise Line. All my opinions are my own, and you know I like to speak my mind.