Over the past 18 years of traveling with kids, we have visited some incredible places in our lives. From castles in Ireland to suites in Hawaii to top of the line resorts, so when we traveled to the Maldives we thought we had a good idea of what to expect when it comes to luxury family travel. Well, when we arrived at Soneva Fushi, within a few hours if not minutes we realized we are in for something for more incredible. It is one of those experience where you keep saying to yourself, I can't believe this is real. Then you look back at pictures and are still are saying, I can't believe this is real. In our Soneva Fushi review we will go over, how to get there, accommodations, food, activities, service and what makes us believe that Soneva Fushi is by far the #1 family resort in the world.
Pre-Arrival
One of the things that should have set me off to how amazing Soneva Fushi is the pre-arrival forms Soneva Fushi has you fill out before your arrival. There you will fill out what kind of pillows you prefer, the snacks you would like in your room, the scents you would like to have in your room (we went with lemongrass and it was wonderful), the scentof your bath salts.
They will also ask food preferences for your trip, the kind of ice cream flavors you enjoy, the style of food you enjoy. All of these things magically appear on arrival, for instance the mango ice cream with chili was in the ice cream room.
Lastly, you can ask for special things for your room, perhaps pool toys and beach toys for the kids, a crib, pretty much anything you can think of. This attention to detail should have let me know we were in for a one of a kind experience.
Getting to Soneva Fushi
Coming from the United States, getting to the Maldives is no easy task, but once you see the crystal blue water surrounding hundreds of tiny islands you realize it is worth it. The easiest route from Los Angeles was a non stop flight to Dubai (about 16 hours) and then a 4 hour flight to Malé. With the layover, expect around 25 -27 hours of travel time.
Arriving in Malé
Once you arrive in Male and go through customs your work is done. The Soneva Fushi staff takes care of everything else for you for the rest of your vacation. You will be greeted by a Soneva Fushi staff member who will take your bags and get them ready for your seaplane flight to the island (yes, seaplane) The staff takes you in their company Tesla to their private lounge where you can enjoy drinks, a cool towel and relax before your seaplane flight.
Seaplane to Soneva Fushi
The seaplane to Soneva Fushi takes about 30 minutes. You will board one of Soneva Fushi's private seaplanes or one of the many operated in Malé. On the way to the island we had the standard seaplane and on the was back we had Soneva Fushi's private plane. Soneva's private plane is a bit nicer as the seats are wider and the plane is a little quieter. We heard that seaplanes are quite bumpy but both our flights were as smooth as can be.
Arriving at Soneva Fushi
Once you land you are taken on a very short boat ride (5 minutes) to the island. While on the boat, the staff will take your shoes and bag them up. This is because the resort encourages people to enjoy their vacation barefoot. This is a goal of the resort to create a relaxed experience for all guest.
Once we arrived we were immediately greeted and taken to our villa. Since we arrived during the pandemic, we were given a PCR test and were quarantined in our villa for about 6 hours til they got the results. This is all done so that no masks are needed throughout the vacation. During that time we ordered room service and explored our massive villa.
Accomodations – The Villas
As you walk into your Soneva Fushi villa, you will love the fresh scents of your villa as it is hand picked by you in your pre-arrival checklist. There are two main types of villas at Soneva Fushi. There are island villas which range from 2 bedroom all the way up to a 10 bedroom villa. In addition to the island villas there are also overwater villas which might just be 1 and 2 bedroom villas, but are nonetheless massive in size and can reach up to 9,100 sq feet.. We were lucky enough to stay in both an island villa and an over water villa so our Soneva Fushi review will cover both in detail.
Island Villas
The first part of our visit was in an island villa. Our villa was the 2 bedroom Crusoe villa with pool. As you approach the villa we were in awe of the massive plantation style doors that soared 2 stories high. There were several doors which when you opened gave you the perfect balance of bringing the outside in.
The villa is a little over 4400 square feet and located right along the ocean with breathtaking views. I love the island villas because it brings a mixture of the jungle and the ocean together quite perfectly.
Outdoor Spaces
One of the things I loved about the villas is they have so many outdoor luxurious spaces. We found ourselves spending most of our time at the villa relaxing and playing in the ourdoor spaces.
Outdoor Dining and Seated Areas
There are several dining areas both on the lower deck and on the upper deck where you can enjoy room service and take in the amazing views Soneva Fushi has to offer.
---
Outdoor Baths and Showers
There are several outdoor bathrooms and showers in Soneva Fushi. The Master bedroom goes off into a beautiful outdoor bathroom escape. You will find a rock path to the bath tub set on a gourgeous pond with a waterfall coming down.
Inside the Villas
Inside the villas you will find plenty of space for a large family. Our family of 7 fit quite nicely inside it. You also will notice the villa will have the scent requested in a pre arrival form. The minibar area has numerous glass bottles filled with water for you to enjoy, plus all the snacks and beverages you marked as favorites when you filled out your pre arrival form.
Technology
While it might not seem like there is TV when you first enter the villa, it is conveniently hidden away and can be easily accessed. The resort also has Apple TV and you can use the resorts Netflix account to watch shows and movies. In addition, each villa has wifi.
Indoor Gym
Our villa also had an indoor gym which was incredibly nice. There is also a larger gym on the island you can access with a full array of equipment.
A Review of the Over Water Retreats (Villas)
The second half of our trip was spent in a 2-bedroom overwater villa. I truly enjoyed the island villa for the 2 nights we were there, so I wasn't sure if I made the right decision by spending the next 4 in an over water villa. Let me just say this, the overwater villa was the most incredible place we have ever stayed. The one thing I love about Soneva Fushi is for how luxurious everything is, it also has a very relaxed and natural feel, the same goes for these over water villas.
Inside the Over Water Villas
Inside the villas is pure magic. The space is huge. When you walk into the villa you are greeted by sweeping ocean views with floor to ceiling windows that go across the villa. The villa itself has several underwater viewing areas where you can see the crystal blue Maldives water and numerous fish below.
Master Bedroom & Bathroom
The master bedroom and bathroom are unbelievable. One of the highlights is the retractable roof which can be opened with a push of the button. It is simply stunning, especially at night where you can view the numerous stars.
The master bath has both an indoor and outdoor shower area, plus a private swimming area in the ocean. There were so many things I loved about this space. I loved the sponge bed which you could just lay on to soak up all the water from your swim. The mirrors in the room were set out so you can look out at the amazing view. It literally is perfect.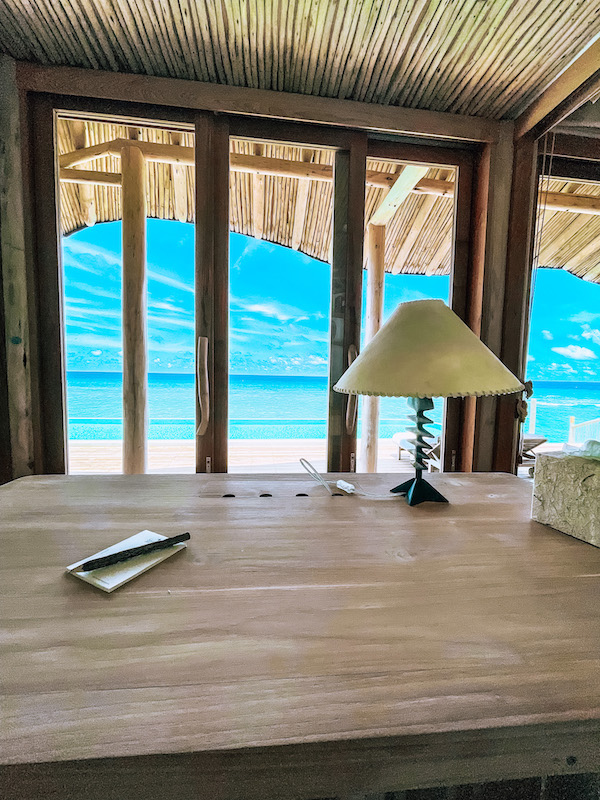 The incredible Pool area of Soneva Fushi Overwater villas.
The highlight of the overwater villas is the massive deck and pool area. When you walk outside you will be in awe of the massive infinity edge pool that looks out to the ocean. (Note – The pool in the overwater villas is freshwater as opposed to the island villas which use saltwater).
---
Of course our kids highlight was the slide which takes you right into the beautiful ocean below. With a push of a button the slide is activated and you will be taken down a fun adventure.
Outdoor Seating/Lounge
There are several deck chairs in both the sun and the shade to relax and take in the perfect day. We often found ourselves just rotating between the many lounging areas. There is a net which hangs over the water, a beautiful sunken area where we often enjoyed breakfast, and there is always a spot in the shade, which is perfect for those hot Maldivian days.
Technology if you want it
Once again, While it might not seem like there is TV when you first enter the villa, they are conveniently hidden away so only used if needed. There is a TV hidden in the trunk of the master bedroom and a drop down screen in the living room area. The villa also has a wifi button so you can turn on and turn off wifi at your leisure, this is great when you have kids that need to be off their phones.
Soneva Fushi Service
I think we can all agree that service is sometimes the thing that can take a vacation to the next level. The service at Soneva Fushi was so amazing I would say in a typical review that it was the highlight of our trip. However, everything about this place was equally amazing.
Barefoot Butler
Upon arrival at Soneva Fushi you will have a Barefoot Butler who will be your go to for everything you need while on vacation. There are only two numbers you will need to call for anything you need while on the island. The first is for room service and for everything else you hit the button for your barefoot butler. Our barefoot butler was Micky and he was outstanding.
The barefoot butler is there for everything you need on the island. They will set up dinner reservations, excursions, pick you up from any destination and take you wherever you need to go. In addition, they know your itinerary better than you, so we often found Micky reminding us of the days events so that we didn't miss out on anything.
The barefoot butlers go beyond that, they will anticipate your needs. Micky noticed we loved the water activities so he helped set us up for an amazing Manta ray excursion. He and our head waiter also set up a one of a kind dinner for us that was incredible…. which leads me to the next person you will be in contact with, the head waiter.
Head Waiter
You will also have a head waiter who will be with you for most of your meals. Your head waiter is also exceptional and anticipating your needs. Our waiter Inthi was exceptional. The level of service is beyond comprehension. One night our kids were still a little hungry after dinner (how, I do not know?) The next day our waiter came up to us and asked if everything was ok with last nights meal because he heard we ordered room service. It's this level of detail that just amazed me.
Like I said earlier our waiter and barefoot butler set up on their own a one of a kind experience where we "Dined in the Dark" I will go into details on that a little later in the Soneva Fushi review.
The rest of the amazing Soneva Service Staff
You will find that the rest of the Soneva staff is just as amazing as your barefoot butler and waiter. What you will find is that everyone truly wants to make your stay magical. To give you an example, I asked the bartender one day to surprise him with a drink. The bartender created this amazing concoction that was simply incredible. I asked what was the drink called, and he said, I don't have a name for it, I made it for you. He then went into the details of making the drink and it was simply mind blowing.
You will notice even the room service staff goes above and beyond. They set the table for you for your meal, ask what time would you like the food cleaned up so it does not stay long after you dine. This kind of service goes on throughout your stay.
Dining at Soneva Fushi
When you stay at Soneva Fushi you have the option of adding an All Inclusive package to your dining. All the rooms include daily breakfast at Mihiree Mithaa a lovely restaurant on the beach. You can also add half board which will add dinner to your package or full board which includes breakfast lunch and dinner. Each of these options include room service as well but the signature restaurants are an additional charge (if you purchase on the packages you receive a credit towards the additional cost of a signature restaurant)
Normally all inclusive has me a bit skeptical, but this was one of the best dining experiences in my life.
Mihiree Mithaa
Unless ordering room service you will find yourself at Mihiree Mithaa for breakfast. Here you will find yourself in an immersive buffet with what seems like an endless amount of rooms all filled with delicious treats. Some of the stations include
Omelette Station
Crepe Station
Bakery
Fresh Fruits & Juices –
Specialty Cuisine (My favorite was the Dosa, so delicious)
Health Elixirs
Meats & Cheeses
Chocolate Room
Ice Cream Station (bythe way you will notice your choices on your pre filled form will be in the ice cream station)
Dinner at Mihiree Mithaa
Mihiree Mithaa also serves dinner on certain nights. We enjoyed two dinners there with one being a special cocktail night where before dinner we were taken to the islands sandbar for cocktails and appetizers while taking in an amazing sunset. Then followed with a beautiful beachside dining experience with a massive buffet.
Out of the Blue
Out of the blue is one of the more beautiful Oceanview restaurants I have been to in my life. This restaurant is included with the half board and full board package so we found ourselves having lunch here quite often and a couple of dinners. It is the perfect spot to capture the beautiful Maldives sunsets.
There are so many incredible dishes we all tried something new everyday. My personal favorite was the Indonesian rice (Nasi Goreng) and the cod. However, not a single one of us, ever had a dish we did not absolutely love.
Out of the Blue also has a separate area to lounge an enjoy the sun, you can even take their water slide right into the ocean. It's a great place to enjoy the day.
Specialty Restaurants & Dining Experiences
In addition the traditional restaurants Soneva Fushi has an array of specialty restaurants and dining experiences.
Shades of Green
Shades of the Green is the vegan restaurant on the island. You start off your dinner walking through the garden in which your dinner will be served from. There your host will explain some of the items you will be eating and give you samples of different delicious bites along the way.
After that you will enjoy a 7 course meal all made with different plants and vegetables. The food was pretty amazing. Note of caution, this was the one place where our kids were hungry after because (well they are kids) and stopped eating the vegetables after a while.
Fresh in the Garden
Fresh in the Garden is the one restaurant we did not get to try. This place serves mediterranean food high up in the jungle. I walked around early one moring and took photos. The place looks incredible.
Dine in the Dark
Dine in the Dark was the specialty meal experience our butler and waiter planned for us. This was a one of a kind experience. You are taken by your barefoot butler blindfolded (yes, blindfolded) to a secret location where you will try three different appetizers, two different entrees, and two different dessert all blindsfolded. Using only your other 4 senses you will pick which item you like the best.
Once your decision has been made you can remove the blindfold to see your secret location (I won't post pictures of that to not ruin your experience) Then you will be served the dishes of your choosing.
Unlimited Ice Cream & Chocolate
In addition to the traditional restaurants you can enjoy So Cool, the island's Ice cream shop and So Guilty the island's chocolate spot, where you can enjoy homemade ice cream and chocolate. We hit this up quite a bit. The Chocolate shop is filled with amazing chocolates and sculptures made out of chocolate. I highly recommend the salted caramel, best I have ever had.
There are so many more dining experiences the island has to offer. You can check them all out here.
The Den – (Kids Club)
Soneva Fushi is not the ultimate family destination because of just the wonderful rooms, food, activities, there is also the most incredible kids club you will find and it is included with your stay. The den is Asia's largest kids club (well, until Soneva Jani completes their kids club)
Our daughter Olivia wanted to go every day and honestly never wanted to be picked up. The counselors do so many activities that this is literally a kids paradise. Inside the kids club you will find several different rooms and area.
There is a massive lego room to create the ultimate Lego figure, a dress up room, a game room, a music room, a pirate ship and of course a pool with slide.
In addition to the massive kids club, the kids are also taken on excursions of their own. They have snorkeling with a marine biologist, dolphin cruise, kayaking, or a trip to the sandbank.
Soneva Fushi Activites
There are a ton of Soneva Fushi activites for the family to enjoy on the island. You definitely could enjoy Soneva Fushi without having to do any of the paid activities, but those are so incredible you probably will want to check them out.
Complimentary Activities
Complimentary Bicycles
Each room is given bikes to help you get around the island. Soneva Fushi even has adorable tricycles with a basket in the back to take your little ones around. My 18 year old son, would take his little sister every morning to kids club with the tricycle. You can also rent out tandem and three-person bikes. We tried those out and were not very good at it.
Snorkel equipment
You will be equipped with snorkel equipment by the dive ship at the beginning of your stay. You can head out from your villa for some pretty amazing snorkeling. Our favorite spot was just left of the jetty by Mihiree Mithaa. The coral reef was amazing, you felt like you were in a scene from Finding Nemo with all of the fish.
Not Motorized Activities
There are also several non motorized water activites you can do and they are all worth checking out. You can paddleboard (they even have a clear one), paddle in a clear kayak, windsurf or kitesurf.
Eco Tour
Normally I am not one to enjoy a learning tour while on vacation, my wife on the other hand soaks these tours up. However that being said the Eco-tour at Soneva Fushi was amazing. All of us including the kids were in awe of how incredible the resort was at sustainability. Only 10% of waste is taken off the island.
You will notice the commitment to sustainability is something everyone who works at Soneva Fushi believes in and they truly try to live a sustainable life. It was so impressive, we already saw a change in our behavior and kids behavior when we returned home towards making conscious efforts to take care of our planet.
Sandbank Cocktail Party
Once a week the staff at Soneva host a cocktail party on the island's sandbank. You are taken on a quick 5 minute boat ride to the sand bank, where cocktails and appetizers are served. This is a great time to take in the beauty of the island. We enjoyed what might have been the most beautiful sunset we have ever seen on this night.
Paid Excursions
Like I said earlier, there are a ton of amazing complimentary activities you can do that could take up your entire vacation, but there are also some incredible paid excursions. We will go over all the ones we experienced as there are quite a lot.
Dolphin Cruise
I have been on a lot of dolphin cruises in my time, and to be quite honest, I wasn't looking forward to this one. Typically they are crowded and you are on an uncomfortable boat, not at Soneva. We were guided to the top deck where the entire floor is padded cushions. There we relaxed while cocktails and appetizers were served.
Once we got to the dolphins, the cruise got even better. The dolphins were jumping and spinning out of the water. On our way back we enjoyed an incredible sunset and then dinner at Mihiree Mithaa
Manta Rays at Hanifaru Bay
About a 30 minute boat ride from Soneva Fushi is Hanifaru Bay. From June – August is Manta Ray season where you can see tens to hundreds of giant manta rays swimming and eating plankton. This was definitely a highlight of our trip. The mantas are the sweets creatures and stunning to see. Several swam just under us. We were taken out by a couple of the staff including the island's marine biologist.
One of the things I love about Soneva is the attention to detail. On the way back, they had fresh water for the everyone, delicious fruit to snack on and some cool towels to refresh you after your time snorkeling. This is a can't miss experience.
Snorkeling with Sea Turtles
We actually did not do the snorkeling with sea turtles as we opted for manta rays, but from what I heard there are tons of sea turtles to check out on the trip and if you are a little prone to getting seasick this boat trip is just 10 minutes away, so it is a little easier to manage.
You can check out all of Soneva's unique experiences here:
Paid Water Activities
E-Surf
If you enjoy surfing than E-surf is super fun. My oldest checked out and you go flying across the smooth crystal blue water with just a push of the button. It only took a few minutes for him to get the hang of it and it was definitely worth renting.
Sea-Bob
The Sea-Bob helps you dive underwater to check out the sea life below. We took it right to the coral shelf and it was incredible. This is perfect for anyone who knows how to snorkel but wants to dive down a bit and get a better look. Plus, it is just a ton of fun.
Fun Sofa
Honestly, I don't know what the proper name of this is called, so I just call it the fun sofa. You and two of your closest friends and family get pulled by a boat on an inflatable sofa for a ridiculous fun ride. My two boys and I were laughing hysterically the entire time. Be prepared to fall off as sometimes that is the only option.
Soneva Fushi Pricing
Soneva Fushi is definitely one of the more luxurious vacations you will ever be on and it definitely is more expensive than your typical vacation. Pricing starts around $1200 per night for Island Villas and around $2300 per night for an overwater villa. The pricing includes the barefoot butler, breakfast, complimentary activities and typically they offer an incentive of a credit around $250 per day. Honestly, this place is worth every penny, so if you have the means to get to Soneva Fushi, please go. It is a one of a kind experience.
Overall Soneva Fushi Experience
Honestly, I cant get over how wonderful was our time at Soneva Fushi. I keep going back through the article trying to make sure I conveyed how incredible this place is. I loved how this wasn't just a beach vacation, there was also the incredible jungle that you can explore and is beautiful in its own right. Every guest I spoke with talked about how this is their favorite place in the world, and for good reason. I think the only downside to visiting Soneva Fushi, is once you go, all other vacations will pale in comparison. Soneva Fushi should easily be at the top of any families bucket list destinations. Check them out at Soneva.com
If you have questions about Soneva Fushi, feel free to leave them in the comments below?
Pin for Later: The Ultimate Resort for Families – Soneva Fushi Review
Latest posts by Michael Mamian
(see all)