If there is one destination we have had a lot of experience with kids and travel, it would be Wailea, Maui. We have many reasons to return to Maui so often (1) My hubby's father resides in Kihei (2) my husband and I were married in Lahaina and (3) it's Maui- you don't need a reason. It's amazing!!! When you are looking for a hotel, Wailea has some of the best. However, the one with incredible grounds, amazing slides for the kids, and the world's only water elevator is our absolute favorite. The Grand Wailea. In fact, we have been to this resort over 10 times in the past 15 years. You can say we are addicted.
The Grand Wailea – Amazing Water Slides + World's Only Water Elevator
We have stayed at several great resorts over the years. But, our absolute favorite is The Grand Wailea- a Waldorf Astoria Resort. 

What we LOVE
*image courtesy of Grand Wailea
POOL & BEACH
I mean what could be better than a pool area that is 2,000-feet-long, 770,000-gallons of water and consists of nine pools on six different levels connected by waterslides? Get to the bottom and the world's first WATER ELEVATOR will take you back to the top. YUP! It's pretty great.
*image courtesy of Hotel Wailea
There is also a separate larger body slide for kids over 48″ who are a little more daring. And, grown ups that want to escape the chaos of the kids can relax at the Hibiscus (adult only) pool. Babies love hanging out at the sand bottom beach area that meets the pool at the lower level. And, kids of all ages will love to warm up in the hot tubs located under a waterfall hidden in caves. My daughter thinks she is Ariel every time she swims under the falls and into the cave.
*image courtesy of Hotel Wailea
Another feature I love about the pool is the swim up cave bar. It's just SO cool and one of the bartenders has been there every single year.
They have cabanas and casabellas for rent which were fantastic for when we had a bunch of babies. The added shade was super great to have. And, not having to scope out pool seats in the wee hours of the am was another added perk. But, the price points have increased and the kids are older now so we usually go without these days.
Water Slides
As I said before connecting all of the 9 pools are 7 different water slides that your family will love. Five of the water slides are for everyone (no height requirement) and two are 48″ above. These slides will take you from one pool to another and are an absolute blast. My kids favorite is what they call the rapids slide which is a super wide slide that the whole family can go down together on. Also, Grand Wailea just introduced their new Lava tube slide (Dec 2017), it is a fast slide that will take you all the way from the top of the pools racing down to the bottom. (48″ height requirement or lava tube slide) If you never want to leave the water, simply take the water elevator from the bottom of the bools to the top, and start sliding again. Your kids can spend the entire day doing this, trust me, my kids have for many years.
HOTEL GROUNDS
Ummm. stunning! I love the massive open air feel of this resort. It is an open air layout where luxurious beauty meets the lush tropical outdoor landscapes.
*image courtesy of Grand Wailea
ROOMS
Grand Wailea had their "Grand Refresh" through the fall (2016). The room renovations which are almost fully completed include all new furniture, artwork, 55″ HD LCD flat screen tvs, upgraded internet and usb plugs near the desk & nightstands.
We stayed in a renovated room last fall and I enjoyed the nice clean design. Although, one thing I was not a fan of was the new carpeting. Previously the rooms we had stayed in had gorgeous Spanish tile. Not sure why they would have made the switch?

We have stayed in many different rooms and suites at the Grand Wailea. Our favorite is definitely the Napua Club Rooms which are located in the exclusive Napua Tower, a private hotel within the resort. These gorgeous rooms have fantastic ocean views and you enjoy special services such as: a dedicated concierge, daily continental breakfast and access to two private lounges.
DINING
Dining at the Grand Wailea is amazing… and expensive! Which is why as much as we love the food, we tend to eat outside of the resort… especially for dinners. The resort does offer several accommodation packages that include breakfast and we book those whenever we can. The Napua Tower continental breakfast is always done very well. Then last time our room included a full buffet breakfast at The Grand Dining Room and it was even better!! Stunning ocean views and an amazing and delicious assortment of hot and cold breakfast entrees, pastries, & more.
Besides yummy breakfasts the pool area munchies at the Volcano Bar & Grill are also pretty tasty. The kids love to share a big plate of nachos and sometimes we splurge and let them get treats. Their go to is the cookies and cream smoothie.

On one special occasion we treated ourselves to the popular Humuhumunukunukuapua'a. Ya… that's a mouthful. Gotta love the Hawaiian language. It's the name of their state fish.  (I have practiced on numerous occasion and still its a tongue twister to say- ha!!)  Here you dine in a Polynesian thatched roof restaurant that floats over a million-gallon saltwater lagoon filled with tropical fish. The restaurant has gorgeous ocean views. The sunset from here is incredible!!! And, the entire experience is upscale and amazing. This was what I ate:
Appetizer-
Surfing Goat Cheese and Watermelon–
Prosciutto Crackling, Red Wine & Rose Gastrique, Edible Blossoms 
Entree-
Hawaiian Monchong Fragrant Rice Cake–
Tomato & Coconut Emulsion, Pea Shoots, Anise, Hearts of Palm

Dessert-
Humu Pie-
Layers of Lappert's Macadamia Nut and Kona Coffee Ice Cream on an Oreo Cookie Crust, Drizzled with Kahlua Chocolate Sauce and Macadamia Nut Crunch, topped with a Chocolate Tiki
Jealous much? It was SOOOOOO good!!!! They have a tank where you can pick your own lobster too if you are into that. I feel like its kinda cruel. So, I haven't tried it but people say their lobster is outstanding. While the do serve a keiki menu (kids menu) and keiki under 5 eat free I think this restaurant is best enjoyed sans the munchkins.
There is also the Bistro Molokini which is a more casual lunch/ dinner restaurant, Cafe Kula for quick bites and Lappert's Ice Cream. Although, you have to check their hours bc Cafe Kula closes early and we've had some sad kids when we showed up for dessert and it was closed. Thankfully, the actual Lapperts shop is within walking distance and open late!
Incredible Luau
Located right here on the beautiful grounds of the Grand Wailea is the Gran Luau at Honua' ula (check out my review of the the top 5 Maui Luaus Here) Take a journey to ancient Hawaii during this wonderful Maui Luau!! It takes you back to the time when the seafaring Polynesians discovered Hawaii! It touches on the voyages of La'amaikahiki and Moikeha who first came to Maui.
The Grand Luau talks about the gods and goddesses that watched over the people and how they were able to live together in harmony. You'll learn about Pele the goddess of fire, Lilinoe the goddess of the mist, Kananaka the mermaid of Maui, and Naulu the goddess of the clouds!
All the stories together will create an exciting culture rich evening full of traditional chants, food, and hula to bring you and your family the history of Maui! While definitely one of the more expensive luaus, the grounds incredible food make it a worthy experience. Check Current Prices Here!
FAMILY FRIENDLY RATING- 4.5/5
Grand Wailea is at the top of our list for hotel Wailea  We have enjoyed ourselves time after time at this resort. Great pools and activities, excellent location, wonderful beach, great kids menus, they work great around food allergies and are very accommodating to families traveling with munchkins in tow- provide baby cribs, extra blankets etc… They 1/2 point missing is because 1) it's very expensive to stay here and 2) I feel like their pool staff could be a bit more friendly (they could learn a thing or two from Aulani's pool staff).
Pro Tips for Your Stay at The Grand Wailea
Stake out your pool chairs EARLY (like 7am). We love the top pool location as it gets the most sun. If you get there early you can spread out on the chairs under the umbrellas for free!
Buy the plastic refillable pineapple or  tiki mug from the Grotto or Volcano Bar on your first day. Use it to refill and share the smoothies and drinks… it holds about two regular drinks so its a great value if you purchase early.
Head to Monkeypod for happy hour. It's a delicious restaurant by Merriman's about a block up the street on the main highway near the hotel.
Booking with breakfast included takes so much stress out of the morning routine when you are traveling with little ones. I highly recommend it!!
Wailea Beach is located right in front of the resort, the staff will happily help you set up some chairs for the day.
Take a walk along the ocean in the morning and pick up a coffee at the little stand- Hawaiian Paradise
There is a Starbucks located in the lobby at the resort next door
If you can afford to book in the Napua Tower, the breakfast, tea and happy hour are fantastic!!!
Make sure to eat lots of Lappert's ice cream. Our fav is to walk along the ocean after dinner to the Wailea Mall and grab a scoop. The perfect way to end a great night.
There is a stand on property beachside where you can rent boogie boards, surfboard and paddle boards. they have great multi-day rates.
Can't afford to stay at the Wailea? You can still use their beach. All beaches in Hawaii are public!
The Grand Wailea- a Waldorf Astoria Resort
Check Prices Here!
3850 Wailea Alanui Dr.
Wailea, HI 96753
Phone: (800) 888-6100
What amenities do you look for in a resort?
What's your favorite resort that you've stayed at?
Here are some of my favorite moments during our stays at The Grand Wailea:
Just chilling at the Top Pool- our fav spot!
The kids love the beach- just watch out for the bees. We always see a lot here.
Work out early at the fitness center and you may run into someone famous. I saw Shane Victorino professional Baseball Player.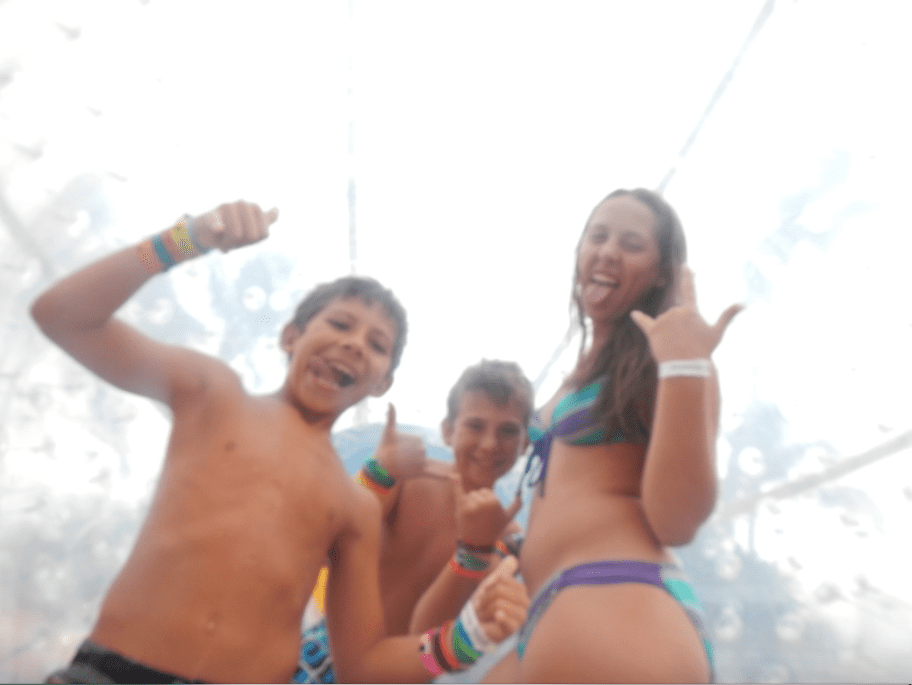 The FishPipe has a big price tag but the kids absolutely LOVED it!
Ahhhh… they are SOOOO little. This is the lobby. There is a mermaid statue behind them and we always buy a roll of pennies when we check in and the kids take turns trying to get the penny to land in her shell 😉
Swimming through the rapids on the way to the nest pool and slide.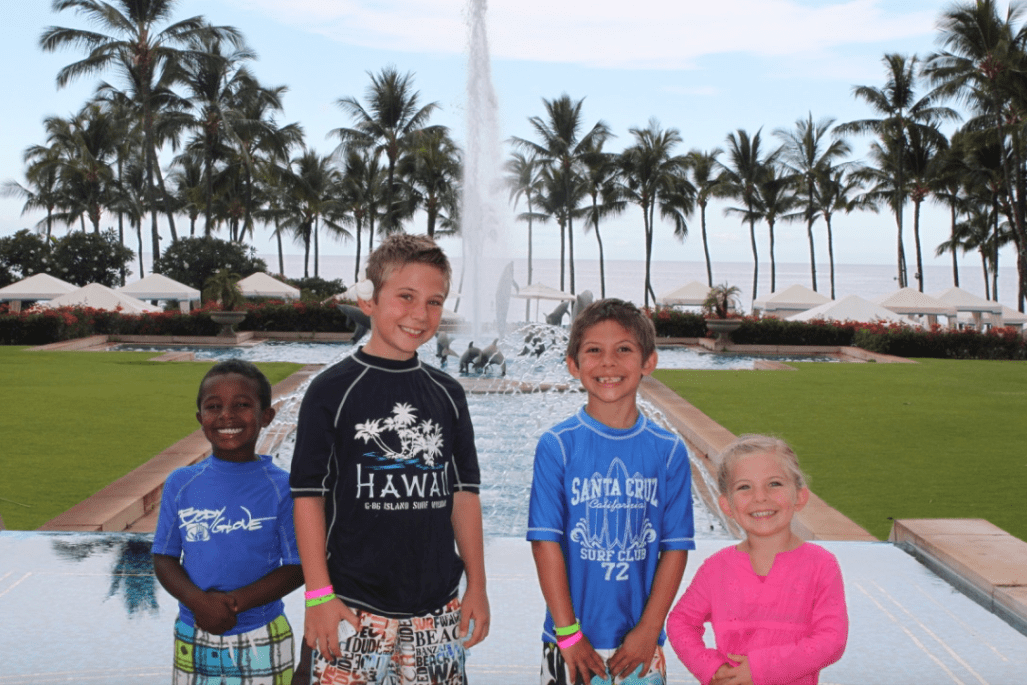 How lovely is this fountain overlooking the ocean? If you don't stay at this resort you must at least go grab a cocktail and walk the hotel grounds. Such an amazing place.