If you have followed our stories on Instagram throughout the years, you know that one of my favorite vacations we have had as a family was the Maldives. You can read all about our experience and vacation here.
Another resort, that we have been wanting to experience is the Summer Island Maldives!
Formally known as the Summer Island Village, open since 1993, had a significant restoration before resuming in March 2015 with a modern makeover. It has new amenities and has been baptized to a new name: Summer Island Maldives.
---
The Summer Island Maldives Restoration
A new infinity pool, an expanded deck off the main bar, a row of reasonably priced garden rooms, contemporary style in the rooms and villas (including gorgeous black limestone from India), and small touches in the washrooms are all results of the upgrades.
The details begin during the speedboat trip if you decide to travel from Male when free water bottles and cold towels are distributed to passengers.
---
Location
You are able to get to the Summer Island Maldives with an air taxi, which is amazing because you are able to enjoy the most gorgeous view of the island.
You then have a second opportunity to see this island nation's splendor and beauty from above via seaplane.
The Summer Island is situated on Ziyaaraiy Fushi in the North Male atoll. The resort is just a 45-minute speedboat* ride or a short 15-minute seaplane ride away from Male International Airport! Visitors can take advantage of the tranquil islands convenient to the Male airport.
*Pro Tip: When you are taking the speedboat, keep an eye out for dolphins!
---
Rooms
There are 156 rooms and villas totalling six categories at Summer Island Maldives, plus one suite.
All rooms have sitting areas, modern, clean and simple wood furniture, coffee and tea-making amenities like kettles, other kitchen equipment, and outdoor bathrooms, except Superior Vista rooms.
The Garden Accommodations are the smallest rooms. However, they offer the best value even though you will give up a coastline or beach view if you choose them.
All the expected features are included. Although the Superior Bungalows, the next level up, offer beach views. Therefore, you won't have immediate beach access until you reach the Superior Beach Rooms. These accommodations are smaller than the Premium Beach Villas and are arranged in four blocks.
The inclusion of the Nespresso machine to the list of extra hotel facilities, along with a specialized changing area, jacuzzi tub, and stocked minibar, is an additional benefit of the Premium Beach Villas.
Due to their overwater placement, Water Villas offer all this but lack outdoor restrooms; each has a glass peek-a-boo cutout on the floor for simple undersea views. Which is absolutely amazing to experience!
---
Dining
Samuga Buffet
The hotel decides the times and places you'll eat. The most popular place to dine is at the Samuga buffet restaurant, which is a huge outdoor dining location! This laid-back beach and poolside restaurant offer live cooking stations, a sizable dessert table, and an extensive central buffet with foreign cuisine.
A considerably more intimate and constrained dining area is available to guests in the Water Villas and Premium Beach Villas.
This buffet has a wall exposed to the ocean and is situated close to the AVI cocktail club. Although the buffet selection is smaller and largely identical to the Samuga restaurant, non-Water Villa and non-Premium Beach Villa guests are welcome to eat here for an additional cost.
Dining Options
You have two options at Summer Island Maldives: full-board or all-inclusive. Your basic breakfast, lunch, and supper at your chosen restaurant are included in the full board, along with soft drinks in your room.
Your drinks and a few more are included in the all-inclusive package upgrades. Along with afternoon tea snacks, all alcoholic beverages from wells and daily snorkeling excursions are included. Regardless of your plan, premium liquor and wine cost extra.
Other Dining Locations
The swanky overwater cocktail club and the laid-back beachside Nevi bar with live casino and live entertainment are just two of the two bars on Summer Island Maldives.
The upmarket overwater cocktail bar AVI cocktail lounge, next to the Water Villas, has a relaxed atmosphere. Here, you'll find fine delicious cocktails and spirits (at an additional cost) and gorgeous and nearly 360-degree views of the ocean.
During peak times, AVI transforms into an a la carte restaurant, giving visitors an additional choice at an additional expense.
---
The Beach
In addition to having a blue lagoon surrounding it and being blanketed in beautiful white powder, this beach is also home to brilliant green beach plants.
Summer Island lacks a natural house reef, unlike many other Maldivian islands. Instead, a man-made reef surrounding the island appears to be effective at luring fish.
The resort offers four daily tours to surrounding reefs if you'd prefer to snorkel there. Read about snorkeling experiences in the Maldives here.
---
Sunset Fishing
Summer Island Maldives as part of one of their activities also offer sunset fishing at their resort!
I've heard that this resort offers the best sunset fishing experience in Maldives, and I can't wait to see it for myself!
If you are looking for a day fishing experience they resort also offers fishing during the day. Learn more about it here.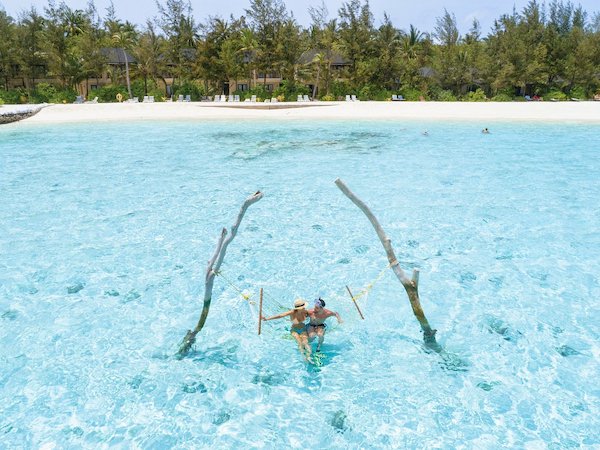 ---
Sailboat at Sundown
Are you looking for a relaxing and romantic experience? You might want to try their Sundown Sailboat experience where you are able to take a ride on a classic sailboat and enjoy the stunning sunset as day turns into night.
Witness the breathtaking transformation of the world as it explodes with vibrant colors while indulging in bubbly and canapes. Allow the wind to guide you to wherever it may lead you on this magical journey. Learn more here.
---
Overall
If you are looking for a once-in-a-lifetime experience, than planning a vacation to the Summer Island Maldives might be perfect for you!
---
Pin-it for later: All You Need to Know about the Gorgeous Summer Island Maldives and 5 Reasons Why You Should Visit
---
Frequently Asked Questions about Summer Island Maldives
How do you get to Summer Island Maldives?
You can travel to the resort by speedboat. 42.4 kilometers is the distance that separates the Summer Island Maldives Resort from Male International Airport. Summer Island is about a 50-minute speedboat ride from Male, the nation's capital.
Is there free wifi in Summer Island Maldives?
Yes, Summer Island Maldives has free wifi.
Can a wedding ceremony be held at Summer Island Maldives?
You can anticipate receiving your wedding certificate at the vow-renewal celebration, along with a traditional, adorned ceremony done in the Maldivian style. To bless the union, you will have the honor of a unique wedding cake and a bridal bouquet made by the resort itself is also handed to the couples. If there is a wedding reception, champagne is involved!  
---
If you enjoyed our article about Summer Island Maldives, you might also like:
THE [7 MOST AMAZING] 5 STAR HOTELS IN THE MALDIVES
INCREDIBLE SNORKELING IN MALDIVES: EVERYTHING YOU NEED TO KNOW
THE BEST TOP 18 SUMMER VACATION IDEAS
---
Latest posts by Ashland Hendrix
(see all)