Recently we traveled to Oklahoma City for my son's 13th Birthday as he is a big Oklahoma City Thunder fan (much to the chagrin of my Laker loving husband).
We only had 3 days in this great little city so we wanted to make the most of it. What we found is that OKC has a ton of things to do for kids, in fact, we found 23 fun things to do in OKC with kids in just 3 days!
---
The Best Things to do in OKC with Kids
We love traveling to the midwest and Oklahoma City didn't disappoint. The friendliness of the people, the delicious food, and so many incredible activities makes us love traveling through the midwest.
Whether it was our trips to Knoxville & Chattanooga, or Omaha, or wherever we hit up, it has always been an amazing time. We broke down our list of things to do in OKC with kids below and added some additional ones for you as well!
---
16) Enjoy the Hurricane Harbor Water Park
Our family loves water parks and Hurricane Harbor consistently has some of the most fun waterparks throughout the United States. The slides are intense, especially the Mega Weggie, which will most likely give you a well, you know.
---
15) Visit the Parks of the Botanical Gardens (FREE)
In the middle of the city is a massive park that is over 15 acres where kids can play, enjoy some splash pads and roam around. It's a similar feel to central park in new york, where although you are in the middle of Oklahoma City, you don't even notice it because of the magnificent park.
They even have concerts there on occasion with a nice little seating area to watch the performance
Pro Tip – Bring Fido along as this is an off' leash park
---
14) Head inside the Myriad Botanical Gardens
To continue our list of things to do in OKC with kids, let us introduce you to the Myriad Botanical Gardens. For $8 (children $5) you can head inside the Crystal Bridge Tropical Conservatory's Myriad Botanical Gardens. The highlight of the botanical gardens is the Crystal Bridge Conservatory.
Inside you will find thousands of plants, waterfalls birds and stunning views of a tropical forest. My favorite part is taking a walk across the crystal bridge and look down upon all the gardens.
---
13) Take in a Minor League Baseball Game at the Oklahoma City Dodgers
In the middle of Bricktown is a small but beautiful Chickasaw Bricktown Ballpark which hosts the Oklahoma City Dodgers. As loyal Dodger fans, we were excited to swing by this ballpark and take pictures with some iconic statues.
There are over 60 games played there throughout the year, and it is located right in the heart of town so it is super easy to get to.
---
12) Visit some cute (and ferocious) creatures at the Oklahoma City Zoo
Oklahoma's destination to connect people to the world's wildlife and wild places. A wonderful family experience that allows you to step into the wild. This zoo features 12 different animal exhibits, including an Oklahoma Trails Adventure! Here you will be able to enjoy eight acres of the state's natural wonder and beauty.
It features over 100 different species of animals that are native to Oklahoma and over 800 individual animals. Guests here may also view 11 distinct life zones that are unique to the Oklahoma state.
You can even take the boardwalk and explore the grassy terrain of Black Mesa, the hills of the Ozark Highlands, and even view their 25-foot replica of Turner Falls! You can also head on over to their Sanctuary Asia dedicated to the endangered animals of the Asian continent.
Here the animals can thrive while receiving world-class animal care and be admired by new audiences in new ways! It is a truly wonderful refugee for the animals to be protected from predators and habitat loss. Visit and you'll experience a world where people and wildlife thrive!
---
11) Ride some roller coasters at Frontier City
This 40-acre Wild West theme park opened in 1958, and is Oklahoma's largest theme park! It truly accommodates everyone in the family – from the kiddos to the adrenaline junkies!
The park has five thrill-seeking roller-coasters, a family friendly area featuring ten rides you can enjoy together as a family, and even has a kiddie area with eight fun-filled rides and two interactive play structures that your little ones will absolutely love!
During the summer cool on one of their four water slides and attractions! Frontier City also features the Free Summer Concert Series with well-known talent.
It is a great venue to enjoy Halloween with their annual FrightFest event featuring special shows and the largest and scariest haunted house in Oklahoma! There is always something for everyone at Frontier City!
---
10) Make a Splash at Whitewater Bay
In the summer there are even more things to do in OKC with kids. Unfortunately for us, we arrived in November so we could not enjoy such summer activities as Whitewater Bay water park.
Open from May-September Whitewater Bay has a giant wave-pool over 15 slides and a kids zone. The drop slide looks really intense
---
9) Do a Little Ice Skating during the Holidays
During the holiday season, you can enjoy some Outdoor Ice Skating on Devon Ice Rink located at Myriad Botanical Gardens. You can enjoy this ice rink 7 days a week from mid-November through late January.
They also have some special events like Rock n Skate and Learn to Curl, these events do sell out so order tickets early.
---
8) Take a boat tour through Bricktown on the Bricktown Water Taxi (FREE During the Holidays)
In the middle of downtown Oklahoma City you can hop aboard this 30-minute boat tour and enjoy a scenic boat ride through Bricktown.
This little tour was a lot of fun and you get to see some incredible sculptures of the Sooners (which I actually had no idea what a Sooner was before this boat ride) You also learn some history on how Oklahoma City was literally the city that was built in one day!
---
7) Enjoy a little Bowling & Dining at Hey Day
Over in Bricktown is Hey Day Bowling, Arcade & Dining. This is a great place to catch a game while having fun with the family Their bowling alley is filled with giant T.V. screens to enjoy while you get your bowling on. The best part is the waiter service to your lane.
You get to just kick back and enjoy bowling with your family and friends while food and drinks are served at your will. My husband really loved the bowling the most, but I think it is just because he won.
After you are done bowling you can head upstairs to the arcade for some pop a shot, skeeball and more. Hey Day is walking distance from the baseball park and Chesapeake arena so it is the perfect place to stop before a game.
---
6) Check out the Museum Hotel (FREE to view artwork)
We were lucky enough to stay at the museum hotel in Oklahoma City. When you enter this hotel it is not like any other hotel you have ever seen. The first floor is an Art Museum with a wide variety of modern art and sculptures that are rotated on a consistent basis so you never know what you are going to see.
My personal favorite was the giant arrows shooting out of the ground on the floor we were staying on. Also, we were lucky enough to see some NBA stars as it turned out the Clippers were staying in the same hotel as us.
---
5) Enjoy Delicious Food
It turns out Oklahoma City is a bit of a foodie town. All over Oklahoma City, you can find some pretty delicious cuisine, from Barbecue to farm to table, they really have it all. Our personal favorites were Waffle Champion, The Mule, & dessert over at Roxy's Ice Cream Social.
Waffle House has incredible waffle sandwiches, my son had the fried chicken waffle sandwich with tobasco honey. I loved my bacon egg and cheddar waffle with a little syrup on top. Over at the Mule, you can enjoy some delicious sandwiches including the Cortez which is served on jalapeno cornbread. YUMMMMMMY!
---
4) Tour OKC on Two Wheels
Spokies OKC bike share program is perfect for locals and visitors of downtown OKC to see the area without breaking the bank! They have seven conveniently located bike rental kiosks around downtown.
All you need is a credit card, comfortable shoes and you're ready to go! They offer free thirty-minutes rides and have flexible rental options with hourly, daily, or even monthly passes.
So the next time you are in OKC, grab a Spokies and see the city from a different perspective. Some popular sites to see via Spokies are Bricktown, and the Deep Deuce District!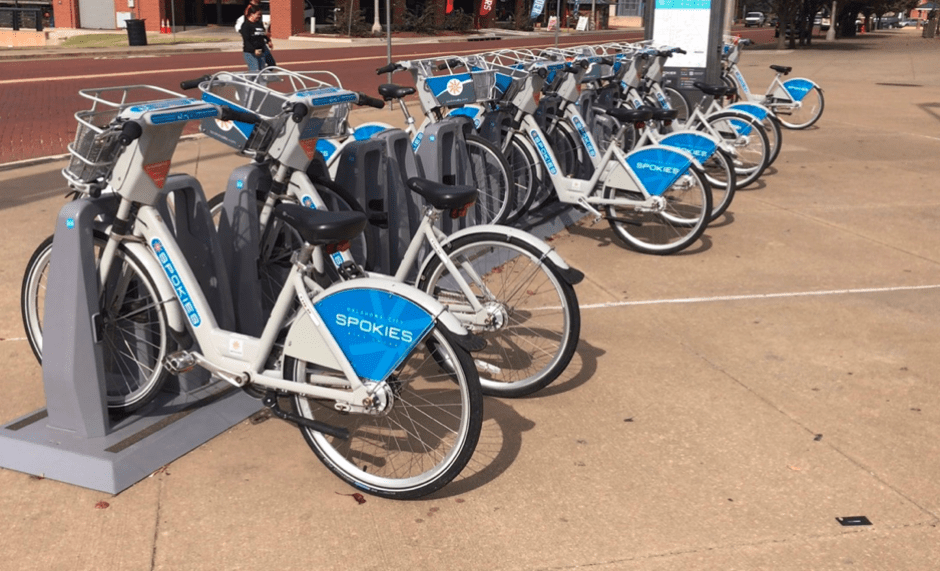 ---
A must see family destination in OKC! It holds more than eight acres of hands-on science experiences, with tons of space, aviation, and cultural artifacts for visitors to enjoy.
They offer eighteen different science exhibits and include a garden area that is made up of native and Oklahoma proven plants! Here guests can participate in lawn games which help educate about flowers, and other botanical facts.
It also serves as a great escape for guests who prefer a quieter environment with picnic tables and lawn spaces that are perfect for a quiet relaxing lunch or just as a peaceful getaway.
---
2) Hit up the Boathouse District
If you're looking for some outdoor fun in OKC look no further, the Boathouse District along the Oklahoma River is the hotspot for outdoor recreation in OKC. It is a must see OKC experience! Fun fact: it is the official U.S. Olympic and Paralympic training site for rowing and canoeing/kayaking and hosts numerous regattas throughout the year.
Some things that you can enjoy here include a Riversport Adventure Pass which allows you to sample all the activities offered at the Boathouse District (including canoeing, kayaking, stand-up paddleboarding, and so much more). Or you can try out the Riversport Rapids!
This state-of-the-art rafting and kayaking facility is geared for family fun and elite athletic training to cater to all that visit – no matter your athletic ability.
They also offer more than 13 miles of paved trails that are great for running, walking, or cycling, for those who would prefer to stay on land. For those thrill seekers out there they offer an 80-foot climbing structure called the Sandridge Sky Trail that has six levels of challenges that get harder the higher you climb!
It is one of the tallest adventure courses of its kind in the world! Once you reach the top, you can speed down the 72-foot Sky Slide or free fall from the Rumble Drop! They also offer a 700-foot zip line across the Oklahoma River and back, now that's a seriously fun thing to do in OKC!
---
1) Go to Chesapeake Arena and See the Oklahoma City Thunder
If you are a basketball fan like we are, you have to go and see the Oklahoma City Thunder if they are playing at the Chesapeake Energy Arena. It was absolutely one of the best things to do in OKC with kids. The arena has the feel of college arena where the crowd is so into the game.
As you head into the arena there are games to play and music to enjoy. Inside the concourse, there is some great food options (which I was very happy about since most arena food stinks) a special area just for kids where they can play basketball, hang out with the mascot and just have fun.
We grab our tickets for the Thunder from TickPick. They are by far my husband's favorite ticket reseller as they charge no service fees. Check ticket prices here!
---
Even more Fun Things to do in OKC with Kids
Now, you have to know that the above list is only a taste of some of the amazing things to do in OKC with Kids! We went ahead and included some additional ones for you below to check out!
---
This district offers delicious restaurants,  art galleries, studios, and creative services, encouraging the family to dive into different cultures without leaving OKC.
---
Take a Picture with Buffalo Bill
Over at the  National Cowboy & Western Heritage Museum you can take a picture with the iconic Buffalo Bill.
---
Enjoy Outdoor Activities at Lake Hefner
You can ride bikes, paddleboard, sail and more at this relaxing lake. Enjoy a bite at Red Rock Canyon Grill after a long day of activities.
---
Visit Osage Hills State Park
One of the more stunning things to do in OKC with kids is visit Osage Hills State Park. Want to see some incredible beauty. Check out Osage Hills State Park and get away from it all.
---
Discover Dinosaur Tracks at Kenton
Step back in time….. way back and discover dinosaur tracks preserved in sandstone.
---
This soda lovers dream has over 600 flavors (yes 600) of soda to choose from. Along with it, you can get a delicious bite to eat. 
---
Learn about Native American culture at the Red Earth Art Center
Oklahoma City has a rich Native American heritage, and the Red Earth Art Center is a great place for kids to learn about the art, culture, and traditions of Oklahoma's Native American tribes.
The center features a variety of exhibits, workshops, and events throughout the year.
---
Map of Things to Do in OKC with Kids
---
Things to do in OKC with Kids: Why You Should Go
From fun biking through the city, to delicious food options, museums, boat tours and of course plenty of sporting events, there are so many ways to enjoy Oklahoma City for the whole family!
The fun and excitement doesn't end there because you can't forget about bowling, ice skating, visiting the animals at the Oklahoma Zoo and all of the summer activities at Whitewater Bay!
---
Frequently Asked Questions about Things to do in OKC with Kids
What can I do in OKC with kids?
Oklahoma City Zoo
Leonardo's Children's Museum
Lake Murray State Park
Oklahoma Aquarium
Lake Eufaula
Lake Hefner
Safari Joe's H2O
Tiger Safari Inc.
Sam Noble Oklahoma Museum of Natural History
Oklahoma City National Memorial & Museum 
Oklahoma City Museum of Art
SKELETONS: Museum of Osteology
HeyDay Entertainment 
Science Museum Oklahoma
Bricktown Water Taxi
Blue Zoo Aquarium
Brickopolis
What can you do in OKC for free?
The Gaylord-Pickens Oklahoma Heritage Museum
Oklahoma Railway Museum
Oklahoma City Museum of Art
Martin Park Nature Center
Oklahoma City Zoo*
Route 66
Myriad Botanical Gardens
Tour the Oklahoma Governor's Mansion
Bricktown
45th Infantry Division Museum
---
Pin for Later – 23 Super Fun Things to do in OKC with Kids
Latest posts by Mama Munchkin
(see all)