While Asheville, NC draws raves reviews as a prime spot for romantic getaways, it also has a cornucopia of entertaining options for kids and families!  A bustling city nestled in the beautiful embrace of the Blue Ridge Mountains, there is no shortage of indoor and outdoor activities to enjoy. Just a few hours from Charlotte, spending a day or a few days in Asheville, is a great idea for your vacay. Whether it's a day of events downtown, or an adventure in the surrounding wilderness, fun is easy to find all around Asheville!  Here are some of the best things to do in Asheville with kids!
The Best Things to Do in Asheville with Kids
Why You Should Go
A well-maintained refuge for over 50 native wildlife species, the WNC Arboretum has been a favorite hotspot for children for years. Windy, wooded trails lead visitors through habitat exhibits featuring black bears, cougars, river otters, wolves, birds, salamanders, and other creatures that call the area home. Check their website for schedules of special events and workshops that allow children to learn about certain animals up close with WNC staff and volunteers!
Why You Should Go
While the 'za is equally yummy at both locations, the northside location of Asheville Pizza & Brewing Company (colloquially known as the 'Brew and View') has two additional components that has made it a kid's choice location for many years: $3 movies, and an enormous game room, with wall-to-wall arcade and table games. Recent, family-friendly films are shown twice a day, and patrons can order pizza and other menu items while they kick back to a fun flick, or to get their game on.
Why You Should Go
If you're looking to be outside and beat the heat a little closer to town, grab a swimsuit, towel, and head to Pack Square Park downtown. On summer's most scorching days, the children (and grown-ups!) of Asheville flock to Splasheville. Splasheville is an 'interactive splashpad', with sensors that send up small multiple geysers of refreshing water. Since undergoing recent renovations, the splashpad will feature new spray patterns, synchronized water jets, and multicolored lighting for the summer of 2022. Thus, it's safe to say that Splasheville will continue be one of Asheville's 'coolest' hotspots for kids to play in!
Why You Should Go
Whether your family is full of sports fans or not, going to an Asheville Tourists game at McCormick Field can be a merry way to spend an afternoon or evening. Stakes are low, but enthusiasm is always high! Multiple kids are offered chance to compete in various races between innings for prizes at each game. The Tourists have not just one, but two mascots- Teddy and Mr. Moon- who are always available to take pictures and sign merchandise for smaller fans. If you are there on the right weekend night, be sure to stick around after the game for a fireworks show!
Why You Should Go
There are numerous farmer's markets throughout the week and all over town to choose from! The area is full of small-scale organic farmers and local food production, but what kids may love most about strolling through the markets is the array of free samples. From tasty cheeses, to jams, to probiotic soda, there are lots of exciting flavors to explore, as well as friendly conversation with vendors! The North Asheville Tailgate Market hosts live music as well, and a trip to any farmer's market is sure to provide excellent people-watching.
Why You Should Go
There are literally thousands of waterfalls within an hour in any direction from Asheville! One of the most visited is Catawba Falls, which is only a 30-minute drive in nearby Old Fort, NC and a short hike to reach. Slightly further out is DuPont Forest, home to multiple cascades that you can spend an afternoon hiking to, including Triple Falls, Bridal Veil Falls, and Hooker Falls. Visiting waterfalls is the one of the truest ways to deepen any child's appreciation for the natural wonders of WNC! Weekends between spring and fall can be packed, so if you're able to venture out mid-week (or any time during winter), you can typically beat the crowds.
Why You Should Go
The Blue Ridge Parkway, a scenic highway which runs through the mountain range 469 miles from North Carolina to Virginia, boasts some of the most stunning views in the U.S. There are several access points within Asheville, so it would be practically absurd for a visiting family to skip a drive on the parkway! There are many hiking trailheads and viewing areas at which to pull off and take in the mountain air.
Sunsets, sunrises, meteor showers, and annual fall foliage are also reasons to cruise the parkway, although it is wise to expect more traffic for these occasions. Regardless of when you go, seeing the Blue Ridge Parkway is a sure way to create beautiful and positive memories for children and also one of our favorite things to do in Asheville with kids!
Why You Should Go
There is no bad time to get a scoop of something sweet at The Hop! The Hop ice cream shop has been an Asheville staple for over two decades, with locations now in north and west Asheville. Along with offering special events for kids each month, The Hop is known for a vast and changing array of unique ice cream flavors, along with the classics; kids may be amazed at how much they love a sample of the Heartbeet (yes, flavored with beets!), or find themselves hooked on Buchi sorbet, which is only one of several that uses ingredients from other local businesses.
Why You Should Go
Another great rainy day option for kids who have a little more energy to expend is the Mountain Play Lodge! The Mountain Play Lodge is a large, indoor jungle gym arena with room for climbing, sliding, jumping, and more. The interior is colorful and imaginative, with safe padding in case of falls. This is also a top-notch choice for groups and parties, with food options on site.
Why You Should Go
Although there are multiple different educational tours to choose from in Asheville, Hood Huggers is the only tour that centers on Black history. Founded by DeWayne Barton, a native of West Asheville, kids and families can opt for a walking or driving tour to discover oft overlooked pieces of Black Asheville's legacy, as well as about the Black community's powerful contributions to what the city has become today. In addition to learning from important perspectives that most tourists don't get, funds from these tours go toward Hood Huggers' community partnerships to support Black-owned creative and business endeavors, as well as urban farming.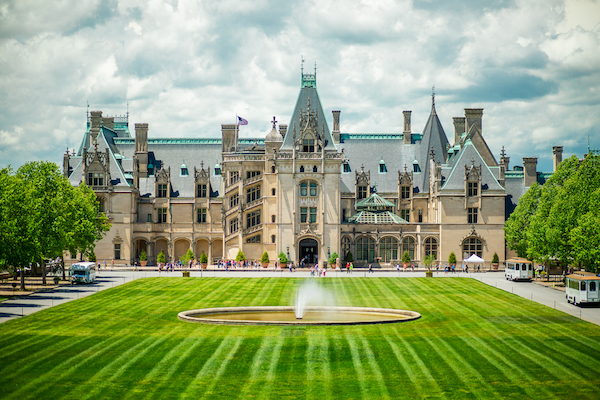 Why You Should Go
No visit to Asheville is quite complete without a trip to the iconic Biltmore Estate. The historic mansion is the largest privately owned home in the U.S., and continues to amaze visitors with exquisite interior tours, most notably at Christmas. Beyond the grounds is 8,000 beautiful acres where kids and families can roam many trails, admire its charming gardens, and stop by the barn and farmyard to meet Biltmore's farm animals; kids will be especially delighted in spring when the barn welcomes in baby goats, chicks, and more. The full Biltmore Estate experience is both educational and so highly engaging that families could spend an entire day here!
Why You Should Go
If you and the fam are seeking a relaxed vibe for your day without traveling far, the Asheville Pinball Museum downtown can keep everyone busy for quite some time. The $15 entry fee allows for unlimited access all day to a total of 70 different pinball machines and video games. This is a perfect rainy day spot for the whole family. Busier days may mean signing up for a waitlist, as the Pinball Museum does not take reservations; if the wait is too long, the Retrocade in West Asheville offers a similar smaller-scale option of classic arcade and pinball games (along with a café!)
Why You Should Go
With 434 acres of botanical gardens and hiking trails to explore, the NC Arboretum is another day-long family excursion. Between being able to see and learn about thousands of native plants in western North Carolina, the Arboretum's enchanting bonsai tree exhibit will wow children. Situated on the verge of the Bent Creek Experimental Forest, the Arboretum's hiking trails can lead into this area, and end a summer day for a swim at Lake Powhatan. Alternatively, the annual Winter Lights Celebration is a dazzling walk-through display of holiday lights throughout the trees that has been a favorite of kids for years (get your tickets early for this event, they never fail to sell out).
Why You Should Go
Every third Friday from April through September, Lexington Avenue is closed to traffic so that businesses and artists can come together for the Downtown After 5 celebrations. Each event hosts a different local band, with genres ranging from bluegrass to R&B, to funk and soul, to Latin fusion. Regardless, kids and parents alike will love dancing and grooving to high-energy beats, peeping at handcrafted goods for sale, while noshing on delicious treats provided by local food vendors. Parking can be limited and pricier on DTA5 evenings, so arriving with time to spare before 5pm may be advisable.
Why You Should Go
The LaZoom Comedy Tour bus can be spotted from some distance away for its purple color, flashy decorations, and perpetual grin on the front grill. The tours are known for their raucous energy, and the L'il Boogers Tour is specifically modified to be appropriate for children while remaining hilarious. The tour stops at various historic sites within the city, and employs a team of comedic actors to explain the background of each place. LaZoom is well-loved by locals and tourists alike, and tickets get snapped up quickly; definitely buy well in advance if you have specific dates in mind for you and your children to attend.
Map of Things to Do in Asheville with Kids
Frequently Asked Questions About Things to Do in Asheville with Kids
What food is Asheville known for?
Country Ham Biscuits or Filthy Animals at Biscuit Head
Spanish tapas and paella at Cúrate
Cantonese dumplings and sourdough manoushe at the RAD Farmers' Market
Farmhouse ales at the Funkatorium
Craft distilled Appalachian spirits at Eda Rhyne
When is the best time to visit Asheville?
For the best weather, visit from March to May or September to early November.
Is Asheville family-friendly?
Yes! It is a very popular destination for families, with so many fun things to do like the Biltmore Estate, a thriving food and arts scene, a Vanderbilt mansion with extensive grounds, and its kid-friendly local breweries!
If you enjoyed our list of things to do in Asheville with kids, you might also like:
15 FUN THINGS TO DO IN OCRACOKE ISLAND, NC THAT YOU'LL LOVE!
21 AWESOME THINGS TO DO IN FAYETTEVILLE, NC THAT YOU'LL LOVE!
15 EXCITING THINGS TO DO IN RALEIGH WITH KIDS!
Pin for Later: 16 of the Best Things to Do in Asheville with Kids!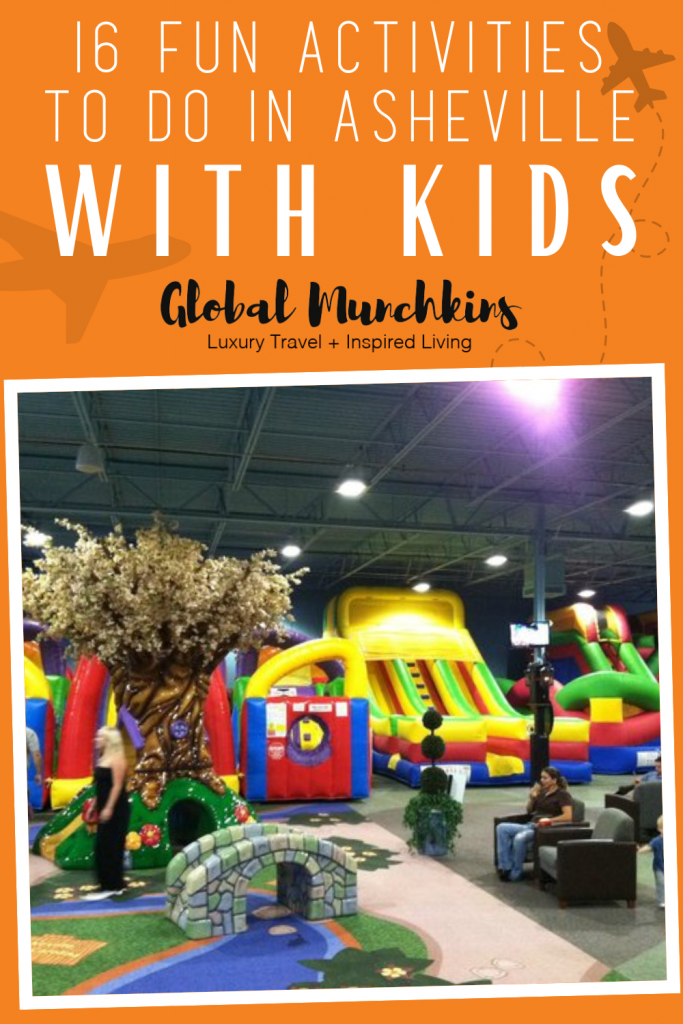 Latest posts by Michael Mamian
(see all)