While most people think of Charlotte, Asheville or Durham, however if you live in North Carolina you know Ocracoke Island is one of the best places to visit. Ocracoke Island is a long stretch of shoreline tucked into the Outer Banks of North Carolina. There are so many things to do in Ocracoke Island. This hidden gem is home to approximately eight hundred full-time residents and is a truly unique vacation spot for the whole family. The beach at Ocracoke is frequently listed as one of the best in the United States, and once you're there it's easy to see why.
Mingle with the native islanders who may still speak in the unique Ocracoke dialect, often referred to as "hoi toider." Stroll the quiet village streets, visit the local shops and restaurants that populate the island, and take advantage of the unique opportunities for fun and adventure at this beautiful destination. Here are fifteen things to do in Ocracoke Island, NC that the kids will love!
Ocracoke Island Ferry
Why You Should Go
Anyone who has visited Ocracoke will tell you the adventure begins before you even arrive! Ocracoke is only accessible by boat, and the North Carolina Ferry System is how most guests get to the island. Three ferries provide access to Ocracoke, each ride taking between one to two hours. Once the ferry is cruising, exit your vehicle and roam freely around the boat to catch the amazing scenery of the Pamlico Sound. The ferries feature restrooms and airconditioned lounges offering a spectacular view. Or, hang out with the seagulls who follow the boats across the sound!
Ocracoke Island National Seashore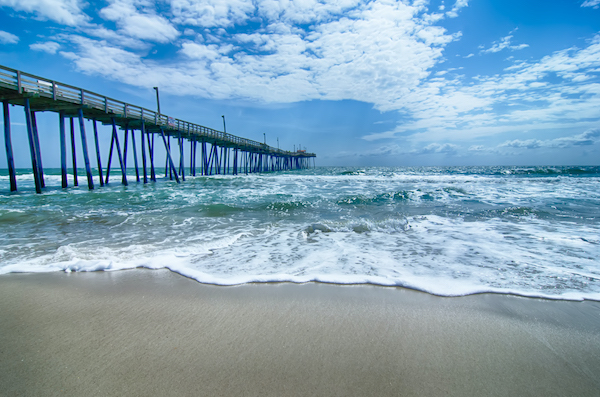 Why You Should Go
The beach at Ocracoke Island has often been called one of the best beaches in America. The island boasts sixteen miles of beautiful sandy beach. A portion of the beach has a lifeguard posted, so your little ones can swim in the ocean without worry. There is parking available, and showers and restrooms near the lifeguard station. You can even get an offroad permit or rent a four-wheel-drive vehicle and take it right onto the beach. With such a long stretch of sand, it's very easy to find a spot where you're all alone. Pets are allowed if they're on a leash. Body surfing, sandcastle building, lounging, and picnicking are popular beach activities!
Rent a bike or golf cart
Why You Should Go
The great thing about a small island like Ocracoke is the lack of vehicle traffic. Take advantage of the quaint village atmosphere by renting a bike and pedaling your way around. Although the island itself is over twenty miles from end to end, it's very easy to travel around the village on a bike. Multiple businesses have bikes available for rent. Or if you're feeling lazy, rent a golf cart and travel the island in style!
Ocracoke Island Harbor
Why You Should Go
The true hub of Ocracoke Island, the harbor on Silver Lake is a stretch of restaurants, quaint shops and galleries, and charter fishing businesses. Ocracoke is known for its wide range of unique shopping choices, from the typical tourist shops to antiques and original artwork. The Jolly Roger is an Ocracoke Island legend and has been serving fresh seafood, ice cream, and adult beverages for decades. It's located right on Silver Lake and has a private marina, so you can relax on the outdoor patio and watch the boats on the harbor!
Springer's Point Nature Reserve
Why You Should Go
Springers Point is the legendary stomping grounds of Edward Teach, better known as the infamous pirate Blackbeard. Today, it's 120 acres of protected landscape featuring the maritime forests, wetlands, and coastal areas that make up the environment. A small inlet known as Teach's Hole connects the Pamlico Sound to the Ocracoke Island Inlet. When Blackbeard frequented the island, this inlet was a prime spot for raiding passing cargo ships.
The famous pirate even perished here after a battle with the British Royal Navy. Springer's Point includes a walking trail, giving visitors a chance to see native flora and fauna, including the same ancient Live Oaks that were probably around when Blackbeard walked these grounds. There's a serene stretch of beach along the sound, making it a perfect spot for little ones to wade in the calm waters.
Ride the Wind Surf Shop
Why You Should Go
Ride the Wind offers visitors the chance to try something new and test their adventurous side. They offer kayak, surfboard, and paddleboard rentals for experienced guests. Both kids and adults can sign up for private or group surf lessons. You can also take a guided kayak tour. Starting at Silver Lake Harbor and circling through an enchanted marsh in Springer's Point Nature Reserve, a guided kayak tour provides the opportunity to see the island in a whole new way and enjoy some native wildlife! You can choose a tandem kayak for children too small to navigate their own.
Hammock Hills Nature Trail
Why You Should Go
The Hammock hills nature trail offers guests the chance to explore much of the native wildlife the island has to offer. The trail winds its way through the maritime forests and salt marshes in the heart of the island. There are informative signposts along your walk explaining the wildlife you might spot along the way.
Ocracoke is home to many endangered and indigenous birds, and this hike offers a chance to see them in their natural habitat while enjoying the breathtaking views of the salt marsh. Convenient wooden decks and viewing platforms offer the chance to walk right out over the marsh and get an up-close look at the birds who nest in the surrounding marshes and dunes.
Ocracoke Island Pony Pens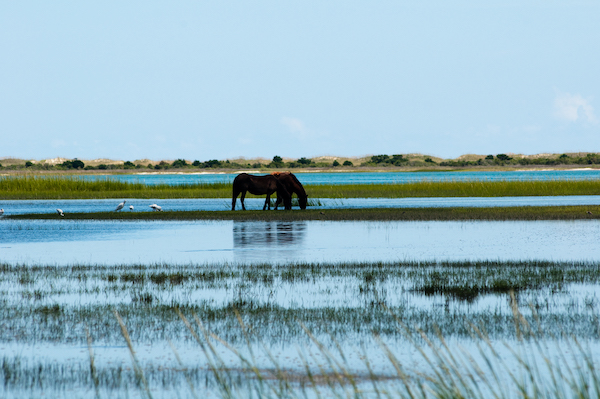 Why You Should Go
Ocracoke Island is home to a rare population of wild horses, known as the Ocracoke Banker Ponies. They are the direct descendants of a group of Spanish Mustangs who were probably shipwrecked on the island around four hundred years ago. And although they are still wild, they are penned in a very large area and cared for by the National Park Service. The name "pony" is a misnomer, as they are full-grown horses, but because they have one vertebra less than other breeds they look slightly smaller. Visitors can catch a glimpse of the ponies twenty-four hours a day but will have the most luck by visiting one of the feeding stations around mealtimes.
Ocracoke Island Ghost and History Walk
Why You Should Go
Take a walking tour and hear spooky stories told by descendants of actual pirates! This is a unique outing the little ones are sure to love. Two walking tours explore different sides of the island. Hear stories about pirates and ghosts, and pick up some history along the way. Each tour is approximately a mile and a half long and starts in the early evening to add to the eerie ambiance. Finish your walking tour with ghost stories around a bonfire right on the beach provided by Ocracoke Beach Fires, complete with smores! It's worth noting that you can also book a private beach bonfire.
Ocracoke Island History
Why You Should Go
Ocracoke Island is brimming with history, so spend some time exploring the amazing landmarks. Start at the Ocracoke Island Lighthouse, the oldest operating lighthouse in North Carolina, and the second oldest in the entire United States. Head towards the historic David Williams House, home to the Ocracoke Island Preservation Society and Museum.
Learn about David Williams, the first Chief of the U.S. Coast Guard stationed on the island, and tour this beautifully restored home built in the early 1900s. Stop by the British Cemetery, the resting place and memorial for British soldiers killed by German submarines during World War II. Visit The US Navy Beach Jumpers Memorial and the marker where historic Fort Ocracoke once stood. The kids will love Teach's Hole, a museum and gift shop dedicated to all things Blackbeard!
Deepwater Theater and Music Hall
Why You Should Go
Catch a show, enjoy live local music, and soak up some island culture at the Deepwater Theater and Music Hall. The theater is the operating headquarters of Ocracoke Alive, the local arts organization. Shows are held every week during the tourist season, from live theater to local performers and musicians. The theater also hosts special events, and if you're lucky you can catch a performance from the unofficial Ocracoke Island folk band, Molasses Creek.
Ocracoke Island Discovery Center
Why You Should Go
The Ocracoke Island Discovery Center is located by the ferry docks and is owned by the National Park Service. This is primarily a visitor center for guests arriving at the island, and is full of useful information, brochures, and maps to help you plan your visit. But they also have educational exhibits and a children's activity station. Plus, the Ocracoke Island Ranger station is an excellent resource for information about a host of ranger-led activities for kids.
Portsmouth Island
Why You Should Go
Sign up for a tour of historic Portsmouth Island, an abandoned settlement located a quick twenty-minute boat ride from the Ocracoke Harbor. Portsmouth was once a bustling trade port but was pretty much abandoned by the 1950s, with only a handful of residents remaining. The last residents left in 1971 and Portsmouth is now owned by the National Park Service.
Visitors can explore the ghost town, touring the handful of buildings and homes that are left and preserved to look just as they did way back when. There are thirteen miles of beautiful undeveloped beach, and the island is a popular spot for fishing and shelling. You can take a chartered ATV tour or commandeer your own boat to access the island, but be warned that there are no paved roads.
Go Fishing!
Why You Should Go
Ocracoke is a famous destination for anglers of all kinds and offers several ways for guests to enjoy ocean fishing at its finest. The end of the island is a favorite spot for fly fishing. Numerous charter companies will offer you the deep-sea fishing experience of a lifetime. Check out the marina around the harbor at Silver Lake for a plethora of choices in charter fishing adventures. Most charters are suitable for families to enjoy together.
Ocracoke Island Watersports
Why You Should Go
Ocracoke offers plenty of ways to enjoy the water. Visit Ocracoke Parasail and take to the winds. Take off and land right from the boat, and have the option of staying dry or getting your feet wet. You can fly solo or tandem, making this a safe and fun ride for the whole family! Check out Dare to Hyde for boat rentals, kayaking, parasailing, kiteboarding, surfing, windsurfing, and tubing.
They offer rentals for the experienced water adventurer or lessons and guided activities for the whole family. Ocracoke Waverunners offers jet ski rentals so you can take off into the sunset. The wave runners can hold up to three people, so take the kids with you. Don't miss the famous Kitty Hawk Kites for your chance to fly a kite from the beach or get all the gear you need for a kiteboarding session!
Where to Stay
Ocracoke Island is a hot spot for tourists, and there are numerous ways to stay on the island. Inns and motels operate all over the island, from the quaint to the luxurious. There are nearly one hundred rental properties on the island. Choose a cozy two-person bungalow or an extravagant home that can sleep 10-14 people. Or, choose to rough it and camp at one of several campgrounds. Contact Ocracoke Island Realty for more information.
Map of Things to Do in Ocracoke Island
Frequently Asked Questions about Things to Do in Ocracoke Island
What is there to do in Ocracoke, NC that is free?
Ocracoke beaches
The British Cemetery
Hammock Hills Nature Trail
Springer's Point Preserve
Ocracoke Lighthouse
Portsmouth Island
Ocracoke Preservation Museum
Teach's Hole Blackbeard Exhibit
Ocracoke Pony Pens
Is Ocracoke Island Family Friendly?
There is no better place for a family vacation than Ocracoke Island. Life is a little slower and more relaxed on the island, but there are plenty of activities available for children and adults to enjoy together. From shopping, dining, or just a day at the beach, this is a family vacation spot not to be missed. You will want to come back every year!
Where can I eat on the island?
There are many restaurants to choose from on Ocracoke Island. Enjoy freshly caught seafood right on the harbor or the ambiance of a little restaurant tucked into the woods. There are plenty of kid-friendly options available. You can also buy your groceries at the local village general store. You will never go hungry here!
If you enjoyed our list of things to do in Ocracoke Island, you might also like:
15 UNBELIEVABLY FUN THINGS TO DO WITH KIDS IN CHARLOTTE
21 AWESOME THINGS TO DO IN FAYETTEVILLE, NC THAT YOU'LL LOVE!
15 EXCITING THINGS TO DO IN RALEIGH WITH KIDS!
16 OF THE BEST THINGS TO DO IN ASHEVILLE WITH KIDS!
Pin for Later: 15 Fun Things To Do In Ocracoke Island, NC That the Kids Would Love!
Latest posts by Michael Mamian
(see all)