Have you ever witnessed wild sea turtles so close you could touch them (please don't though)? Well, at the secret spot I have discovered you can do just that. I like to call it Turtle Town Maui, a place in Maui where you can see numerous sea turtles and never have to be in more than knee-deep water.
---
How most Maui Tourists try to see Sea Turtles [The wrong place]
One of my favorite things in the world is hawaiian green sea turtles. Years ago when my husband proposed to me, we were on the island of Kona and every day at the hotel two turtles would come onshore and hang out with the beachgoers.
I immediately fell in love with these adorable creatures. And since I hadn't been to Hawaii much at the time, I just thought, oh this is something that happens when going to Hawaii.
Since then, I have been lucky enough to travel to Hawaii, mainly Maui almost every year for the past 15 years since my husband's parents lived on Maui.
On almost every visit I would do what most tourists do and make him take me on a snorkel cruise to "turtle town Maui" on a search for sea turtles and marine life.
The Turtle Town Maui snorkeling was always good but usually, we saw no turtles, sometimes we might see one, but for the most part, it was a rare occurrence and probably not worth the money.
My husband had an ongoing joke, "Let's go visit Turtle Town, population 1"
---
How I Found the Secret Turtle Town Maui
Luckily for me, my turtle prayers have been answered and turtle town Maui came to me, but not just one or two turtles, many many turtles. The best part is, no snorkeling, no scuba diving, not a long drive to hana to the black sand beach, heck not even swimming is necessary and you can capture amazing videos as I did just by walking in the water.
By the way, I had no idea there was going to be turtles so I just took the chance that my iPhone was waterproof and through it in the water because I was so excited to see the turtles.
So, How did I find this place? Well, let me tell you something. I do search out turtles. In Oahu, for several years over Thanksgiving, we visit Lanikai Beach, which is known for having sea turtles visit. After racing across some traffic, you sometimes get a glimpse of turtles on the sand or in the water.
As you head south from Makena Beach, following the picturesque Makena Road, you'll find yourself venturing closer to Turtle Town. The road offers scenic views of the lush greenery and stunning coastline, preparing you for the adventure that awaits beneath the surface.
Unfortunately, in the last three years, I have had no luck. Like I said in Maui, the turtles seem to have found me. See, my father in law has lived in Kihei for over 20 years now and while we have always seen some whales from his balcony, the beach was pretty much a seaweed-covered mess that we never went to.
---
Turtle Town Snorkeling
Once you arrive at Turtle Town, numerous snorkel tours are available to guide you through the area's remarkable underwater world. These snorkel tours provide an opportunity to explore the thriving coral reefs, teeming with an array of marine life. One of the most enchanting sights you'll encounter is the vibrant butterfly fish, with their vivid colors and delicate, fluttering movements.
The calm waters of Turtle Town make it an ideal destination for snorkeling. The absence of strong currents and gentle waves creates a tranquil environment, allowing snorkelers of all skill levels to enjoy the experience. Whether you're a beginner or an experienced diver, the waters of Turtle Town offer a safe and mesmerizing environment to explore.
Snorkeling in Turtle Town provides an up-close encounter with not only the captivating sea turtles but also a variety of other marine species.
Colorful fish dart between the coral formations, showcasing nature's kaleidoscope of hues. With each snorkel excursion, you'll discover a new world beneath the waves, filled with vibrant coral gardens and fascinating marine creatures.
---
King Kamehameha Fish Pond
However, over the past few years, the Maui fishpond association decided to restore the ancient fish pond in front of his property, the prized property of King Kamehameha III located in South Maui. In addition, the association cleaned up the seaweed to provide a safe and clean beach for little kids to play.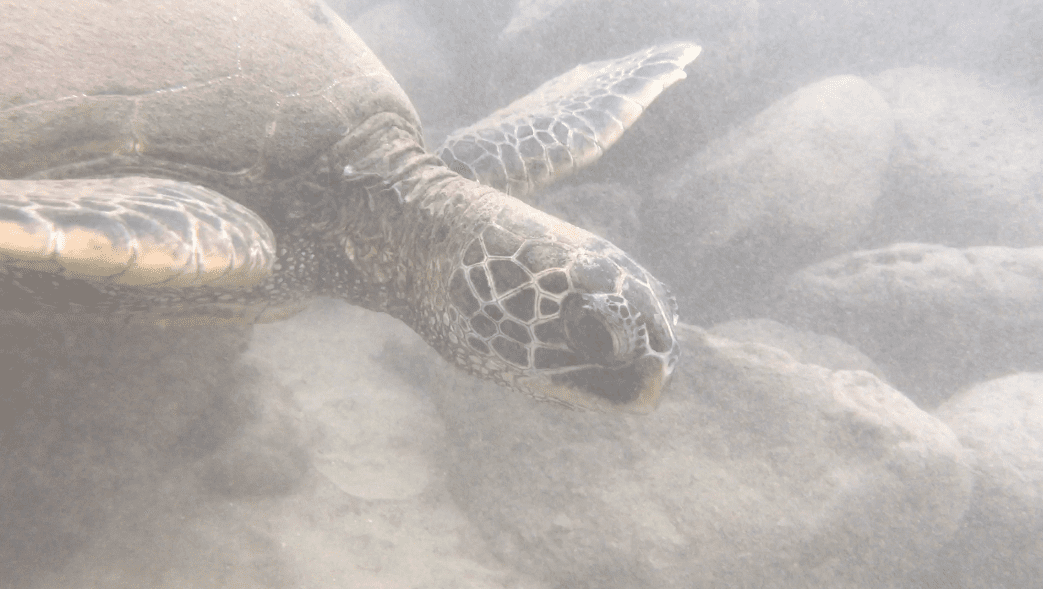 So, On our last day of vacation, we stopped by my father-in-law's condo and while I was doing some laundry my husband said he was going to find some crabs in the rocks of the fish pond with the boys.
A few minutes later, I start getting texts that I need to come down right away because I wouldn't believe it. Sure as can be, there were at least five turtles swimming around this little cove created by the fish pond.
The sea turtles were the most incredibly sweet creatures as they would swim right up to you (by the way, you can not touch the sea turtles in Hawaii, it is a very large fine) The water is warm and at the most waist high water but most of the time it was knee-deep.
It was simply incredible. We watched the turtles swim for probably 90 minutes, one of them even stopped and took a nap on the rocks. After our adventure, I asked my father in law if he knew that turtles came there, he replied "oh yeah, they are here all the time" Thanks for letting us know, dad.
---
How to get to Turtle Town Maui + Some tips
Turtle Town Maui is located in Kihei at Kalepolepo Beach Park. It is pretty simple to get there. About 15 minutes from the airport and about 20 minutes away from Lahaina. It is located on South Kihei Rd. on the North Side of Kihei. The address is 726 S Kihei Rd. Kihei, Hi, 96753.
Tip #1 – This is a great beach for little kids. There are no waves (or very tiny ones) because of the fish pond and there is a nice grass area before the beach if you would like to have a picnic
Tip #2- Do Not touch the turtles – The Hawaiian sea turtles are an endangered species, so whether you see them at the reef at turtle town or at any of your favorite snorkeling spots, do not touch them. There is a hefty fine if you do so.
Tip #3 – Go early before the trade winds come – Sunsets are beautiful on this side of the island, especially from April – January as the sunsets directly over the ocean, however the tradewinds pick up which makes it harder to see the turtles.
You will capture a beautiful sunset though. This night I did my time lapse was actually one of the worst sunsets we saw from there and you will still see how gorgeous it is.
Hawaiian Sunset on Maui from Globalmunchkins on Vimeo.
Tip #4 – Check out the Kite Surfers – Just north of the beach is a place where you will see many kite surfers practicing their skills. It is pretty entertaining to watch as some of the kite surfers get some serious air.
---
Frequently Asked Questions about Turtle Town Maui
What is Turtle Town Maui?
The coral reef at Turtle Town Maui is filled with protected green sea turtles of Hawaii. It is one of the most popular destinations in Maui to view sea turtles!
What beach in Maui has the most turtles?
Turtle Town Maui is the most popular location to view many sea turtles.
What is the best place to Snorkel in Turtle Town Maui?
Maluaka Beach is by far the best place to snorkel because of the high population of sea turtles!
---
Map to get to Turtle Town Maui
---
Where to grab a bite to Eat Before or After your Visit Turtle Town Maui
There are some pretty good places to grab a bite to eat in Kihei, so before or after you check out the turtles here are some places to dine.
Breakfast – Three's Bar & Grill – Simply put, their Banana Macadamia Nut Pancakes are amazing. You don't need to get anything else in my opinion, although my husband swears by the Tropical French Toast. They do serve lunch and dinner as well, but I have not has the fortune to try it out yet.

Lunch – Coconut's Fish Cafe – This place has probably the most delicious fish tacos I have had in my entire life. They are large and a bit messy. My sons love the coconut shrimp. They have two locations in Kihei, one near Maluaka beach and one near the fish pond.
Dinner –Monsoon Indian – Indian Food in Hawaii? Actually, yes! Incredible Indian food (love their Chicken Tikka Masala) and the view from the restaurant is beautiful. This restaurant is literally steps from turtle town Maui so it is definitely worth checking out.
---
---
More Great Things to do in Maui
Looking for a great Luau? My favorite luau is located on Maui – Check out my review of the Old Lahaina Luau
Looking for a great place to stay on Maui? Check out my article on why our family loves the Grand Wailea
---
If you enjoyed this article about Turtle Town Maui, you might also enjoy:
BLACK SAND BEACH MAUI! HOW TO VISIT THIS INCREDIBLE BEACH
21 AMAZING THINGS TO DO IN MAUI WITH KIDS [ULTIMATE MAUI GUIDE]
THE BEST PLACES TO EAT ON MAUI YOU'LL ABSOLUTELY LOVE!
---
Pin for later- Turtle Town Maui – The Best & Easiest Spot to find Sea Turtles