Brunch in Knoxville is an absolute delight. While we loved the food and activities in Chattanooga, brunch in Knoxville takes it up a notch. When nosing around for a good meal with that southern charm everyone raves so much about, look no further than Knoxville, Tennessee. You will definitely need to fill up on some delicious food after all the fun things to do in Knoxville.
Boasting as one of the largest cities in the state, Knoxville is rich with history and thriving with a diverse southern culture, reflected in the food. A little known fact about Knoxville is that it was actually the first capital of Tennessee. (Check out all the amazing airbnbs you can stay in Knoxville here)
Break up the monotony of the work day by taking a peek at the list of the top 10 brunch spots in Knoxville below to find the right restaurant for you! Naturally, food and culture are important to Knoxvillians. Farm life remains an important part of the city's culture, and many local restauranters partner with farmers to bring meat and produce from farm to table. Speaking of tables, some restaurants even allow you to dine in.
The Best Brunch Spots in Knoxville
This purrfect restaurant kicks off the list with appetizing dishes and cuddly lunch companions. Scruffy's Café has cultivated a homestyle vibe to make patrons walk in but feel like they never left home. Complete with the comfortable living room vibe are friendly cats. Book an appointment here to sip coffee and pet kitties for brunch. Cats and customers who hit it off can even initiate the adoption process.
Not only is pet adoption a mission for Scruffy's owners Emily Deas and Talisa Cantrell, mental health is promoted there as well. Deas and Cantrell ensure literature and other resources about well-being are located at the establishment. So, if you had to leave your own little one at home to treat yourself to brunch, console yourself by meeting a new friend at Scruffy's.
If you approached the restaurant with the red stiletto on the front, you're in the right place. For a hearty brunch any day of the week, look no further than Ruby Sunshine! The bright brown building at the end of Market Square has the best buttery pancakes are absolutely perfect and one of my favorite items for brunch in Knoxville.
Partners Jennifer and Erich originally began the restaurant, originally called Ruby Slipper Café, in Louisiana in 2008. They have since expanded to Ruby Sunshine in Knoxville. In the spirit of Dorothy's slippers and the quest to find Oz, slip your slippers on and head down to Ruby Sunshine. Top your pancakes with different types of syrup. Add a little spice with Ruby Sunshine's bacon praline cinnamon swirl or white chocolate bread pudding pancakes.
The Maple Street Biscuit Company is ridiculous and definitely should be on your list of places to grab brunch in Knoxville. They take our favorite breakfast items and pairs them with another favorite breakfast item: maple syrup. Imagine a fluffy, flaky biscuit sandwich dripping with maple syrup. Savory meets sweet in this combination that satisfies all taste cravings. Whether you need a mocha or mimosa to get your brunch started, everything you need is on the menu.
The Maple Street Biscuit Company's atmosphere is communal and interactive, as chalkboards are frequently re-chalked with question of the month activities for customers to enjoy. With three locations in Knoxville, and multiple locations nationwide, locals can get a little taste of home even when traveling.
Located on Kingston Pike, Farmacy is a great brunch spot with a punny name we love. The menu is full of tasty, southern cuisine. It's no wonder it's a main attraction! Dishes are made from scratch with a flare of flavors. Their beignets are light and served with a side of raspberry honey.
If it's hard to catch brunch places that are open on weekends only, Farmacy is open Monday-Friday in addition to weekends. To maximize safe social distance practices, outdoor dining is also available. And good news to dog lovers: furry, tail-wagging friends are welcome at Farmacy. So, bring your pup and brunch it up!
The brunch items at The Plaid Apron will have you wanting to rip your own apron off to dine in at this establishment. As the name suggests, the restaurant aims to connect community to food through highlighting the connection between farmers, often adorned in plaid, food preparers, who often don aprons, and consumers. The steak and eggs with crispy taters were reviewed as heavenly.
And for gluten-sensitive foodies, look no further than a tall stack of gluten free pancakes smothered in sorghum butter and syrup. Whether you enjoy the fullness of a stuffed omelet or a light salad to start the day, you're sure to enjoy the farm to table dishes here. The Plaid Apron is a limited capacity restaurant that may require booking reservations in advance.
Sometimes, there isn't enough time in the day to sit and brunch, and a grab and go coffee option is best. For coffee enthusiasts who need a smooth bean drip for a perk-me-up, K Brew will fill your heart's desire. From frappes to lattes, start your day here! Patrons love their honey lavender lattes, salted caramel mochas, and cookie butter lattes.
K Brew uses locally sourced beans and bagels to support the vibrant and productive Knoxville community. The bagels are freshly made every day at the West Knox location, and cream cheese is made in house. Get a little of everything with their everything bagel, or have a plain Jane day with a plain bagel. Get that expresso to go at K Brew!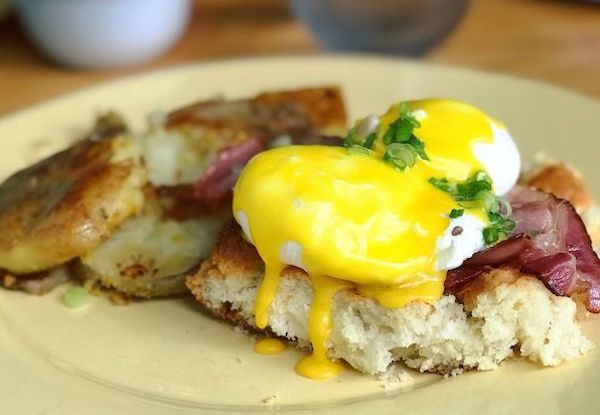 Knoxville natives, Jeff and Krissy, own OliBea, a breakfast and brunch restaurant named after their children. The atmosphere of the establishment is down home southern charm that warms the heart, and good food that warms the belly. OliBea can be found just off Summit Hill Drive.
From biscuits and burritos to tacos and tostadas, there are a variety of options to choose from. Ingredients used at OliBea are locally sourced from farmers and producers. Customers conscious about food additives will be comforted by antibiotic- and hormone-free ingredients. This is the perfect place for the entire family to eat well!
What's brunch without a nicely mixed mimosa and churro French toast? Babalu offers a litany of Latin-inspired cuisine, and a drink selection that guarantees to pair with any dish you choose. Tucked in the heart of Market Square, it's conveniently located amongst the hustle and bustle of the city.
The restaurant has a comfortable, social ambiance. Start off with an order of Babalu's signature guacamole paired with tortilla chips made in-house. Mixology is an art that Babalu takes seriously, and patrons can sip Patron bar side while waiting for a breakfast bowl. Or sit in an intimate gathering at a booth or a table while enjoying steak and eggs.
Brunch and punch go hand in hand, and you can wrap your hands around a punchbowl at Café 4. On the menu are old school favorites, like margaritas and bloody Mary's. Modern and classic meet in the middle here. The quaint restaurant has a conventional coffeehouse appearance with the smell of coffee bean permeating through the walls.
The extensive menu hosts varied dish options from yogurt bowls to hash bowls. And French toast, but make it stuffed. Or choose chicken and waffles, a tried and true favorite. Dine outdoors to enjoy the fresh air or carry out to continue on with your day. Gift a loved one with an e-gift card for brunch at Café 4. They'll be glad you did.
Chef Mo's Café is number one on the list as an establishment that lets customers take brunch up a notch. Cater brunch to the office and surprise staff or host a family brunch event at the restaurant. Whether you're observing social distancing and having brunch catered at your place or sitting down to a nice Sunday brunch at the restaurant, Chef Mo's Café offers a variety of food and beverage items. Chef Mo understands that just because you're enjoying a meal between breakfast and lunch doesn't mean you have to skip dessert. With decadent pastries, pies, and cakes, you'll be hard pressed to select just one sweet.
Map of Places for Brunch in Knoxville
Overall
And there you have it! A list of yummy, innovative, and cozy brunch spots in Knoxville. Each place infuses a sense of southern charm in every dish. The owners and chefs of these establishments really push for the continuation of Knoxville's community through the enjoyment of food. Some selections are throwback southern favorites, and some are infused with multicultural blends.
Pair your pancake with a mixed drink at a restaurant on this list to turn brunch up a notch, or choose one with a cozier vibe for a quiet, intimate meal. Some spots allow pets named Spot, and some restaurants bring the pets to you and even allow you to bring them home. Knoxville has plenty of options to choose from, and who says you only have to brunch once? Many of the restaurants on the list are located in Market Square with a variety of other Knoxville locations.
Let us know in the comments below if you have enjoyed any of the brunch spots in Knoxville on our list!
You might also like:
8 AWESOME THINGS TO DO IN KNOXVILLE FOR FAMILIES
15 UNBELIEVABLY FUN THINGS TO DO WITH KIDS IN CHARLOTTE
21 SUPER FUN THINGS TO DO IN OKC WITH KIDS [3 ARE FREE ]
Latest posts by Michael Mamian
(see all)