Orlando is the City Beautiful also known as the House of The Mouse. What if you're not feeling going to the Disney parks or Universal Orlando every single day of your vacation to stand in the boiling hot sun? Don't fret! There are so many fun things to do in Orlando and surrounding areas that are indoors and out and don't include theme parks!
Check them out below!
Fun Things to Do in Orlando Besides Theme Parks
Icon Park is a multi-use development located near the International Drive area. ICON Park features a 400-foot-tall observation wheel. The wheel was formerly known as The Orlando Eye. Icon Park features many restaurants, unique shops and even an arcade!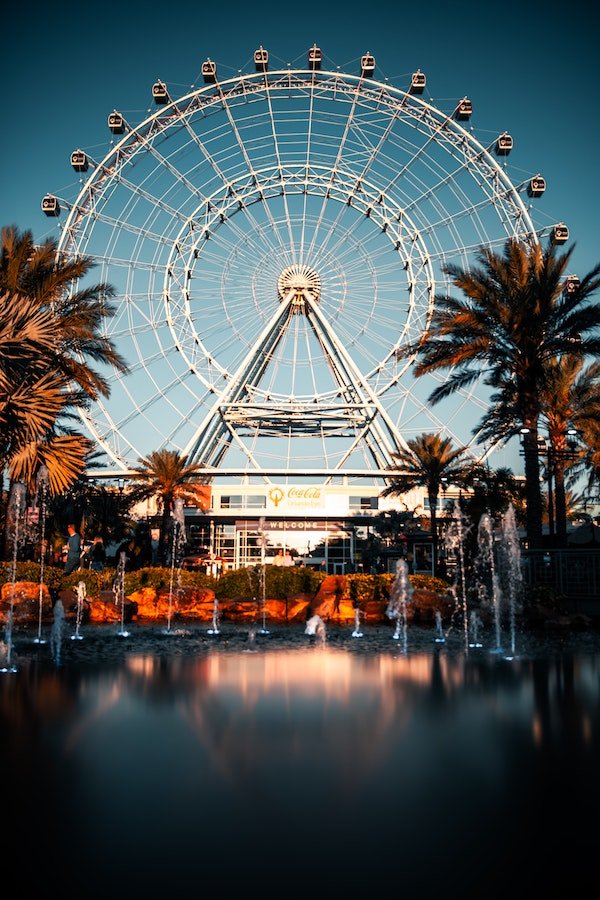 Why you should visit Icon Park: There is something for everyone to do at ICON Park. Restaurants everyone will love from Tapas to Burgers and even a hookah lounge! There is a greenery in front of the wheel that families love to sit on and enjoy the view. One great thing about ICON is that the parking is free!
Old Town is a shopping and entertainment district located in Kissimmee, Florida. Old Town hosts different events depending on the day. There is also a Fun Spot located in Old Town. Fun Spot is a small family-owned theme park. There is also a variety of stores, a haunted house and even a classic car show on the weekends!
Why you should visit Old Town: There are many things to do in Old Town that the entire family will enjoy. Here are a couple of our favorite highlights in Old Town:
A magic store that is sure to delight.
A haunted house that has high ratings and an arcade with a variety of games!
The kiddos can jump on animal rides around the street.
A fish pedicure.
An extreme ninja challenge
& much more!
Not to mention that Old Town does offer free parking as well.
While Gatorland can be considered a theme park, you can also think of it as more like a 110-acre zoo! Gatorland opened back in 1949 and has been popular ever since! Gatorland prides itself on being the "alligator capital of the world" with not only alligators but birds, crocodiles, and a natural marsh! Gatorland is extremely reasonably priced and you can make a day of it.
Why you should visit Gatorland: Tickets to Gatorland start at $19.99 for children and $29.99 for adults which is one of the more reasonable priced activities that you can actually enjoy for the entire day. There are a variety of animals that you can touch and take pictures within the park. There are also additional activities such as the train, The Screamin Gator Zipline, The Stompin' Gator Off-road Adventure and a wide variety of shows.
Please note that some of these activities are for an additional charge.
The Sea Life Aquarium is located in ICON Park. SeaLife is part of the British- based amusement company Merlin Entertainments. Sea Life Aquariums are actually franchised so you might have visited one before. The SEA Life aquarium hosts Orlando's only 360 tunnel where you can admire animals all around you!
Why you should visit Sea Life Aquarium: The aquarium hosts several different activities to do. You can of course feed the animals ( this is subject to availability). Another popular attraction is the Jelly Wall where you can view different types of jellyfish. There are over 10+ attractions in to try! Not to mention is already at ICON park if you want to continue your adventure there! The aquarium has annual passes if you plan on visiting multiple times or you can just purchase a day pass!
No vacation is complete without a little bit of shopping! You are in absolute paradise if you are a shopper! There are 2 huge outlet malls Orlando International Premium Outlets and Vineland Premium Outlets. Not an outlet shopper? Try The Mall at Millennia for upscale shopping such as Neiman Marcus, Bloomingdales and Macys. Not into fancy pants? The Florida Mall has The Crayola Experience and much more!
Why should you visit any of these shopping centers: While of course there are many shopping centers in the Orlando area you might find yourself in one of these since they are near tourist hot spots! The outlets are always a hit with tourists since you can find AMAZING deals on pretty much any store ranging from Saks to Aeropostale. You can even check out the new Zoltar machine there to see your future! (for entertainment purposes only).
Millennia is a high-end shopping mall that has stores to keep you as posh as ever! As for the last mall, The Florida Mall, it is more like an entertainment center galore! All types of stores ranging from Dicks Sporting Goods to Macys and Dillard's, to Pacific Sunwear! The whole family can find something to do here! Several food options and even an American Girl doll store this is a great option if it is a rainy day.
The Kennedy Space Center is located about 50 miles east of Orlando. Kennedy Space Center is located in Merritt Island, Florida. The space center is one of NASA's field centers. The visitors complex is open to the public, but the center does have many buildings including a vehicle assembly building – which constructs rockets. The KSC also has rocket launches. The KSC's visitor complex has many historic artifacts and displays.
Why you should visit The Kennedy Space Center: You can absolutely make a day of space center. It is well worth the drive and you can even visit the beach after/before! There were many famous launches out of the KSC and you can even catch a rocket launch sometime this year, you can view the schedule on the site.
The KSC has many different attractions to check out like the Astronaut Hall of Fame, Astronaut training simulators, experience what it's like to be in a shuttle launch, experience a Mars rover vehicle. There are also additional cool attractions for an additional fee such as a bus tour around the property, and an astronaut training experience. The KSC offers dining options and plenty of stores to get your shuttle gear.
#7) Mini Golf
Florida is known for golf and mini golf is no exception! It seems that you will encounter a golf course on every street! Florida offers some of the most unique mini golf courses that you will see. Pirates Cove, Congo River golf and Lost Caverns Adventure Golf are some of the most popular.
Why you should play mini golf: Mini golf, also known as putt-putt is a great pastime. It is not an all-day event and many mini golf courses are open very late if you and the group want a late-night event to pass the time. Many mini golf courses offer an arcade and food options as well which makes them an attractive option in the late hours if nothing is open.
You can't get away from Disney in Orlando! Downtown Disney is what Disney Springs was formerly known as. Disney Springs is an outdoor multi use complex. Disney Springs features free parking, restaurants, shows, the largest tethered hot air balloon and even features water cars known as amphicars! Disney Springs is broken up into four sections: Marketplace, The Landing, Town Center and West Side.
Why you should visit Disney Springs: Disney Springs is great for just an after-dinner stroll or to spend the day at. Free parking all day so you don't have to spend $50 on parking! The restaurants range from fancy like STK to southern at Chef Art Smiths homecookin' to even Mexican at Frontera Cocina.
Once you've had a bite to eat head over to the Town Center area and go shopping at some of your favorite stores like Lilly Pulitzer, Tommy Bahama or take a look see at one of Disney's own stores! Stop by Sprinkles for a cupcake and continue on your journey around to ride in an amphicar – a boat/ car – or watch a show on one of the many stages!
City Walk is Universals take on a multi- use complex. City Walk serves as the entrance to both Universal Theme parks (Islands of Adventure and Universal Studios) but has it's own entertainment. Complete free admission and free parking after 6. City Walk is part of Universal Resort that features hotels like The Hard Rock Hotel and Cabana Bay. Walk around and enjoy the lake view or hop on a complimentary boat to whatever hotel you're staying at. City Walk features a variety of restaurants raining from casual like Moes Southwest Grill to Jimmy Buffets Margaritaville. Once you're finished eating be sure to stop at Voodoo doughnuts for a delicious treat!
Why you should visit City Walk: City Walk is not only a huge entertainment and dining complex, but did you know City Walk offers some great nightlife? City Walk's Rising Star is a karaoke bar! Also check out some amazing restaurants with live music at The Hard Rock or Bob Marley A tribute to freedom for some classic Jamaican music! City Walk is appropriate for families with a Margaritaville Restaurant and a mini golf course.
Dezerland is like Dave and Busters but bigger! Dezerland features over 800,000 square feet of entertainment space. Dezerland is Orlando's largest indoor attraction. Dezerland is great for the entire families and has several different attractions. Dezerland has a huge auto museum. This is Orlando's largest museum of any kind. It is also the world's largest collection of Hollywood cars, James Bond, Microcars, Vespas and much more! Dezerland also hosts a trampoline park, bowling and a pinball palace!
Why you should visit Dezerland: Dezerland can be all an all-day activity. The entire family is welcome at Dezerland and it is located probably nearby where you are staying! Free parking as well. Dezerland has many delicious food options if you get worn out by all the walking in this huge entertainment complex!
The Titanic sank over 100 years ago but the unsinkable ship still seems to fascinate us! The expedition features over 300 artifacts from her maiden voyage to the US. The museum also features re-creations of rooms on the ship and has tours. The Titanic Expedition is affiliated with the RMS Titanic company and they have recovered more than 5,500 artifacts from the ship!
Why you should visit Titanic: The Titanic Expedition is a great activity to do if there are a couple afternoon showers in the area. It only takes about two hours to complete but is full of history and attractions. You will be able to see a recreation of the grand staircase. The exhibit also features a dinner if you are interested in a four-course meal. This is a recreation of the first-class captains cocktail party.
You might have seen Wonderworks around many tourist cities. Wonderworks is an upside-down building! Very similar to Ripley's Believe it or not! Wonderworks prides itself on being an "Edu-tainment" center. Wonderworks focuses on science education and entertainment. Wonderworks has themes of math, physics, and space. The Wonderworks location in Orlando also features a dinner show.
Why you should visit Wonder Works: Wonderworks has unique exhibits that the whole family will love. Located right in the heart of the tourist area of International drive. Wonderworks is great for a couple hours then you can continue on to do other attractions in the area. Wonderworks offers attractions in different areas such as physical, natural disasters, light and sound, space discovery, a far-out art gallery and an imagination lab! There is something for everyone to enjoy at a reasonable price.
Ripley's is a world-renowned attraction. Ripley's is suitable for most ages but preferably aged 8 and up. Ripley's is a museum – that they refer to as an "odditorium". It host's artifacts and other oddities.
Why you should visit Ripley's Believe it or not: Ripley's is open late closing at 10 pm if you're looking for a late-night adventure. Entrance to the museum starts at only 26.99 for adults and 16.99 for children. There are hundreds of artifacts in 10,000 square feet.
Madame Tussauds is a wax museum located in ICON Park. The museum began back in 1835 by Marie Tussaud. The company now operates in most major cities such as Orlando, New York City, San Francisco, Las Vegas and many other cities around the world. See life size figures of your favorite celebrities from Muhammad Ali to Katy Perry and everyone in between

Why you should visit Madame Tussauds: Located in ICON Park you can make a day of the museum and its surrounding attractions. Madame Tussauds takes about 45 minutes to go through but you can stop as much as you would like! Touch the figures and even take photos with them.
Sleuths is a murder mystery comedy show. The show last for about 2.5 hours. YOU are the detective trying to figure out who in the room committed the crime! Sleuths is acceptable for all ages. You'll even win a prize if you guess correct!
Why you should visit Sleuths: Sleuths features a variety of food options to select from that you will all find delicious while laughing and being entertained. You also get to take part in solving the crime. Guess correct? You'll win a prize. Sleuths also features several show times and options to fit it right in to your busy Orlando schedule!
A new attraction to Orlando that just opened last year the Museum of Illusions is an interactive experience. People of all ages will love this popup shop! The museum has over 50 different exhibits to check out.
Why you should visit The Museum of Illusions: Another amazing popup shop to snap some great Insta worthy photos at! 50 exhibits and backdrops. Some exhibits that you will want to check out are the reversed room and the infinity room!
A popup shop that you can take your own professional grade photos at located right in downtown! This popular trendy photo spot changes the backgrounds several times a year.
Why you should visit Wall Crawl: Why pay for a photographer when you can do it yourself? Take as many photos as you want with beautiful backgrounds within your one-hour timeslot – or pay for more and take more! If you want to hire a photographer you can. The Wall Crawl is taking steps to keep you safe during the pandemic by only allowing 10 people in at a time. It's like having your own photography studio! They even have props for you to use.
An indoor skydiving experience open to people 3 and up. There are 80 locations worldwide. There are a variety of different packages to check out before you book your spot.
Why you should visit iFly indoor skydiving: Take baby steps to preparing yourself for the real skydiving experience. Indoor skydiving here is available to anyone who is aged three and older.
The first iFly skydiving location began in Orlando so why not visit the original if you're going to do it?
Orlando has many dinner shows but Rock Dinner Show is sure to have something for your entire party! Rock Dinner Show is a high energy musical journey featuring Las Vegas level entertainment.
Why you should visit Rock Dinner show: See the King of Pop Michael Jackson all the way to country star Lauren Alaina. If you're a large group you can even rent the entire venue! Rock Dinner Show has plenty of food options for you to enjoy your experience.
Central Florida has some of the best beaches. Cocoa Beach is the closest to Orlando and is a port for cruising. Tampa, Clearwater and Sanibel are consistently rated number one for beaches in Florida and in the world!
Why you should visit the beach?: Florida is known as the Sunshine State, so it only makes sense to visit one of the top beaches! Pack the family and your friends up in the car and head over to crystal clear waters and sugar like sand. A budget friendly day trip to get away from all the city hustle and bustle.
Winter Park is an affluent suburb of the Orlando area. Winter Park is known for Park Ave a high street with shops, restaurants, a country club, and a large green space.
Why you should visit Winter Park: Winter Park is full of history founded in the late 19th/ early 20th century. Winter Park has a scenic boat tour available, many museums and several parks.
The Chocolate Kingdom Factory Adventure Tour is a tour around a chocolate museum and factory. The tour shows guests how chocolate is made from bean to chocolate bar.
Why you should visit Chocolate Kingdom: Take a tour of a real-life chocolate museum for only 16.95 for adults! This 45-minute tour teaches guests how chocolate is created. Guests get to see a cacao tree and can even create their own personalized chocolate bar!
The Orlando Starflyer is the world's tallest stand-alone swing. The Starflyer reaches over 450 feet! The Starflyer cost 12.00 for one ride and 7.00 for each additional. The Starflyer offers unique views of the International Drive area of Orlando.
Why you should visit The Orlando Starflyer: The Starflyer is the highest stand-alone swing ride and is offered at a modest price. It's a great way to catch some aerial views of the International Drive area. After you're done swinging you can stop in to the I-Drive Star Bar for some drinks.
Topgolf is one of the largest golf entertainment companies. Orlando has two locations: Lake Mary and one near Universal. There are over 50 locations. Topgolf isn't just for golfers anyone can play!
Why you should visit Topgolf: To visit Topgolf you pay by the number of bays (somewhat like lanes for bowling) that you rent. If your party is a large group it will cost less once you split the price up! Brush up on your golfing skills or just have some fun. Topgolf is open late and serves food and adult beverages.
Downtown Orlando has a thriving city life believe it or not! Downtown Orlando is a relatively safe city with many upscale restaurants like Kres to taco a casual taco spot like Gringos Locos. Downtown Orlando has swan boats on Lake Eola with a beautiful trail around. Or you can visit one of our many museums or watch a show at the world-famous Dr. Phillips Center!
Why you should visit Downtown: Everything you want from a big city without the big city. Lake Eola is Orlando's Central Park with a gorgeous walking trail around where you can also admire wild swans. You can even admire them from up-close on a swan boat that you peddle! Worn out? Grab a bite to eat at one of the many restaurants or watch a show. If you're feeling ready to party once things resume to a safe level you can visit a bar on Church Street!
These are just a handful of things that The City Beautiful has to offer! It will take many trips to Orlando to get the full "Orlando Experience!"
Map of Things to Do in Orlando Besides Theme Parks
You might also like:
15 EXCITING INDOOR ACTIVITIES IN ORLANDO YOU'LL LOVE!
THE BEST UNIVERSAL ORLANDO FOOD & DRINKS [TOP 15 FOODS YOU HAVE TO TRY]
[ULTIMATE GUIDE] ISLANDS OF ADVENTURE RIDES, DINING + TIPS & TRICKS
Websites for activities:
Iconparkorlando.com
Myoldtownkissimmee.com
Gatorland.com
Visitsealife.com
Mallatmillenia.com
Kennedyspacecenter.com
Piratescove.net
Congoriver.com
Lostcaverns.com
Disneysprings.com
Universalorlando.com
Dezerlandpark.com
Titanicorlando.com
Wonderworksonline.com
Ripleys.com
madametussauds.com
Sleuths.com
Orlando.museumofillusions.us
Wallcrawl.com
Iflyworld.com
Rockdinnershow.com
Visitflorida.com
Cityofwinterpark.org
Chocolatekingdom.com
Starflyer.com
Topgolf.com
downtownorlando.com/Home