We love visiting San Diego with the kids, but traveling with 5 kids is always a challenge…for many reasons. One of the challenges is having to book hotel rooms, because you either need two hotel rooms, a suite or villa or to convince a couple of your kids it's "fun" to sleep on the ground. That is why we sought out some amazing Airbnb's in San Diego.
With so many amazing beachside communities there were some incredible options. So we broke it down into two categories super luxe, and best bang for the buck. Here are the 11 best places you will absolutely love for Airbnb San Diego.
Luxury

Airbnb San Diego, Ca.

Like my husband always likes to say, "go big or go home" so let's start off with the best of the best. Throw the budget out the window and do it up. These luxury Airbnb's in San Diego are simply amazing and you might never want to leave your rental. First stop….. a castle!
Alpine Castle –
This is an epic home for Airbnb San Diego, while not in the heart of the city this castle is located about 30-35 minutes from Downtown San Diego. Nestled in a quiet neighborhood, this home boasts approximately 17,000 sq ft of luxurious living space. There is a 4,200 sq ft deck to relax and take in the mountain air. Listen to the numerous birds during the day and an occasional passing coyote in the night. There are 4 private bedrooms/suites & 2 loft spaces upstairs. View On Airbnb
Airbnb La Jolla Overlooking the Ocean
La Jolla is one of my favorite seaside hamlets. "Set just 100 yards from Windansea Beach, this San Diego vacation rental gives you sunny outdoor living spaces, a horizon dotted with palm trees and sunset views over the Pacific.
Whether you'll be sunbathing or sightseeing, this custom-built home ensures that you'll be staying in luxury. The most amazing part of this place is its rooftop deck, which has lounging and dining areas, a hot tub, an outdoor kitchen with barbecue and panoramic ocean views.
It is hard to beat this vacation rental by the beach. Snag it if it's available because it sells out for most dates.
Luxe Airbnb in San Diego with a Pool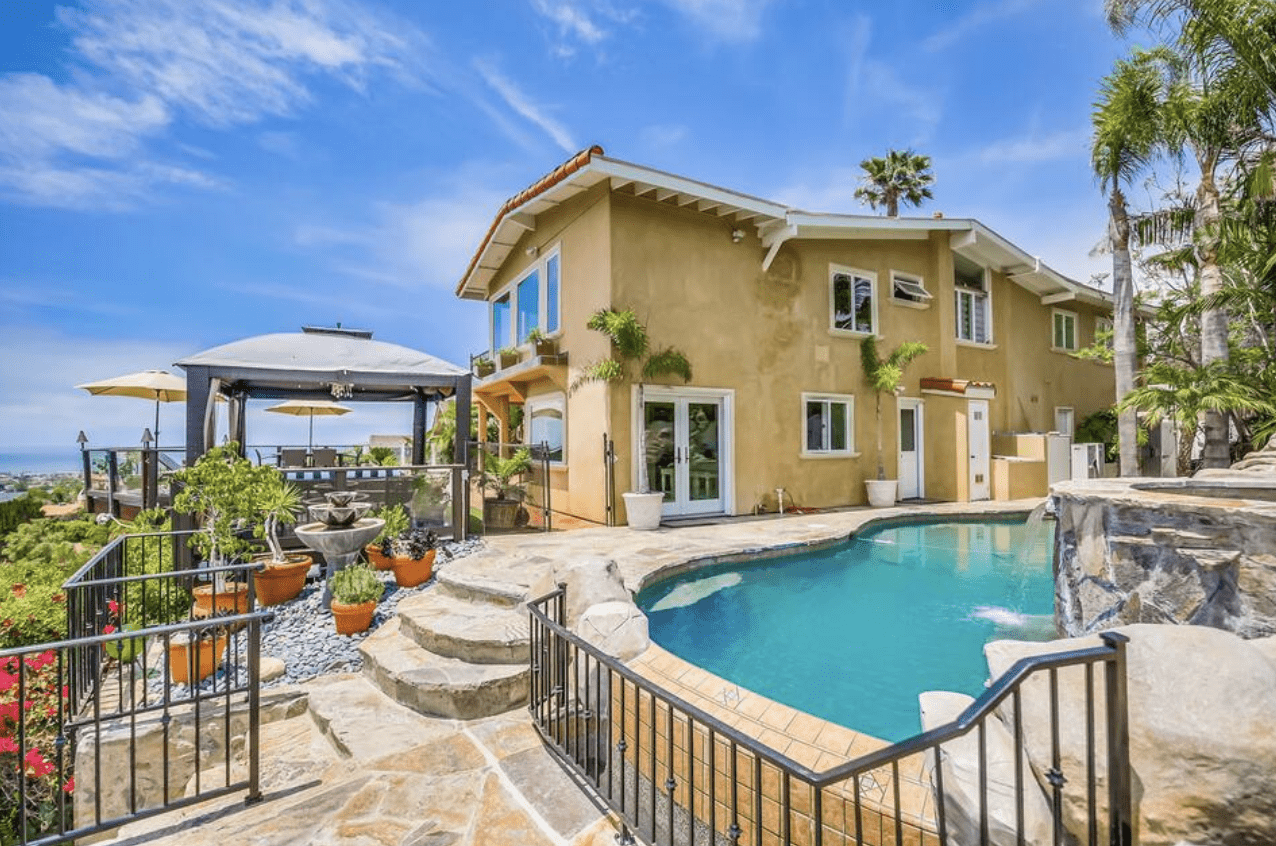 It's time to look at some super amazing beach houses. This Spanish style Airbnb in San Diego's Pacific Beach is quite the stunner and perfect for families. "Thanks to its location on the south slope of Mount Soledad, this luxury La Jolla vacation rental has a nearly 180-degree panorama over the Pacific Ocean, Mission Bay and the Coronado Islands.
Spend the day enjoying the San Diego sun and sights, and the evening taking in the twinkling of the city lights below.
An expansive pool and children's play area will help you get into the laid-back, coastal California lifestyle in no time. Soak in the sun from a sprawling private deck with loungers and covered sitting and dining areas, splash in the two-level pool and hot tub, or let little imaginations run wild in the grass around the swingset.
A barbecue and firepit make it easy to linger outside into the evening, but if you'd prefer to go inside, a wet bar, sound system, wood-burning fireplace and pool table are waiting to entertain. View On Airbnb –
Modern A

irbnb San Diego Pacific Beach Home with a

Rooftop Deck!
"BRAND new house just a 5 minute walk to the beach. Enjoy panoramic rooftop views of Pacific Beach or a giant backyard with cornhole and full-size Jenga in this perfectly located home. This San Diego Airbnb is less than 2 minutes walking to all the restaurants and bars on the famous Garnett/Cass Strip. The house is 4 bedrooms with room to sleep 12 comfortably in beds, with gorgeous new furnishings."
View On Airbnb
Airbnb San Diego Mission Beach – 250 Ft. Deck with Ocean Views! 3 BR Bayfront Condominium! Unmatched Waterfront Views!
Near San Diego Bay, this top-rated vacation rental is simply amazing. "Experience this NEWLY BUILT 3 bedroom 3 bath Bayfront condo with high-end luxury features, including room controlled air conditioning. This unit occupies the entire second floor of the building, offering unbeatable panoramic views of Mission Bay.
Enjoy the 250 sq ft deck opening from the living room via glass panel doors which stack out of sight when open. The deck has bar height table, dining chairs, lounge chairs and a natural gas BBQ. Experience unmatched views of sunrises every morning during your stay." View On Airbnb
Private Resort-style Airbnb in San Diego with a Pool in the Heart of the City!
Don't want your Airbnb outside of the city, well we have place for you. "Casa Paradiso is a one-of-a-kind fully furnished luxury resort home located in the heart of the city! Specifically designed our property to offer all the amenities and luxury of a suburban estate, but with the convenience of access to the best attractions, San Diego has to offer. View On Airbnb
Best Airbnb in San Diego -Bang for the Buck!
I feel like we always find ourselves in these kinds of Airbnb's. They are not cheap Airbnbs in San Diego, in fact they are still pretty spectacular but also relatively affordable. I have to say if you're going to do an Airbnb San Diego, there are some incredible choices in this category.
Adorable Affordable San Diego Airbnb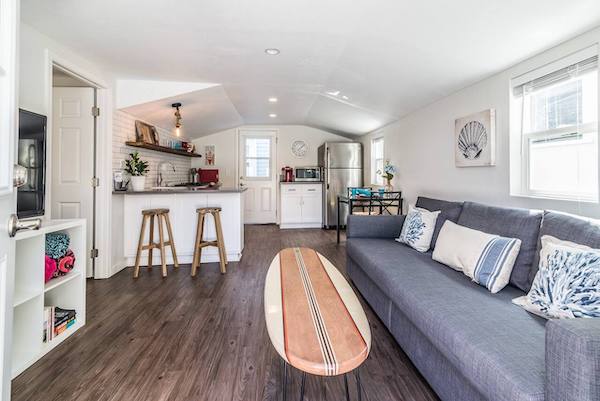 "This a 1929 built beach cottage! Original layout but updated to meet our modern desires! This house is stocked with everything you need to relax, cook and enjoy yourself in sunny San Diego!
This place is in a great location, 75 steps to the sand of mission bay and 1 block to the ocean! This unit has a nice patio to hang out and enjoy drinks, food, tanning and lounging. Located conveniently in the middle of MB with coffee, bars, food, shops and rentals all within a stones throw!"
View On Airbnb
Walk to the Beach for only $257 Per Night!
This amazing cottage by the beach is a relatively cheap Airbnb in San Diego that is super cute. It's a charming 3 bed, 2 bath house, just a short walk to the surfing, beaches & trails at Sunset Cliffs National Park. Enjoy outdoor dining on the patio, or cozy up by the fire pit in the tree filled backyard.
View On Airbnb
Modern San Diego Beach House – Just Steps to the Sand
This Airbnb in San Diego is only a block from the sand, our new home features panoramic roof deck with ocean and bay views, high ceilings with large windows for plenty of natural light, quality bedding, and new appliances in a fully equipped kitchen. One block from the beach, walking distance to countless restaurants and tasting rooms.
View On Airbnb
3 Bedroom Swanky Airbnb – San Diego Downtown –
"You will not be disappointed by this bright, spacious apartment located in a hip building in the East Village of downtown San Diego (10 min walk to Gaslamp).
You will enjoy sweeping views of the city from the 41st floor! This 3 bedroom, 2 bathroom property sleeps up to 10 people in comfy beds. Soft white linens, a fully stocked kitchen, and washer/dryer will make you feel right at home.
Enjoy access to the buildings many amenities including 24-hour fitness center, BBQ area, and lounge rooms."
View On Airbnb
Modern View Ocean Beach 4 Bedroom/3 Bathroom for as little as $159 per night –
The Airbnb San Diego house has ocean views and some great spaces. Open concept Living, dining, and Kitchen. great for social gatherings. There are 2 studio size bedrooms. Each with couch, good for hanging out. Beautiful backyard. And views views views.
View On Airbnb
You Might Also Enjoy!
Pin for Later: Airbnb San Diego – 11 Amazing Places – Perfect for every budget!