Imagine taking a walk down a long strip of shoreline, watching the sunset with the waves gently washing up over the golden sand. If you can, you're already halfway to San Diego!
Now if your imagination is leading you to some stuffy old hotel, that's fine, though for the adventurous, Vrbo beach house rentals await. Let's explore some of the best San Diego Beach House Rentals for your summer vacation!
With over 70 miles of coastline to enjoy, there is plenty of room for all to enjoy one of the most sought after places in Southern California. To make your trip planning easier, check out our favorite things to do in San Diego here!
---
Best San Diego Beach House Rentals on Vrbo
During your stay in San Diego you are going to want to find the perfect place to rest and enjoy this gorgeous city. We found an amazing list of VRBO San Diego rentals for you to choose from below.
---
If you're looking to wake up to the sound of ocean waves crashing up against the beach, this four-bedroom house in Del Mar is the perfect stay. This vacation home sits smack dab in the middle of 18th and 19th street, providing guests with easy walks to beachfront restaurants and beautiful parks.
There are three levels of fun packed into this massive home, perfect for housing families on sunny, summer vacays.
---
Open-floor plans go hand in hand with oceanfront properties, as you can feel the sea breeze and take in the sunlight while relaxing with the window open. This state-of-the-art home in Del Mar offers panoramic views of the Pacific vistas, top-notch entertainment options, and two bedrooms. The living room couch even transforms into a high-tech bunk bed for the kids!
Just a walk down the road and you'll be enjoying Fletcher Cove Park or Solana Beach. This will be extra nice if you bring a furry family member along since this home is pet friendly!
---
Speaking of Solana Beach, this beautifully furnished home sits just feet away from surf and beach access. The condo overlooks a pool, spa, and a few tennis courts as well. This is what makes it perfect for those who like to stay active while on holiday.
The condo is furnished with a beach lifestyle in mind. You can relax in the sunshine and listen to the sound of the waves crash on the shore or walk just a mile away to the many fine restaurants in the area.
---
When you hear "La Jolla" and "Penthouse" used in the same sentence, you know we're talkin' luxury. This penthouse sits just steps from San Diego's famous Wind&sea beach, perfect for those who want outdoor activities right out the front door! You can head out to surf or relax and take in the ocean views.
The penthouse comes with its own elevator and is equipped with all of the modern furnishings that you could possibly want. Even the master bedroom comes with a stunning ocean view!
---
There's no better place in San Diego CA for family reunions than this massive, multi-family estate. The home is situated on one of San Diego's beautiful sandy beaches and comes with five bedrooms, six levels, an elevator for convenience, an outdoor music system, ocean-facing decks, and so much more!
The estate sits within walking distance of La Jolla Village, where you can enjoy delicious fine dining restaurants, shopping, surfing, or just relaxing, in this incredible space. You'll also be close to some really cool tide pools!
---

This Pacific Beach Beachfront property is perfect for families who want to take it easy. The bay out in this area does not have any waves, making it the perfect place to play for little ones who aren't used to the water.
The condo itself has a nautical tinge to it, creating a casual beach atmosphere, which is perfect for kicking back with a drink in hand. Plus, the panoramic views of the water don't' hurt.
---
Four! Golfers rejoice, as this beautiful four-bedroom, three-bathroom home sits next to one of the best golf courses in San Diego. From the house, you get breathtaking views of the course and the bay. Plus, you can enjoy boating, eating, or relaxing on the beach, all within a few minutes of walking.
This picturesque San Diego rental has been awarded many times and is the perfect place for families to enjoy a little slice of paradise.
---
If you're in search of the perfect place for a staycation, this Mission Bay property is an excellent choice. The first floor features a gorgeous open floor plan with a spacious living area, dining area, and patio. You'll enjoy cooking in the gourmet kitchen and eating while overlooking the water.
Go one level up and discover even more breathtaking views of the bay and beyond. Each room is equipped with the luxury of high-def TVs, WiFi, A/C, and more! Plus, they even provide guests with beach equipment so that you don't need to worry about any San Diego beach rentals!
---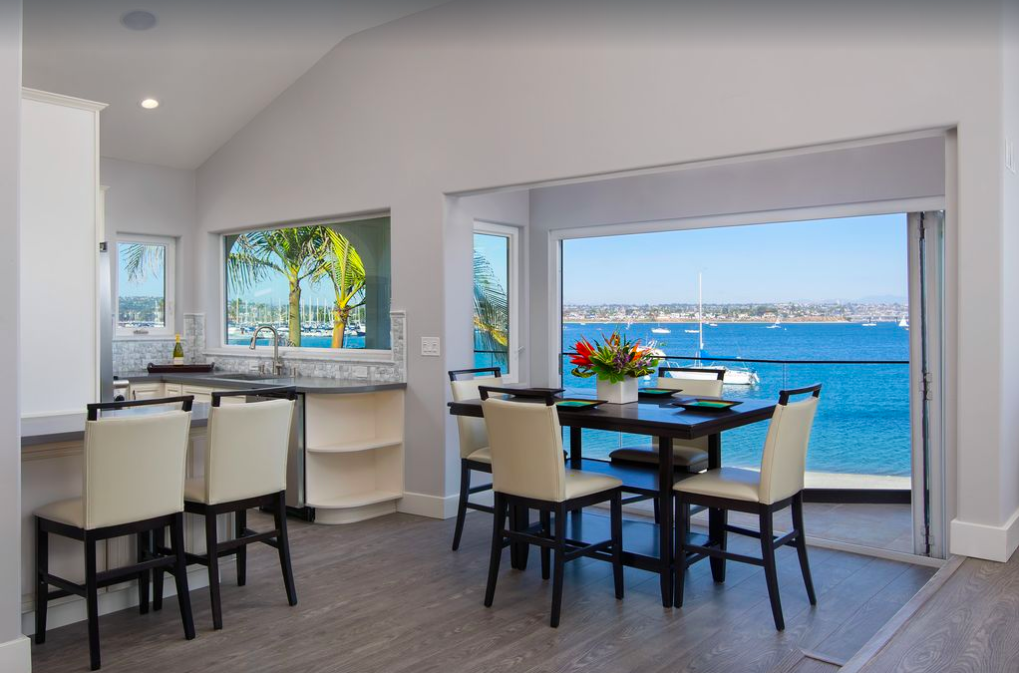 Point Break 2 is one of the largest and most exquisite properties in Mission Bay. With modern furnishing and nearly 60' of the waterfront area, you'll have plenty of room to enjoy yourself. Plus, the place sleeps up to ten guests, making it perfect for the whole family and more!
The entire main living area boasts views of the Pacific Ocean. You'll enjoy hanging out in the living room with all of the windows open while the sea breeze floats in and cools you down. The kitchen has been fully furnished with modern appliances and the rooms are better than your five-star hotel!
---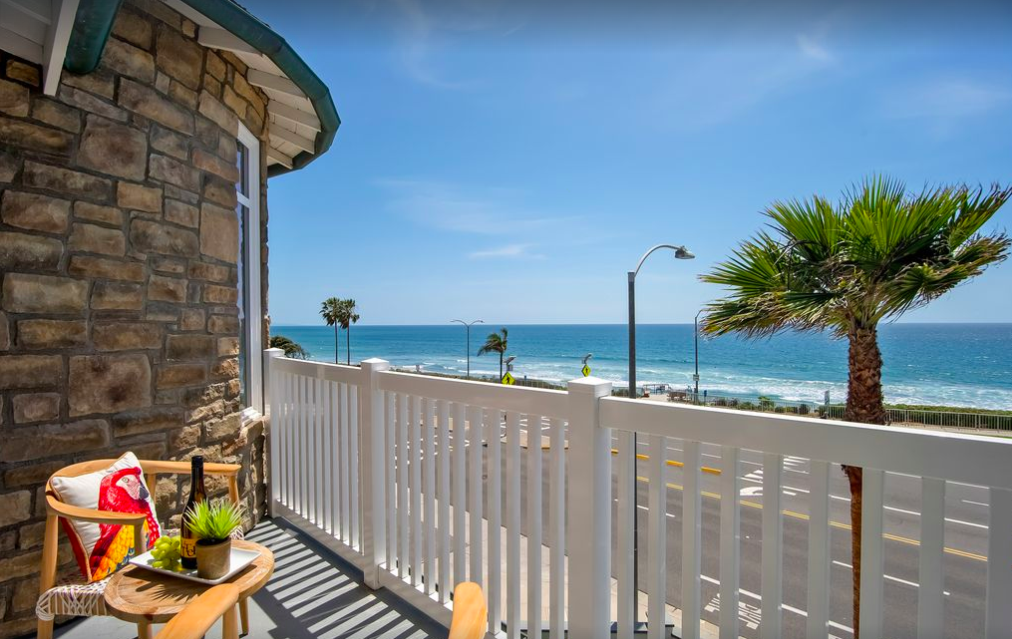 This massive four-bedroom, three-bathroom home sits just steps from the water. You can enjoy the beach that sits right across the way or Carlsbad Village, which is only a few minutes away from the home.
The property spans a whopping four floors and includes a private rooftop deck for cookouts, a private two-car garage, a gourmet chef's kitchen, and a stunning view of the whitewater. The bedrooms are incredibly comfortable, as well. Carlsbad is an absolute haven and we can't think of a better home to enjoy it in.
---
VRBO San Diego Vacation Rentals: The Overall
We love spending as much of our free time in San Diego as possible. The beaches are beautiful, there are tons of activities, like the San Diego Zoo and Sea World and overall it is a GORGEOUS place to stay. The destination can't be beat! I hope seeing these VRBO San Diego vacation rentals have convinced you that a trip must be in order.
Whether you are looking for something grand or just a cozy place to kick back, you are sure to be able to find it on VRBO!
---
Is there a VRBO San Diego vacation rental we did not mention? Comment below and tell us!
---
Frequently Asked Questions about VRBO San Diego Vacation Rentals
What is the difference of Airbnb and Vrbo?
Airbnb and Vrbo (pronounced "ver-boh") are both online marketplaces that allow travelers to book vacation rentals directly from property owners or managers.
The differences between the two comes down to different inventory, the booking process and fees.
What do people look for when renting a beach house?
People typically look for a beach house that is close to the ocean, has ample space and comfortable amenities, and provides a relaxing outdoor environment.
Additionally, guests often prioritize properties that offer access to water activities, such as kayaking, snorkeling, or surfing. A well-equipped kitchen and access to nearby restaurants and shops are also important factors to consider when renting a beach house.
---
Pin-it for later: The Best San Diego Beach House Rentals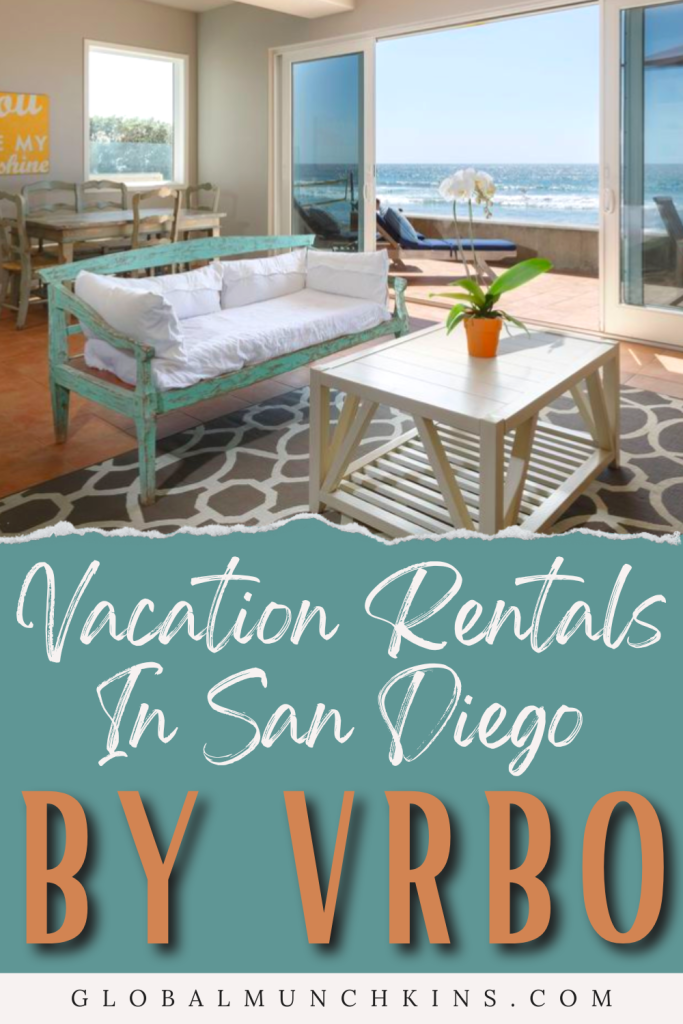 ---
If you enjoyed reading about our VRBO San Diego Beach House Rentals, you might also enjoy:
[10 EASY WAYS] TO SCORE SAN DIEGO ZOO DISCOUNT TICKETS
SAN DIEGO TIDE POOLS: GUIDE TO THE 10 MOST AMAZING TIDE POOLS
ROAR AND SNORE SAN DIEGO: THE ULTIMATE GUIDE TO SAN DIEGO ZOO'S SLEEPOVER SAFARI
50 THINGS TO DO WITH KIDS IN SAN DIEGO (20 ARE FREE!)
AIRBNB SAN DIEGO – 12 AMAZING PLACES – PERFECT FOR EVERY BUDGET!
---
Latest posts by Michael Mamian
(see all)