Tempe Marketplace is one of the best spots to walk around and enjoy that perfect Arizona weather. There's outdoor fireplaces, water features, and comfy sitting areas meant to make your shopping experience unique and leisurely. You can find almost every store that's in your basic mall and then some. There's even a movie theatre at one end, meaning you can really spend your whole afternoon here. I think it's the Tempe Marketplace restaurants that really set it apart from other spaces in town. There are so many options for everything from date nights to family dinners to quick lunches. Check out this list of some of my favorites.
The 10 BEST Tempe Marketplace Restaurants
*This is a sponsored post in partnership with Tempe Tourism.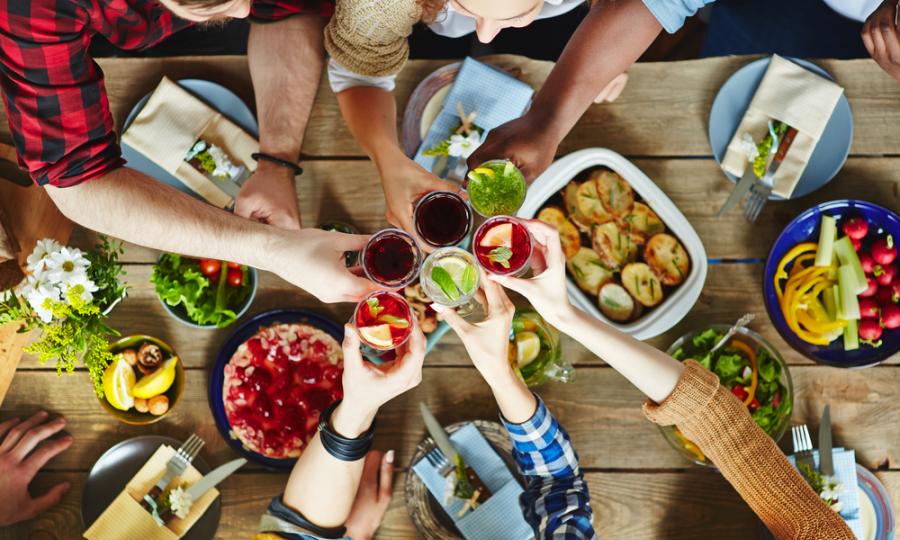 Fine Dining
Bar Louie- If you're looking for a place to meet up with friends for dinner this is the perfect Tempe Marketplace restaurant. They've got great vibes whether you choose to sit at the bar or in the restaurant. They are known for their American classics like their burgers and sandwiches, with a little bit of Arizona inspiration. You have got to try one of their handcrafted martinis too, after all it's what they are known for.
Thirsty Lion Gastropub and Grill-  Looking for a bit of an upscale twist on your typical bar food? This is just the right place, but don't worry you'll still have the chance to view every sporting event you could possibly want. More than that they focus on seasonal favorites and scratch recipes to always keep things interesting.
Kabuki Japanese Restaurant–  From poke bowls to Philly rolls, Kabuki caters to all your sushi cravings. They've also got tasty ramen and teriyaki chicken if that's more up your alley. They're known for their great service and expansive happy hour menu.
Four Peaks Restaurant- Four Peaks is well known amongst Arizona natives for being one of the best breweries in the state, and they've got a pretty great restaurant too! While this spot isn't quite in Tempe Marketplace, it's a quick drive and well worth a visit. They also have brunch on weekends meaning you can fuel up before your shopping adventure. If you visit for lunch make sure to give their veggie beer bread sandwich, it's stacked with fresh veggies and smothered in mozzarella and pesto.
The Keg- The Keg is a delicious steak and seafood house and with their upscale yet cozy atmosphere you'll never want to leave. Not to mention they're known for having great service and being super accommodating, especially if you're gluten free. It's a great place for any kind of special occasion. For a steakhouse, they even have a really great kids menu with everything from chicken strips to mini sirloins.
Quick Bites
Mad Greens- Any place where I can create a giant salad with all the toppings you could possibly think of, is my kind of place. Mad Greens makes all their toppings in-house from scratch, so they're fresh and yummy. They've also got wraps and juices. It's so nice to have quick service restaurants you can still feel good about eating.
Smash Burger-  If you haven't tried Smashburger yet, their Tempe Marketplace location is a great spot for a first visit. There's a reason this restaurant has become popular across the US so quickly. While their burgers are obviously most popular, their chicken sandwiches are even more delicious in my opinion.
It's All Greek to Me-  Fast service Greek food isn't always my favorite but this restaurant got it right. They're reasonably priced and have tons of options from plates to wraps, and they have a kids menu with corn dogs and chicken tenders making it easy if you're shopping with little ones. Give in and try some of their Greek fries, so worth it.
Noodles and Company- My kids would probably consider themselves Mac n Cheese connoisseurs, and this Tempe Marketplace restaurant is one that meets their standards. Don't fret though, they've got all kinds of noodles from Pad Thai to Spicy Korean Beef noodles and all the Italian classics. It's a great spot to grab a bite and take a break from shopping.
Mod (coming soon!)- Create your own pizza restaurants have become hugely popular in the last few years, and Mod is one of them that is consistently good. You can get as many toppings as you'd like for one flat price. It'll be a great addition to the Tempe Marketplace restaurants.
Pin for later-
What is your favorite Tempe Marketplace Restaurant?
You may also enjoy these Tempe posts-
*This is a sponsored post in partnership with Tempe Tourism. All thoughts and opinions, as always, are 100% my own.