Ahhh, Carlsbad. One of my favorite cities in the world. I even tried to convince my husband to move there and I will eventually get my dream. Carlsbad is a beautiful city just outside of San Diego that boasts an ocean as crisp and blue as the eye can see, a climate that's downright flawless, and scenery that will make your heart skip a beat. And while you may think that this bite-sized beach town falls in comparison to the big city next door, you'd be surprised to find out that this city is jam-packed with fun activities you won't want to miss. It's got the hip and trendy places to eat, but it also just so cute and artsy. So, here it is, the top things to do in Carlsbad.
Top things to do in Carlsbad – One of My Favorite Cities in the World
Legoland
First on this list is none other than Legoland. Kids and adults alike will love this whimsical place that's decorated beginning to end with life-size Lego statues and decorations that you have to see to believe. Aside from the amazing scenery (it's a great park to just walk around), Legoland has tons of rides from Splash Battle that leaves you giggling and wet to the exciting Dragon roller coaster that's perfect for the young thrill-seekers.
In addition to Legoland, their is a water park inside the theme park that is open during the summer. It is super fun, has a bunch of waterslides. The thing I love most about the water park is it is spotless and there are a ton of lifeguards on duty. Check out How to Purchase Legoland Discount Tickets [11 Ways to Save]

Sea life Aquarium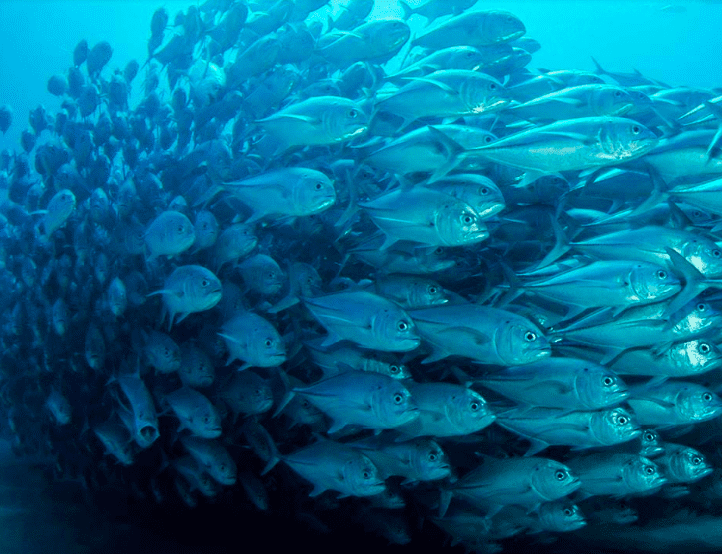 The fun doesn't have to stop at Legoland; in fact, you can take your Legoland experience one step further and head to their beloved Sea Life Aquarium. It is literraly right next door to Legoland. Legoland itself is a busy day, but if you have the energy grab a park hopper ticket and head over to the Sea Life Aquarium. (I recommend going on a 2nd day) Here you can explore over 5,000 sea creatures including sea horses, jellyfish, sharks, and so much more. There are a ton of interactive exhibits for the kids which made the kids truly love the experience.
Flower Fields
There is nothing more beautiful than the Flower Fields in Carlsbad. Literally, this place is a work of flower art that is nothing short of astonishing. They're only open for a short amount of time, March 1 through May 10, and you want to make sure you are there.
These stunning flowers will leave you breathless as you walk through a collection of bright colors that blend seamlessly. Make sure you take a look at the 'Tecolote Giant Ranunculus', which is an area that's doused with beauteous cymbidium orchids, and the notorious American Flag made entirely of red, white, and blue petunias.
This site is also known to have many musical events held, so check out the calendar of events before going so you enjoy the ambience of lovely music while guiding your way through this maze of delightful colors.

Carlsbad State Beach
Every beach lover is guaranteed to fall in love with Carlsbad State Beach. Lay back and relax while enjoying the warm weather and bright sun just perfect for a tan, or head out into the ocean and enjoy bountiful waves that fulfills every surfers craving.
Ever wanted to camp right next to the ocean? Now's your chance. Carlsbad State Beach also offers a campground right on top of the gorgeous Carlsbad cliffs, with access to the beach down below so you can get to all your favorite beach activities in no time.
Honestly, the weather in Carlsbad is the perfect beach weather. In the morning you have that cool hazy morning and then in the afternoon the haze burns off, but it rarely gets overwhelmingly hot. It's perfect.
Moonlight Beach
Another favorite beach of mine is moonlight beach. Technically it's in the neighboring city of Encinitas, but it's litterally just a 1/2 mile outside Carlsbad. We have been going here for years, it was actually the first place our son Shea ever saw the ocean.
Families flock to this area because it has a little bit of everything: a cute playground for the little ones, plenty of sand for football games or Frisbee throwing, a volleyball court for the sport enthusiast out there, fire pits for chilly weather, and a snack bar that serves up all your favorite foods to keep you energized for more play.
It is not as crowded as other beaches, which makes it nice, but parking can be a bit of a pain. If you're looking for a nice little beach with beauty packed in from every angle, you'll want to see Moonlight Beach. There is something for everyone here, whether you're just trying to get a nice tan, want to destroy your opponents at volleyball, or want to play in the seemingly endless amount of beach sand.

K1 Speed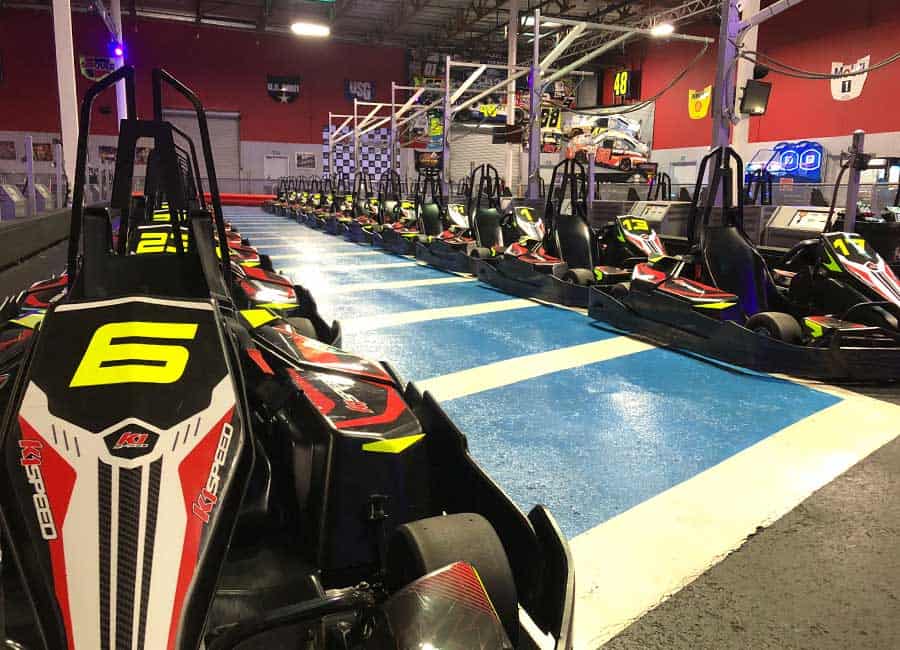 If you thought you could only find go-karts at some amusement parks, think again. By heading into K1 Speed of Carlsbad you can hop into a go-kart and race your way through their track in no time. It's thrilling, it's exciting, and when all is said and done you can enjoy their authentic racing memorabilia and snacks before you head out.
Carlsbad Village
Carlsbad Village is the epitome of downtown beach cities. Grab a bite at one of many flavorful fine dining spots or city taco shops, take a glance through one of the many shopping attractions, or find yourself tapping into your artistic side at one of the many galleries. There's tons of unique sights to find in Carlsbad Village, and you're sure to find something you adore.
Always make sure to check out the events happening in downtown- there's plenty. Some events are year-round, like the well-known farmers market, but other events are only held during specific times. These include: Spring Shop Hop, Taste of Carlsbad Village, Halloween in the Village, and Pets on Parade.
Ride Paddleboards and Kayaks at Carlsbad Lagoon
If you are looking for a great place to enjoy some peddle boats, paddle boards or kayaking then the Carlsbad Lagoon is a great place to visit.
Dave & Buster's – For a little Arcade Fun:
My husband took off this past weekend with the kids while I was out at an event in LA and when I asked where he was going he said the beach and then Dave & Buster's. I thought only my husband could come up with such an odd combo. But the kids absolutely had a blast. There are a ridiculous number of games that everyone loved from out 5 year old to our 16 year old.
I think the favorite amongst the teens was Basketball Connect 4 where you shoot your way to connect four and Liv absolutely loved the giant claw game.
Best Places to Dine in Carlsbad
One of my favorite things to do in Carlsbad (or anywhere for that matter) is enjoy a delicious meal. Carlsbad is filled with amazing places to dine. Here are a few of our favorites.
Dine at Campfire
Who'd of thought you could bring the beauty of the mountains down to a beachy city like Carlsbad? If you need somewhere to eat delicious food and grab a drink, you'll want to visit Campfire. The camping-themed restaurant is known for their wood-fired American food, which gives it that all-natural, decadent taste we all know and adore. Relax with a cocktail while enjoying the camping scenery all around you.
If you have kids with you they will love checking out and hanging in the teepee at the restaurant. This place truly is the perfect combination of deliciousness with style and fun for the kids. Check it out here!
Hot Spot: Draft Republic
If you're looking for a good beer and great environment to hang out with your buds, Draft Republic Carlsbad is the only way to go. This enjoyable hot spot offers a wide variety of crisp and delicious craft brews as well as your favorite bar bites to keep you satisfied all night long. The space is inviting and fun, with televisions to catch your favorite sports event and games to keep things lively. Check it out here!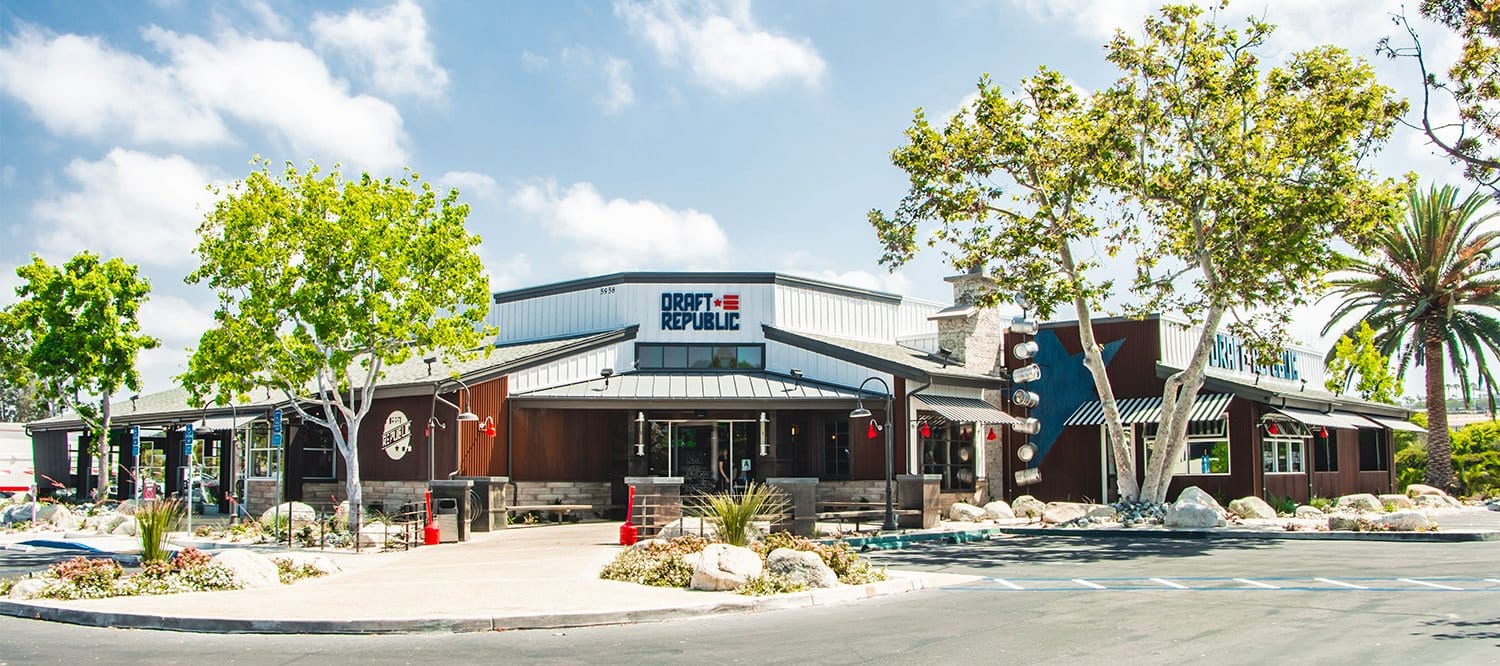 Top Family Dining Spot: Pizza Port
After a long day at Carlsbad state beach, head up the road and grab some pizza from Pizza Port. Just thinking about this place makes me start drooling. Seriously. Pizza Port of Carlsbad offers some of the most delicious pizza in the vicinity, which ingredients that will send your taste buds on a roller coaster ride of flavor. Toss in a craft beer and Caesar salad and you're in for a meal you won't soon forget.
Pizza Port does get pretty busy, so if you can head over early I would recommend it. Check out Pizza Port Here!
Here are a few more of our dining faves in Carlsbad
Where to Stay in Carlsbad:
I have three personal favorites when it comes to staying overnight in Carlsbad. They all have their own unique qualities that I love
The Cassara Carlsbad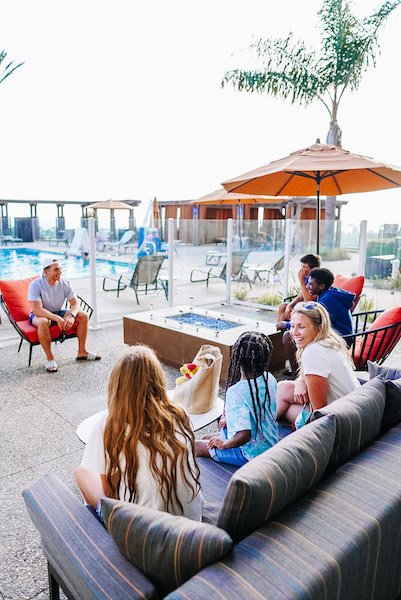 The Cassara Carlsbad was rated one of our best hotels in Southern California if you are on a mid range budget. They are located right next to the beautiful flower fields of Carlsbad and pretty much close to everything in Carlsbad.
Carlsbad Inn Beach Resort
Carlsbad Beach Resort has some of the best views in all of Carlsbad. The rooms are simple and cozy and give off that great beach lifestyle. I absolutely love the grounds and just walking around the property. Check Current Prices Here!
Legoland Hotel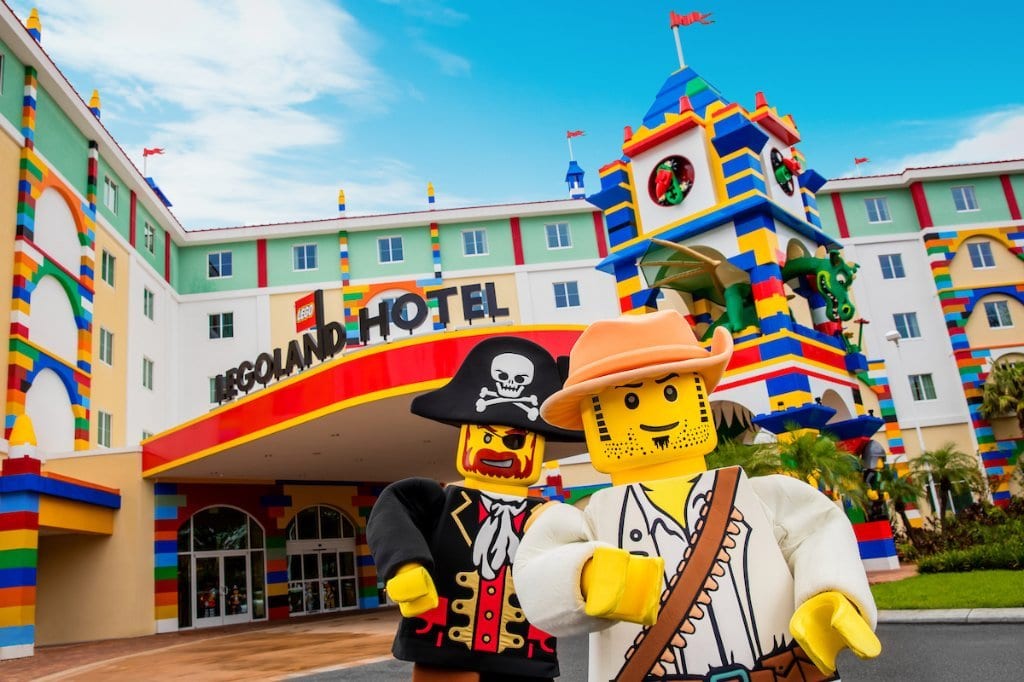 I know, it sounds crazy, but if you have kids up to age 10 or 11 you have to check out Legoland Hotel. Heck, the teens will love it too. It is just a super fun hotel. Everything is pretty much made of Legos, the art in the room, the decor, it is really something to see. Plus, your kids will love the Disco Elevator (you have to check it out).
There are several themed rooms. We had the pirate theme roomed. The kids had their own special bunk area with TV and at night they have movie night in the pool, with of course giant Legos.  Check current prices here!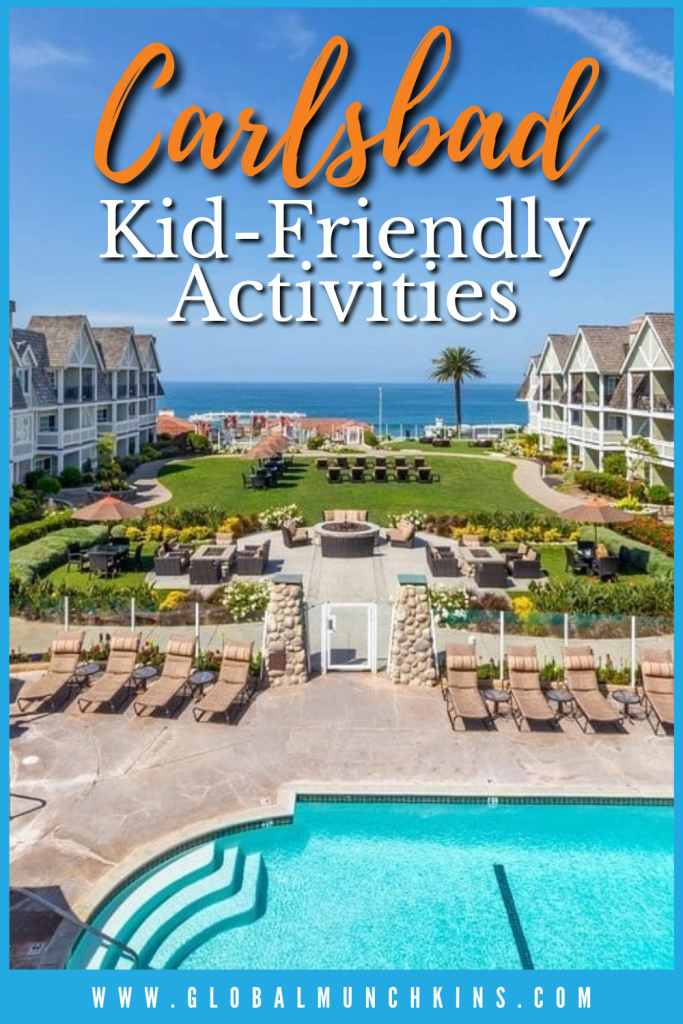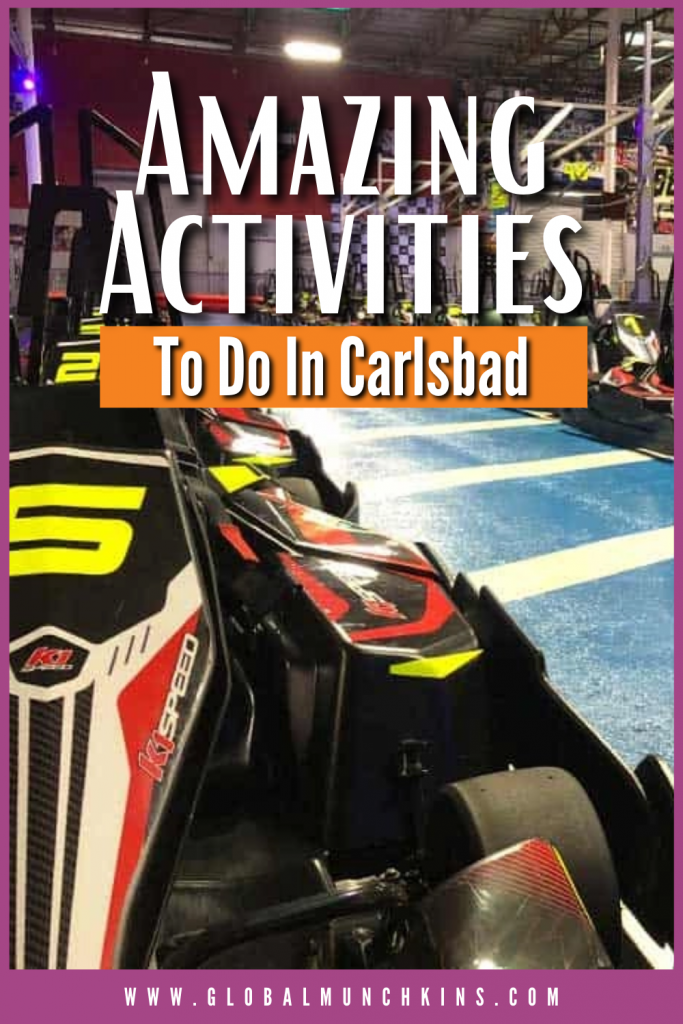 Have any questions about Carlsbad? Let us know in the comments.
Or ask us on our Instagram Page
You Might Also Enjoy:
40 Things to do with Kids in San Diego (20 are FREE!)
Sea World Discount Tickets; 5 Easy Ways to Save Money!
Kids Free in San Diego! 75+ Places Kids Can Visit For Free This October
Map of Things to do in Carlsbad
Frequently Asked Questions about Carlsbad
Where is the best place to stay in Carlsbad?
The Cassara Carlsbad is our absolute favorite and is a great location with great views of the coastline and the flower fields when they are in season!
Legoland Hotel is a great option with the kids.
Carlsbad Inn Beach Resort is another one of our favorites!
What other beaches are near Carlsbad?
Ponto State Beach
Grandview Surf Beach
South Carlsbad State Beach
San Elijo State Beach
Moonlight State Beach
Leucadia State Beach
Cardiff State Beach
Is Carlsbad kid-friendly?
There is plenty to do with the kids in Carlsbad, whether you want to choose from any of the seven miles worth of beaches along the coastline, visit Legoland, spend a day at the Flower Fields, go paddle boarding, take up some surf lessons or build some sand castles. There are endless possibilities!